While I've touched on the subject of "50 Women to Kona" in a previous blog post, I've been wondering how best to write about it that underscores why it's important to me and why it should be important to you.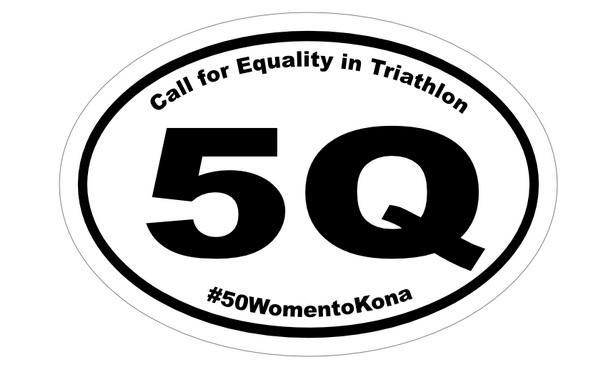 "Why should I care about the women professionals? Why should I care about what's happening elsewhere and not in the Philippines or in our corner of the world?"
Well, if you consider yourself a triathlete, then triathlon is your sport. "50 Women to Kona" is an issue that affects triathlon in its highest echelons all the way down to grassroots because it involves equality between the sexes, something that was supposed to be built into the sport from its inception.
I'm writing this from my heart as Google celebrates trailblazing journalist Nellie Bly's 151st birthday today. Nellie Bly is the pen name of Elizabeth Cochrane Seaman, who became a journalist and a champion for the downtrodden in an era when women were relegated to the kitchen and the home. According to TIME Magazine, her career began when she wrote a letter to the editor of a newspaper to protest a misogynistic article. Her writing impressed the editors and she landed a job at the paper. Over the course of her life she built a legacy as a civil rights pioneer who showed how women could stand shoulder-to-shoulder with the rest of the world.
"Someone's got to stand up and tell them what a girl is good for."
We have come such a long way from those dark days. Women can vote, work, drive cars, play sports, and the list goes on. But just because the struggle has been won on so many fronts doesn't mean our jobs are done.
Triathlon is a unique sport in large part because women have always raced the same distances as men, received equal prize money, and equal opportunity to race — at least in the International Triathlon Union, the branch of the sport that feeds into the Olympic Games. Professional triathlete and PhD Sara Gross has a very detailed and informative post about triathlon as a sport of gender equality. Music to my ears.
So, to hear that female professional athletes are given 35 slots versus 50 slots for male pros at the Ironman World Championship in Hawaii grates loudly against what we all know to be right. The total number of professional athletes invited to the Ironman World Championship is arbitrary and has fluctuated since the race's inception, so there is no good reason for the numbers not to be equal. (It is the same situation for the Ironman 70.3 World Championship, but of course the Kona race attracts more attention and interest.)
Ironman has trotted out an argument that since fewer age-group women participate in Ironman-branded events and fewer women become professional triathletes, then this representation on the pro level is proportional to these numbers and that in fact the professional women overrepresent age-group women. To this I say: I wasn't aware that triathlon was a parliament!
Professional athletes do not "represent" age-group numbers. If they did then there would be a mechanism to change the number of pro Kona slots allocated between sexes as the proportion of age-group females and males changes every year. (There is no such mechanism.)
What's more, these athletes race all around the world to earn points to rise in the rankings so they can get invited. In order for the 35th-ranked woman to punch her ticket to Kona, she has to race on average one more Ironman than the 50th ranked man. Triathlon statistician Thorsten Radde gives an excellent explanation as to how the inequality in Kona slots leads to severe disadvantages to pro women.
A world championship ought to be a stage for the best in the world to compete against each other in the best shape of their lives, with the better athlete coming out on top. But how can the 35 top-ranked women in the world be at their best when they have had to race more and recover less to get there than the 50 top-ranked men?
Also, what stands in the way of giving female pros equal slots? History? Ironman has said there is no space on the pier (transition) or on the road for 15 more bikes — yet it somehow finds space for "stunt casting" celebrity chefs, retired athletes from different sports, astronauts, and the like who do not have to earn their spot through qualifying. And if there is no space on the pier, then make space. There is a Filipino saying: Kung gusto, may paraan. Kung ayaw, maraming dahilan… (If you want it, there is a way. If you don't, there are many excuses…)
There are many more arguments to rebut but others have been more eloquent about it, such as Julia Polloreno, Triathlete Magazine's editor-in-chief, who says it's time pro women got an equal number of slots in Kona.
Finally, this is the reason inequality in the pro fields affects age group participation: people are inspired by the pros and by other people who show them that "if they can do it, so can I". An equal number of female and male pros at the world championship shows young women that there is a place for them in this sport. There are so many reasons why less women participate in sports, or become CEO's, or earn equal pay — reasons which have nothing to do with capability and everything to do with lack of opportunity and systemic sexism. Shouldn't we all the more take steps to encourage women, even in the small subset of life that is sport?
The more I think about this, the less I want to participate in anything Ironman-branded. What does it say about a brand or a company when they don't even want to address this systemic sexism directly or worse don't see it as a problem? And what does it say about me as a woman when I tolerate sexist behavior and even condone it by paying good money towards that company?
I may not be able to effect change as an individual, but I will spend my money on what I think is worthwhile. With many apologies to the local organizers, who I know do a very good job at running excellent races, I've decided that the 2015 Ironman 70.3 Philippines will be my last Ironman-branded race until further notice. I'm not even going to think about taking a slot to the Ironman 70.3 World Championship should it roll down to me. I must question the legitimacy of a self-proclaimed professional world championship when the fields of competition are unequal at the top.
For more information about the movement seeking equality in triathlon, please visit the TriEqual website, follow the #50WomentoKona hashtag on Twitter, and like the #50WomentoKona Facebook page.