I'm back from last weekend's Asian Triathlon Cup Subic Bay (formerly known as the Subic Bay International Triathlon). Let me tell you, it is super difficult to cover a race and not participate in it — not because it's a long time to wait and watch, but because I was envious of everyone racing! But just looking at how tough the conditions were, I am thankful that I didn't race and I want to give all kudos to those who did.


This is the first time since I started triathlon that I haven't racked up at this race.

As a media partner for TRAP's scheduled races, I arrived in Subic Bay early on Saturday morning to check out the minisprint and sprint races. With the start and finish at Malawaan along Argonaut Highway, it was a compact race venue lending itself to spectators catching the action. Kids did the minisprint distance while newbies and junior elites tackled the sprint.


the busy assembly area at Malawaan
With most of Argonaut Highway and airport access roads closed for the race, I took my trusty Ceepo to catch some of the bike action on the course. I can't begin to describe how slow and old the junior elites made me feel as they rode past me — and these were the kids who had been dropped from the lead peloton (ITU-style racing allows drafting on the bike). When you realize that these are the developmental athletes in their home countries, trying to gain a foothold on ITU points to race in the main international events such as World Cup and World Triathlon Series events, you gain a sense of just how much needs to be done for Philippine triathlon and our national athletes. We've got some very young talent bubbling up with the likes of Brent Valelo and Nicole Eijansantos who took to the podium in the 13-15 minisprint, Jose Abad our junior elite who led out of the water, Vicky Deldio, and the list goes on… The key is to nurture and foster more like them.
Notably absent from the elite open competition across the Olympic distance on Sunday were Philippine team stalwarts Claire Adorna, Kim Mangrobang, and Nikko Huelgas. The three were in training camp preparing for the Asian Games (Claire in Australia, Kim and Nikko in Portugal). Stepping up to the plate to fly our colors were John "Rambo" Chicano, and Kim Kilgroe in her first race as elite.
As for Team Endure, with me dropping out that only left our "commish" Rico Villanueva as our sole representative. But as always with this team we rolled out the cheerers and came in full support not just for our athlete, but for everyone out there who dared race.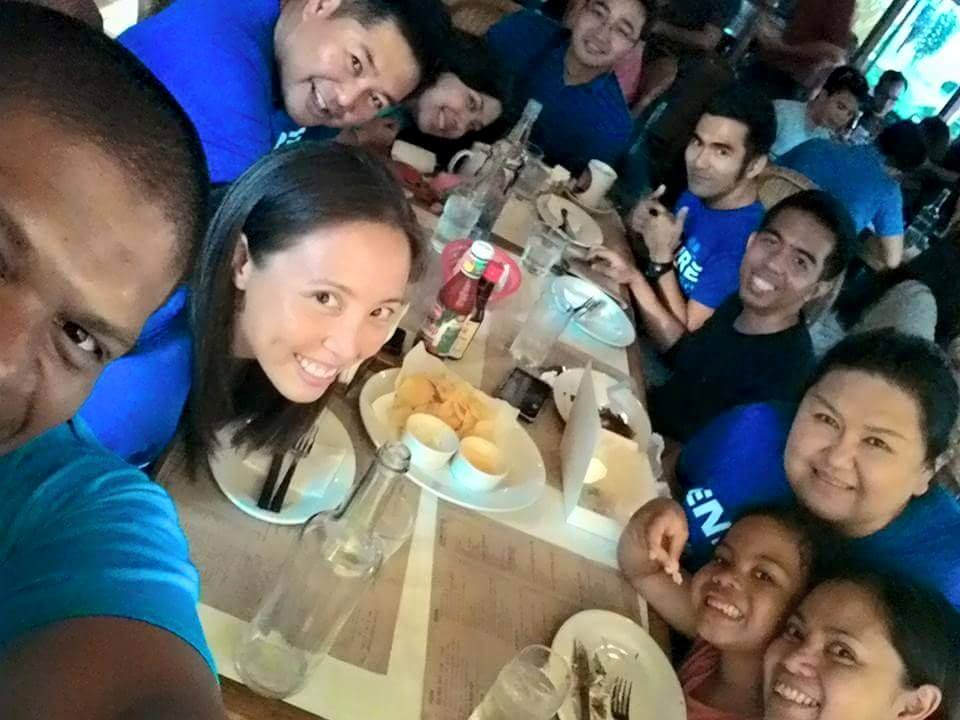 team meal at Xtremely Xpresso the day before the Olympic distance race
Sunday morning dawned early and hot. This time, I ran toward the race start as part of my scheduled long run, then stuck around for a bit to watch the elite and age group gun starts.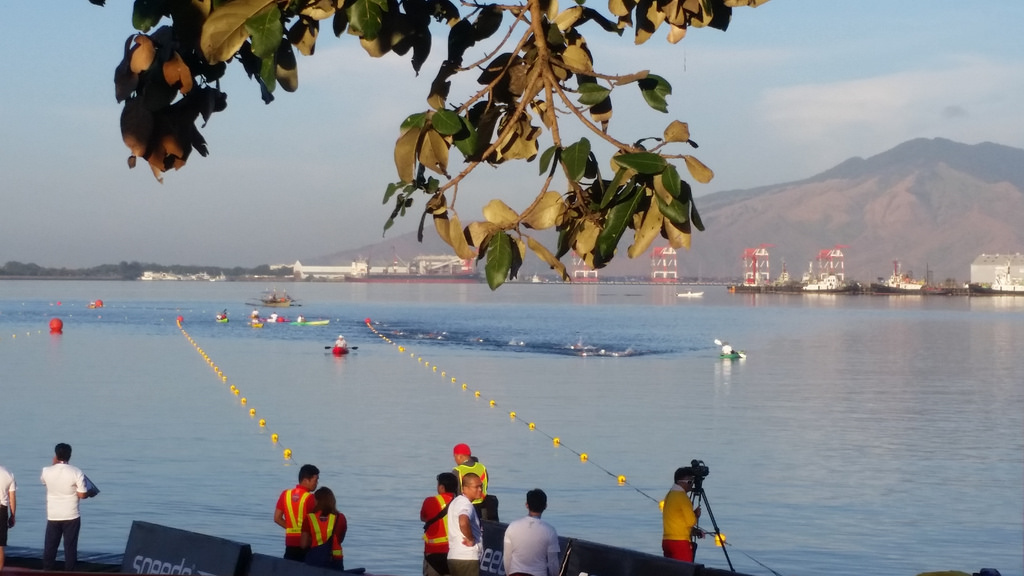 elite men motoring through the swim course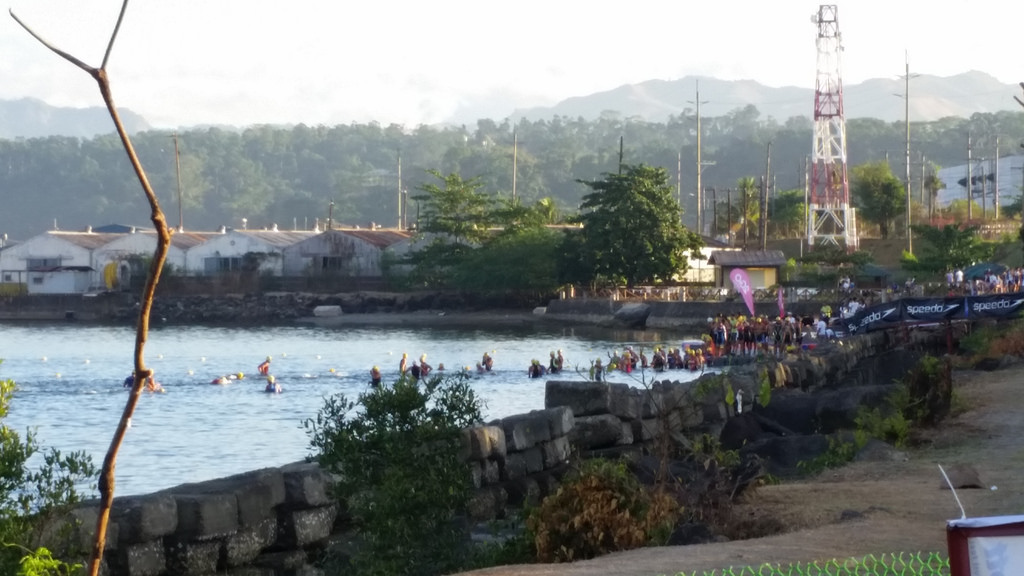 all age groupers getting in the water
One of those who did his first triathlon at the Asian Triathlon Cup Subic Bay was a face and name known to millions of Filipino households. Actor Gerald Anderson trained barely a month to compete among the 25-29 age group men, inspired by cast mates Isabelle Daza and my homeboy Ivan Carapiet in the television series "Nathaniel". (Great article about this on SPIN.ph.)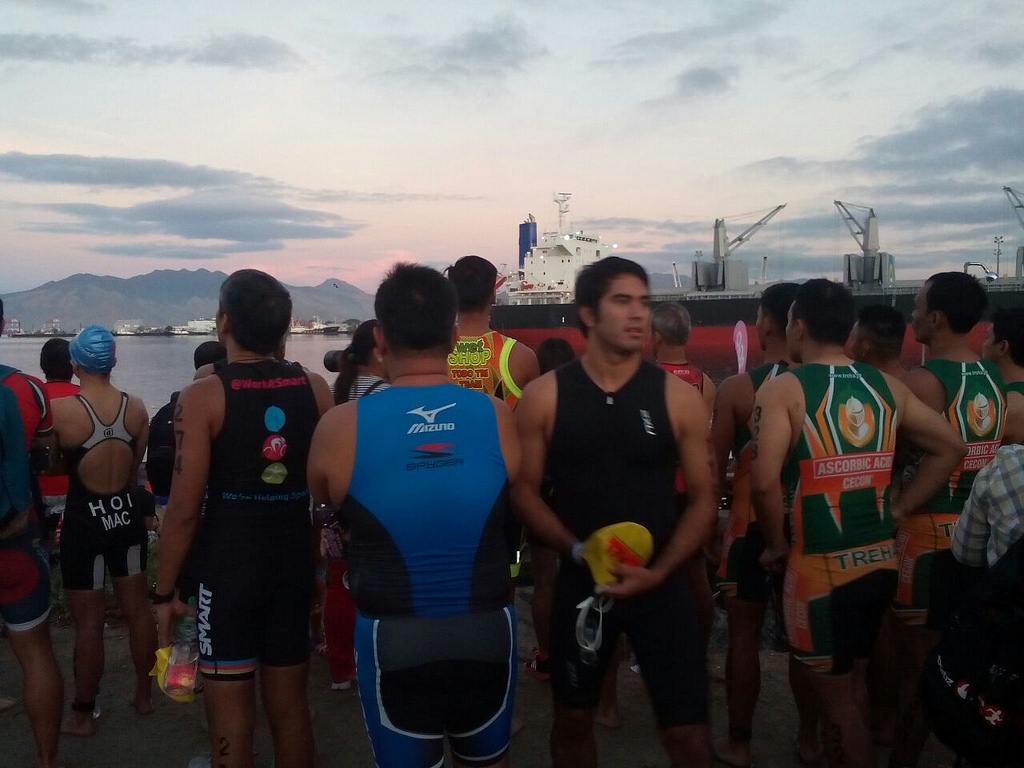 the oblivious Rico with Gerald
I have to say Gerald takes the prize for having really loyal fans! They turned out in matching silkscreen printed shirts with "TEAM ANDERSON" on the front to watch and cheer him on, despite not being into triathlon themselves. (Yet.)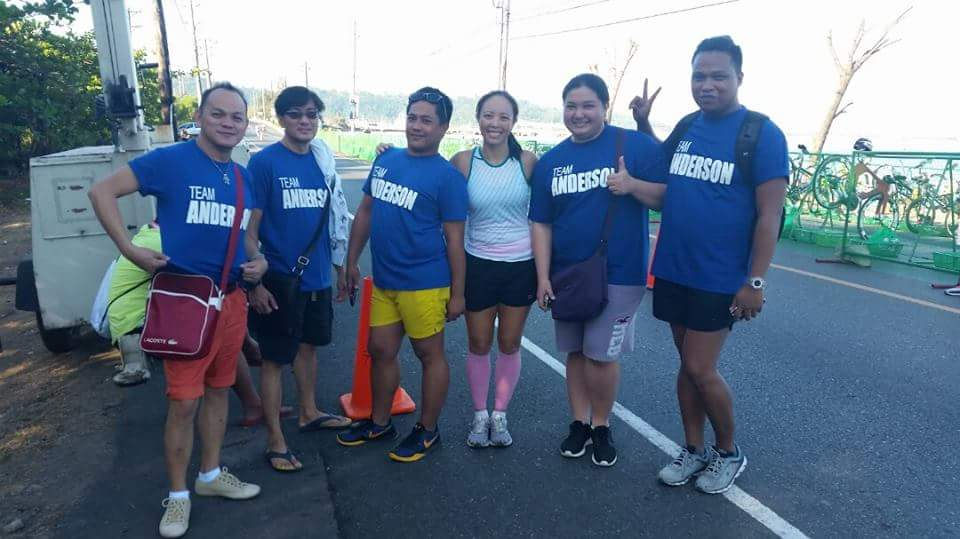 me with Team Anderson… they were awesome! (photo by Rizzo Regis-Tangan)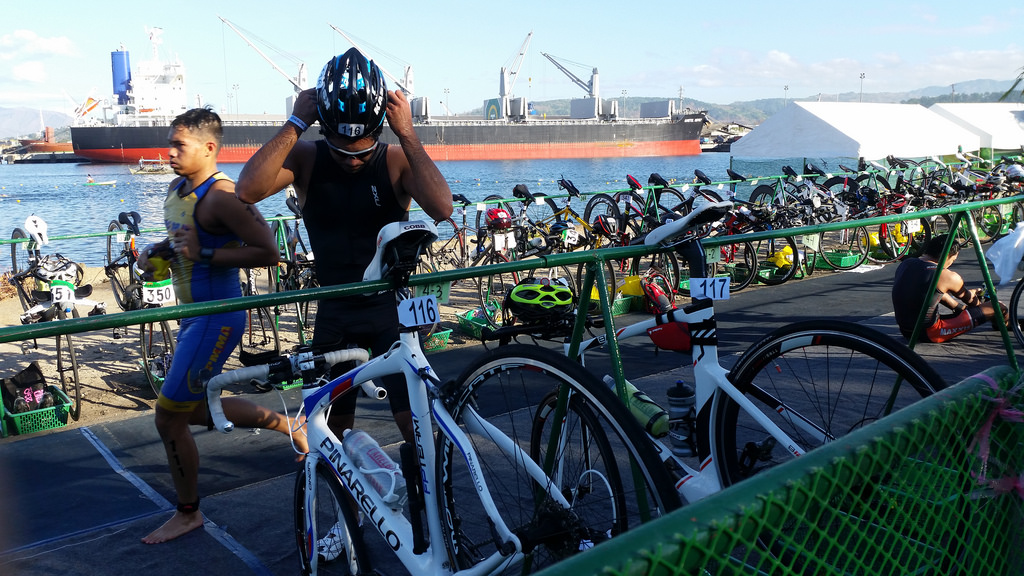 Gerald one of the first few out of the water in his wave
I hightailed it back toward the second transition and finish line at Harbor Point Mall, but missed the men's elite winner, Canadian Tyler Mislawchuk who finished in 1 hour, 47 minutes, 56 seconds. Japanese defending champion Chika Sato overcame a slow start in the swim with strong bike and run legs to finish in 2 hours, 4 mins, 24 seconds. (Interestingly enough, she had a compatriot Shiho Sato who exited the swim first, led through the bike leg, but faded on the run.) Check out this wrap-up of the pro race from ABS-CBNnews.com.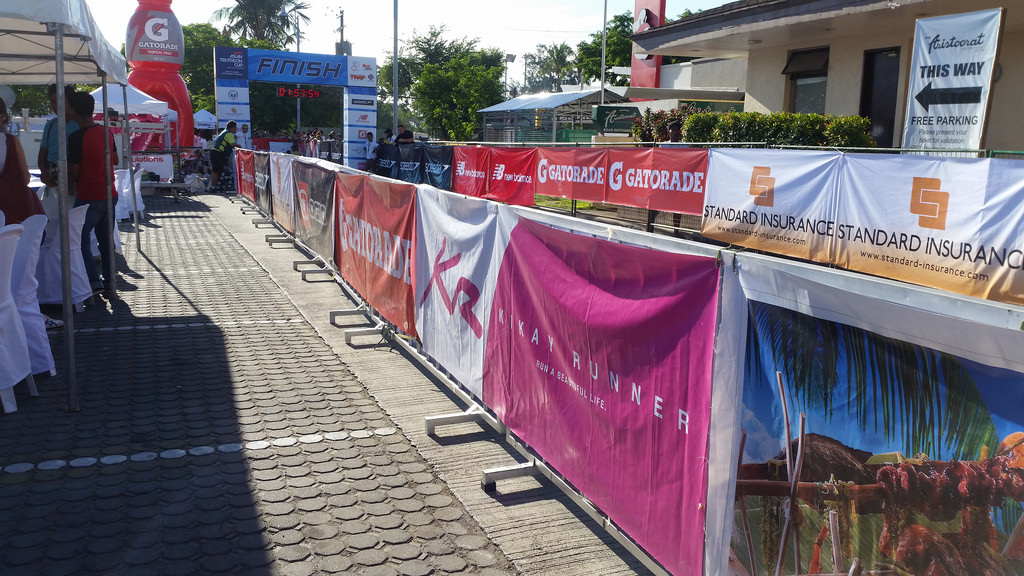 the men's winner finished 10 minutes before I arrived on foot
While the lead elites had finished before the sun had started pounding down on the shadeless Subic pavement, the age groupers were just getting started on their run. I had a shower and change of clothes before settling down at my hotel on the boardwalk to cheer on competitors.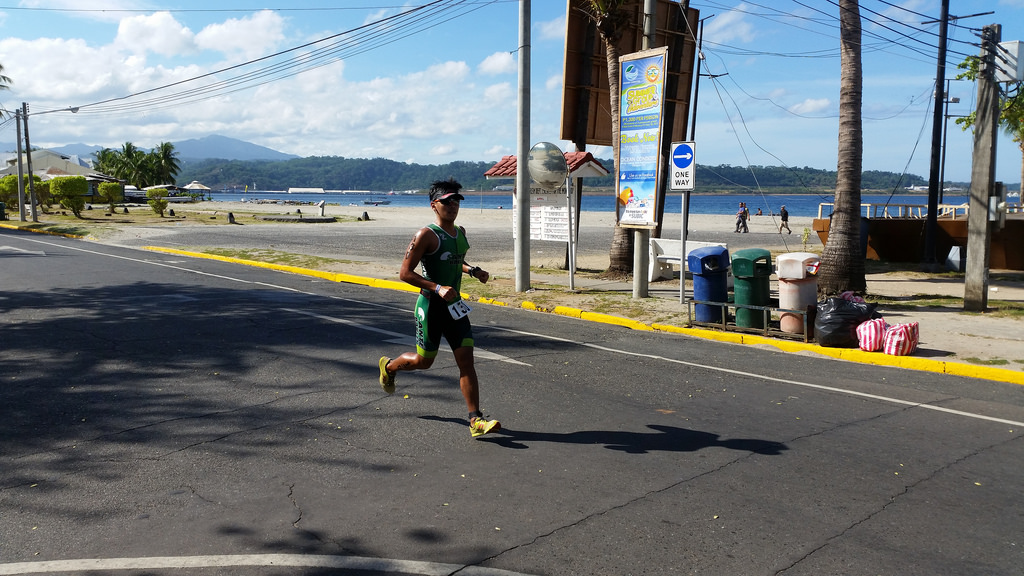 speedy Don Velasco is always one of the first few on the run course.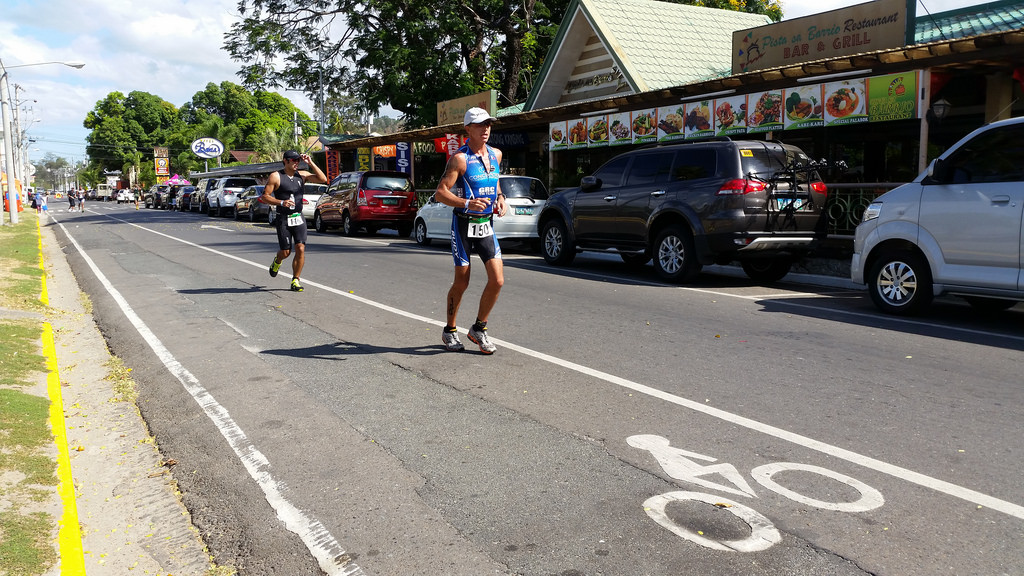 Gerald doing pretty well on his first lap.
Soon the course was full of athletes, many of them my friends who would laugh and say "You should be out here!" as they happened upon me cheering them on with a fruit shake or a popsicle in hand. In a strange and twisted way, their suffering made me wish I had done the race alongside them…
As the athlete numbers dwindled, a majority of them making their way back to the finish line, we finally saw Rico come around the bend to do the first of his two laps on the run. The sun was high in the sky and we knew we had our role to play to keep his spirits up.


providing (comic) relief for Rico
I'm happy to report that Team Endure had a 100% finish rate (thank you Rico for finishing your race haha). There were so many out there who kept going in those extremely warm conditions. To start a race is something, but to finish in adverse conditions is another thing entirely so congratulations to all finishers of the ASTC Asian Triathlon Cup Subic Bay.
This race in Subic has seen the likes of triathlon great Chrissie Wellington as an up-and-coming professional before she focused on ironman racing, and it continues to be where we see hot and fast ITU-style racing. It was truly inspirational to see these athletes race as hard as they do. To compete alongside them and experience a little bit of the pain and hardship they felt and to come through it on the other side across the finish line… it's what ties the professional and amateur races together.
I'll be back for next year's race.
//platform.instagram.com/en_US/embeds.js
Liked this post? Share it!