Are you thinking about getting into multisport but think most of the races are too long? Are you a veteran who wants to rediscover the fun element of racing without beating yourself up too much? Then the SWIMBIKERUN.ph Triathlon Series is for you!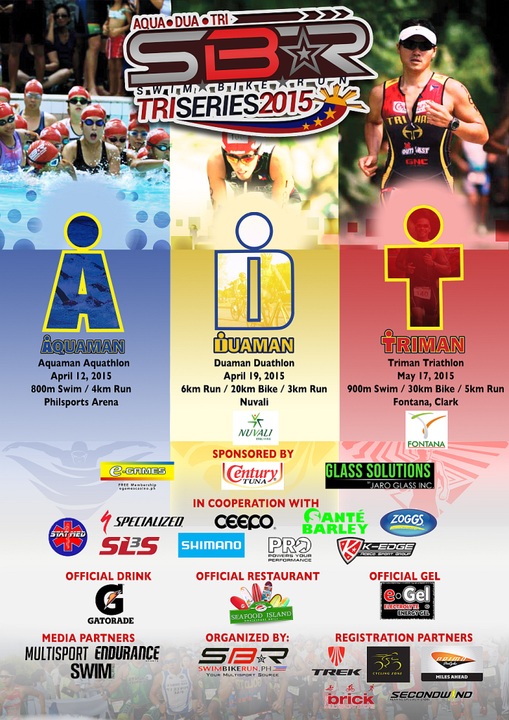 SWIMBIKERUN.ph Tri Series 2015
Now in its third year, the SBR.ph Tri Series races are newbie-friendly while still providing lots of challenge for the experienced athlete. We've seen this triathlon series grow from being a barebones affair to something approximating the perks and vibe of a major race but with less pressure and at a price that's pocket-friendly.
THE AQUAMAN AQUATHLON
April 12, 2015 7am – 800m Swim, 4k run – Philsports Arena (formerly Ultra)
Know how to swim and run (or know someone who can swim or run)? Sign up as individual or part of a relay and get your feet wet in multisport.
Individual :P1,300
Relay 2-man : P2,300
Deadline of registration : March 29, 2015
THE DUAMAN DUATHLON
April 19, 2014 6am – 6k Run, 20k Bike, 3k Run – Nuvali
The Duaman Duathlon is designed to be short and doable enough for newbies and lung-busting enough for seasoned duathletes. Any type of bike is allowed!
Individual : 1,500
Relay 2-man : P2,500
Relay 3-man : P3,500
Deadline of registration : April 5, 2015
THE TRIMAN TRIATHLON
May 17, 2015 6am – 900m Swim, 30k Bike, 5k Run – Fontana, Clark
The Triman Triathlon is the most newbie-friendly triathlon in the country due to its pool swim at the world-class resort of Fontana Leisure Park in Clark, Pampanga. Again, any type of bike is allowed!
Individual : 1,800
Relay 2-man: P2,800
Relay 3-man: P3,800
Deadline of registration : May 3, 2015
SPECIAL OFFER: Tri-Pack (Aquaman, Duaman, Triman Package) / For Individual Racers Only! — P4,000
Last day of Tri-Pack registration : March 29, 2015
The graduates of the 2015 SBR.ph Tri Series, or those who will complete all 3 events, will receive a special award from SWIMBIKERUN.ph!
(Entries are non-refundable, non-transferable and non-applicable to future races. Race numbers are non-transferable. No helmet, no entry, no refund.)
You can register and pay online, or pay via bank deposit (directions here), or visit any of the following registration partners: Second Wind (Quezon City, Ortigas, and Greenhills); The Brick (McKinley Hill); Cycling Zone (Alabang); Trek Bicycle Store (Bonifacio High Street); Primo Cycles (Forbes Town Center BGC); Bikers' Cafe (SM Mall of Asia)
Earn your right to be called an Aquaman, Duaman, or Triman. 🙂
Liked this post? Share it!