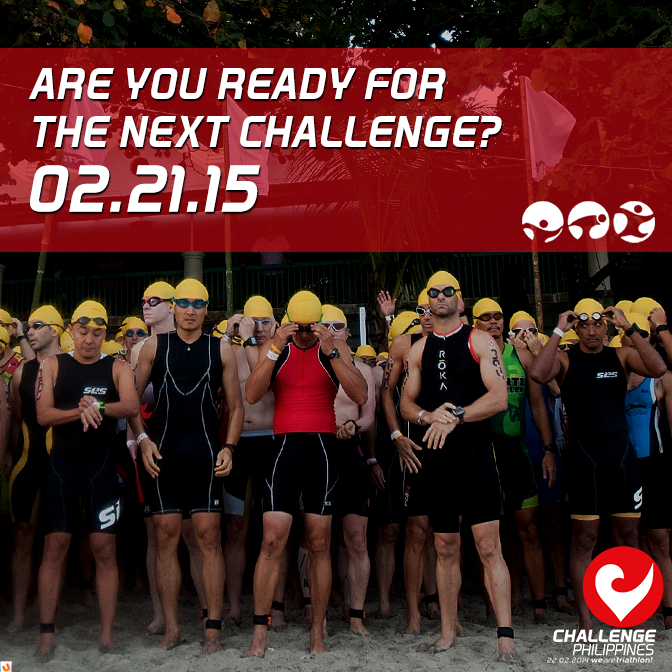 Challenge Philippines on 21 February 2015
Well, the first big race I've been preparing for is knocking at the door, and once again I'm rushing to get everything I need together. I don't know what it is but I always seem to find myself cramming all the needed shopping into the few days leading up to my departure. It's probably just as well since the taper period gives me enough time to get everything done without the guilt of missing sessions.
It's also the time most people start stressing out about who they're competing with. While I've already seen my age group start list and given up most hope of replicating the surprise podium finish I scored last year, I'm one of the people who like to keep an eye on the pro field (despite never being able to compete with them).
A few weeks ago I was delighted to report on who were making their way to the killer hills of Subic/Bataan. We were to have some return customers with Michael Murphy, Eric Watson, Fredrik Croneborg, Rasmus Petraeus, Eneko Elosegui, Till Schramm, and Chris McCormack in the men's race, while among the women Radka Vodickova and Emma Pooley would be back.
With Radka reportedly out (according to AsiaTri), it'll be up to Emma Pooley to use her knowledge of this race to gain the upper hand against the other women. Kelly Williamson from Texas will have traveled the furthest among this field, while Parys Edwards, Carole Fuchs, and Katja Rabe with their training base in Phuket, Thailand will arrive well-acclimated.
I'm not about to let the entire cat out of the bag just yet, but someone's pulled out of the men's race — however, we're going to have a high-profile relay team make a late entry for a very good cause. Meanwhile, the Murph who came in 2nd at last year's race has made Subic his home turf, and with a new steed, a new fit (Retul!), and plenty of motivation, he wants this win badly. But don't count out Freddie, who last year ran his way into third, and the fleet-footed Mitch Robbins, who aims to hit payday at both Challenge Philippines and Ironman 70.3 Subic during his stay.
Edit: Domenico Passuello, a former pro cyclist, won hilly and hot races in Challenge Rimini and Challenge Forte Village Sardinia off a strong bike. He could be one to watch!
For the Southeast Asian Elite men, we find homegrown favorite August Benedicto duking it out once more with Jaray Jearanai (the fastest Thai triathlete) and Saranon Chantaraj. August was in Phuket training with those guys over the holidays so they know each other's strengths and weaknesses. August is the defending champion but won in a near-sprint finish last year. Can he hold off Jaray this time around?
Monica Torres is the lone competitor in the Southeast Asian Elite women category and is thus guaranteed a payday if she finishes, but we all know she won't phone in her performance — girl is as driven and unstoppable as a tank! We'll see Lezette Albarote, Maria Hodges, and LC Langit competing in the Filipino Elite women, while Robinson Esteves, Mervin Santiago, Jefferson Tabacon, Carlos Tanjay, and Jefferson Valdez are the Filipino Elite men. (There are two separate elite men named Jefferson?!)
Last year, Challenge Philippines was decided by strong run splits (on that insane half-marathon course!) after a tough bike, and even with the change in the bike course I doubt it's going to be a different story. The victory will go to the one whose legs are tough enough.
Liked this post? Share it!