If you can keep your head when all about you
Are losing theirs and blaming it on you,
If you can trust yourself when all men doubt you,
But make allowance for their doubting too;
If you can wait and not be tired by waiting,
Or being lied about, don't deal in lies,
Or being hated, don't give way to hating,
And yet don't look too good, nor talk too wise:
If you can dream—and not make dreams your master;
If you can think—and not make thoughts your aim;
If you can meet with Triumph and Disaster
And treat those two impostors just the same;
If you can bear to hear the truth you've spoken
Twisted by knaves to make a trap for fools,
Or watch the things you gave your life to, broken,
And stoop and build 'em up with worn-out tools:
If you can make one heap of all your winnings
And risk it on one turn of pitch-and-toss,
And lose, and start again at your beginnings
And never breathe a word about your loss;
If you can force your heart and nerve and sinew
To serve your turn long after they are gone,
And so hold on when there is nothing in you
Except the Will which says to them: 'Hold on!'
If you can talk with crowds and keep your virtue,
Or walk with Kings—nor lose the common touch,
If neither foes nor loving friends can hurt you,
If all men count with you, but none too much;
If you can fill the unforgiving minute
With sixty seconds' worth of distance run,
Yours is the Earth and everything that's in it,
And—which is more—you'll be a Man, my son!
— "If", by Rudyard Kipling
Bits and snippets of this poem crept into my head on the final kilometers of that unforgiving run course, where I faced yet more long hills with the top nowhere in sight. Why did you do this to yourself again? my body cried out to me as I trudged upwards, nearly delirious from the unexpected and unseasonal heat.


uh-oh, here we go… (photo from Gibo Canlas)
Challenge Philippines "Tough". That was how they had branded it this year, and for good reason. Those of us who had done the inaugural edition were forewarned about the (longer than 1.9 kilometers) swim against a current, the grinding steep hills of Bataan, and the endless undulations of the run course through forest ranger training grounds. And yet there we were again, back for more. Maybe we were trying to prove ourselves against Rudyard Kipling's "If", which I first came across while reading triathlon legend Chrissie Wellington's autobiography. Those stanzas served as her mantras as she dug deep in each race, going undefeated in all 13 of her races over the ironman distance.
For me, race week started innocuously enough. Registration and a walk-through at the expo, plus a bit of a bike check with the Primo Cycles mechanics (those guys rock!), then the pre-race press conference where we got a look at all the pros competing.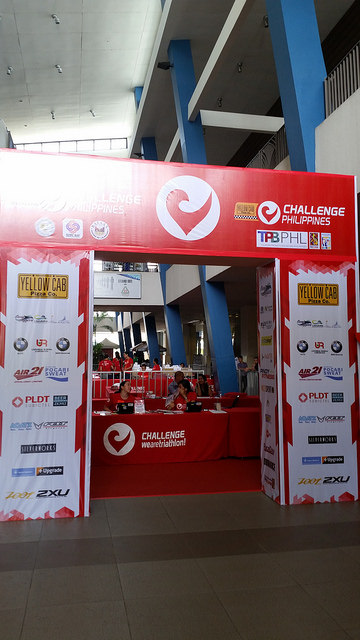 Harbor Point Mall was taken over by Challenge Philippines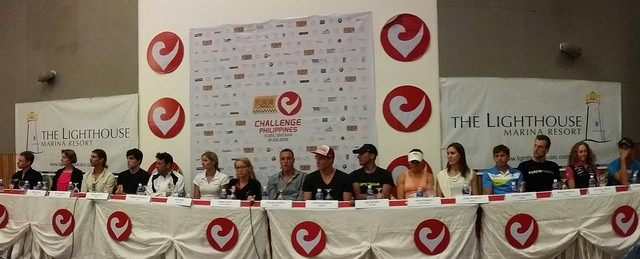 the Challenge Philippines 2015 pro field
I'd driven over from Manila with Macca, who I hinted at in my previous post as pulling out of the individual race. Instead, he was to race in a relay team with some Philippine National Police-Special Action Forces (SAF) Commando Vipers. The SAF are in the limelight these days due to the Mamasapano clash, where 44 SAF officers were slain while trying to serve arrest warrants for high-ranking terrorists. What not many know is that Subic Bay's forest ranger trails are SAF training grounds.
"It's like being brothers for a day," Macca told Solar Sports Desk. "It's a way for me to say to the SAF, 'Thanks for your service.'"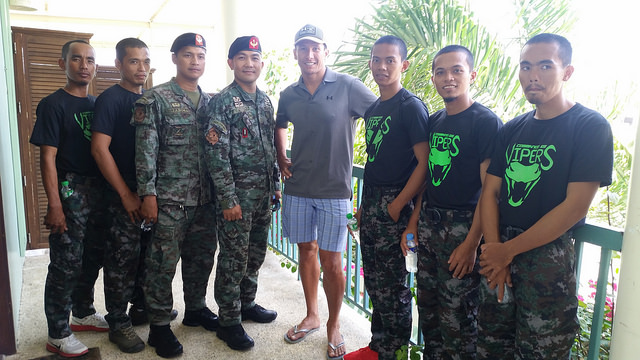 Macca with the PNP-SAF Commando Vipers


the commandos insisted on a group photo 🙂
The pros had all chosen to participate in this race because it was tough. Brian Fleischmann, who is stepping up to the half and full distances this year, said, "The course is ridiculous! But that's why I'm here: to start the year off with a bang." Parys Edwards, who won Challenge Laguna Phuket last year, said, "We're all up for the challenge and that's really exciting."


a photo with pro and eventual champion Domenico Passuello
Amid all that bravado in the room, I was sitting in the audience practically pissing my pants. I had just come off a bad stomach bug, which made eating a chore because I just couldn't get enough calories in. I felt underdone as well, particularly for running because I hadn't put in the hill work. It just killed me every time someone asked me if I was ready, because I knew what lay ahead and it wasn't going to be pretty.
I met some Filipino athletes based in Singapore and Japan, who had used all my previous blog posts about the Challenge Philippines bike course to help in their training! That was pretty cool and I was happy to hear that because that's exactly why I wrote those posts — you can't come to Challenge Philippines unprepared.
While many things about this race remained the same, the vibe from the organization felt vastly different. It was much more polished, definitely befitting an international-caliber race.


my fave race announcer Whit Raymond was back


Vanj, Chang, and I all returned for more pain
My one consolation about this year's race was that I was smarter about accommodation. I had booked my room at the Camayan Beach Resort and Hotel way in advance, so I didn't have to drive 20-30 minutes just to get to the race venue (there aren't any other hotels near Camayan). Unless I needed something at the expo, I was pretty much just hanging around the Sandbar or the hotel restaurant, or lying down in my room — which was entirely too big for just one person. It was pretty cool to hang with some of the pros during breakfast or lunch, or sit back and watch other people flog themselves with last-minute swims, bike rides, and runs. (Seriously, shut it down.)
On race morning I had a leisurely breakfast (still couldn't get much down so I focused on pancakes and coffee), went over to the transition area at Adventure Beach, prepared my transition box and loaded up my bike with everything I needed, then headed back to my hotel room to lie down again and get into a good mental space.


tidy transition = faster transition times
The hotel's WiFi service was spotty, so I relied a lot on my Globe goSURF data connection (which I was also able to share with friends via hotspot). I put on my Challenge Philippines Spotify playlist, hoping that one of my rev-up songs would play back in my head on a loop during the race.
I came out to the swim start around 6:20am. The pros were starting at 6:30am, while we women and relay teams would start at 7am in the final wave. This gave me enough time to be social with my athlete friends and wish them well, but not enough time to start feeling the pre-race nerves.


with FitPLUS (photo from Patrick Joson/TRI)


with Raffy, the only other Endure member present (photo from RaceDay)


"We know you ladies can take the suffering better," said Whit about our late gunstart (photo from Patrick Joson/TRI)


It felt weird to start in the same wave as Macca! (photo from Patrick Joson/TRI)
While there were nervous people around, the athletes around me toeing the starting line all had about a season or more of triathlon in them. This race had attracted those who were willing to step up to the next level and challenge themselves.
And then the gun went off.


photo from Vantage Point Photography
Race report continues in Challenge Philippines 2015 (Part 2).
Liked this post? Share it!