I'm starting to get into gear again for next year's races, and nothing makes me ache more than the first long hard sessions back. In the past I've just sucked up the muscle pains and stiffness, knowing they'll pass in the next few days. But why tolerate when you can make the pain go away?
Some people pack tablets of muscle relaxants or pain relievers, but I try to avoid taking too many medicines. Plus, I'm allergic to many of them… As I packed my day bag for the Challenge Philippines bike course recon last weekend, I made sure that aside from a change of clothes and a towel I also threw in a bottle of BSI Medicated Spray. As in, I literally threw the bottle into my duffel bag because I knew the plastic bottle wouldn't break even among all my other stuff. (I'm not a neat packer.)
I've been using this for a few weeks now and knew I would need the instant pain relief once I'd finished climbing those hills of Bataan. It also reduces muscle swelling, which hampers mobility and I knew I would need to be able to move around even after my workout. BSI Medicated Spray is prescribed by physicians and approved by our Philippine FDA as a home remedy for muscular pain, so I know it's safe and effective. It also contains all-natural ingredients, a plus for those trying to avoid synthetic chemicals.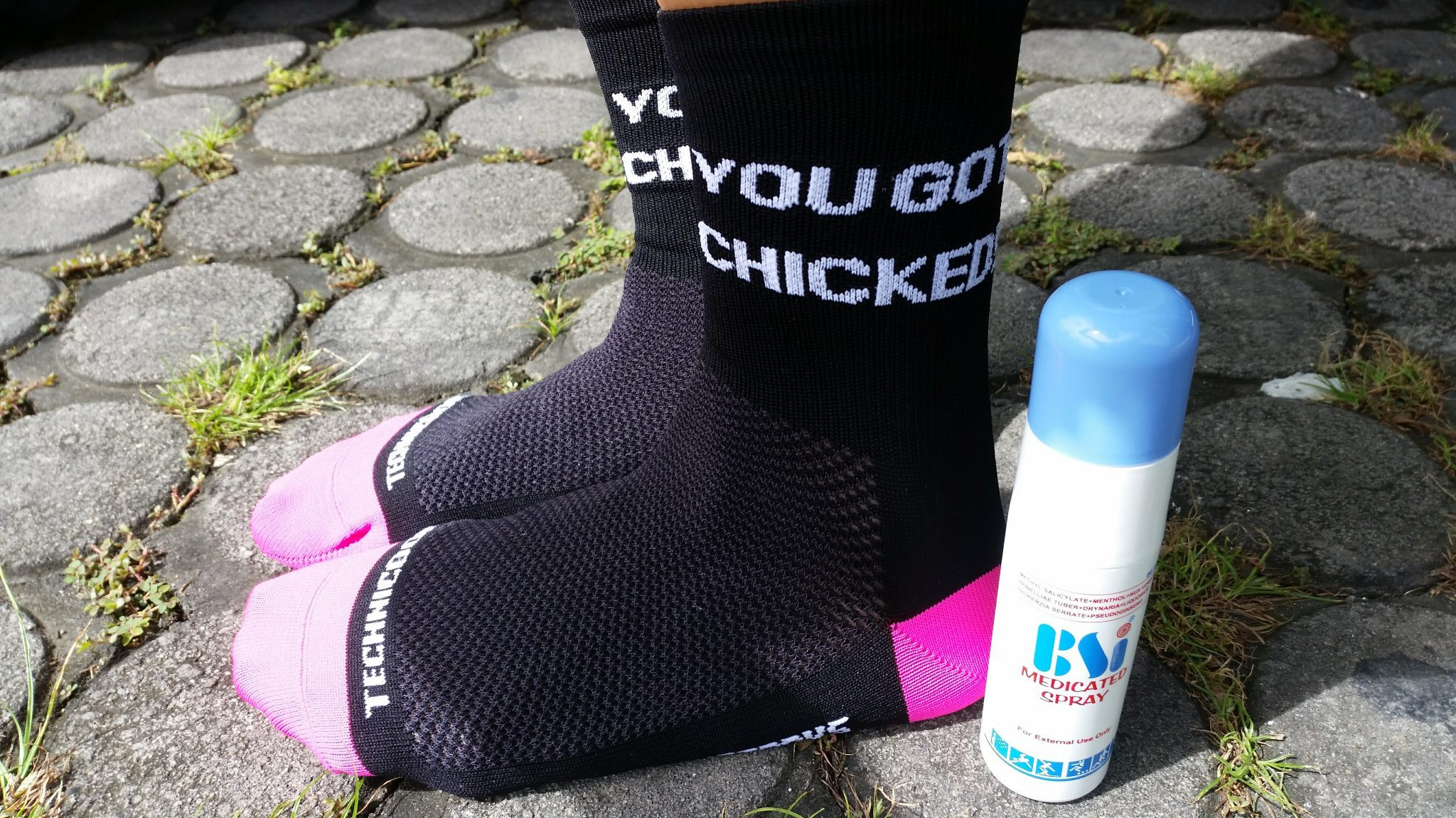 I chicked the boys… but made my thighs cry. (Note: not effective on broken hearts or bruised egos.)
What I like most about BSI Medicated Spray is that it's easily sprayed on, so I don't need to use my hands to apply it, and it's so easily absorbed that I don't even need to massage it into my muscles. There's nothing more annoying than getting liniment in your eyes or on your face because there was some left over on your hands.
It's not just for after a hard workout or race. I first encountered BSI Medicated Spray at the Milo Marathon; some runners were using it to help their muscles relax and warm up before the race. If you're coming from a hard workout the previous day, using a bit of the spray before your next workout helps reduce the feeling of muscle stiffness.
The spray is also great to have with you during long training sessions and races. I've seen my ultramarathoner friends keep it in their support vehicles so that they can spray it on when they feel the cramps coming on. At volunteer aid stations for marathons and triathlons there's usually a bottle of this to spray on for those who need it.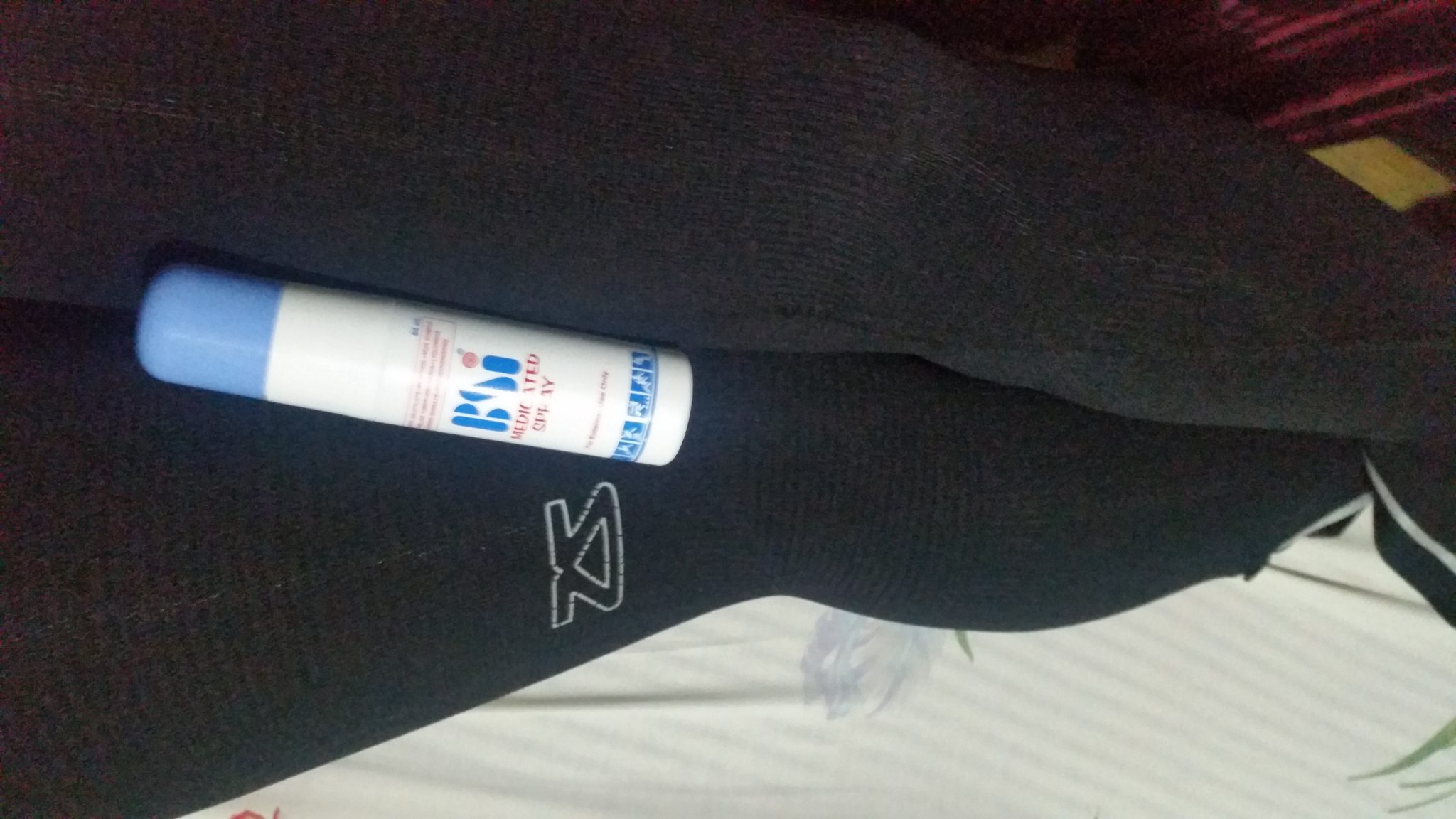 BSI Medicated Spray + Zensah compression tights = bye-bye muscle aches!
So forgive me whenever you encounter me smelling like menthol or a giant mint candy; chances are I've just come from another big training session. BSI Medicated Spray is my pain reliever of choice.
BSI Medicated Spray is available in spray form and as a medicated plaster at Mercury Drug Store, Rose Pharmacy, and South Star Drug. Find more information about BSI Medicated Spray at The Filipino Doctor.
This is a sponsored post for BSI Medicated Spray. View my disclosure policy.
Liked this post? Share it!