I have always advocated that more women get into a fit and active lifestyle, and what better way to get your feet wet than at an aquathlon!
The Atleta Ako Women's Aquathlon to be held on March 22, 2015 at the Philsports Complex (formerly ULTRA) is an all-women's race designed to bring women of different ages and backgrounds together to empower them and celebrate a more active lifestyle. And it'll be held during Women's Month, too. 😉
Come join me; there's something for every woman!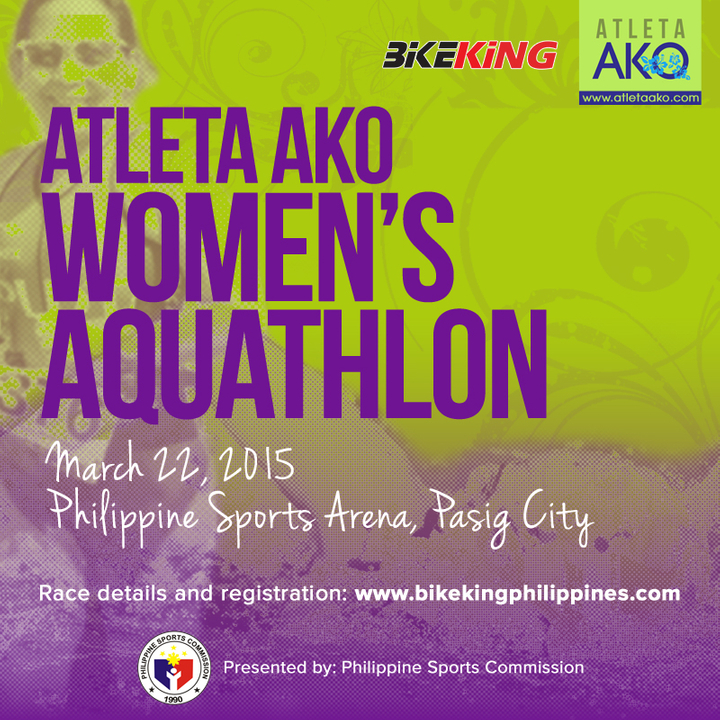 Atleta Ako Women's Aquathlon on March 22
Female 7-8: 50 Meter Swim, 800 Meter Run
Female 9-10: 100 Meter Swim, 800 Meter Run
Female 11-12: 200 Meter Swim, 1.6 Km Run
Female 13-14: 300 Meter Swim, 2 Km Run
Female 15-17: 400 Meter Swim, 3.2 Km Run
Female 18 & Above

Standard: 500m Swim – 5km Run
Petite: 300m Swim – 3.2km Run
Top 3 per Category will receive MEDALS and GIFTPACKS.
The Early Bird entry fee is P1,000 from January 15 to 31. Regular rate is P1,500 from February 1 to 20 or until slots last. You get these inclusions:
Event Shirt
Swim Cap
Timing Chip
Race Bib
Race Belt
Finisher's Medal
Post Race Meal
For registration and more information, please visit the event page.
Let's do this, ladies!