In all the hustle surrounding Christmas week, I didn't have a lot of time to sit down and post about all the great stuff I got to do and experience prior to Christmas Day. Stuff like the Run Safe 101 Seminar I was able to attend. This was organized mostly by members of The Starting Line triathlon team, namely Shy Sison-Vesagas who gave me the heads up on the seminar. Registration was free but it closed out in minutes, so thanks Shy for helping me secure a slot!


Run Safe 101 with Francis "Kiko" Diano
The back story here is that Shy's husband Steve is an avid endurance athlete but was always running into injury problems. On recommendation from Iah Isip and Arland Macasieb, they visited a PT based out of New York when Steve went to run the New York City Marathon. Francis Diano, nicknamed Kiko, is a sports medicine physiotherapist, USA Triathlon-accredited coach, marathoner and triathlete — so he's seen all kinds of endurance sport-related injuries and knows how to treat them and prevent them. When they found out Kiko was coming home to the Philippines over the holidays, they decided to harness his knowledge to enrich the local endurance community — runners and triathletes alike.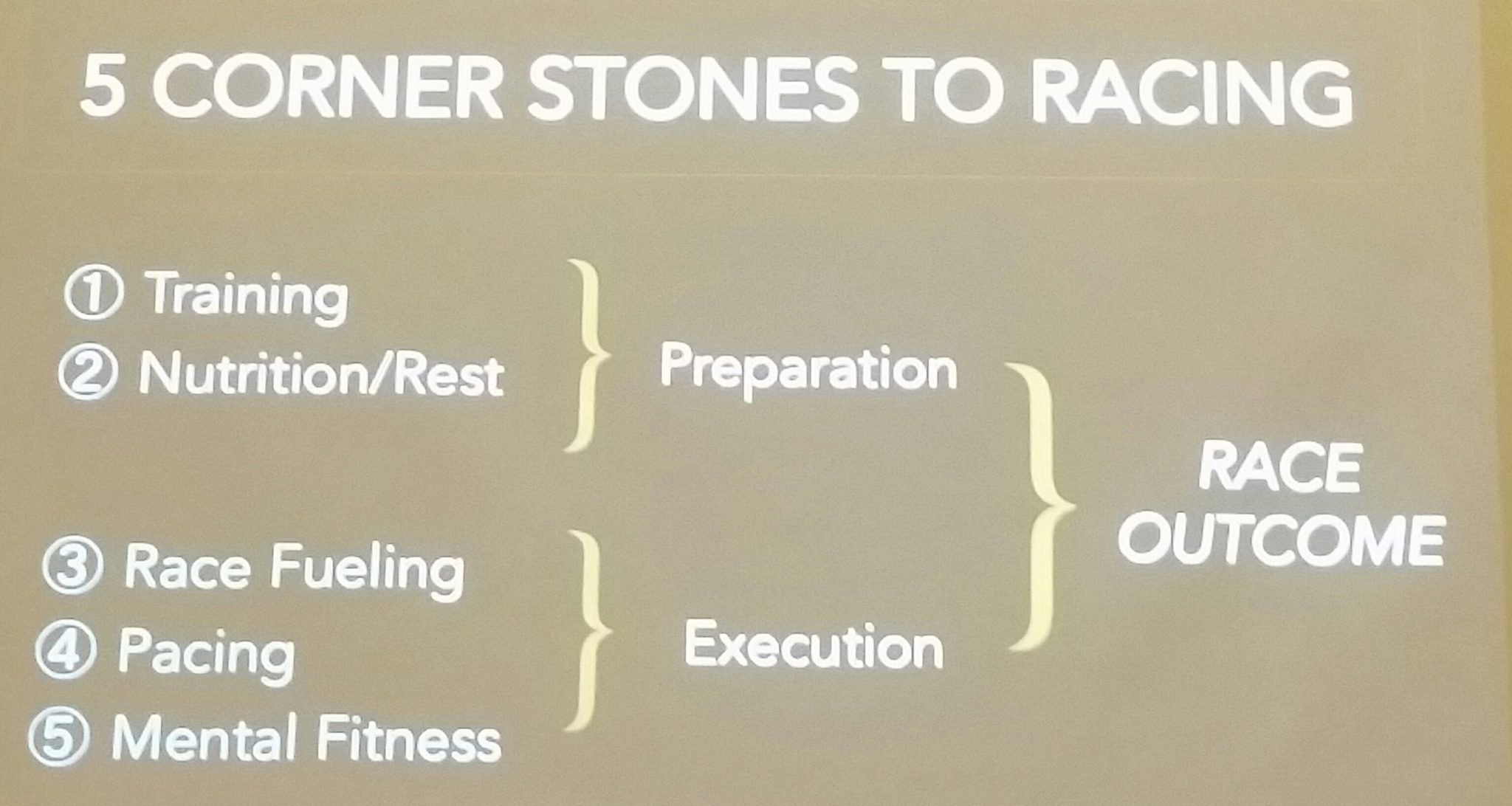 what contributes to race performance
When do we get injured? It's not usually during a race when athletes injure themselves. It's in those months building up to the race that care must be taken. Kiko said that injuries tend to crop up closer to the race, particularly prior to the taper period. As we increase mileage and intensity to build fitness, we also increase our fatigue levels; it's then when we're tired, we suffer loss of proper form, which may lead to injury. (This also happens when we don't get enough sleep, and try to run the next day.) During the taper period we unload our bodies of the fatigue, which brings us into a rested yet fit state that allows us to perform at peak potential.
Most running injuries are overuse injuries; it's not one instance of wrong movement, but thousands of repetitions of that movement, that is the cause of injury. The point of proper running form is to minimize injury and maximize efficiency, so that all the energy you expend leads to moving you forward faster.
It was a revelation to many present that there is no optimal position for landing on the foot. (Sorry, forefoot proponents!) What's more important is the position of the foot relative to the body's center of mass. Landing too far in front (overstriding) creates a braking action on any forward motion, slowing you down.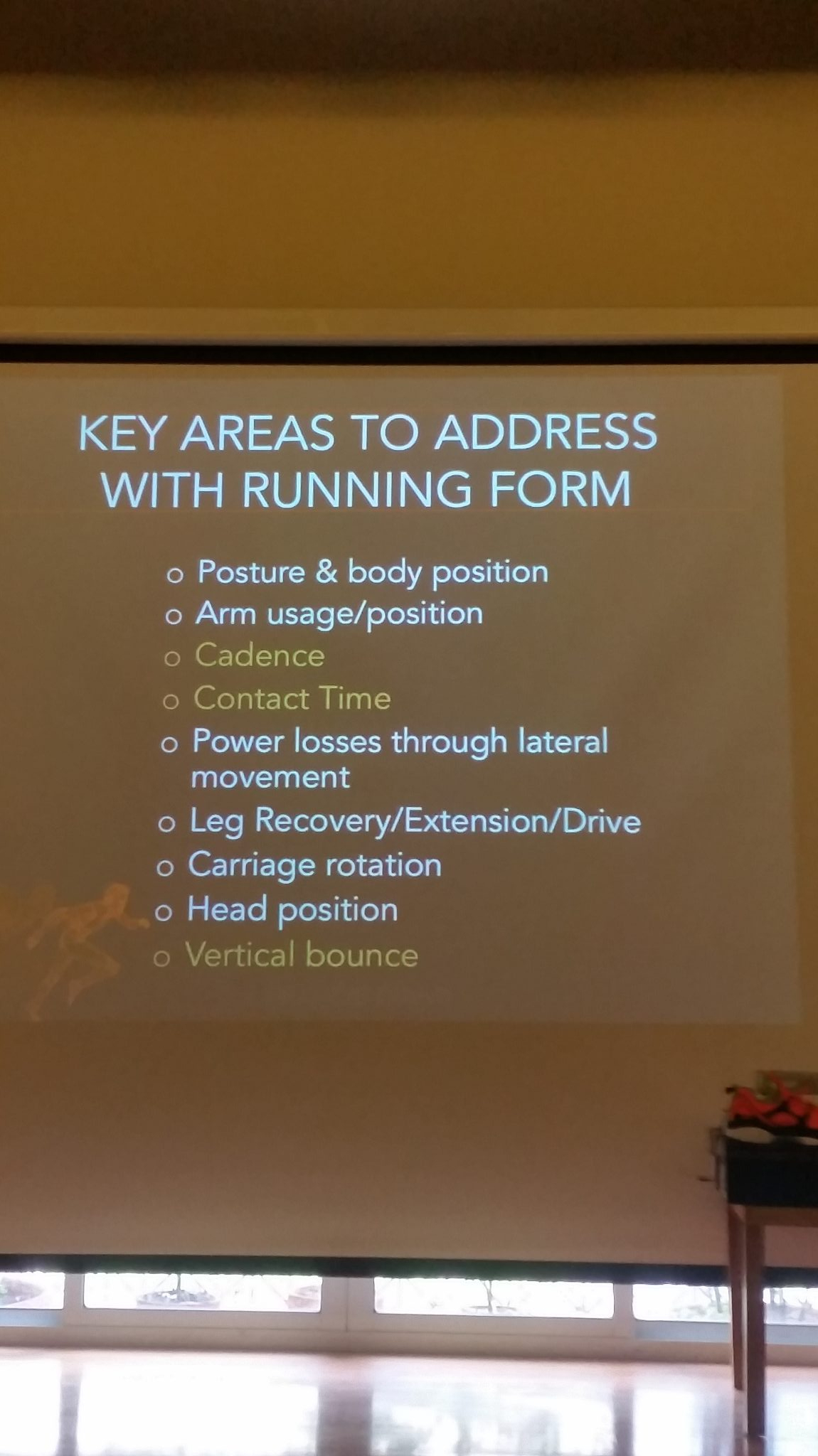 key areas for proper running form
The reason "cadence", "contact time", and "vertical bounce" are highlighted here is that, according to Kiko, many form woes can be addressed by increasing running cadence, decreasing contact time, and decreasing excessive vertical bounce.
He showed us a few case studies of elite athletes for running form analysis; small inefficiencies do add up! We can all stand to improve our running form; it was great to learn so much from Kiko to apply to ourselves (and to the athletes I'm helping out currently).
During the Q&A session, my swim coach Nonoy Basa asked how to manage plantar fasciitis. He's currently in his build for Ironman Melbourne, and due to running in bottomed-out shoes, he'd managed to inflame the plantar fascia on the bottom of his feet. Kiko examined his feet, palpated the space between his toes and targeting which parts to tape up. He didn't use kinesio tape, but rather something like Leukoplast, which is stiffer and doesn't stretch so it can really support the soft structures in the foot. Noy walked around after being taped up and exclaimed, "Wow!" Enough said.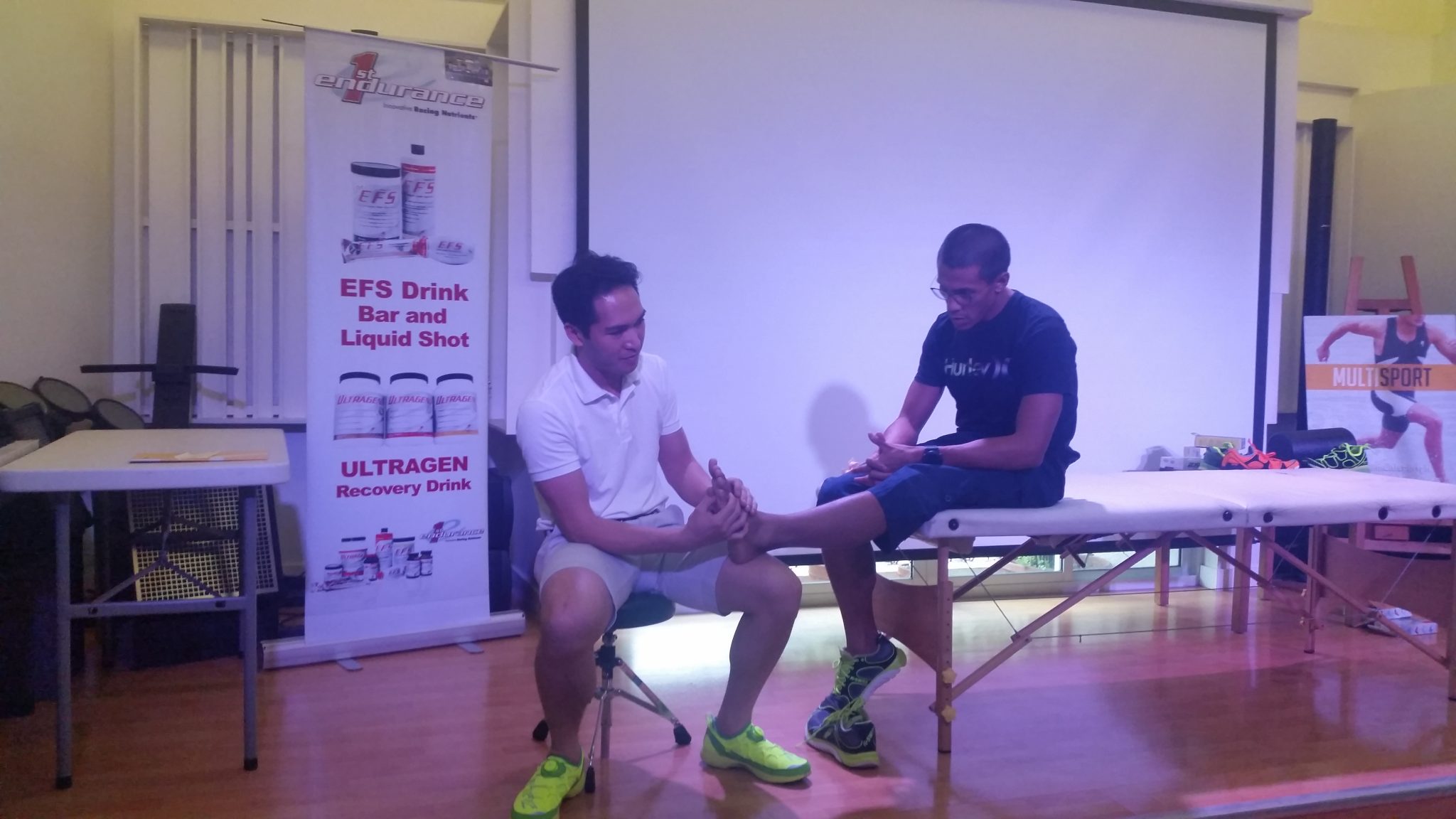 Nonoy Basa gets a consult for his plantar fasciitis
Kiko flew back to the US a few days ago after spending some family time in Davao, but Shy and co. are planning to hold some more running seminars next year, so watch out and book in when these open up! This is a must for serious runners.
Liked this post? Share it!