Many of you know that yoga plays a big part in my athletic conditioning. So when Beyond Yoga partner and ambassador Bianca King invited me to try out their Hot Primary yoga class at the Rockwell branch, of course I said yes!


with Bianca King and Al Galang
2011 was the last time I took a Bikram hot yoga class (you can read about that experience here). Even further back in 2008, before I started running, I encountered yogi Al Galang when he had just set up a Bikram yoga studio in Greenhills.
Funny how some things come full circle. I dropped out of the hot yoga scene, Al sold his yoga studio, and we both went into different ventures for the next few years. Yet there I was last Friday at Beyond Yoga Rockwell taking a Hot Primary class under his direction.
Conducted in a heated studio, Hot Primary is a non-vinyasa (flow) yoga with a 40-posture set sequence. (Basically this means you get into the pose, then you get out of the pose and then get into another pose.) It comes from the 84-posture sequence taught by Bishnu Ghosh, who then passed them down to his students, namely Bikram Choudhury, the founder of Bikram Yoga.
"Hot Primary is something we've introduced this year. It's a culmination of my years of experience in Bikram yoga but also a culmination of years receiving feedback from myself and thousands of students in what they want, what could keep them going and challenge them and still work," Al told me when I sat down with him in the studio after the class.
You can listen to my interview with him here or on iTunes:
Podcast: Play in new window | Download
Friday happened to be the day predicted to have the worst traffic jams this Christmas season, so I arrived late to the class and they were already in the thick of things for the standing postures. Normally I would want to warm-up before getting into the postures, but because of the heated room, my muscles were relaxed yet stimulated enough to jump right into a lunge.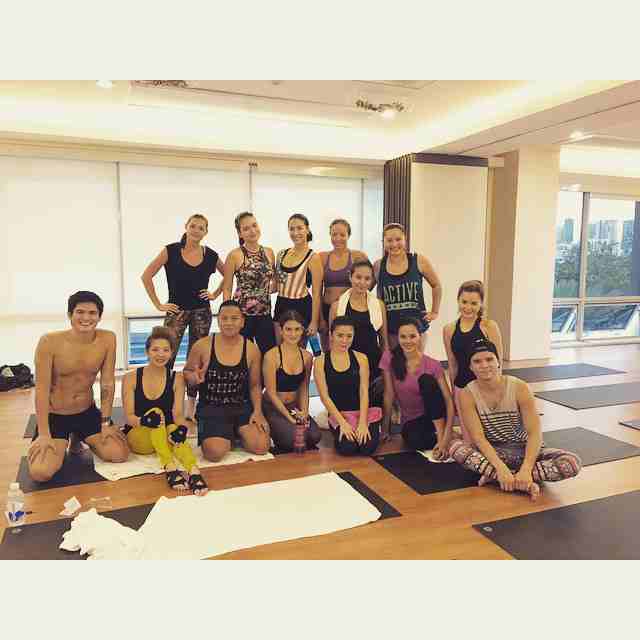 the star-studded session: model-actresses Rhian Ramos, Sarah Lahbati, Antoinette Taus, Carla Humphries, Bela Padilla, and Catriona Gray (photo from Bianca King's Instagram)
Some of the poses were familiar, but in Hot Primary there was also work for arms and core, something not seen in the 26 postures used in the Bikram classes I'd taken before. Much like my previous experiences with hot yoga there was a lot of encouragement to get deeper into each of the poses. "If you're not pulling, you're not stretching," Al said. I think I might have stretched my hamstrings a lot more than usual.
However, I didn't feel forced into going further than I was comfortable with; there's no stress put on you if you don't accomplish a pose, as long as you put in an effort to get there. It was a tremendously supportive environment, and I could tell that the first-timers in the room felt a sense of accomplishment that they had even tried all the poses.
After the class we had a yummy mushroom burger and kamote fries buffet, and took home a gift bag filled with goodies from Healthy Options, Messy Bessy (I use this Sports Spritzer to keep my gym stuff smelling fresh!), and Skinny Juicery (cleanse, anyone?). I also won gift certificates worth P5,000 from Planet Sports. And thanks to Beyond Rockwell for giving me a whole year's complimentary entry so I can attend as often as I want. It felt like Christmas for the fit and active person!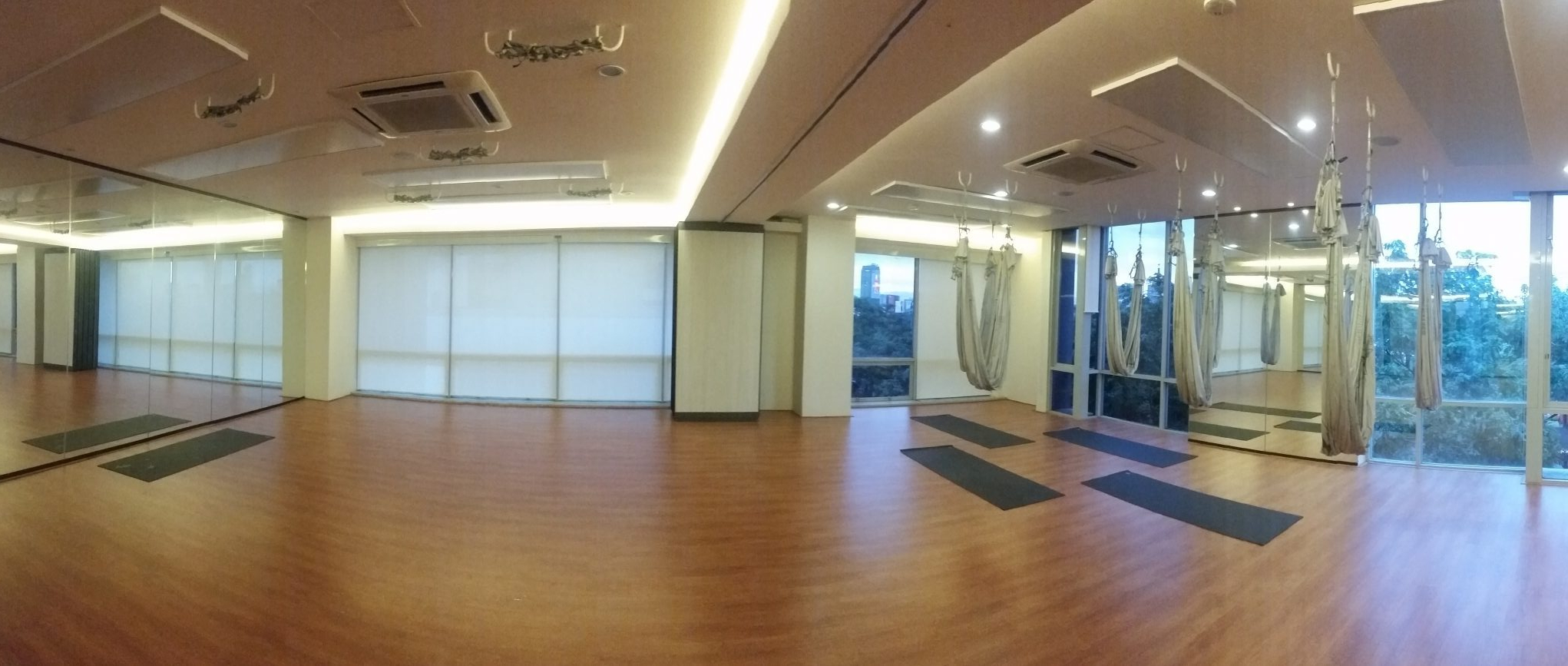 The studio converts into one large room for Hot Primary
Beyond Yoga has been offering Hot Primary classes in its Rockwell branch, but will begin to offer hot yoga classes in many of its other branches after it holds a 200-hour teacher training. Apart from hot yoga, Beyond also holds non-heated yoga classes and its trademark antigravity yoga (which I've tried before; so much fun!).
"We are wired or inclined to things, whether it's intensity or stillness," Al said. "If you can find the things that fix you and offset what your extremes are, then you don't just look better, but you embody this feeling of wholeness. That's what balance is."
With everything sporty and intense that I'm planning for 2015, I will definitely need to come back here often!
Beyond Yoga Rockwell is located at 38 Rockwell Drive cor. Palma Street, Makati City. For more information, visit igobeyondyoga.com, check out their Facebook Page, and follow them on Instagram and Twitter.