I didn't plan on racing 25K this year, but the New Balance Power Run's signature distance provides a worthy challenge for those who've grown accustomed to half-marathons.
This was supposed to be another regular weekend for me: long bike ride in Nuvali on Saturday, either sleep in or do a long run on Sunday. But with the Bataan International Triathlon happening in three weeks' time, instead I accompanied a teammate on a day trip to scout the hilly course (more on that in my next blog post). And then of course on Friday, Kim Atienza offered me a race kit for the Power Run.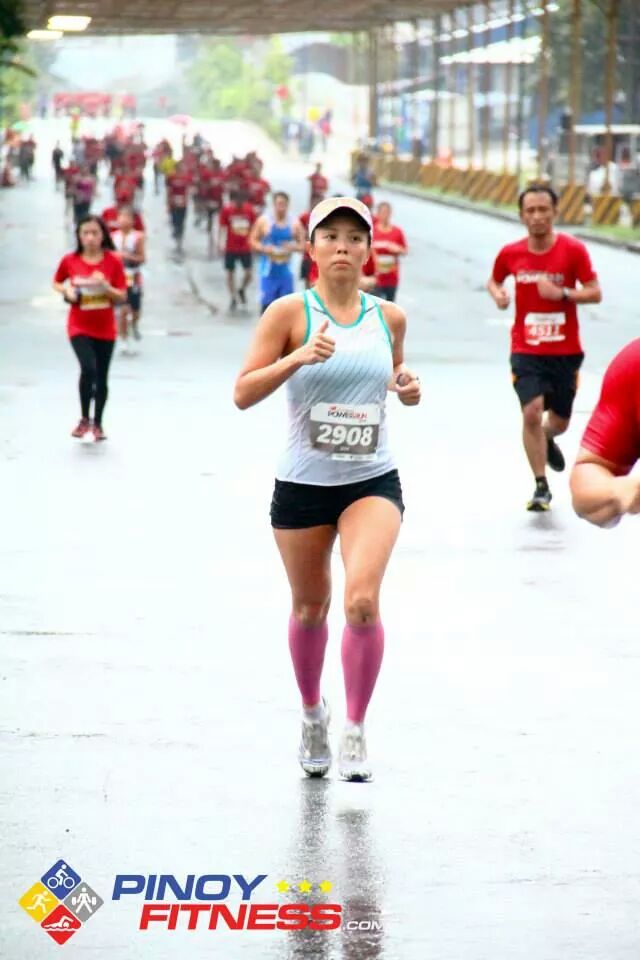 Wearing Mizuno, Zensah, and Salice. Thanks Pinoy Fitness for the photo!
The first (and last) time I did that race in 2012, I had a previous ankle injury that I was nursing. This time around, I was perfectly healthy, although with less running kilometers under my belt than I liked. That, along with some helpful peer pressure, got me to toe the starting line yesterday.
I was supposed to run this according to a heart rate zone to force myself to take it easy. Unfortunately, I left my heart rate monitor strap in my backpack when I checked it at the baggage counter. As I looked at the women around me in the corral, I realized I had a good shot at a top 10 finish. Even though I wouldn't be in the money, it would be nice to test myself once again in an open run after months of competing only at triathlons. (And I thought a new PR at this distance would be nice.)
The running community must have really been preparing for this race and has also matured much since 2012. Previously plenty of people had started off too fast and then faded as the race went on. This time around, people started fast — and remained fast!
I felt quite good at the start, so I jockeyed for position within sight of the 4th woman. And then someone else whizzed past me and kept that blistering pace, bumping me down to 6th. Even from the back I had an inkling it was one of the speedy Carpo sisters who have qualified for Boston multiple times. (It turned out to be Amanda Carpo.) I had no answer to that, so instead of trying to chase her down, I settled into my own pace.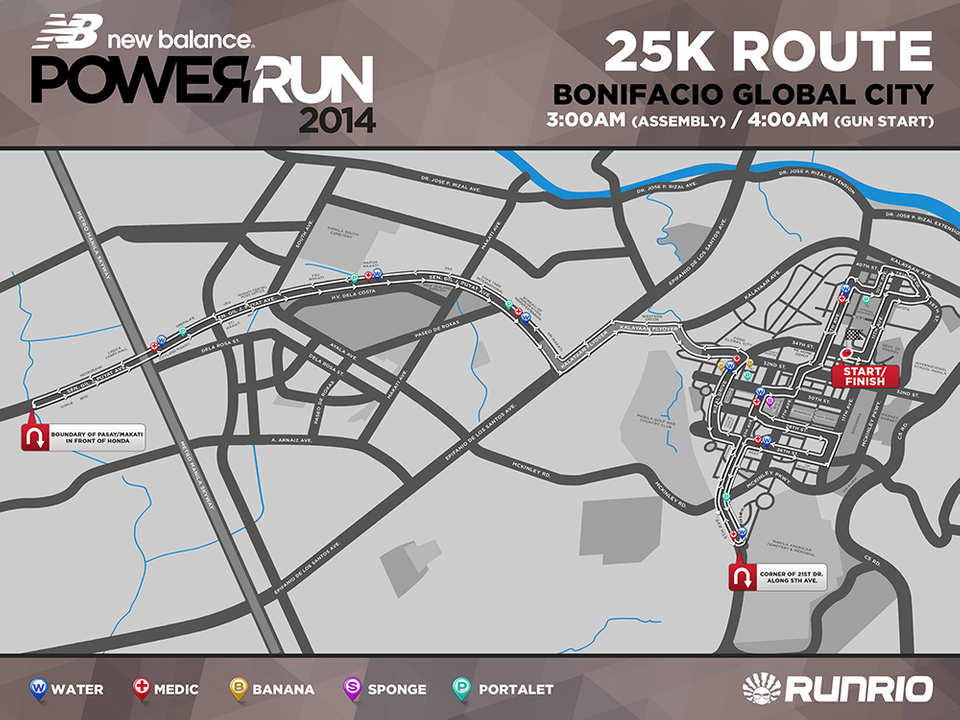 New Balance Power Run 25K race map
At every turnaround, I saw the look in the eyes of the top three women; they were hungry for those podium spots, and I think that's the difference between professional athletes like them and recreational athletes like myself who occasionally stumble onto a podium spot. Winning gives them their livelihood and they would definitely lay everything on the line to do so, training hard and then racing to their limits. Me? I was just there for kicks and knew I was woefully underprepared to even think about wresting one of those spots away from them. But there are many other challenges in racing to be overcome that can leave you feeling like a winner.
The 25K is a tricky distance. When you think about a 25K race, you could naively think "oh it's just a 21K with an additional 4K". If you've done a lot of half-marathons you could be tempted to apply the same racing strategy for a 21K to a 25K. What you forget is that 4K is still some 20-30 more minutes of running. The start is a long way from the finish, and because the course is on my stomping grounds I knew I couldn't push all the way; instead, I would need to take the opportunities to coast and recover before tackling the next tough section.
This course is unexpectedly tough because the inclines (aside from the obvious flyover) can sneak up on you with false flats. The race also goes uphill in those last four kilometers. Ouch!
My plan was to run the first 21 kilometers just slightly slower than my average pace when I set my 21K PR earlier this year. I believed this would give me enough of an energy buffer to hang on for those last 5 kilometers. I also wanted to practice some mental discipline in what amounted to a race-specific training run; what goes on in my head when the going gets tough? Do I lose focus and slack off? Or do I get overly aggressive and burn myself out?
As you can see in my photo above, I couldn't even bring myself to crack a smile! I needed every ounce of willpower to keep my legs turning over after the 18th kilometer. My legs were heavy, Kim had just passed me with his devastating finishing kick, and the guy who said he wanted to pace with me suddenly found his legs and picked up his pace. All these things can conspire to bring you down!
Instead, I reminded myself that I'm in better condition than I was in 2012 and nothing stands in my way of bettering my 2:27 finish back then. I remembered all the painful, lung-busting run sessions I put myself through the last year and how I got through them with the thought that yes, I can do this. And I told myself over and over how I love running hard, flying over the pavement.
I didn't give up on myself and crossed the finish line in 2:10:55 completely spent. There was no more I could have done, and I was happy with that.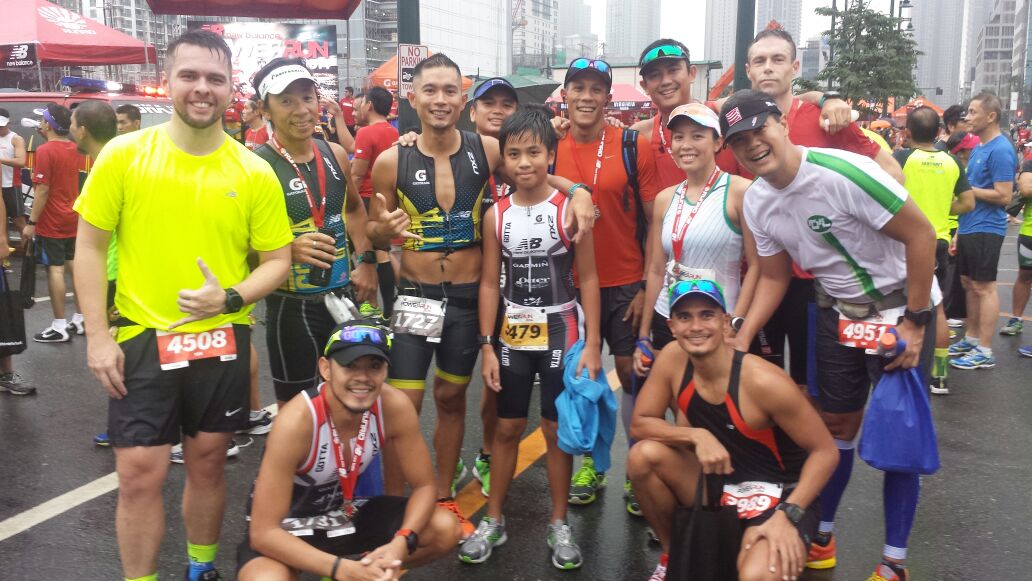 all smiles again after the race (photo from Nonoy Basa)
Strava data
When you've done so many races across all standard distances you start to realize that while some part of the race experience is external — the route, the marshalling, the pre- and post-race festivities — the bulk of your experience is internal. It's what you're thinking and feeling in those moments that you're hard-pressed that is the biggest challenge and creates the most impression and impact on your results. For the New Balance Power Run I'm happy I hung on so well mentally!
So, how was your race?
Liked this post? Share it!