While the Maze Challenge Asia wasn't a running race, it was still a timed event with the person who finished it fastest as the winner. So I still found myself feeling pretty competitive on race day, aiming to get through that maze the quickest I could go. But I was also determined to enjoy myself and not make this trip all about the race.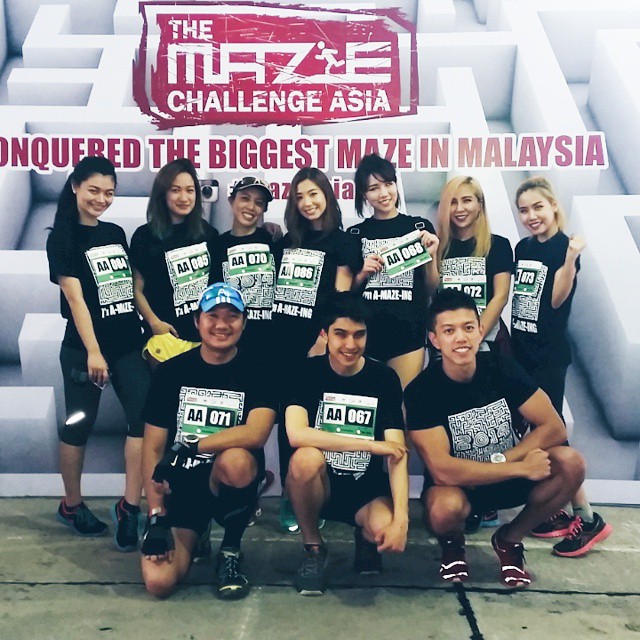 We conquered the Maze Challenge Asia!
Jinoe Gavan of Takbo.ph and I left Manila yesterday around 7:30am on our Air Asia flight to Kuala Lumpur. It's a three-and-a-half hour flight

which we whiled away sleeping, then chatting about the running scene and our respective journeys as bloggers with Nuffnang. Before we knew it, we had landed at Kuala Lumpur International Airport terminal 2 and were being whisked off to our hotel, the Concorde Inn KLIA, aboard the complimentary shuttle.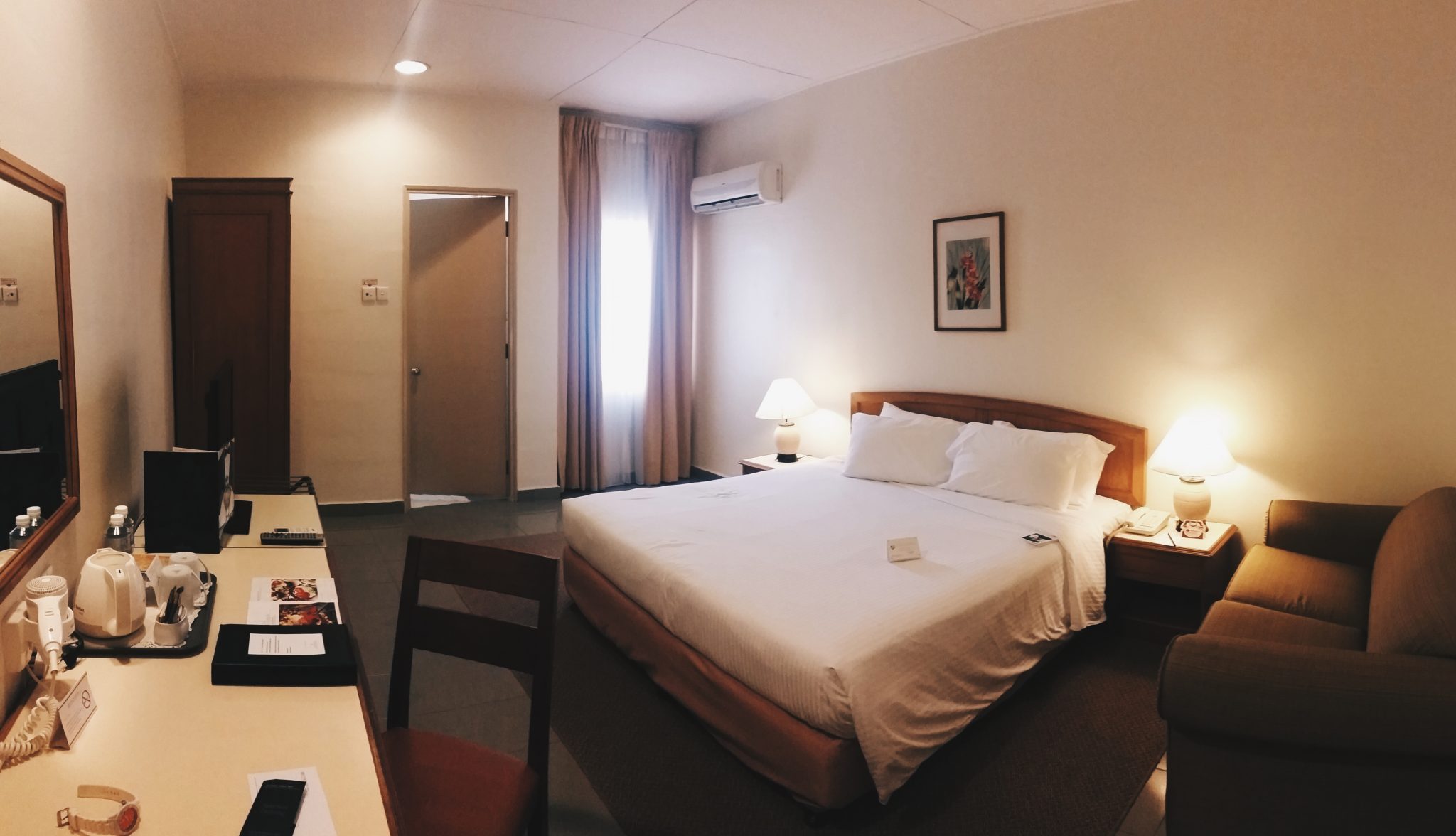 my spacious room at the Concorde Inn KLIA
The Concorde Inn KLIA is just off the expressway very near the airport terminals, so we didn't have to wait long before we were in our rooms getting settled in. While Jinoe took an afternoon nap in his room, I went to the pool and did a few lazy laps (it's small, but fun to splash around in) just to get my legs moving after a long day of sitting and traveling.
It rained strongly later that afternoon, so it was just as well we stayed close to home and saved any sightseeing for the next day after the race.
We also met a few of the other bloggers Nuffnang had sent from all over Asia Pacific at dinner that night.
Early the next morning I had a hearty breakfast sitting with the blogger from Australia, Arman, who contented himself with coffee. I didn't exactly know why I was stuffing my face, especially since the Maze would probably involve more smarts than endurance and calorie-burning. I felt way more antsy than I would have if I were starting at the Bataan International Triathlon, which was about to fire off at about the same time.
Then I realized it's because with a triathlon I knew what was coming: first a swim, then a bike ride, then a run. With the Maze it was just a big unknown. How much upper body strength would it need? Would I be agile enough? Could I keep my acrophobia (fear of heights) in check at some of the obstacles we knew would be there? And would there be a lot of mud, my kryptonite?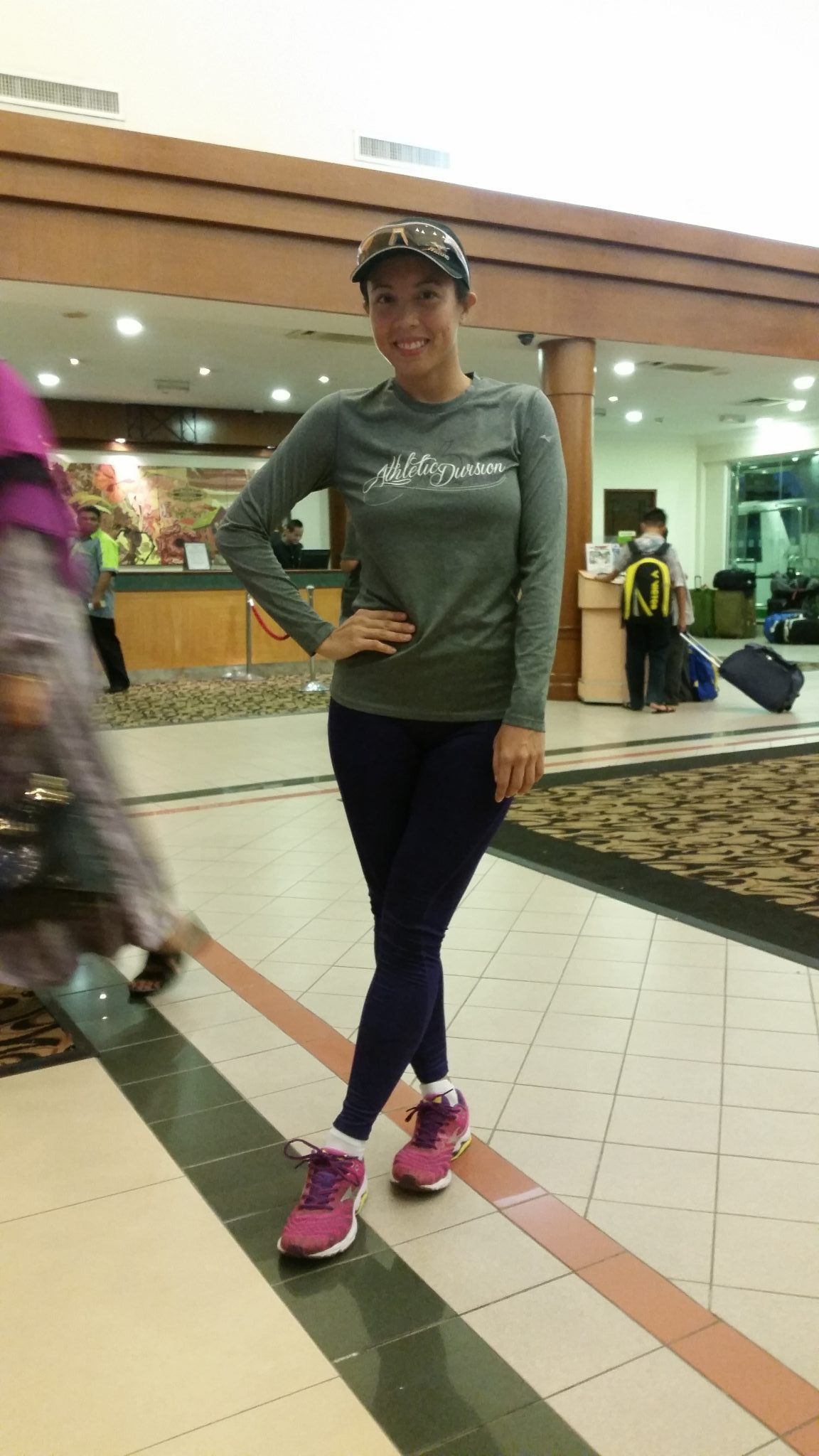 Wearing dark colors to minimize mud stains!
The Maze was certified as Malaysia's first and largest maze structure, so to participate in this event that's the first of its kind in Asia was doubly momentous. I was glad that it wasn't just Jinoe and myself who were representing the Philippines here; I also came across fashion and lifestyle bloggers Laureen Uy, Kryz Uy, and Verniece Enciso. So together with Arman and Jinoe we left the hotel in the first shuttle headed toward the Maze.
Sepang International Circuit is an enormous complex with several entrances; we entered via the paddock entrance and found the grounds were paved with concrete; it was not an open field, as I had imagined it would be.
After depositing our valuables at the storage area (which charged MYR 20) at the parking lot, we made our way to the start corral as part of the first group to be let out into the Maze. The host was very entertaining as we counted down the minutes to the start, and he warned us that we shouldn't freak out at heights, because the more we freaked out, the more difficult it would be.
Then they opened the gates and sounded the air horn, officially letting us loose onto the Maze.
(I have a video of my run through the Maze but I'm still trying to edit it, hehe.)
The first obstacle was 10 meters in: a slip 'n' slide under wiry cords so we had to crawl along on our bellies. As I got down onto my knees I felt the skin tear over my scar from the wound sustained at Roth on my left knee. Ouch! I couldn't figure out how to make my body move forward without using my left leg, and so in the end it was a cross between a military-style crawl and a snake wriggle that got me through.
Then it was an almost-vertical wall that we had to scale using some skinny ladders and ropes. There was a bit of a logjam there since we had to wait our turn to climb.
Finally, after the five people in front of me, it was my turn to go. With my heart in my throat I began what felt like a perilous climb. Then when I got to the top, I looked down and my heart jumped right into my mouth. It was a climb down a pretty sheer wall face, with another rope dangling down and some thin steps built into the wall face. I tried to keep away the thoughts of slipping down too fast, and after a few hairy minutes, I was finally out of there.
Then we had to jump over some barriers before going into the Maze structure itself. It had four entrances, with some of those entrances leading into longer labyrinths and others leading straight into the final few obstacles.
I took the second entrance, remembering the rule of thumb about navigating mazes: follow one wall the whole way through. So I followed the left wall — and promptly ended up exiting from the first entrance. Realizing my mistake, I reentered the Maze, and after one dead-end and a seemingly endless twisting corridor, I was suddenly out of the maze and jumping over barriers again towards the next obstacle: a run through mud and water.
The marshals were yelling, "Run, don't walk! It's easier that way!" There were some cement blocks laid out over the mud so you could hop from one to the other, but I was more scared of accidentally twisting my ankle with a misstep on those blocks. Instead, I ran over the mud which had a slightly Newtonian liquid feel: the harder you stomped down on it, the more solid it felt!
Finally I came to the final obstacle, which was another climb. This time, there were four handholds going up a wall. Again with my heart in my throat I took those handholds one at a time, spidering up the wall.
Then it was a 100-meter dash to the finish! I could hear someone running right behind me, so I put on a burst of speed and crossed the finish line, logging a respectable time of 9 minutes and change. Not the fastest (someone finished in 6 minutes in the wave after us!), but at least I didn't end up going around in circles, which is what happened to Jinoe and some of the other girls. They went past the water station inside the Maze several times until they figured out a strategy to eliminate wrong turns: Jinoe would go ahead to the next turn while someone would hang back where they had already passed. If the turn led to a dead end or doubled back, they would know not to take that turn and at least they would still be making forward progress no matter how slow.
We all regrouped at the finish and collected our nifty medals. I found myself hankering for a good run, or maybe another go at the Maze to see if I could do it faster. But that can probably wait until next year (which will allow my reopened wound to heal. Yet again, OUCH!).
And it wasn't even 9am, which gave Jinoe, Armand, and myself ample time to take the hotel's complimentary shuttle back to KLIA to catch the KLIA Ekspres train heading into the city.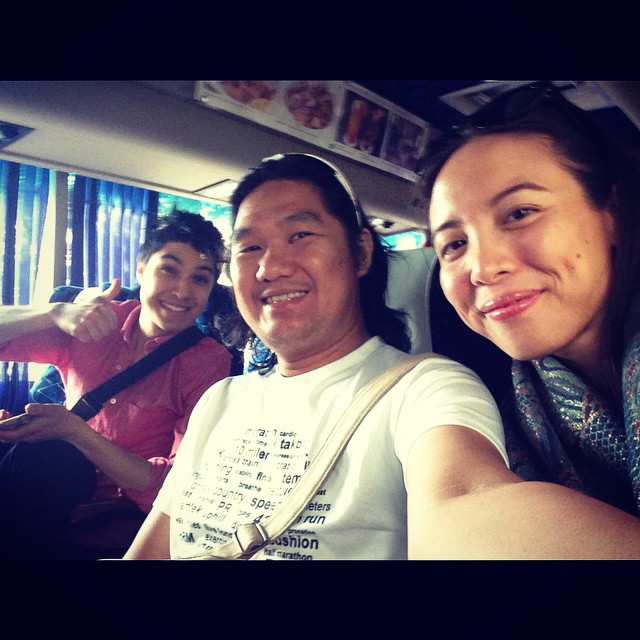 our KL adventure about to begin
Unlike Metro Manila's airport which is smack in the middle of the city (and its congested traffic), KLIA is about an hour's drive out of the city limits. Using the train, it would take us 38 minutes to get to KL Sentral which is a transit hub connecting to other rail and bus lines.
At KL Sentral, Arman split off to explore on his own, so Jinoe and I took the Kelana Jaya rail line toward Kuala Lumpur Convention Centre (KLCC). This is Jinoe's first time in Kuala Lumpur, so of course we had to go see its most famous landmark: the Petronas Twin Towers.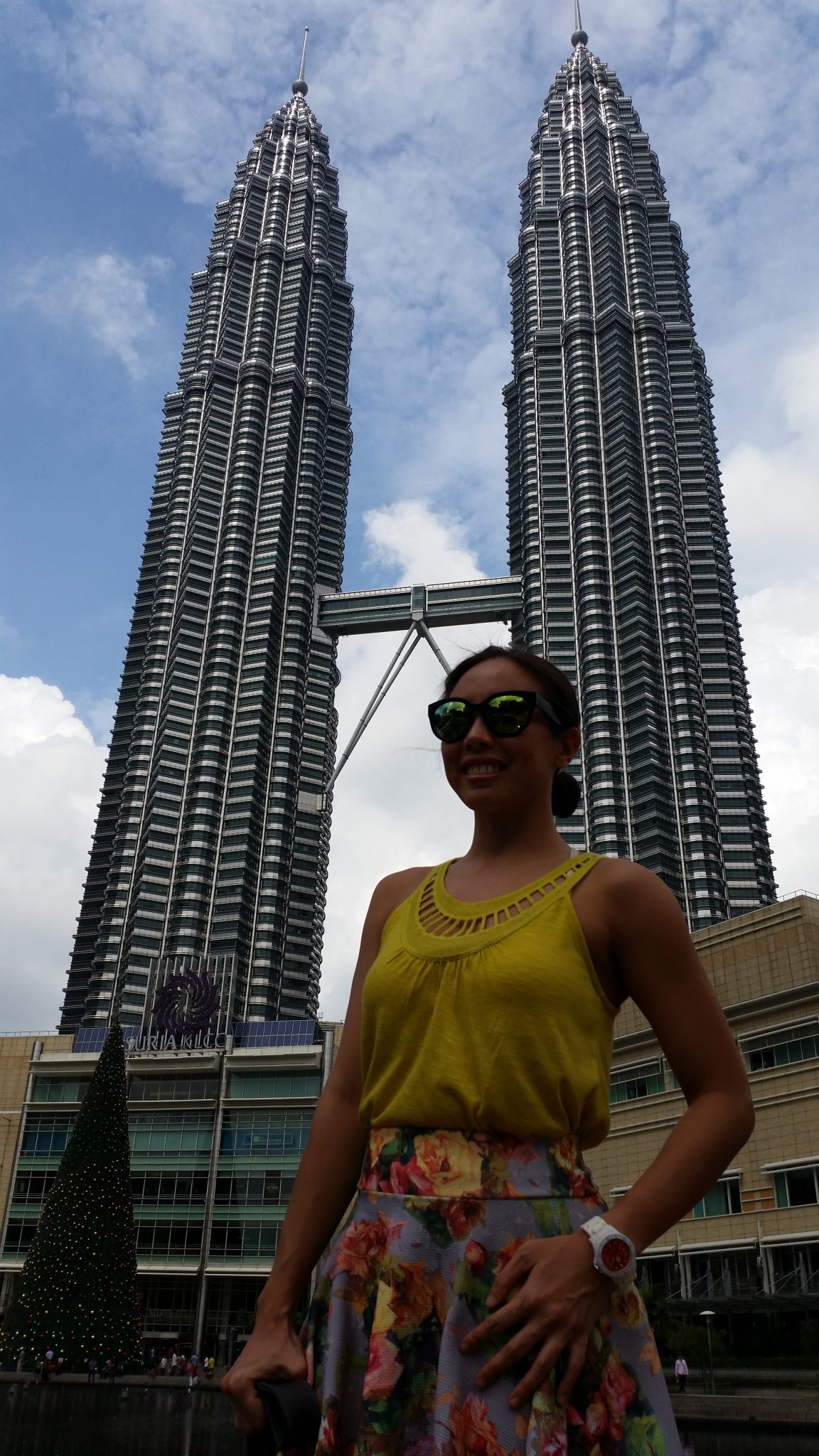 when in KL… (thanks to Globe Unli Data Roaming, I was able to post this on the spot!)
We also found a jogging path winding through KLCC Park, which we were amazed at because you rarely see such a thing built into Manila's commercial destinations. And the fact there are filtered drinking water fountains took my amazement to a different level.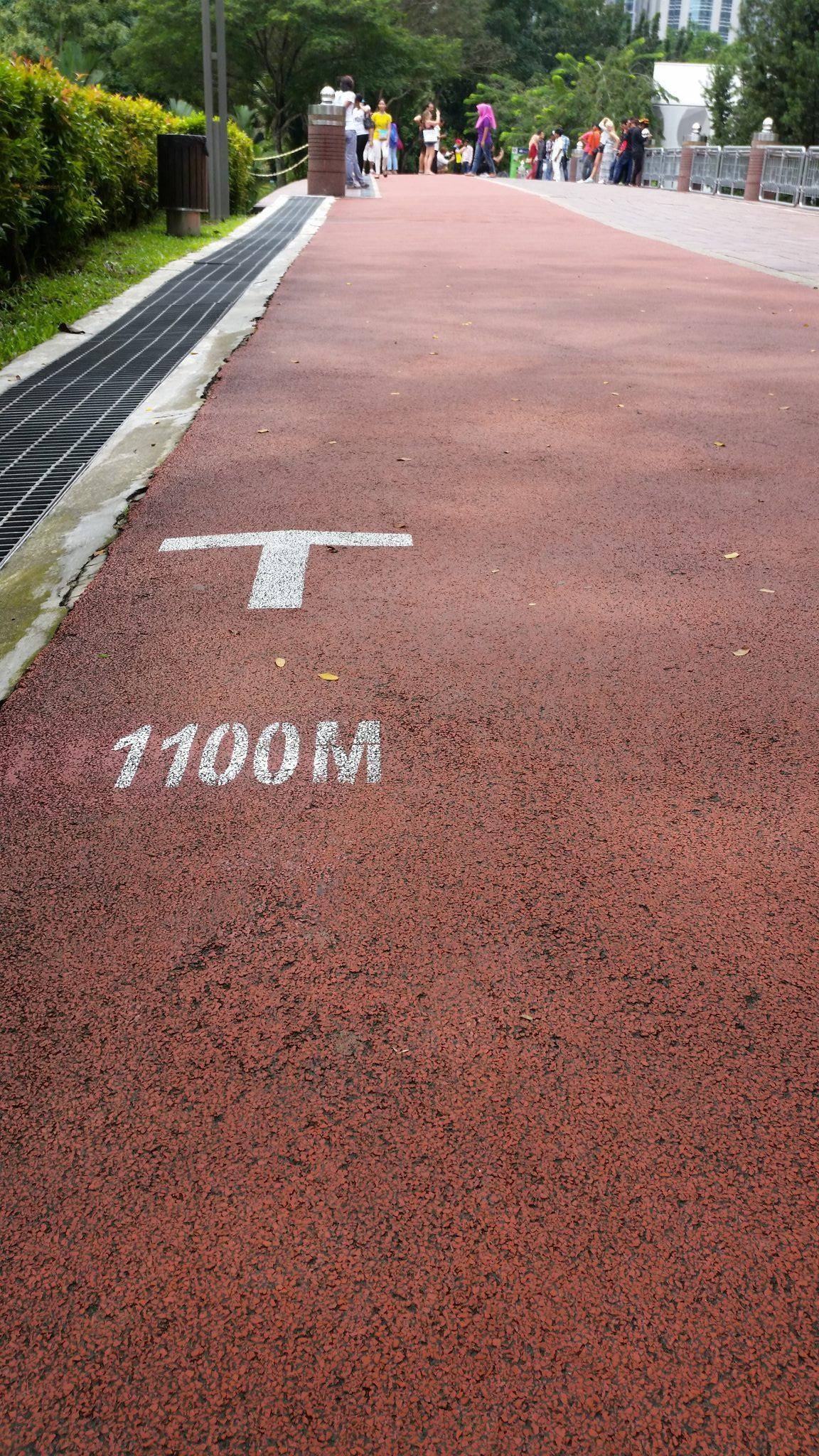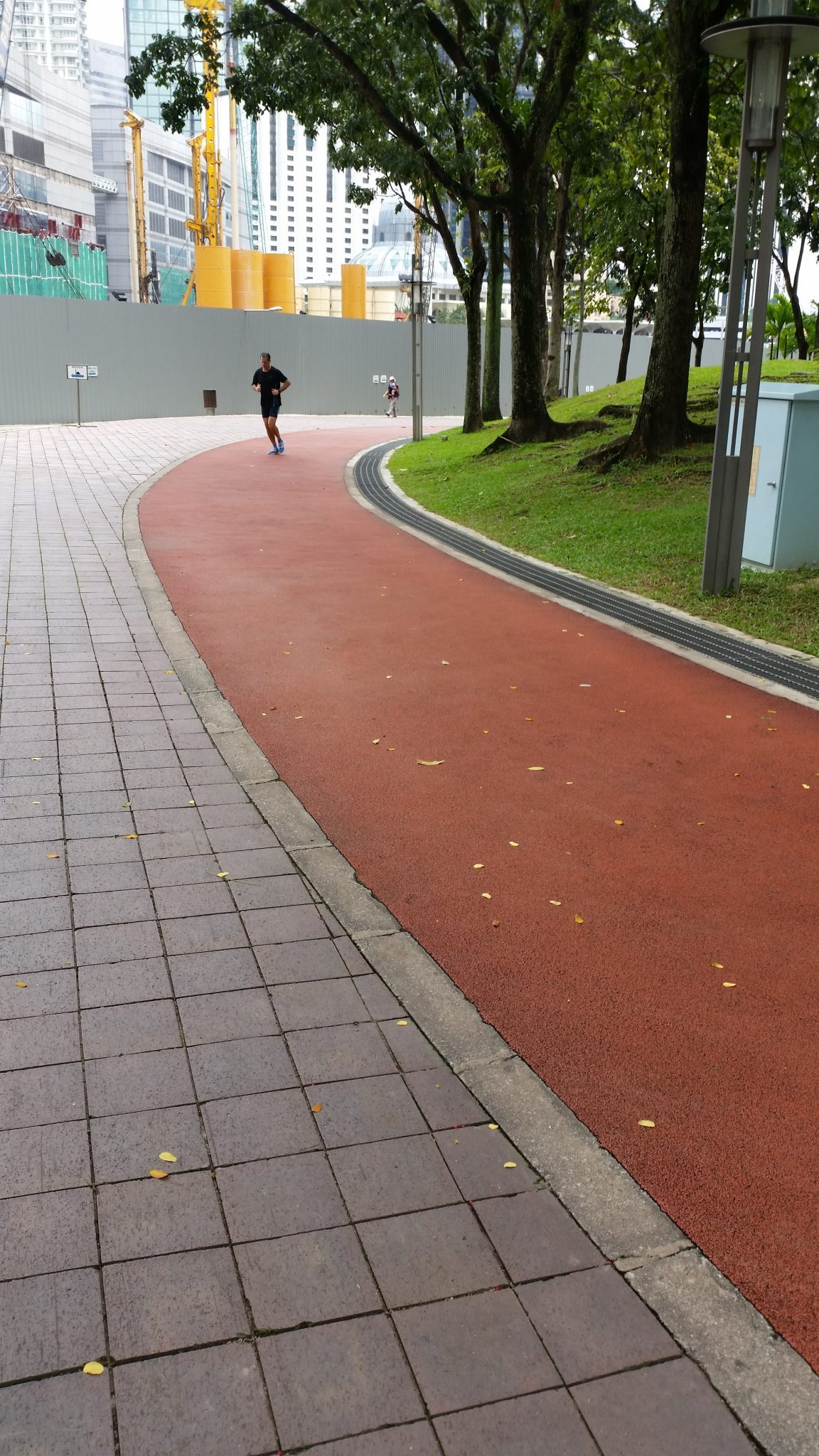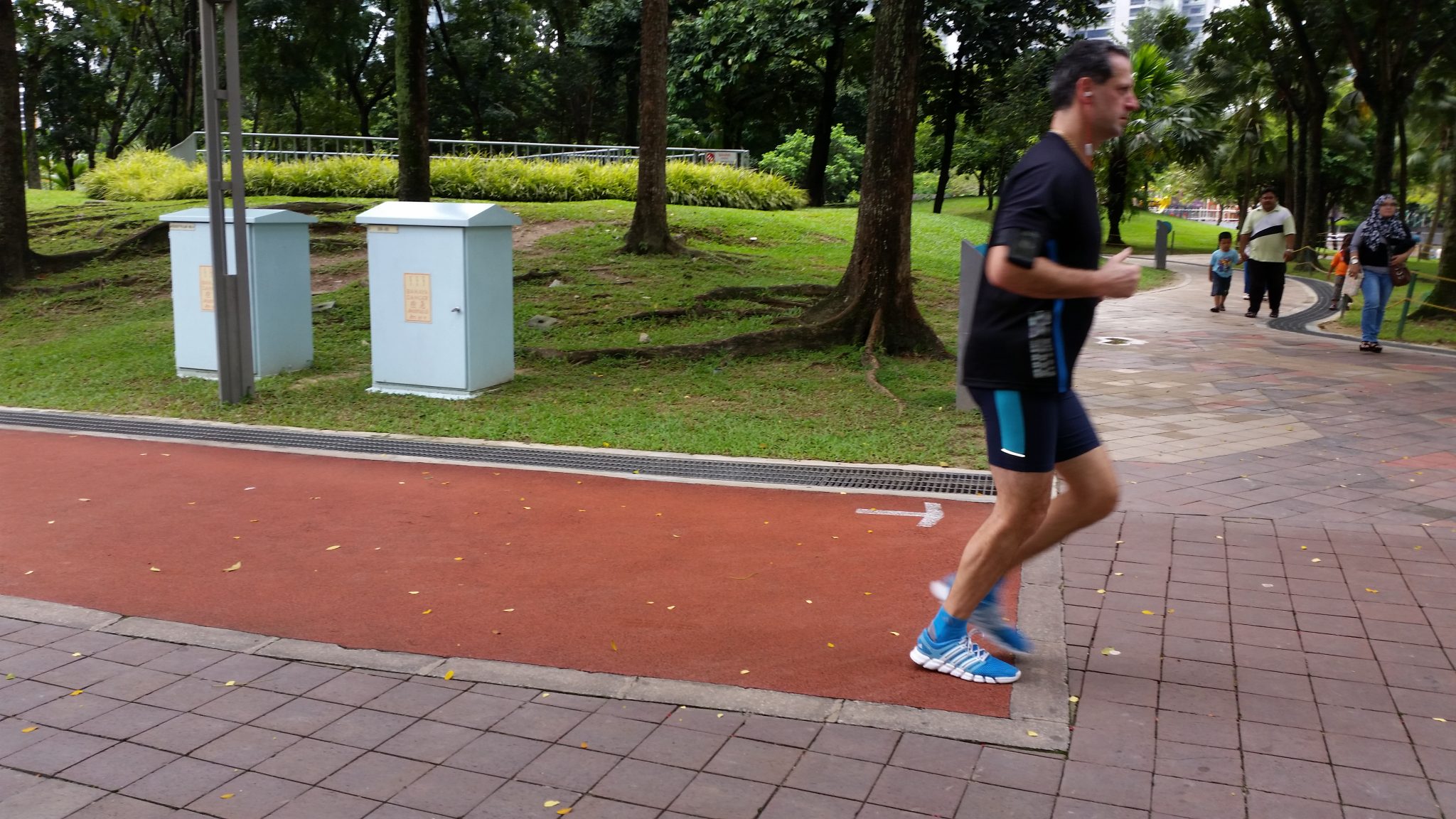 we regretted not being in running attire
After lunch and doing a bit of shopping for pasalubong, we were knackered so we headed back to the hotel. Kuala Lumpur's public transportation is quite organized and extensive, so you can get around without hiring a taxi most times.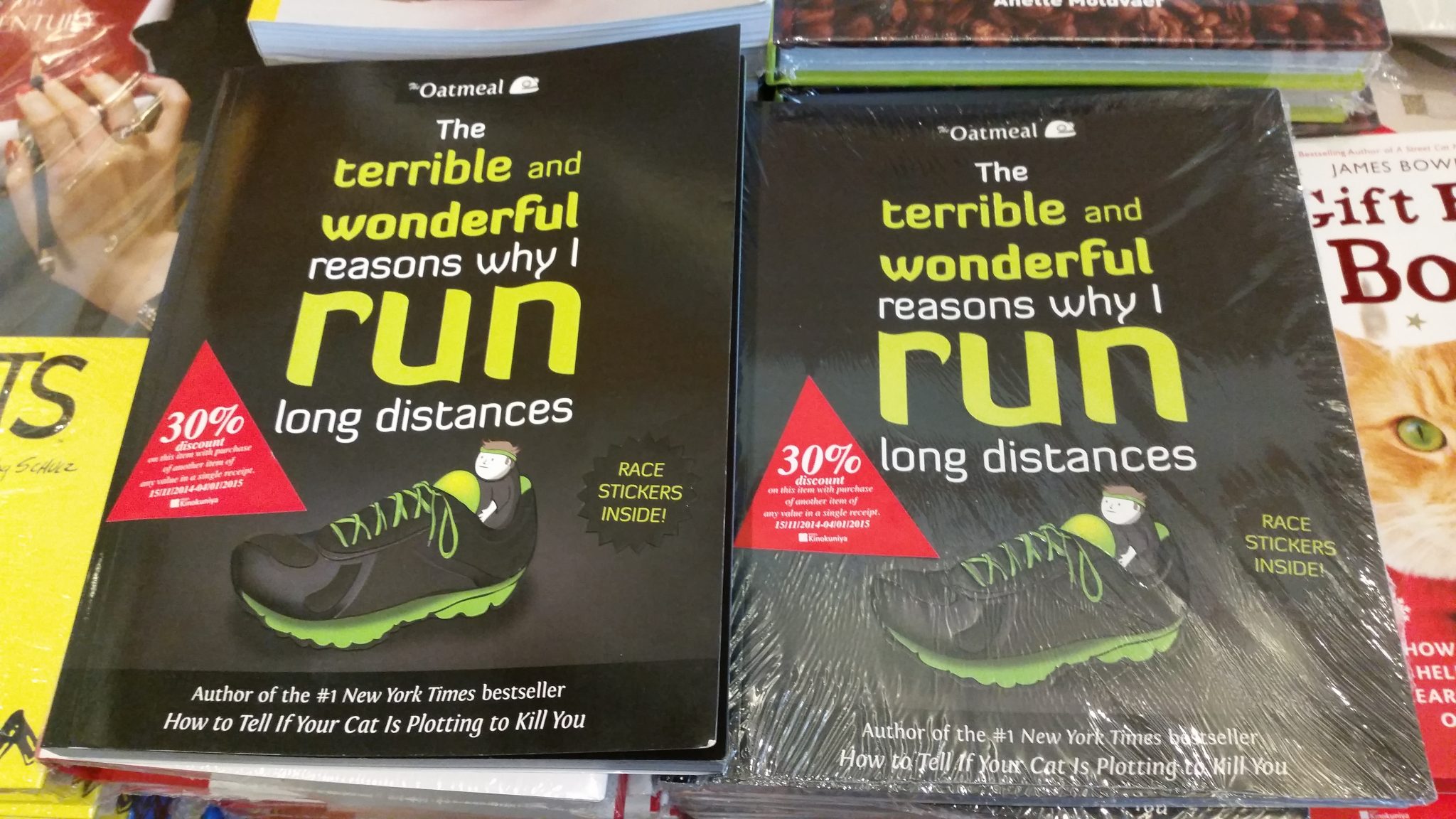 Found this at Kinokuniya! But I didn't buy it. Now I regret it…
They are holding this event again next year, so if you plan on visiting Kuala Lumpur and nearby places, try to organize your trip to include next year's edition of the Maze in your itinerary. It's a nice break from the usual tourist destinations and who knows, next year could be even bigger and better, making history again.
I'm returning to Manila tomorrow, so it's been a very short but action-packed visit to Kuala Lumpur thanks to Nuffnang and the Maze Challenge Asia. It was nice not just to participate in an event, but also get around and see more than just the race course. I really should do this more often.
Liked this post? Share it!