UPDATE: The Gran Fondo Bicolandia was rescheduled to January 11, 2015 due to the effects of Typhoon Ruby/Hagupit.
I have been sick, busy, or otherwise faffing around so I haven't taken my Ceepo bike Aki out on a really, really long ride. And besides, I'm done with ironman training for the next few years so you won't find me on a 200-kilometer ride any time soon. But this bike is made for long-course, so every time I end one of my rides in Nuvali I can practically hear the bike asking for more, more…
You can understand why my ears perked up on hearing about the Gran Fondo Bicolandia happening on December 14, 2014. It begins in Naga City and passes through the municipalities of Sagnay and Tiwi, the city of Tabaco, and ends in Legazpi City for a total of 120 kilometers!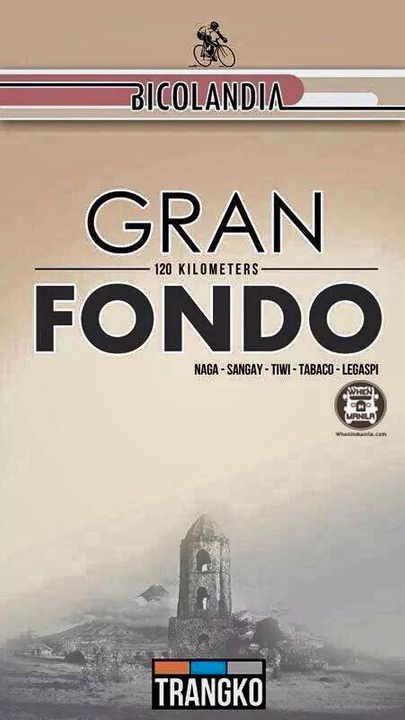 Gran Fondo Bicolandia on December 14, 2014
This is a gran fondo, which isn't a formal race but is more of an organized group ride with rest and feed stops. It's a great way to get miles in as well as see the country on two wheels! The fondo is open to road, tri, and mountain bikes. Hooray for Aki!
Entry is priced at P2000 if you are availing of the limited edition Gran Fondo Jersey, or P700 without the jersey. Your race fee is also inclusive of an event shirt, finisher meal, and transfers going back to Naga City after the fondo.
This is a fully-supported ride, with Rest Stops on the way. You may also bring your own support, but will have to stay behind the pack. Rest Stops will have fresh water, isotonic/electrolyte beverages, nutritional supplements, first aid and mechanical assistance.
You will need to maintain an average speed of 20kph (inclusive of rest stops) to stay within the event. If you travel below this average speed you will be passed by the "End of Ride Car" at some point, which marks the Sweep Entourage vehicles which include a Rider Bus and Bike Van for participants who have been swept off the course. All official, on-course event support will be closed shortly after the "End of Ride Car" passes them.
If passed by the Sweep Entourage, if you do not accept a ride to the finish line you will have to abide by normal traffic patterns, the special event traffic control and signage may be removed, and water, mechanical, nutritional and medical support may be unavailable for the remainder of your ride.
If you are able to speed up and pass the Sweep Entourage (please do so safely), you will be welcomed back into the event.
To register, please deposit the entry fee to the following bank account:
BDO Account name: Kevin Abel R Tiambeng
Account number: 00 800 0005471
Account type: Savings
Then attach a photo of the deposit to an email to kev_tiambeng@yahoo.com.ph. Please include the following details in the body of the email:
Full Name
Contact No
Jersey size
Hotel in Naga City**
If you need assistance with travel and hotel arrangements or other inquiries, please email kev_tiambeng@yahoo.com.ph or SMS at +639175457045.
This is going to be fun!