UPDATED: Register now for the QCIM Night Run for three chances to win an iPad Mini! The first draw will be held on October 20, second draw on October 25, and third draw on October 30. Register before October 18 to qualify for all 3 draws. Registering before October 23 qualifies you for October 25 & 30 draws, and registering before October 28 qualifies you for the last draw.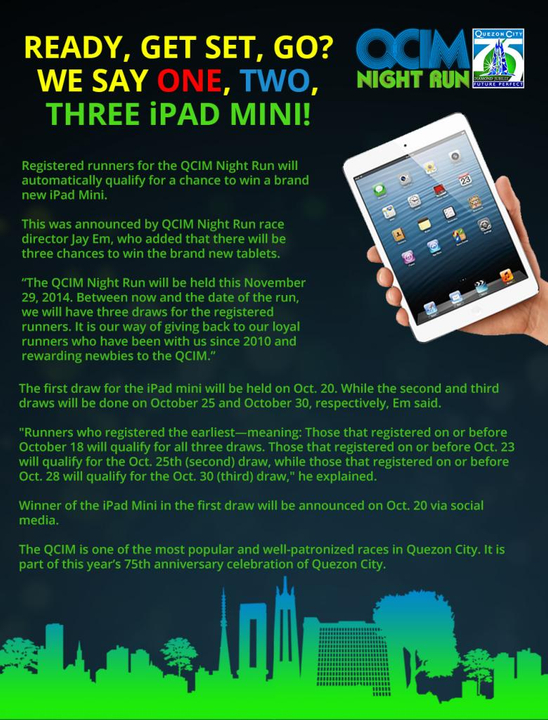 More info about the race continues below.
After a two-year absence on the running calendar, the QCIM returns this year as part of Quezon City's 75th anniversary celebration. The QCIM Night Run happens on November 29.
The Quezon City International Marathon was started in 2010 by the city government and ran continuously until 2011. This year's edition, a night run, won't have a full marathon and will instead offer 3K, 5K, 10K, and 21K categories so participants can experience Quezon City at night.
The race starts at Quezon Memorial Circle, then is pretty straightforward out to Quezon Avenue and back towards Commonwealth Avenue before returning to the QMC. There aren't any major hills, although the course is rolling. These are major thoroughfares people rarely get to run on, and the Quezon City government has promised to throw its full weight behind traffic management around this event to keep it safe for the runners but allow the city to go about its business.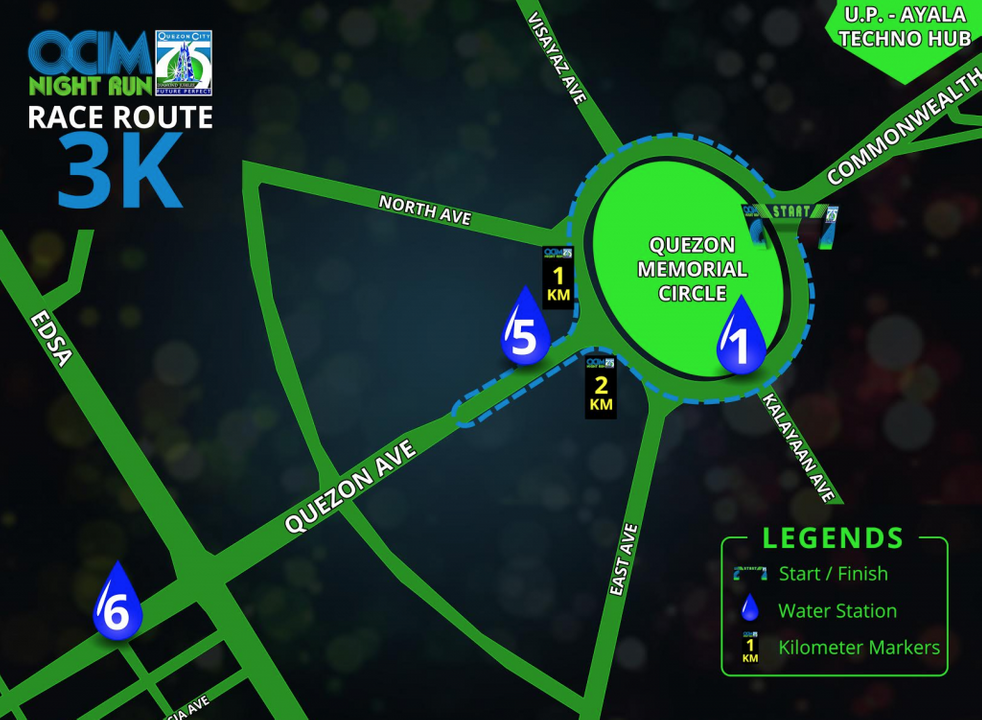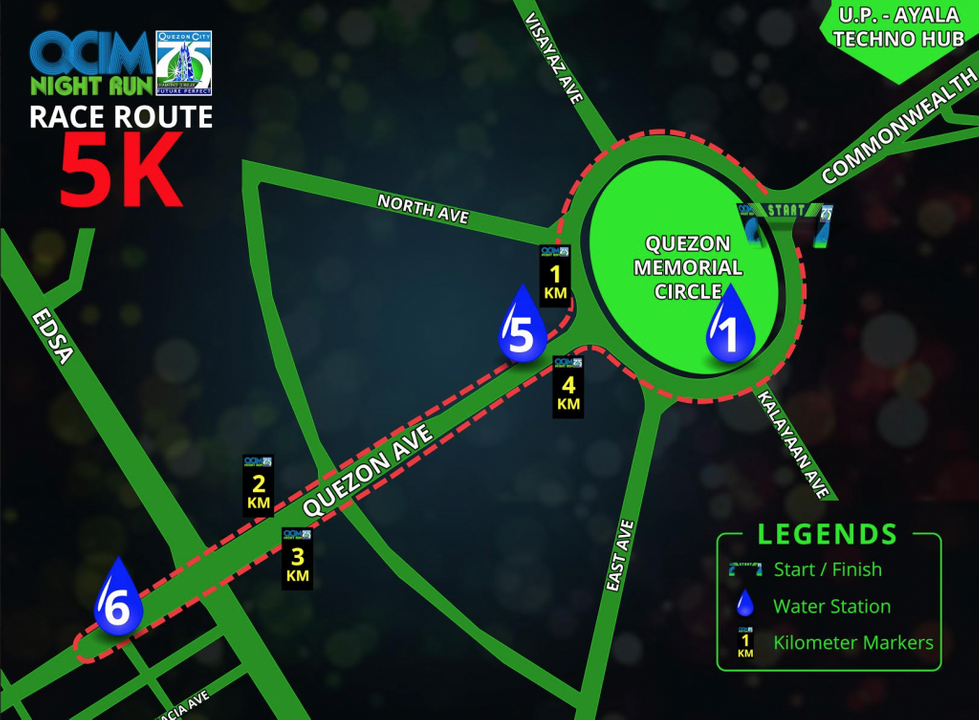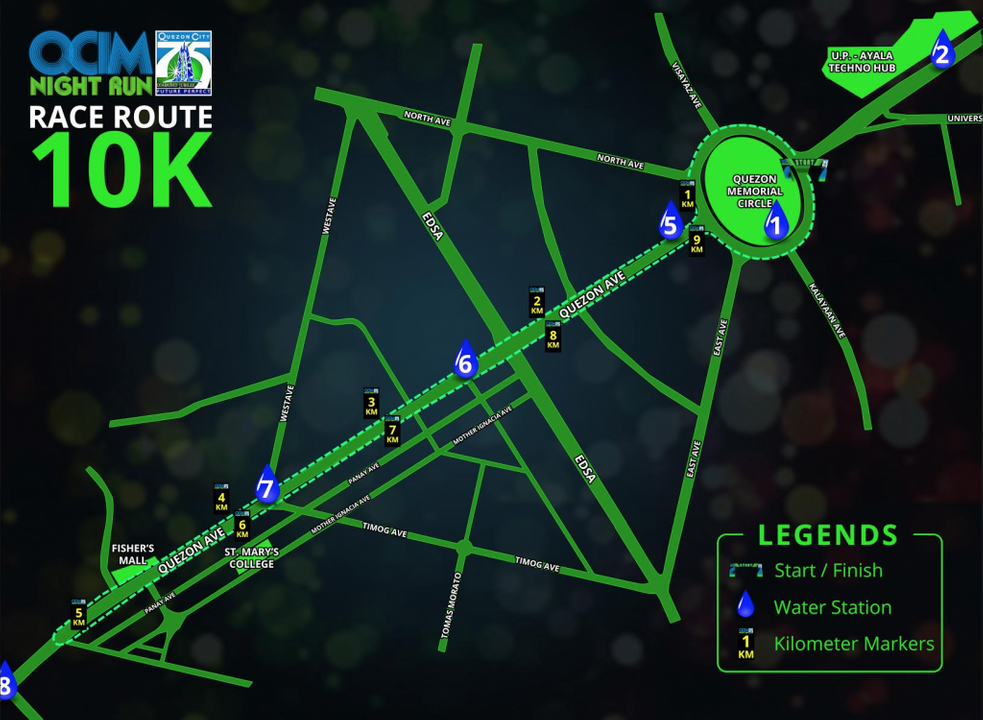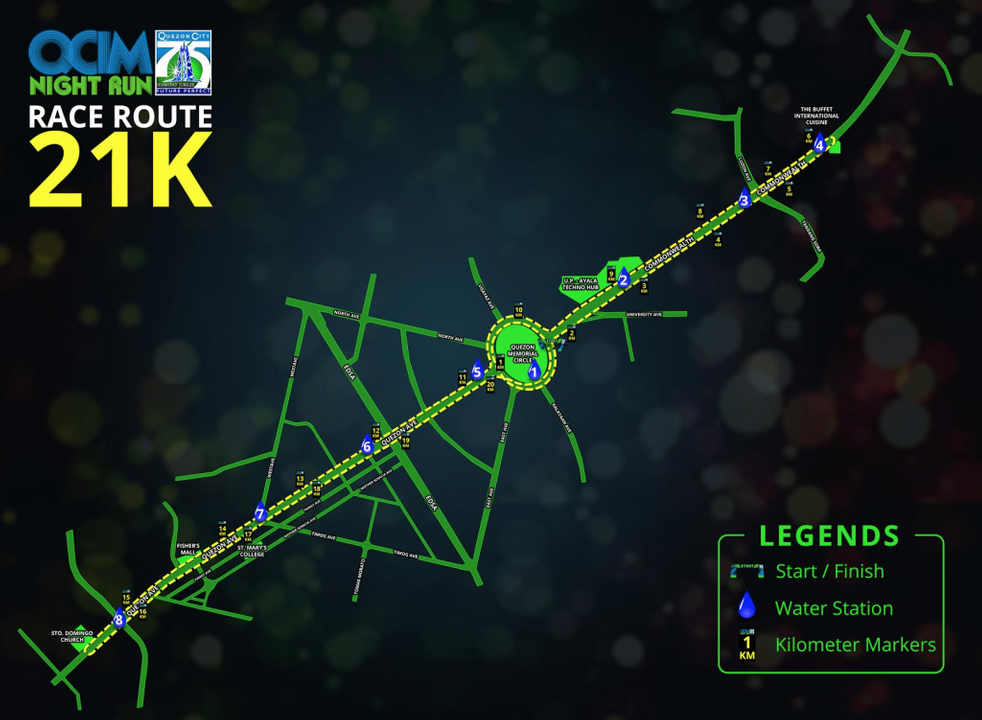 QCIM Night Run route maps (click to enlarge)
Each race kit includes a QCIM 2014 singlet, race bib, LED baller band and glow sticks (so you can light up the night). Finisher loot bags include a medal and freebies from race sponsors wrapped up in an ecobag. 21K Finishers will also receive a finisher shirt.
The QCIM Night Run also offers two cash purses: one for QC residents, and one for residents of other cities. Both pots are equivalent as well (the 21K top prize is P22,000!). Tempting…
The QCIM Night Run will be used as a platform to raise awareness about climate change (Quezon City is a signatory of the Mexico Pact, the Global Cities Covenant on Climate), and also to recruit more volunteers for the AIDS Society of the Philippines (HIV/AIDS cases are rapidly increasing in the National Capital Region, of which Quezon City is a big part).
For more information and for online registration, check out the QCIM Night Run website: www.qcimrun.com.
Race: QCIM Night Run
Date: November 29, 2014 (Saturday PM)
Venue: Quezon Memorial Circle, Quezon City
Reg Fee: P650 (3K); P750 (5K); P850 (10K); P950 (21K)
Registration Site: online registration via credit card and prepaid card
Prepaid Card Purchase Sites: RUNNR (Bonifacio High Street, Trinoma, Alabang Town Center); Toby's (Mall of Asia, SM North EDSA, Megamall, Glorietta); SM Tickets @ any SM Cinema
More Info: QCIMRun.com
Liked this post? Share it!