The Takbo.PH 20-Miler is set for January 18, 2015 at Bonifacio Global City.
I hate rendering measurements in terms of miles, or degrees Fahrenheit. (I don't have the same objection to feet and inches, though. Hmmm…) There's something about Fahrenheit boiling point not being at 100 degrees, or a mile being 1 and 3/5th of a kilometer long that makes my inner obsessive-compulsive rear its head.
But to me there's something poetic about a 16-kilometer race being exactly 10 miles long. And I've always been slightly uncomfortable with the 32-kilometer race distance; it feels like an incomplete marathon. To call it a 10-miler or 20-miler allows the distance to stand on its own.
Takbo.PH's venture into race organizing (LeadPack) began with its own anniversary RunFest some years ago, and their races have been growing by leaps and bounds. The Takbo.PH 20-Miler is their first foray into a distance longer than a half-marathon and I have to say, it's about time!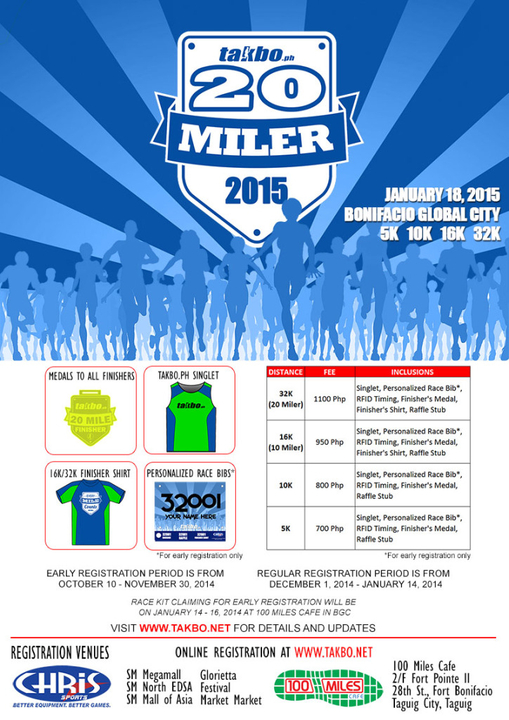 Takbo.PH 20-Miler on January 18, 2015 at Bonifacio Global City
There's a clamor for longer distances in all the major races, and the 20-miler is a great test of one's endurance. It's also well-situated on the race calendar if you're preparing for a marathon in February (*coughcoughConduracoughcough*).
There are also shorter distances (5K/10K/16K); I'm doing the 10-miler in preparation for Challenge Philippines.
Early-bird registrants (like myself!) get customized race bibs, which is always awesome when running among thousands of people — you don't feel like just another number in the crowd. For early registration, the race kits can either be delivered (option available only for online registration) or picked up from January 14-16 at 100 Miles Cafe.
Early Registration ( Online: October 1 – November 30, 2014)
Early Registration ( In-Store: October 10 – November 30, 2014)
5K – Php 700
10K – Php 800
10 Mile (16K) – Php 950
20 Mile (32K) – Php 1,100
During the regular registration period, race kits will be available in-store. However, race bibs will no longer be personalized.
Regular Registration (Online and In-store: December 1, 2014 – January 14, 2014)
5K – Php 700
10K – Php 800
10 Mile (16K) – Php 950
20 Mile (32K) – Php 1,100
All runners earn a medal when they cross the finish line. Finishers of the 10-mile and 20-mile distances are also entitled to a finisher's shirt, sizes subject to availability. (Yes, you have to finish the race to earn these things!)
This will be a nice serious test race that I can get to run with my Takbo.PH buddies. Hope to see you there!
Race: Takbo.PH 20-Miler
Date: January 18, 2015
Venue: Bonifacio Global City
Reg Fee: P700 (5K); P800 (10K); P950 (16K); P1,100 (32K)
Registration Sites: Chris Sports (Market! Market!; SM Megamall; SM North EDSA; SM Mall of Asia; Glorietta; Festival Mall); 100 Miles Cafe (Fort Pointe Bldg., 28th Street, Bonifacio Global City); online registration via credit card
More Info: Takbo.net
Liked this post? Share it!