What I love about the endurance community (running, ultra, triathlon) is that you meet so many inspirational people from all walks of life. Makes me believe there is a seed of greatness in all of us — we just have to be open to the opportunity to make a difference.
I've known Attorney Ariel Arriola for some time now, but we started out as Twitter buddies just sharing our common love for running and triathlon.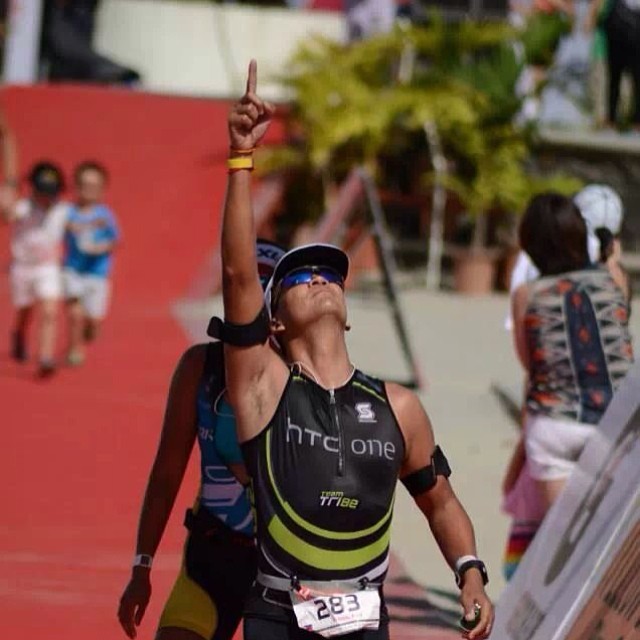 Ariel at Challenge Philippines
I also see him in my regular training grounds at Nuvali. Usually he's on his bike, but for the past few weeks I've seen him on foot doing long runs. I was wondering what he was training for until last week, when I found out he was training for the New York City Marathon!
He's not running the marathon on a whim. He is raising funds for the benefit of more than 600 indigent children under the care of the Department of Pediatrics of the Philippine General Hospital.
The limited budget and resources of government hospitals like the PGH cannot bear the daily cost for care and medical procedures for these children. The PGH relies heavily on charities such as the Child Health In Life and Development (CHILD) Foundation, Inc. for financial support.
I've always known Ariel as a strong sportsman and competitor, so I never knew he had a congenital heart ailment. He was diagnosed with Wolff-Parkinson-White Syndrome, a condition where an abnormal extra electrical pathway in the heart can lead to episodes of rapid heart rate (in severe cases, sudden cardiac arrest). Ariel underwent a procedure that destroyed the abnormal electrical pathway in his heart. With his heart ailment cured, he got into running in 2006 and into triathlons in 2010. He trains regularly with his son, Martin, and daughter, Bianca.
Ariel says, "I know what it means to live with a heart ailment. I also know the cost of curing such an ailment and the positive life-changing benefits of that cure."
He first learned about the children at the PGH from a friend who is a pediatric cardiologist there. "Naturally, I identified with these kids, especially those with heart ailments, and it became my personal mission to do something for them."
The New York City Marathon is a great global stage to raise both awareness and funding for all sorts of causes, and for me Ariel's cause is a worthy one to support. So far, he has has gotten support of corporate sponsors such as Sola Iced Tea and Jollibee Food Corporation, and media sponsors like Takbo.ph, Endurance Magazine, and numerous generous and selfless individuals (friends and strangers alike) who have made pledges to the CHILD Foundation, which directly supports the PGH's Department of Pediatrics.
Ariel is asking donors to pledge to the CHILD Foundation the amount of Php100 for each kilometer of the NYC Marathon that he completes.
Donations can be made via the CrowdRise fundraising website (the official fundraising website used by the New York City Marathon) here: crowdrise.com/pghpediatrics/fundraiser/arielarriola
You may also donate directly to:
CHILD Foundation Inc.
BDO Account Number: 2410072166
CHILD Foundation, Inc.
Department of Pediatrics Office
Ward 9
Philippine General Hospital
Taft Avenue, Ermita, Manila 1000
Contact Person: Dr. Monette D. Faner
Telephone Number: +63-2-211-7940
Email: info@childfoundationinc.org
Ariel's target is to raise P500,000, and right now he's achieved 60% of that goal. A strong final push for the finish line is all that is needed.
Godspeed, Atty. Ariel!