As I type this, I'm wearing Zensah compression socks recovering from my first run since Ironman 70.3 Cebu. My feet and ankles have been complaining from all the abuse I've put them through, and the mild compression and support from the socks relieves the discomfort.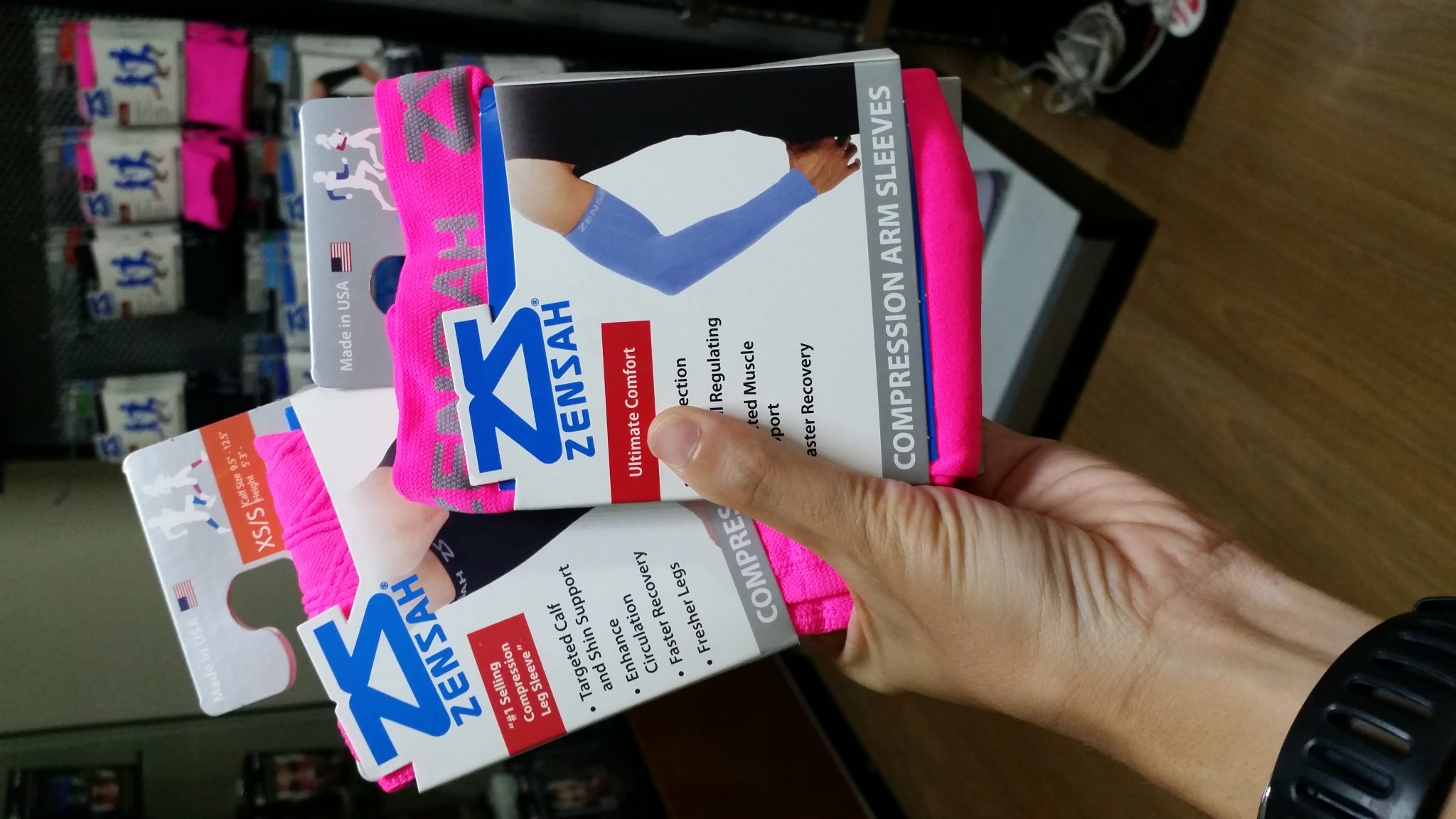 Zensah compression arm and calf sleeves and socks in pink — just my style!
I've been using Zensah compression wear since June for post-race recovery, and decided to use the arm and calf sleeves for Challenge Roth. I wore the calf sleeves under my wetsuit (definitely made getting into and out of the wetsuit much easier!), and then slipped on the arm sleeves for the bike leg. I took the arm sleeves off during the run leg but kept the calf sleeves on.
Zensah pioneered graduated compression, which means there's more compression in areas farther away from the heart and less compression in areas closer to the heart (for socks this means more compression in the ankle and less towards the knee). Their products have a seamless design, which eliminates chafing.
They're almost like a second skin, which is what the arm sleeve became for me during my bike accident in Roth. The sleeve took most of the friction on the road surface, so the wound on my elbow wasn't as bad as the one on my knee.
In long-distance races I definitely benefit from compression to delay the onset of fatigue, and I'm less likely to cramp. And when I use compression overnight after a tough session, my legs feel fresher in the morning.
(For the ultrarunners out there, Zensah is the official compression sponsor for the Badwater Ultramarathon.)


in Zensah gear at Challenge Roth and Ironman 70.3 Cebu
Studies have shown the benefits of compression on athletic performance. In Australian Sports Conditioning's wrap-up of the current research on compression, they found studies that support the following claims:
Compression garments are likely to improve recovery from activity
Compression garments may assist in performance improvements during endurance activity by delaying the onset of the anaerobic threshold and increasing levels of muscle oxygenation
There is evidence that compression garments decrease muscular damage as a result of exercise
Zensah also manufactures sports bras and activewear tops. Check out the tops as modeled by Jaimie Jacobs and Belinda Granger:


Jaimie is Pete Jacobs' beautiful wife!


Australian Triathlon hall-of-famer Belinda Granger
Jaimie and Belinda found Zensah at the Ironman 70.3 Cebu expo and loved them! Belinda tested the sports bra on a training run in the afternoon… The next morning she came back to the booth to buy four more. She said, "Best tops ever! I am in love."
I wasn't able to test the sports bras for running or triathlon (I stayed with my tried-and-tested Mizuno bra for the races), but I've used them for yoga and they really hold "the girls" in place even after complicated poses.
I used the sports bras during my 12-hour flights to and from Europe because I didn't want any bra underwire poking me. I also used Zensah compression pants on those flights because they promote good circulation and alleviate swelling and inflammation, especially while seated in cramped economy class. They definitely made those long flights bearable because I could sleep and move around comfortably.
I noticed that my Zensah calf sleeves are thicker in comparison to other compression gear, but I don't feel the difference once I put them on. I think the Zensahs are very breathable, and even in the high temperatures at Cebu I had no problems with being too warm while wearing them.
Zensah compression calf and arm sleeves, socks, pants, sports bras, and tops are available in more colors aside from pink! Find them at all RUNNR and Planet Sports branches, R.O.X., and PACSports. Check out the official website zensah.com, follow the Twitter account @zensahPH and like their Facebook Page Zensah Philippines.