I wouldn't say doing a half-ironman two weeks after Challenge Roth was a bad idea, but it was a big ask from my body. I was just happy to be healthy after a full ironman and it's always a great fiesta in Cebu the Queen City of the South, and I was excited to race again with my teammates from Endure.
While most of the participants from Manila had scheduled Friday arrivals, I landed in Cebu on Thursday night just to give myself a little bit more time for rest. Friday is usually hectic so I wanted some downtime, which I got with my other teammates from Cagayan de Oro.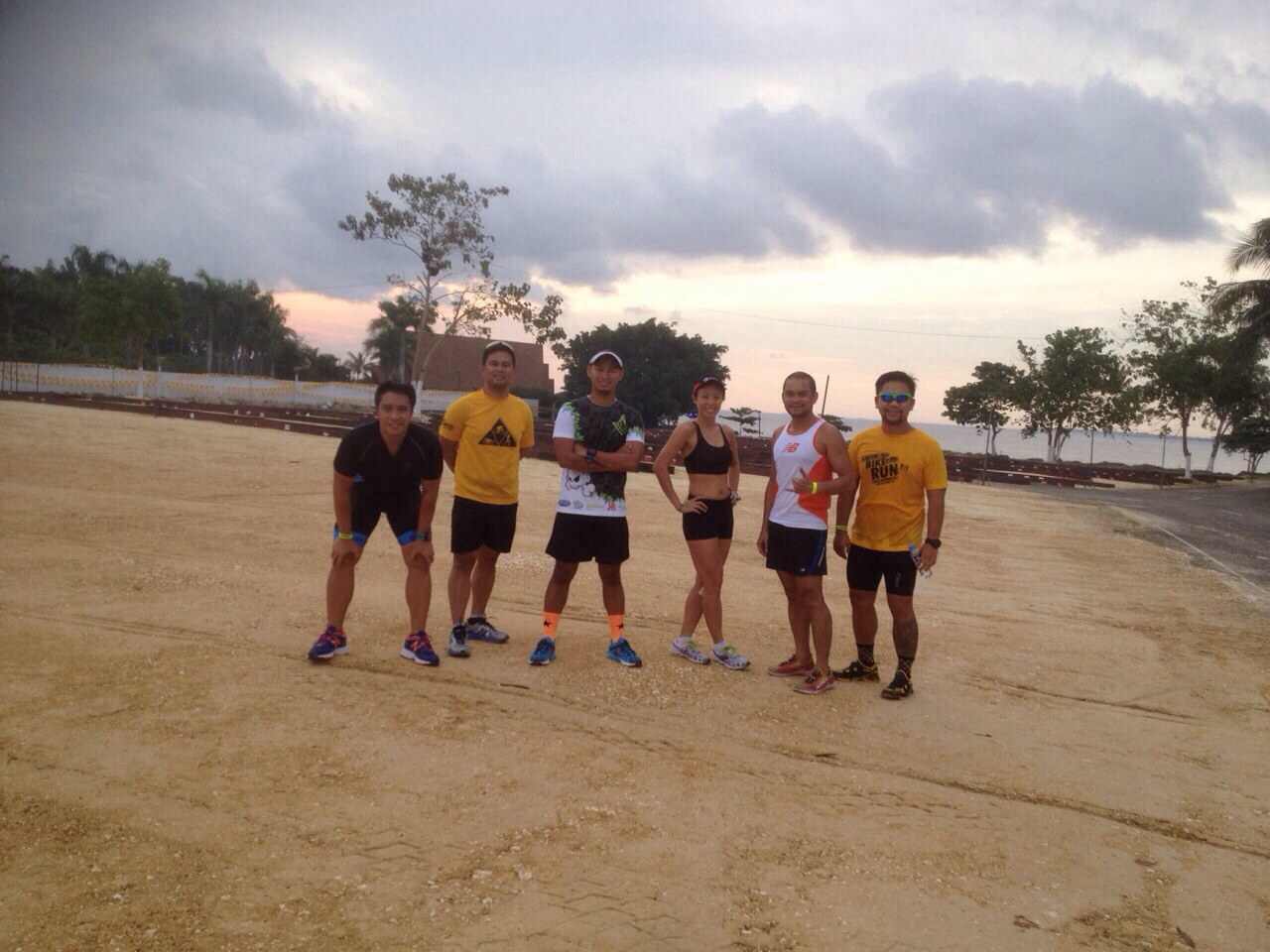 the transition area hadn't been set up yet
The great thing about my early arrival is I was able to participate in a new event, the Cebu City-sponsored bike out. It was great if you could stick with the escort police vehicles and motorcycles because they did a pretty good job of clearing a path through the congested city traffic. So I arrived at the turn-around point of the ride, Fort San Pedro, where the city had prepared brunch and a cultural dance number.


the smallest, oldest triangular bastion fort in the country!
While I appreciated this glimpse into history and culture, I started regretting coming on this ride when we lost the police car, which had gone on ahead with some of the fast ones. Along with the pros we were left to fend for ourselves, and while the pros were a bit more aggressive going through the traffic jams, I decided to drop back to a slower group which still had a police escort. It really wouldn't do to have survived Roth only to die in a training ride!
Anyway I came out of it alive, so I went to get registered at the expo and pick up my starter kit.
With over 2,400 participants (including relay), the Cobra Ironman 70.3 Cebu is the largest triathlon in the country and as the day wore on I definitely felt the increasing congestion at the expo as people milled about looking at the latest and best gear for triathlon.


Salice's carbon fiber aviators are for weight weenies.


picked up my special edition Ironman 70.3 Philippines visor from the Atleta Ako booth!


I snacked on Century Tuna the whole afternoon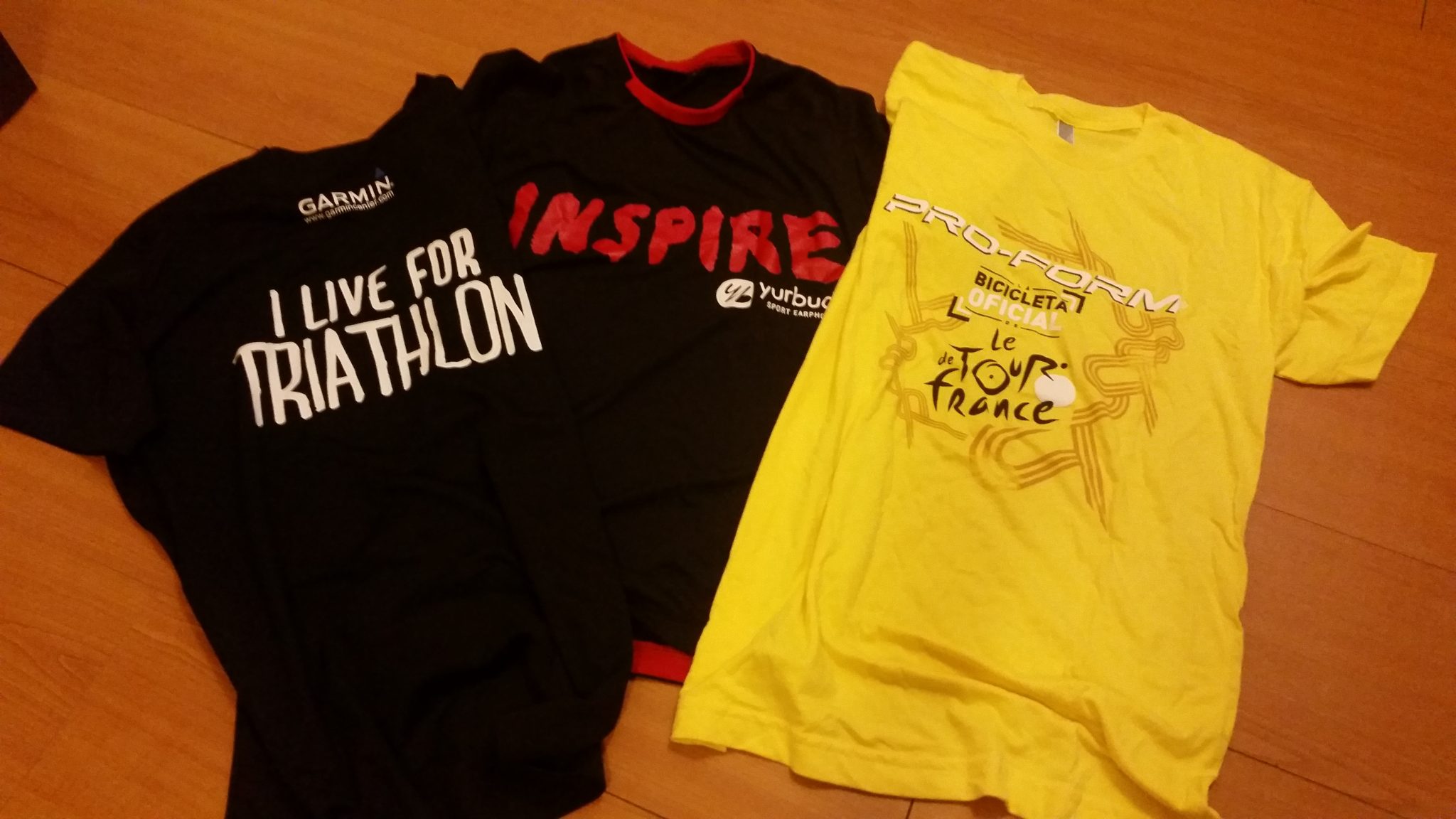 Thanks Garmin, yurbuds, and Chris Sports for the cool shirts!
I always stick around for Meet the Pros and it seems this year so did everyone else! During the press con aside from introducing the pros who would be racing, a big announcement was made: a second 70.3 would be held in 2015. Exciting times for Philippine triathlon: Challenge had just announced a few days previously that they would have two half-ironman events in the Philippines. Aside from Challenge Philippines in February, Challenge Camsur would debut in June. (Camsur was the home of the Ironman 70.3 before Cebu.)


It's F1 racer Jenson Button's second time in Cebu


host Chiqui proudly wears the M-dot on his head
After the presscon, yurbuds hosted a Meet-and-Greet with Pete Jacobs and it was a good time to catch up with him and his wife Jaimie after Roth.
Pete was participating in the race as the biker in a relay, since he was still recovering from Challenge Roth and then Ironman Switzerland. Triathlon coach Lance Watson would do the swim while Jaimie would run. I asked Pete who his picks were for the win at Cebu, and he said Brent McMahon had been racing pretty well, and the women would have to come around Caroline Steffen.


with the lovely (and fast!) Jaimie Jacobs
Before I knew it the sun had set on another day in Cebu and it was time for the pasta party and big welcome presentation by the City of Lapu-Lapu. I think the food was much better than what I'd eaten at the pasta party the previous year, or maybe I was just more chill and less stressed about what the weekend would bring.
Saturday would see the IronKids race, and just like I've done every year I've been coming to the Ironman 70.3, I volunteered.


assigned to hand out timing chips


with my best bro Joel, his lovely wife Audrey, baby Raine, and our friend Bambi
My best bro Joel was in Cebu not just to race, but also as a coach. Aside from coaching our teammates from CDO he also had been training two IronKids so he was pretty nervous for them. I love watching kids race. They are so cute when they're determined!
After this I decided to check my bike in ahead of the rush hour (near 4pm, when transition would close). The new transition area was in an empty lot next to Shangri-La, which meant it was big enough for all our bikes. However, since it wasn't a paved surface I worried that it would be quite rough on the feet the next day during the race. The carpet wasn't thick or heavy enough to stay on the ground, so it was held in place with rocks, which I would need to watch out for so I wouldn't trip over them in the heat of competition.
After check-in everyone proceeded to the briefing. Aside from a video that served to explain most of the race to us and pump us up for the race in the morning, we also got Golden Spoon frozen yogurt, a weather report from Kim Atienza, and a celebrity report from Gretchen Fullido.
My parents had flown in to watch the race as well. I'd taken them along to SuBIT and Challenge Philippines, but they'd never experienced Ironman 70.3 yet.


with Team Endure members Ziggy, Rico, and Carina
As a team we had a quiet dinner at a Thai restaurant, then I received a great present from my relatives who had settled in Cebu! They own Chewy Junior franchises, so they had sent me some. They were so good and I reasoned that they were good for carboloading. 😉
Soon enough it was Sunday. My alarm went off at 2:15am. I already had my transition bags prepared, so all I needed to do was shower, eat, and dress. When you've raced as often as I have this year you find a routine, and that routine is reassuring and calming. I actually found myself a little too blase, so I started my Spotify playlist to put me in a racing mindset.
I arrived in transition right as it opened so I was pretty relaxed in my preparations. Soon enough I started wondering why I was going to do this race. In the lead-up to the race everyone had been asking me if I was really going to push through with it. I still had an open wound on my knee and an aching shoulder from the bike crash at Roth, and as one friend had told me I had nothing to prove. But because of the circumstances I was under no pressure, and so I thought it'd be a great way to experience the race differently. I could be there for people who needed just that little extra push.
I wandered around after I'd prepped, wishing everyone I recognized a good race. So I was in pretty good spirits considering this would be my first swim in two weeks!
Our wave was last, so there was enough time to get a bit antsy. In fact, as we swam out to the starting buoys I started hyperventilating. Hitting my heel on corals made me annoyed and gave me a surge of adrenaline, enough to overcome the nerves. When the starting horn sounded, I was able to breathe normally — and I didn't even feel the ache in my shoulder that had been plaguing me!
The swim was a brawl most of the way, and because I couldn't kick as much as I usually do (for fear I'd kick off my waterproof bandage) my swim time was slow. But I enjoyed seeing the coral and seagrass below me, even if I did catch a jellyfish tentacle on my shoulder — ouch.
It was quite congested getting out of transition, and this continued for most of the way until we reached the Marcelo Fernan Bridge. I was concerned about getting called for drafting with so many people so close. I don't draft but it was difficult to put any distance in front of me without someone else slotting into the gap. I had to surge several times to get in front of some packs.
I felt pretty good on the bike, especially with my nutrition plan in play. Prior to gunstart I'd had a bottle of High-5 Zero (electrolytes + caffeine) and had consumed one Biestmilch Booster, which contains colostrum and guarana. Every hour thereafter I would take one High-5 sports bar and would alternate between mouthfuls of electrolyte and water, drinking to thirst. This was my ironman nutrition plan and it worked so well keeping me hydrated that in the second loop of the bike course, I needed to pee. I've never peed in my pants, so I stopped at some portalets. Unfortunately, they were wired shut and locked! So I held it in until I got back to transition. (Even at transition, there were some portalets that couldn't be used. So frustrating!)


now you know why I was charging so hard on the bike
I left my shoes on the bike and ran into transition. By then the sun had been beating down for about 5 hours so the pavement and even the carpet were hot. I quickly got into my Mizuno Wave Sayonaras, made a stop at the portalet, and then I was on my way onto the run.
Running is still my strength and my comfort zone. Though it was uncomfortably hot, I knew I could manage with enough sponges. What I couldn't do was go as fast as I had the previous year. I could still feel the muscular fatigue of the marathon from Roth and I just couldn't will my muscles to twitch any faster. So I settled into a pace which my teammate Sugz matched. This was his first half-ironman, and he'd only learned to swim this year. He had been in an earlier wave, but I'd caught him on the bike, and now we were running together.
It was a tough day, and everyone around us was wilting in the heat. My legs were heavy and aching but I knew that I could keep going. I made it my job to keep Sugz going. We lived from aid station to aid station, pouring water onto our heads and storing ice in the legs of our tri suits. He was running on Gu, while I tossed back some bananas and cola (which I later found out was Pepsi Light. NO CALORIES?!).
It's true what they say about triathlon: you're enemies on the swim, snub each other on the bike, but everyone's friends on the run. Every time we passed someone who was walking I'd give them a word of encouragement, and they would summon up the strength from inside to run again. Also, the support from the crowd was awesome, especially from friends who were standing around for hours ringing bells and screaming at us. Thanks in particular to the Endure support group at Be Hotel, Leroy from The Brick and Jerry Santos, Coach Ani de Leon-Brown and Maiqui Dayrit, and Ton Gatmaitan, Carlos de Guzman, and Roy Hervias. I drew tremendous positive energy from this, which sped us onwards.
Soon enough we'd completed the two-loop course and were on the last kilometer. Sugz told me to go on ahead and that he could take it from there.
I tidied up and readied myself for the last few hundred meters before the finish line.
I greeted Sugz as he came into the finish chute in tears after finishing his first half-ironman.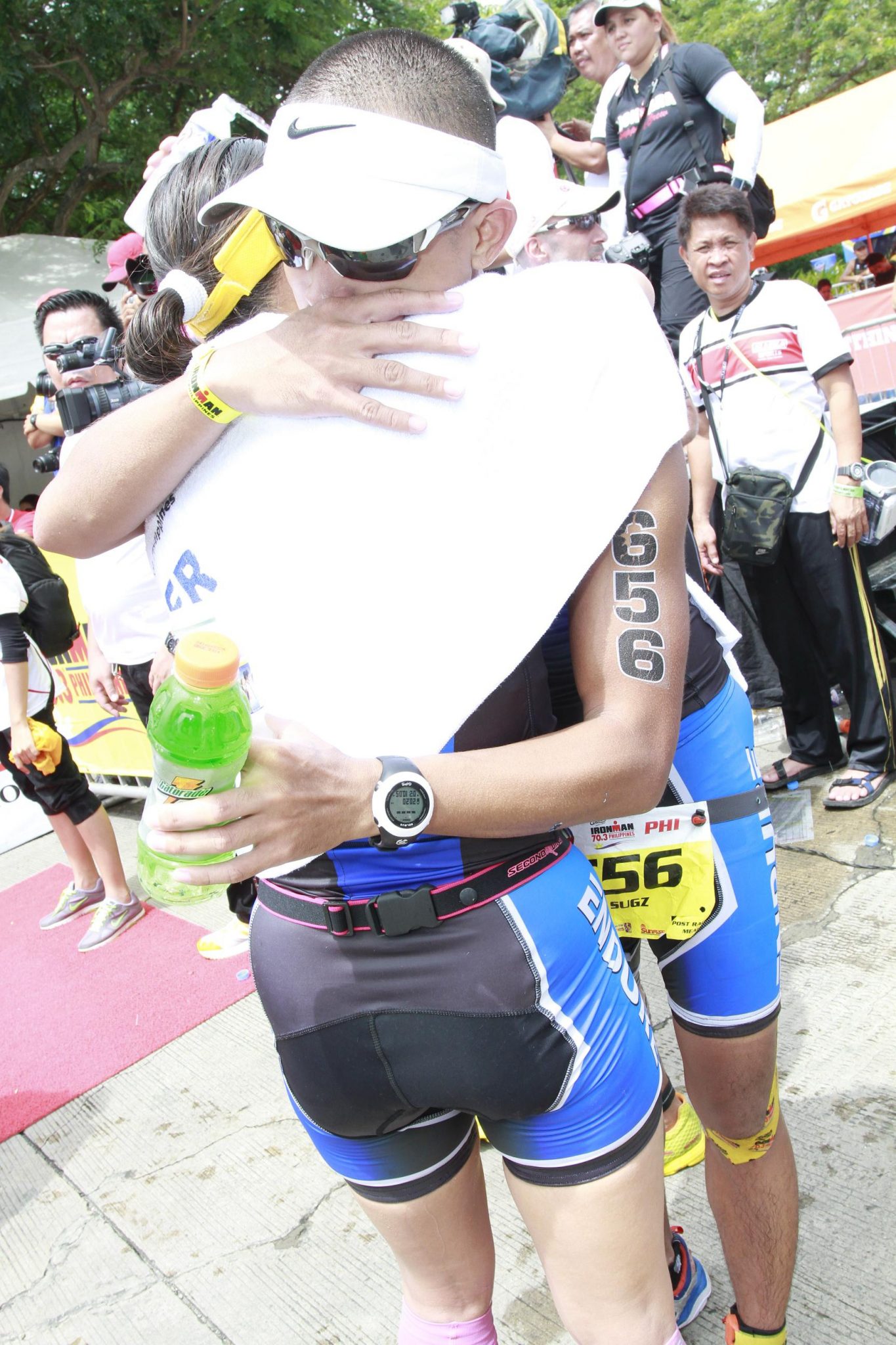 We are Endure. We got your back.
Later in the day as I packed up my transition, several people came up and thanked me for the words of support I'd given them during the run. I realized how very important it is to give encouragement freely, especially in a sport as grueling as this. Most people have been so conditioned to put themselves down. I want to be the kind of person who uplifts others and helps them pursue their dreams and realize that yes, anything is possible.
I'm still at that point where I remember every race and every finish line. Every time I cross there's a tremendous feeling of accomplishment. But this time, it wasn't just about me finishing. It was about helping others finish, too. And that was a pretty sweet feeling.
(Surprisingly, I climbed 5 spots up to #6 in my age group, up from #11 last year even with my slower times. Maybe next year I can qualify for world championships?)
Many thanks to: Mizuno, Ceepo, Century Tuna, Lightwater, Spyder, yurbuds, Salice, Zensah, OtterBox; my family and friends, Team Endure, Team MaccaX; Princess Galura and Sunrise Events for putting on a great event; and the province of Cebu.
Liked this post? Share it!