Unlike when I left for Roth three weeks ago with little to no competition for attention at the bike shops I frequent, this time it's madness with dozens of other athletes getting their bikes tuned and boxed and their gear sorted. Yes, it's that time of the year again: Cobra Ironman 70.3 Philippines race week.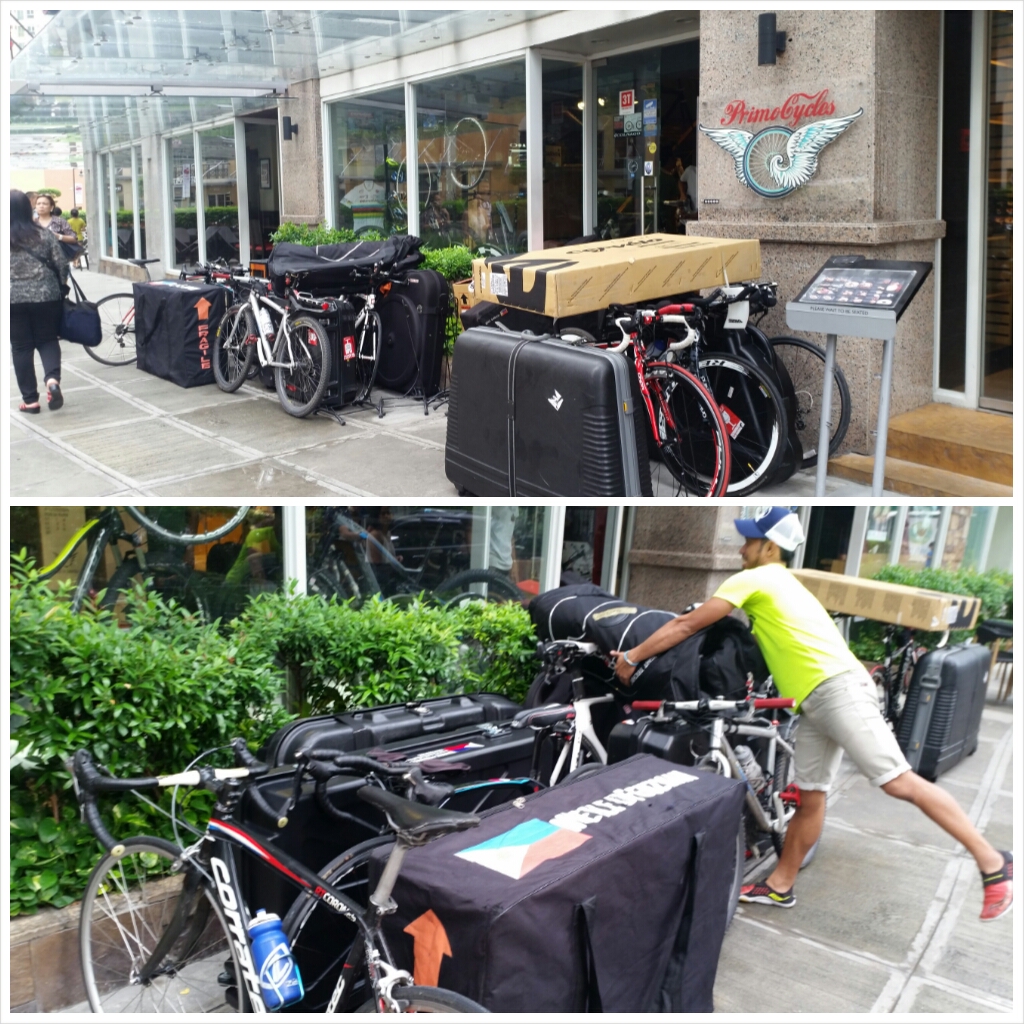 My bike is somewhere in there. I think.
This race is what most Pinoy triathletes have been training for the last year and a half (except for those of us crazy enough to target a full distance this year). Individual and relay entries sold out last October in a matter of hours after registration had opened and I was one of the over-eager ones who snatched up a slot. After my Roth adventure there is no way I can be 100% for this race, but since I've already paid for everything in advance, I'm heading over to Cebu tomorrow with my bike box, hoping my body will be right for Sunday.
The official website is kind of slow in updating information for race week, so do check out the Facebook Page for Cobra Ironman 70.3 Philippines for latest news.
I have a number of friends doing this event as individual participants for the first time — hi Noy and Gail! — and they are a bundle of happy nerves! So proud of them for getting through the triathlon training by Coach Ige Lopez and the swim training by Coach Nonoy Basa. Just trust that it will all come together on race day. But when things don't go according to plan, adjust and adapt. This is your race; enjoy it!
It was only two years ago this December I decided to tackle the half-ironman distance for the first time, but back then it seemed like such a long way to go. Crossing the finish line in Cebu last year was an emotional experience; to finish was an achievement, especially for someone who considered herself a runner first and less well-versed in the other two disciplines. But someone very wise said that triathlon isn't about how fast you are in one of the three disciplines; it's about how you blend them all together to produce the shortest possible time from start to finish. You shore up your weaknesses to play to your strengths. I think that's why I gravitated toward the challenge of triathlon; it's one thing to run a sub 2-hour 21K on fresh legs, but quite another to run a sub-2 hour 21K after swimming and biking.


tearing up under my Salice sunglasses
But I've been on the pointy end of my age group more often than not, so I can get quite competitive in my own mind. Sometimes I get so focused on swimming, biking, and running hard and fast that I don't appreciate what's unfolding around me.
The beauty and uniqueness of the race course, whether it's brutally hot or biting cold. The boundless enthusiasm of spectators and helpfulness of volunteers. The utter focus of my fellow participants, borne out of months or maybe even years of dedicated training. The good sportsmanship of a competitor pausing to check on someone who's stopped by the side of the road, to see if they need assistance. The camaraderie in suffering on the run where it's just you and someone in front of you and behind you putting one foot in front of the other. The lift in your spirit when you see someone you know either cheering you on as a spectator, or on the course with you. The joy of running up onto the last few meters before the finish line, before it all ends, and realizing you made it to the end.
On Sunday, I may be running at half-speed, but I think I'll enjoy the entire Cebu experience to the fullest this time.
See you at the big fiesta in the streets!