As my last race before Challenge Roth, the Century Tuna 5150 Triathlon was supposed to be the perfect tune-up: not too long, so recovery would be fast, but a significant hit-out to make sure all systems are GO.
I kind of got what I wanted from this race, and then some!
It was a pretty easy drive from Manila to Subic on Saturday, about 2.5 hours from the time I left my home to the time I got to race central, the Subic Bay Exhibition and Convention Center (SBECC).


You know you're at a triathlon when…
Inside, the place was already abuzz with participants and companions milling about the expo. I picked up my race packet, which took less than five minutes: showing them my ID, signing waivers and receiving the bib numbers and loot bag, getting my timing chip and making sure it registered properly on a timing mat.
I opted not to get my race number tattoos applied; I could always put them on myself the next morning and knowing me, most of the tattoo would have come off before the race.
I had just enough time between that and the Meet the Pros press conference to go check my bike into Transition 1 at the former Subic International Raceway. It was a different location from last year and would be the only time I'd have to scope out the swim course and how to move through transition.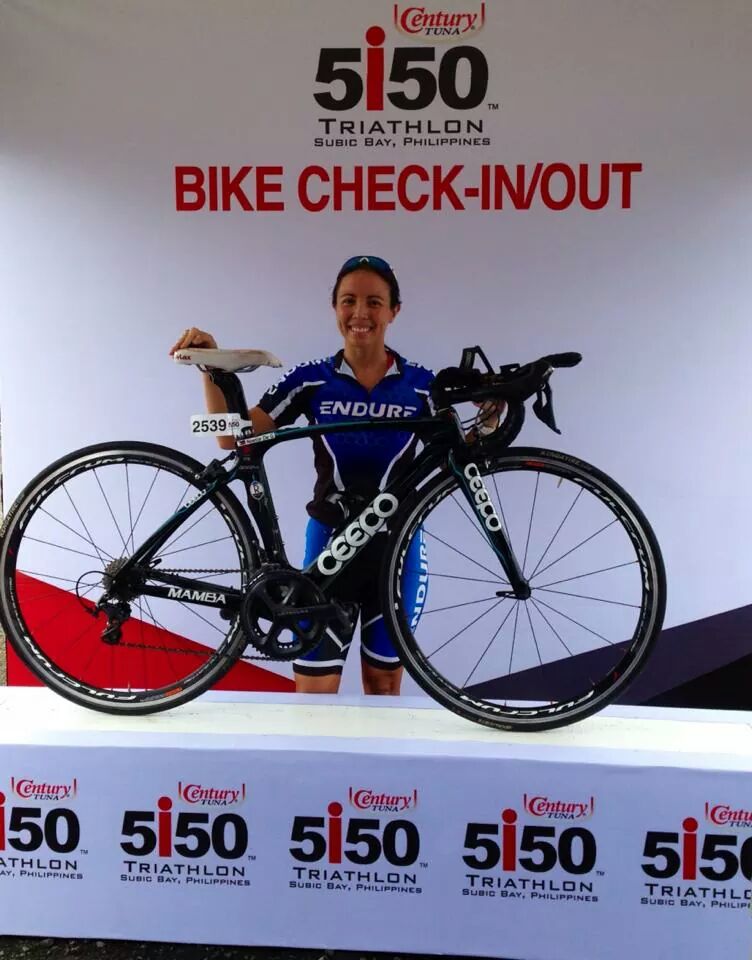 mandatory bike check-in picture
Before checking Mako in, I decided to take a short spin in the surrounding area just to make sure my gears were working properly. It was humid even though the sun wasn't beating down hard, and I found myself sweating heavily. A headwind had also picked up, so I didn't push myself in the ride (as most people are likely to do excitedly the day before a race).
I hightailed it back to SBECC for the Meet the Pros presscon moderated by 5150 host Chiqui Reyes.
The Century Tuna 5150 Triathlon had a stellar line-up of pros this year; most of them I've come to know through MaccaX! We had Justin and Belinda Granger, staples of the Asian racing circuit, Michael Murphy and Eric Watson who are Macca's proteges, and Caroline Steffen racing her first Olympic distance. As we all know, she's being coached by Macca, so I asked her what he had her do in preparation for this race. She said, "He told me to race it hard… we did some speedwork on the track, definitely different from the slower high-mileage stuff I'm used to doing for long distance."


Fred Uytengsu of Sunrise giving welcome remarks


strong line-up of pros + the bigwigs
It was wonderful to hear that Century Tuna had renewed its commitment to the race for three more years. This event has grown from 300 participants in 2012, to 900 participants last year, to a little over 1,200 participants this year. This makes Century Tuna 5150 the largest single-event Olympic distance triathlon in the Philippines.
Aside from having to check our bikes in the day before, we also had to bag our Transition 2 (run) gear and check that in at the expo. With butterflies in my tummy, I put my Mizuno Wave Sayonara shoes and Otterbox visor into a bag and tied it tight, hoping I would be able to find it in transition the next day.
Then it was time for the carboloading dinner and an early night.
I opened my eyes at 4am. All was quiet. Then suddenly the heavens opened and it rained torrents! It felt like last year's Ironman 70.3 in Cebu, when it was raining all the way up until an hour before gunstart. I knew triathlons push through rain-or-shine, so I dutifully got my stuff in order and trooped off to Transition 1.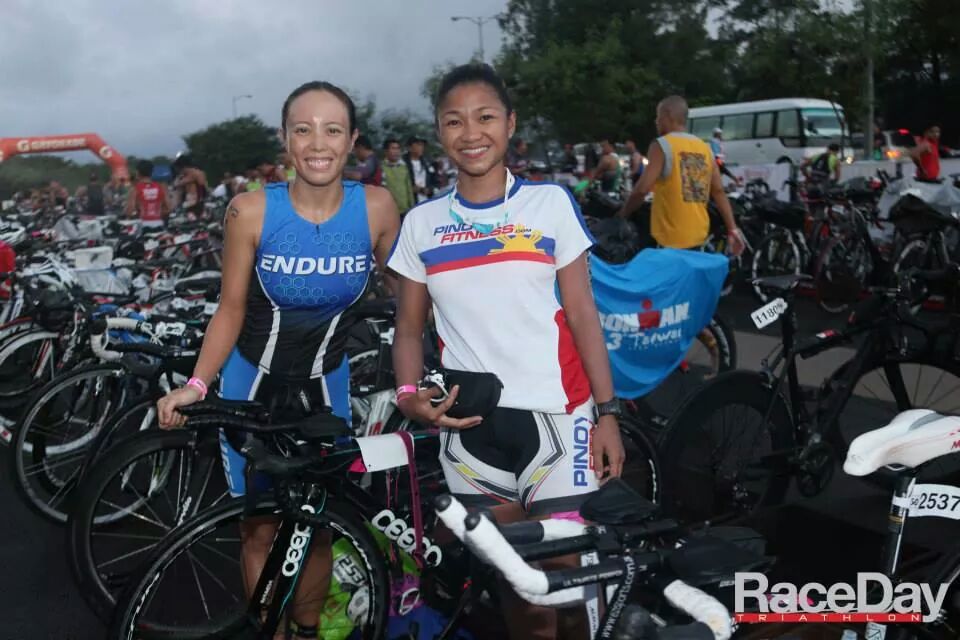 with my transition neighbor Risha Lai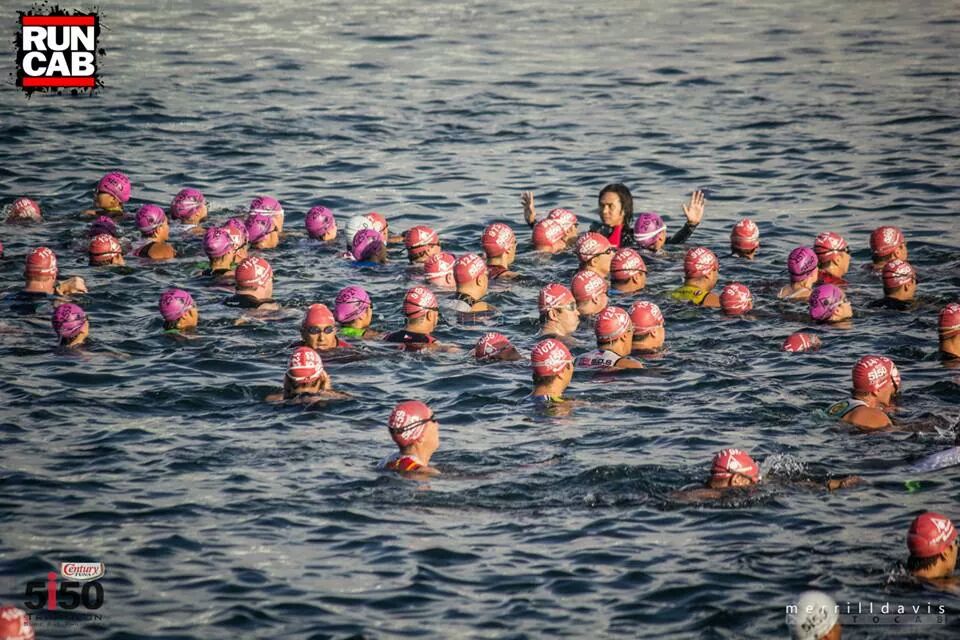 positioned properly at swim start
After last year's Ironman 70.3 Philippines and this year's SuBIT, I'd finally figured out where in a floating start I should place myself in the line-up, i.e. as close to the front as possible. The newbies and those who didn't know how to tread were behind us all, which made for a calmer, easier time trying to keep afloat because no one was panicking, grabbing hold and inadvertently dunking me.
That didn't make the first 300 meters any less frenzied, though! It was a pretty big wave with all men 40 and above and all women starting at 6:40am. As we surged forward in the water I managed to keep composure, latch onto the draft, and cruise to the first turn buoy.
This year we had giant buoys which made sighting much easier, but the new swim course also had us sighting right into the sunlight most of the way. (I should have worn my polarized TYR goggles.) There was also an outbound current which dragged us sideways, so heading towards the second buoy I frequently had to point my body towards the buoy instead of swimming parallel to the buoy lines.
I felt like it was taking forever at certain points, but just steeled my mind to get through the swim. After all, the iron-distance swim I would be doing in a couple of weeks at Roth would be more than twice the distance.
Looking at my GPS data on Strava, I can't believe I managed to swim relatively straight:
Century 5150 swim: 0:33:04
I also went faster, clocking a 2:08/100m average pace despite swimming a majority of the course without drafting. At the very end though I got a nice tow-in from two gentlemen who seemed to be racing each other. I sat between them on their feet and got a nice drop in heart rate before clambering up the steep steps into the transition area. It was raining again!
I clambered onto my bike and sped out (carefully) onto the road with the spectre of last year hanging over my head. I did not want to come in 4th again and miss the podium spot by being lax or losing focus. So every time I came across a woman on the road, I did my best to pass her.
I still got passed plenty of times by strong cyclists, of course, but between managing the slick conditions and tight turns on the flat portion of the course at the airport, and trying to keep myself from going too fast and blowing up, I think I did pretty well.
I also took my chances on the downhills; by the time I was on those inclines, the roads had drained somewhat from the early-morning rain so I had much better traction and braking power. As she did before on the Challenge Philippines course, Mako handled beautifully on the technical descents.
Heading up the hills after some flat riding on the airport tarmac, I spotted pros Casey Munro with a hard-chasing Michael Murphy already on their way down. Less than a minute later, Caroline Steffen also zoomed by. I cheered them on, got a nice mental boost for my efforts, and settled in for an uneventful bit of climbing.
But the defining character of the Century Tuna 5150 bike course is that once you're done with the hills of Corregidor Road and the IDESS Loop, you still had one last insult to the legs left with the Tarlac Road climb — a 10% gradient at one point! That stung the thighs and made my lungs burn, but it was soon over and it was time to head to Transition 2 for the run.
Century 5150 bike: 1:35:51
My mind was stills screaming, "Chase hard!" so I picked up my feet and ran. But the sun had come out to play, and humidity was pretty high. I knew there would be some serious suckage towards the end.


If only it could have rained on the run leg instead!
I normally run a faster pace for an open 10K, but on that day I settled into my cruising half-marathon pace for the first half. I felt like my chest would burst open and I'd crack if I went any faster. What use would a fast pace be if I couldn't finish?
I looked around and everyone was wilting in the heat. It wasn't as hot as SuBIT had been in April, but we still couldn't get enough of the ice and sponges offered at the aid stations; they felt so good and eased the suffering tremendously!
I remembered running this course much faster last year, as if I were flying. This year, I made it, but really had to work hard for every step forward. I knew I wouldn't set any PR's with this performance, but would it be good enough to get on the podium this year?
Century 5150 run: 0:51:18
As I was running into the finish chute, some guy decided it would be a great time to outsprint me, so he whooshed by with about 25 meters to go, almost sideswiping me in the process. If he had tripped and fallen, he would have taken me down with him. Totally dumb and unnecessary thing to do for a finish time only 5 seconds faster than me. But I guess some guys hate getting chicked more than others.
I couldn't decide whether or not I was happy about my results, so I spent time in the recovery area cooling my overheated self down, chatting with fellow athletes, and enjoying a delicious Melona ice cream bar. Basically, just chilling out having finished one of the toughest Olympic distance courses in the country. I left the athletes' recovery area with a nice big smile on my face.
I only found out how I had fared against the field when I packed my bike up into my car and retrieved my phone, which was flooded with greetings from friends and family.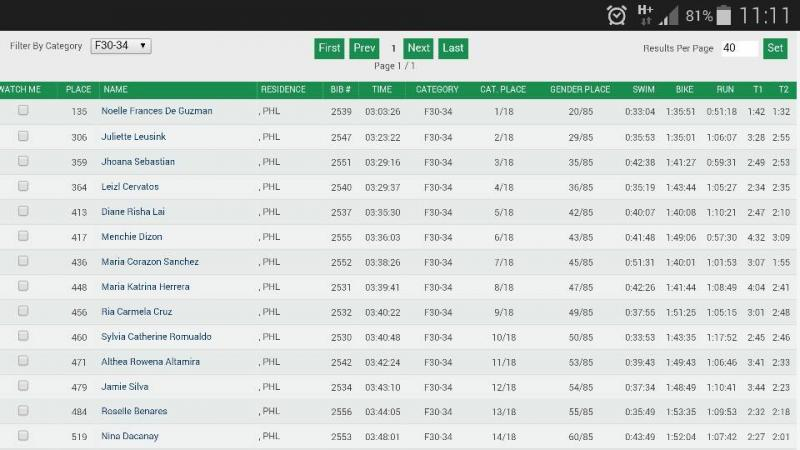 OK, I did not expect that. Best in transition too: T1 – 1:46, T2 – 1:36
Century Tuna 5150 2014 race results
Everything after that all sped by like a blur. There was the awards lunch where I attempted to gorge myself on food but my stomach shut down, then Eric Watson practically talked my ear off and I spaced out, and then Century Tuna started awarding for their triathlon Superbods contest. It was a nice surprise to get first runner-up. The winners were Eric and Caroline — no surprise there with their rock-hard abs!


I was too bloated from lunch to show abs.
They also announced the winners of the team category (congrats Century Tri Hard), and then it was time to hand the pro and Filipino elite winners their paychecks.


pro women: 1. Caroline Steffen 2. Belinda Granger 3. Monica Torres 4. Jodie Scott


pro men: 1. Casey Munro 2. Michael Murphy 3. Simon Agoston 4. Eric Watson 5. Michal Bucek


Filipino elite women: 1. Claire Adorna 2. Jenny Guerrero 3. LC Langit


Filipino elite men: 1. Jonard Saim 2. Banjo Norte 3. John Chicano
It was my first time to win my age group in a major event, so it was an amazing experience especially after "being the bridesmaid" for so long. In the end, I think we all put our best forward on that day; everyone from the first finisher to the last finisher could be proud of themselves.


F 30-34: 1. Noelle De Guzman 2. Juliette Leusink 3. Jhoana Sebastian
I had a celebratory dinner with my parents at Xtremely Xpresso, which was nice because I basically went to this race by myself.
I stayed in Subic one more night and rode out onto the hills in the morning, where it rained but not too hard. I had my Globe Samsung Galaxy S5 on me the whole time, and because it's water-resistant it survived the rain. Unfortunately the touchscreen doesn't work too well when wet, so I don't have photos or video from that epic ride!


morning bike ride to Ocean Adventure
This race was a nice way to start my taper going into Challenge Roth. During the race I definitely felt the fatigue from months of training, so it will be good to release that and recover so I can do my best in two weeks' time. I'm extremely thankful and feel so blessed to have been brought this far, especially after almost quitting three weeks ago (but that's for another blog post).
Thank you Mizuno, Ceepo, Century Tuna, Spyder, Salice, Yurbuds, OtterBox, and Team Endure! Here's a shout-out to Team Camayan Resort's Nun'o Romao for helping me out this weekend.
Ready or not, I'm coming for you, Roth.
Liked this post? Share it!