As an age-group triathlete living and working in Manila, I have to do indoor sessions a lot more than I would like. There's just not enough time to get to and from my cycling and running training grounds during the weekdays before the heavy rush-hour traffic hits (let alone actually put in some quality mileage), so it's more time- and cost-efficient to get on a bike trainer or a treadmill.
Listening to music makes up for the boredom of staring at blank walls during these indoor sessions, but I've snagged my earphone cords and pulled my phone or iPod out of its cradle more times than I can remember. Not only is it bad for the electronics (*sob*), but it also throws me off the momentum I've been building in the session.


yurbuds Inspire Limited Edition wireless earphones
The yurbuds Inspire Limited Edition wireless earphones eliminate the hassle of earphone cords that get tangled and pulled during tough workouts. They are the first ever stereo Bluetooth wireless sport earphones guaranteed never to hurt or fall out due to yurbuds' patented TwistLock technology and FlexSoft comfort fit.
I've been salivating over these earphones since the beginning of the year, so when Cascos, Inc. the exclusive distributor of yurbuds in the Philippines sent me my own pair last week, I couldn't wait to try them out!
During this particular session, my iPod Touch was running low on power so I had to plug it into a wall outlet. Because the yurbuds are wireless and can link to your music player via Bluetooth, I wasn't chained to the iPod Touch and didn't have to position my bike trainer near it (which would make my workout even more confining and claustrophobia-inducing).
Like with all Limited Edition earphones, these came in specially-designed packaging.


comes with USB charger, carrying pouch, and extra earbuds


the extra earbuds were a smaller size
I found that the larger earbuds that were attached to the earphones helped keep them in my ears easier than when I switched to the smaller size (which is what I usually wear in other yurbuds models). If neither of these earbuds work, yurbuds guarantees they will send you new earbuds that will fit. You can check out the product insert for more details.


Two earphones and a cord, that's it!
Each earphone itself is larger than a regular yurbuds earphone, but they contain everything essential so there's no separate controller or battery source. As a result, it's very compact and portable.


controls and indicators on right earphone


battery pack and charging port on left earphone


charging cable is standard, used by most mobile devices
I like that it uses a standard micro USB charger, like the one I use for my Globe Samsung Galaxy S5, so it lessens the number of charging cables I need to lug around. (Well, I get incredible battery life from my S5 so I don't need to charge it midway through the day, but I take the charger with me just in case.)
The controls are pretty simple. There's a Power button, volume buttons, a Bluetooth button to make the earphones pair with a device, and a multipurpose button that can control your music (pause, play, skip, repeat) and allow you to answer calls if you're using the earphones with a smartphone. The noise-canceling dual-microphone system can pick up your voice pretty well even if you don't hold an earphone near your mouth.
The earphones are connected to each other with a durable Kevlar cord which can be worn under the chin or behind the head. This cord is sweat- and water-resistant, which is great because I sweat a lot during indoor workouts.
While with regular wired earphones I would be locked into my aero position (sitting up would cause the cord to pull on my iPod Touch), with the yurbuds Wireless I could now change to a seated position with my hands on the hoods without having to rearrange where my iPod was. When my session was interrupted by someone knocking at the door, I didn't have to yank off my earphones or lug the iPod along when I went to answer it.
The battery powers a week's worth of workouts, but simply because this is battery-powered you need to be mindful about whether or not there's enough charge left to power your next session. The audio prompts that tell you your battery level are only limited to when you're using an iPhone or other Apple device, but the LED light on the right earphone pulses a certain way when you're running low. Aside from an early booboo when I left them on until they ran down, I haven't had to charge the battery yet.
The yurbuds Wireless works seamlessly with my S5. I used Spotify to play some music. (I'm subscribed to a Globe GoSurf plan, which has free Spotify Premium.) Then I started up the MaccaX app for a trainer workout. The MaccaX app also requires Bluetooth to connect with a heart rate strap, but this didn't cause any interference with the yurbuds wireless. The multipurpose button worked with Spotify, enabling me to pause a song, repeat it, or skip to the next one. And of course audio quality was excellent with bigger and better sound due to the 15mm drivers, more than double the driver size of many other stereo wireless earphones.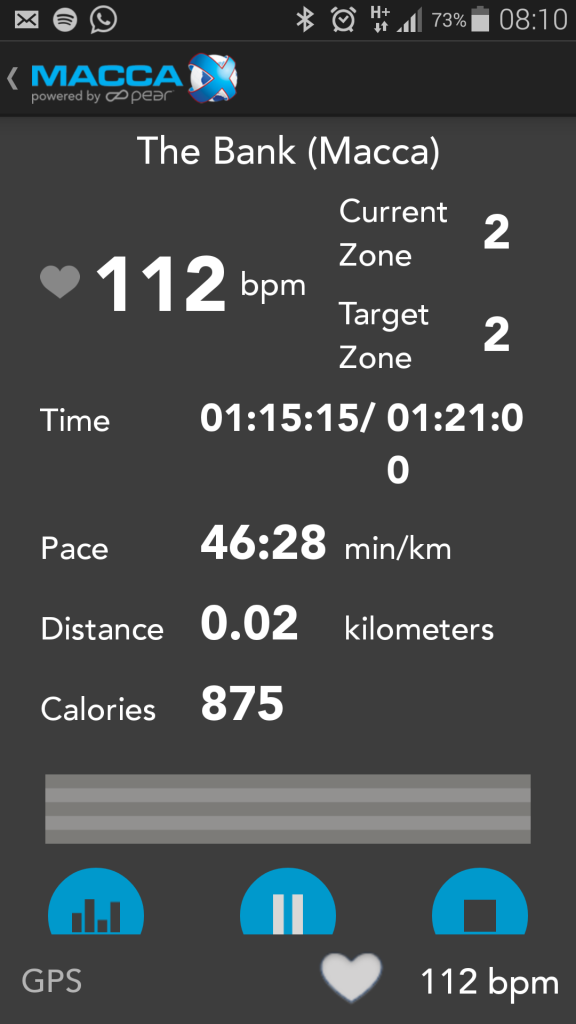 plays well with the Samsung Galaxy S5 and Android apps
I'm not limited to indoor workouts; I used my yurbuds Wireless yesterday on a short run when I felt unmotivated, and listening to music helped me get through that session. I loved that I didn't have to fiddle with where to pass the wires or cords from my ears to my pocket, where I placed my iPod. As long as you don't blast them at full volume, you can still hear ambient sound, so I was able to steer clear of cars coming up behind and alongside me during my run.
Thanks so much, yurbuds Philippines! These babies are coming along with me to Challenge Roth. Challenge Family events allow use of music players and earphones on the run course, and I'll need all the motivational help I can get to finish a marathon after swimming 3.8 kilometers and biking 180 kilometers.
The yurbuds Inspire Limited Edition wireless earphones come with a lifetime warranty and retails for P7,500. They will soon be available at Power Mac Center, RUNNR, Planet Sports, and R.O.X. For more information, check out the yurbudsph Facebook page.