There's not much exciting stuff happening to me right now; training for ironman is monotonous and it's really just more of the same.
But I do get excited when it comes to good things happening for Philippine sports. Allow me to highlight some of the good news I've come across this week.
Pinoy triathlete qualifies for Youth Olympic Games
Victorija Deldio will be the first-ever triathlete from the Philippines to qualify in Olympic triathlon, whether in the Summer Games or in the YOG.
From The Philippine Star:
Vicky Deldio booked a berth in the 2014 Youth Olympic Games set Aug. 16-28 in Nanjing, China after clinching one of the allotted spots in the triathlon qualifying race in Burubay, Kazakhstan over the weekend.
Deldio came back from as far as 12th place after the swim leg by finishing strongly in the 750-meter swim, 20-kilometer bike and five-km run race and clinch a spot in Nanjing with a clocking of one hour, 11 minutes and 30 seconds.
When I picked up my membership card at the Triathlon Association of the Philippines office the other day, I got to chatting with Coach Rick Reyes and he mentioned her accomplishment, which is pretty big and should actually be celebrated more!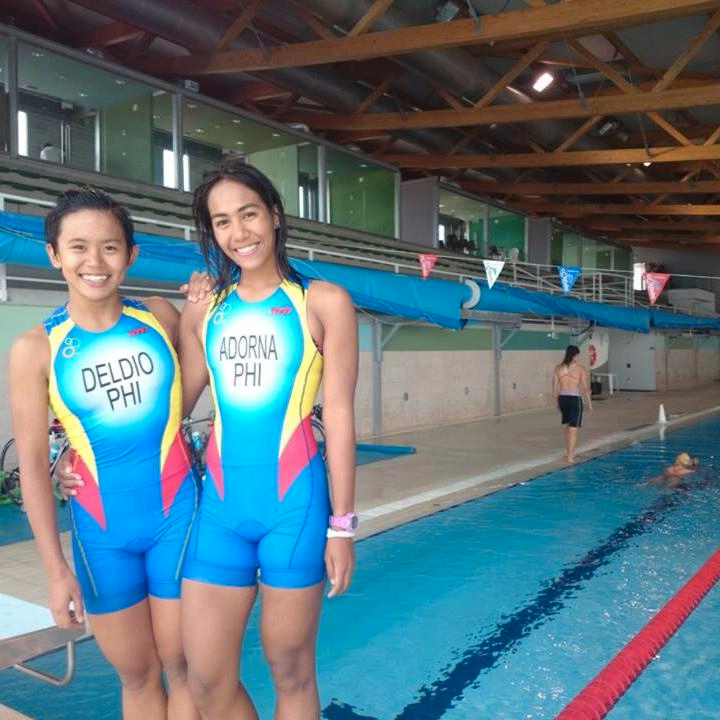 Vicky Deldio with Phil. triathlon teammate Marie Claire Adorna
Aside from being a very promising young triathlete, Vicky graduated with honors from high school and has an athletic scholarship for swimming at the University of the Philippines Diliman.
I'm really looking forward to seeing what she can do in August. Go Vicky!
Quest for Olympic Gold in athletics: "Adopt-an-Olympian" program
Track athletes get elite training for Rio Olympics bet under American athletics coach James Lafferty.
From The Philippine Daily Inquirer:
Decathlete Jesson Ramil Cid, steeplechaser Christopher Ulboc Jr. and long jumper Katherine Kay Santos have found a generous "godfather" for their respective bids to qualify for the 2016 Rio de Janeiro Olympics.
American athletics coach James Michael Lafferty will provide extensive training for the three athletes over the next two years with the government not spending a single centavo for them.
Lafferty, also CEO of British American Tobacco, the makers of Lucky Strike cigarettes, earlier took long jump queen Marestella Torres into his training program and provided her with a team of strength and conditioning coaches, sports psychologists, doctor, yoga/flexibility coaches and a dietician, among others.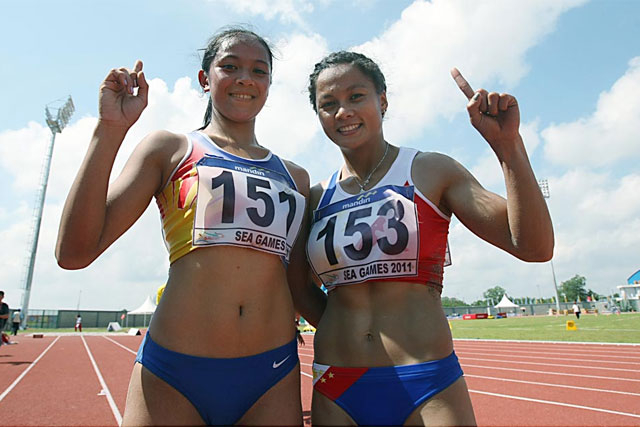 Katherine Kay Santos and Marestella Torres, Olympic long jump bets
Cid, Ulboc and Santos will enjoy the same treatment in Lafferty's program, according to Go Teng Kok, president of the Philippine Amateur Track and Field Association.
The four Filipinos will be trained by world-renowned coaches, fed properly and housed in a controlled environment to maximize their potentials.
While it's funny to hear that a cigarette maker is funding athletics training for our country's Olympic bets, it is certainly good news that the private sector is getting involved in sports development. We have companies like Unilab and Alaska funding developmental triathlon teams and telecoms Globe and Smart funding the Philippine Volcanoes and the Philippine Azkals respectively. We have so much potential in sports that shouldn't go to waste. I hope other companies follow suit.
100 Years of Philippine Sports, celebrated
Nineteen Filipino sports icons will be feted on June 12, 2014 at Resorts World Manila. These are some of the movers and shakers in Philippine sports: six-time world bowling champion, Paeng Nepomuceno; pool genius Efren 'Bata' Reyes; Olympic stars Teofilo Yldefonso, Simeon Toribio, and Miguel White, tennis superstar Felicisimo Ampon; professional golfer Ben Arda; champion bowlers Lita dela Rosa, Arianne Cerdeña, and Olivia 'Bong' Coo; chess master Eugenio Torre; football legend Paulino Alcantara; basketball star Carlos 'Caloy' Loyzaga; and boxers Anthony Villanueva, Mansueto 'Onyok' Velasco, Francisco 'Pancho Villa' Guilledo, Ceferino Garcia, Gabriel 'Flash' Elorde and Manny Pacquiao. A photo exhibit of the Philippines' biggest sports stars will be on display until June 15 at the RWM lobby.
From the press release:
Jef Mendoza, Senior Brand Manager, Summit Natural Drinking Water, says, "It's exciting be part of an event that celebrates Filipino sports greats in one room. As a longstanding supporter of Philippine National Athletes, Summit Water believes in the talent and determination of the Filipino athlete to always thirst for more. Long live the Filipino athlete, and may their success be an inspiration to us all to reach for our own personal summits."
If you have time, check out the event and exhibit and celebrate Philippine sports. 🙂