I learned to ride a bicycle when I was about six years old, much to my mom's concern. She was always scared I might crash, wound my legs, and end any potential career as a model. (I'm kidding about the modeling thing, of course.) So I would always ride beach cruiser-type bikes, which were low and I could quite easily put my foot on the ground if I started to fall over. I was only allowed to ride to the end of our street until I was 9 years old, when I was finally allowed to go explore the rest of the neighborhood on two wheels.
Well, my modeling career never really took off. 😉 I'm also one of the more clumsy people I know and I've racked up my fair share of scars even without riding a bike. I once tripped during a race (the first Takbo.PH Runfest), got it bandaged up, and strutted on the stage during a post-race contest.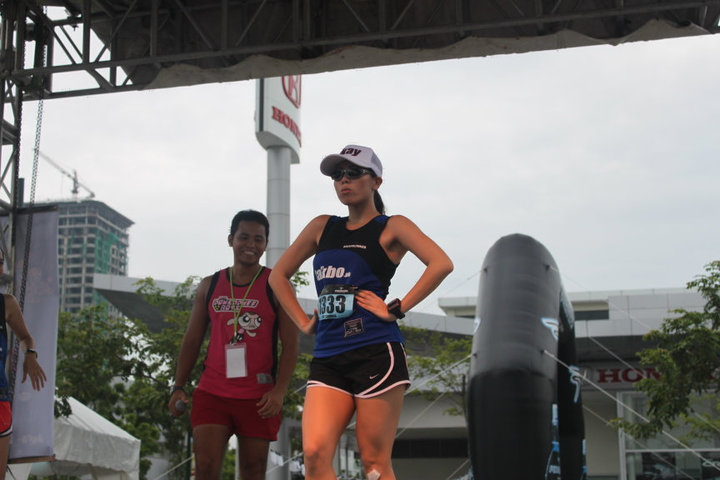 May I direct your attention to the bandage on my knee?
But riding bikes is really more risky than just running because you do go at faster speeds, and my mom's fears were confirmed when I started doing triathlon and began racking up "souvenirs". The first weekend I had Loki (my old GTS road bike), the bike fell over while I was standing and straddling it (!!!), and the front chain ring bit into my calf. A month later, when I was in a paceline behind my teammates a car suddenly crossed our path and we had to brake hard. I flew over my handlebars and scraped my elbow.
And then, I got cleats and started clipping into my pedals, which brought a new level of risk to my rookie self. At one SuBIT, I was riding my bike around as a spectator. I unclipped my left leg and planted it on the ground… and then I fell over onto my right knee. What made it embarrassing was there were people who saw it, and I felt like such a noob!
The worst injury I've ever had on a bike didn't leave a mark. In 2011 I dislocated my elbow in a freak accident, and I had to go to a hospital and go under general anesthesia just to pop that elbow back into place.
Lately though, I've been carrying around a pretty big reminder of my last accident. I wrote about it in my post about my trip and race in Phuket last year. I had a big crash on the bike at that race. Here's what I wrote about it:
I was going along at a steady clip, arms resting in aerobars, when I saw a small rise in the road up ahead. I increased speed so I could climb up without losing momentum. Then, just as I crested the hill, my front wheel landed in an unseen pothole with some mud in it.

I went down hard and skidded on my right side. My "Racing for the Philippines" sticker tattoo as well as my race number peeled off with my skin. I didn't hurt for the first few minutes; I actually picked myself up quite quickly to get out of the way of oncoming cyclists, then poured water from my bottles to clean myself off the best I could. I checked if my bike were in rideable condition (it was), and got back on. A cyclist called out that he'd get the medics to check on me.

…Did I break any bones? No. Did I dislocate anything? No. Is anything hurting that will affect my ability to finish the race? No. Then there is no reason to stop. Shut up, and embrace the suck!
You can actually see the blood oozing from my shoulder.
This had happened on Day 4 of a 12-day trip, and I didn't want my mom to worry. Aside from the scrapes (which were akin to first-degree burns), I hadn't broken anything and I could certainly get by without medical attention. So that's why I never posted these pictures:
They healed fast and well, but these kinds of wounds turn into very obvious scars because the pigmentation of the skin changes. These days when I wear tank tops, I get questions from my friends about my shoulder: "What happened?" And of course I show them the partner scar on my leg and tell the story with gusto and pleasure because I still finished the race regardless.
Besides, race numbers and stick-on tattoos do a pretty good job of covering them up. 😉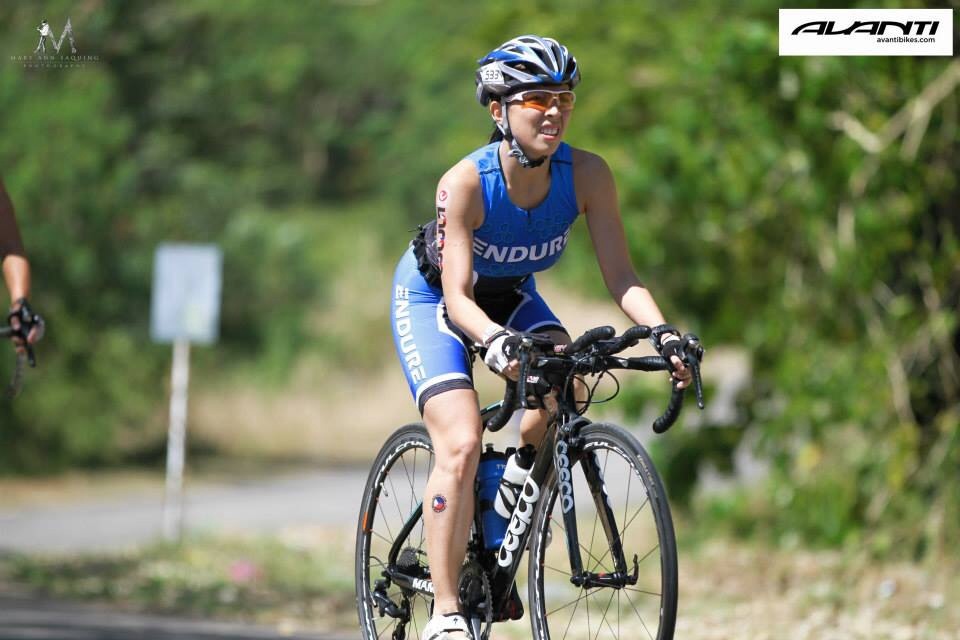 You'd have to look closely to figure out where the scars are.
I know in time each scar will fade like all my other scars have. But while they're there around, I consider them a badge of honor. Not because they reveal how clumsy I am. They remind me that I lived through something that could have ended my day, but I got through it. And that's why I wear them proudly.
Liked this post? Share it!