I'm very blessed to have discovered running when I did, and I'm surrounded by communities that love running — whether marathon, ultramarathon, fun run, or triathlon.
But every training run or weekend race also reminds me that I don't live in a city of runners. When I take my runs out of the relatively safe confines of Bonifacio Global City and onto the highways, I get cars swerving into my path, construction workers leering at me and making catcalls, street kids mimicking my running, and the occasional demoralizing comment — "malayo ka pa" or "nahuhuli ka na!" (you've still got so far to go, you're way behind).
Only runners understand the impetus to run, how it not only makes us look good, but more importantly feel good. My initial goal when I took up running was to lose weight (those last five pounds are tough to drop!), but I got hooked on the feeling of powering my own body along the road. It also became a way to switch off from the worries of the week and lock onto the present moment.
What if everybody ran? That's the question Mizuno asked MBA students at the University of North Carolina Kenan-Flagler Business School to answer. Here's the white paper and statistical analysis they did investigating the potential impact of a national running movement in the US.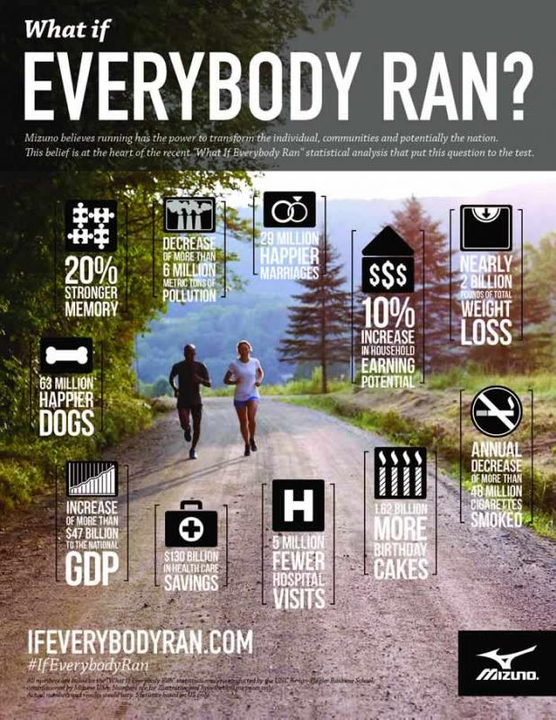 INFOGRAPHIC: What if everybody ran?
Running (and other forms of aerobic activity) has many benefits. Among other things, it aids weight loss, boosts productivity, is linked to formation of healthier habits, and makes you live longer and healthier. It's pretty awesome what lacing up and moving your legs can do.

For me in particular, running has become a way of life and it's part of who I am. I love seeing how running has grown in the country and how it's also fed interest in a healthy lifestyle and other sports and forms of exercise.
I've also seen how running has made a positive impact on myself and the people I know. I trained with a friend just this weekend, and he said that training helped him release stress from the workplace. Finishing tough races also made him more patient and enduring elsewhere in life. He said he would think back and remember that he got through them no matter how dark and difficult finishing seemed at the time, so at work he also took that attitude: it will get better, and he would get through it.
I hope people continue picking up the sport and find for themselves what keeps them running.