The moment I crossed the finish line at Challenge Philippines, I asked myself whether I wanted to do it all again: that swim against two currents, the hilly bike course that left even the pros cussing, the unexpectedly gruelling run. At the finish line, the answer was "Ask me in a week."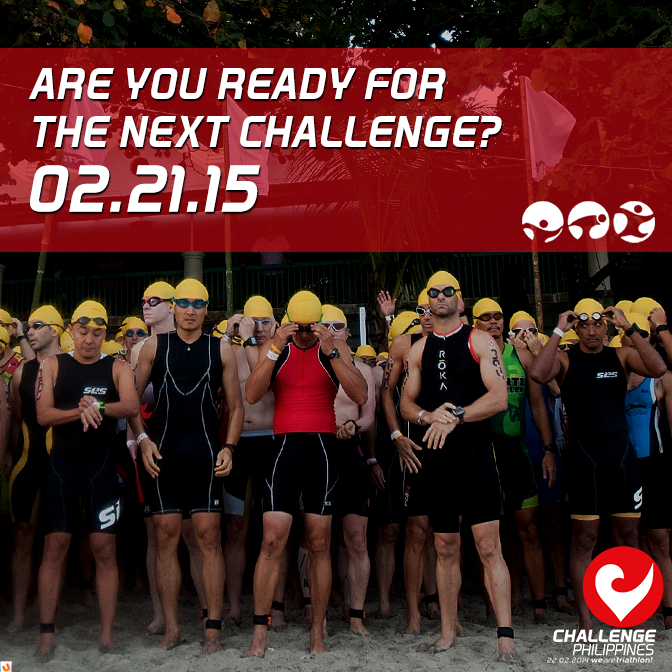 Challenge Philippines on 21 February 2015
Triathletes have a short memory, it seems — yes we remember that we had a tough time, but we quickly forget how physically demanding races are and the depth of the pain. Well we forget it just in time to register, which is what I did this morning.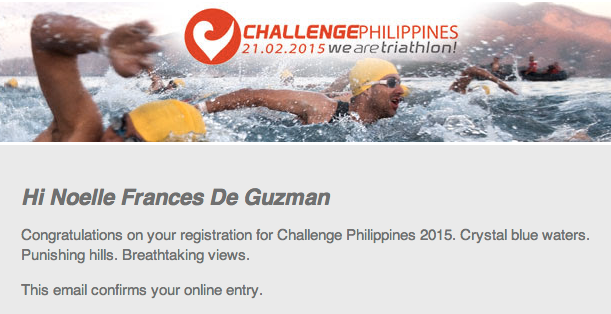 Here we go again!

One of the things I was very thankful for at Challenge Philippines was the massive support not just from the event and the cities involved and my Team Endure and my parents, but also from my fellow participants. Shared suffering (hahaha!) bonds people together, and the encouragement we got from and gave to each other pushed many of us across that finish line.
Come do Challenge Philippines with me! The early bird fee is $225 for individual and $275 for relay until April 23, 2014. (If you're a participant from this year's edition, you get a discount.) There's also a Buy 10, Get 1 Free group registration: when you register as individual participants in groups of 11, the 11th person is free of charge or you can simply share the savings among the group. Register now by clicking here.

As part of my plan to get as many people to join me at Challenge Philippines 2015 as possible, I have COMPLIMENTARY ENTRIES to the race which I am raffling away to lucky contestants (one male, one female)! Check out the mechanics:
Share this post on Facebook by clicking either the Like or Share buttons at the top or bottom of this post.
Like the Challenge Philippines Facebook Page.
Like my Facebook Page.
Post on my Facebook Page with your answer to the question, "Why do I want to join Challenge Philippines 2015?" This will serve as your official contest entry. One post per person only.
Contest is also open to international participants! Anyone 18 years old and over can join.
Contest runs from April 11 to April 15, 2014. All contestant names will be entered in a random draw and winners announced on April 16.
There are 10 months to go until Challenge Philippines 2015, so you have a lot of time to get ready for it. Sign up now for sure entry, or join my contest. Either way, I hope to see you at the starting line. 🙂