This speech was delivered on March 31, 2014 at the flag ceremony of the Governance Commission on Government-Owned and Controlled Corporations (GCG) under the Office of the President.
Thank you so much for inviting me to speak in front of all of you this morning. I may not be a beauty queen like your last speaker [Miss International Bea Rose Santiago], but I did dress up extra nicely for today. I'm usually in running shoes, shorts, a dri-fit shirt, with my hair in a ponytail, so thanks for giving me an excuse to put on some make-up.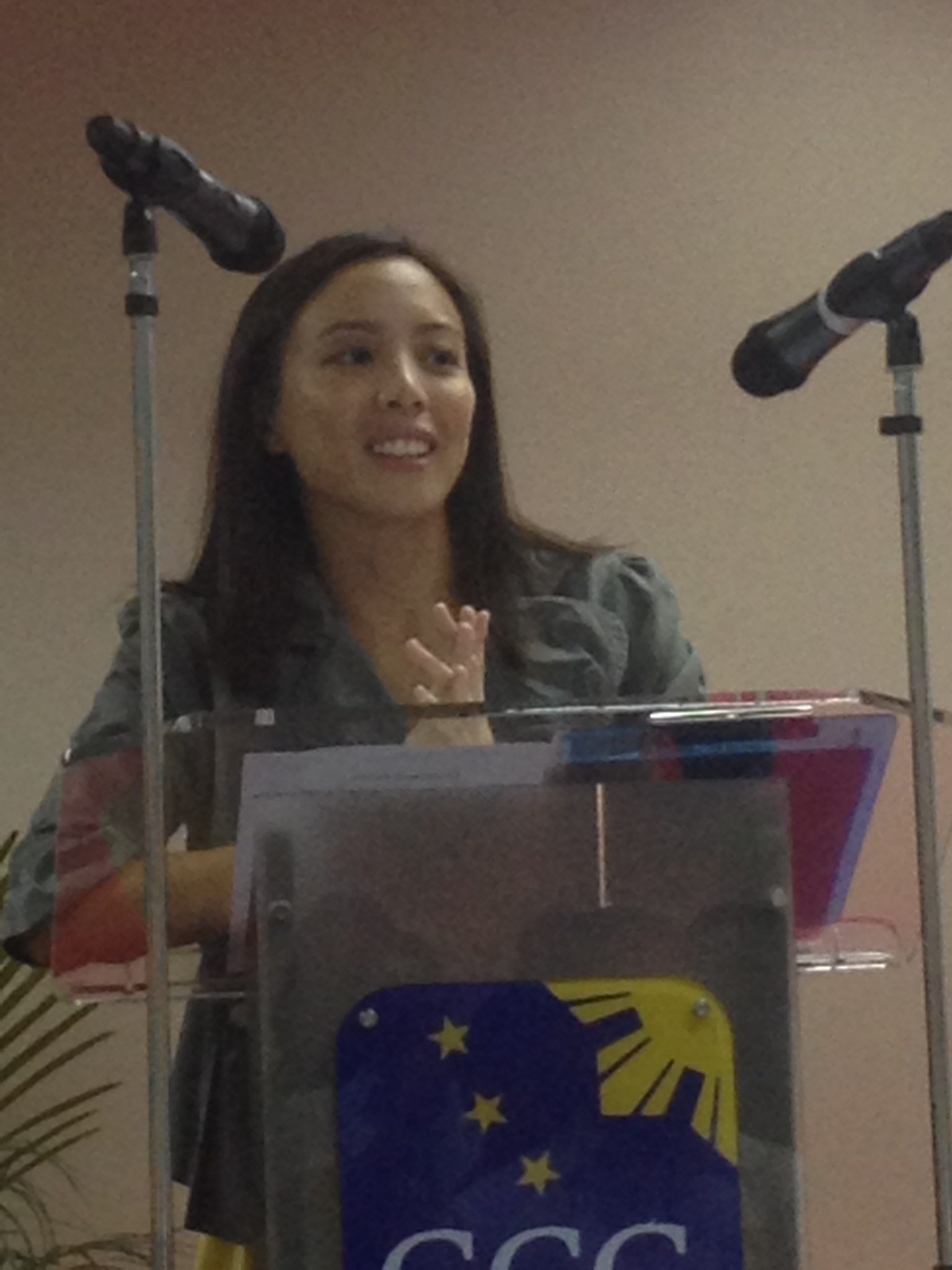 I should explain a bit about who I am and how I got here. I am known as Kikay Runner in the running community and on the internet, where my blog has been in existence for the last four years. I started running not as a track star in school, but as an overweight adult trying to lose the extra pounds on the treadmill. When I got a little fitter, I started working as an instructor for dance and yoga classes. That's my day job. I love being able to make a tangible difference in people's lives. There's just something about seeing someone's face light up when they're able to master a move they never thought they could do, or achieve a pose they couldn't do when they first started attending class months ago.
I joined my first 10-kilometer race in 2009 because I was bored with teaching inside the four walls of a gym and it felt like I wasn't getting anywhere on a treadmill. I ran hard and fast and absolutely enjoyed the sensation of "flying" over the asphalt. I was so excited about it that I shared my thoughts and experiences on my blog. I never considered myself anything special; I was a recreational runner just like anyone else. It was a matter of being in the right place and time: running was starting to pick up steam in the country, new runners were hungry for information about the sport, and they gobbled up every bit of it they could find on my blog and the blogs of other local runners. I had a unique voice and personal perspective that people found inspiring and motivating; I was the unlikely athlete, someone just like them, who had discovered a talent and had begun to develop it by virtue of commitment, consistent training, and passion.
It's now been five years since I started on that journey. I'm currently into doing triathlons, a sport that also still involves running, but only after tiring yourself out swimming and biking. I'm training for an ironman in July. It involves 4 kilometers of swimming, 180 kilometers of biking, and 42 kilometers of running and could take someone of my ability about 13 or 14 hours to finish. The best in the sport usually finish in 8 hours. Obviously this is not about getting skinny; I think Ms. International was very fit, and she probably doesn't need more than an hour of exercise most days of the week.
Why do we do it even if we're not on the pointy end, even if we're not in the running to win the race? I do it because I love challenging myself; it makes me feel alive and like I'm doing something of significance. I do it because I'm passionate about being the best I can be. I believe God puts us in places and situations for a reason. There's a reason I love running, there's a reason I can absorb heavy mileage and not get bored with hours of doing the same thing over and over, there's a reason I'm nuts about a sport that is brutal both on the body and the mind. I do it because if I can inspire just one person to get off the couch and take control of their wellbeing, if I can make a difference in that person's life, then I would consider myself successful.
I've seen people come and go in this sport. Some people start running as a form of exercise. Others sign up for races for the freebies — which isn't a bad way to start running. But once you start running we'd love if you found some personal motivation to do it. Running is an easy sport to pick up: just buy a pair of running shoes and head out the door for a jog. Those who stay in the sport, however, stay because they've found a place for the sport in their lives. In running, they may find goals that they can achieve, whether it's to run faster, or conquer a longer distance, or do a particular race that they've always dreamed of doing. They may find that a morning run prepares them for the exertions the day will present, or a run after work clears their minds of the day's anxieties. They may find a sense of accomplishment in setting and breaking personal records, or standing atop a podium. Or it could be that finish line feeling. Let me tell you, there is nothing quite like that euphoric feeling of crossing the finish line, especially if you had to train for months and then battle through a tough race to get there.
I did a triathlon called Challenge Philippines early this year. I trained through the Christmas holidays when everyone else was attending parties, I made several trips to Subic where the race would be held just so I could train on the extremely hilly bike course. On race day, I battled currents on the swim, got cramps right before the last hill on the bike, and the run leg seemed endless and energy-sapping. For all of us who finished, it was something to be proud of! I was one of the athletes who completed the region's toughest triathlon, even the pros admitted it was the toughest they'd done.
What is it that makes engaging in sport – any sport – such a worthwhile endeavour? Some people say sport is a training ground for life. Becoming a good athlete takes time and effort and you need to believe that what you're doing in training is going to help you improve in competition. Sport has clear, tangible goals that can be attained through hard work, discipline, the drive to excel, commitment, sacrifice, teamwork as well as individual initiative. These values, learned on the playing field, on the track, in the court, in the arena, are something we desire in the workplace and at home. Even the apostle Paul used sports analogies to talk about faith: "I have run the good race, I have fought the good fight, I have kept the faith." "Run in such a way as to win the prize." "Run with perseverance the race set before us."
In sport, the rules of fair play are enforced: you can't win if you don't play by the rules. I remember a race I did last year where I was the third female to cross the finish line, but was awarded second place. Why? The woman who had crossed first was disqualified because she had taken shortcuts through the course. In sport, there are no shortcuts. When I say "Lance Armstrong", what comes to mind? Cycling's biggest champion, winner of seven Tour de France titles… and then last year it was revealed that he had doped for most of his career, and that his whole career was a lie. Where is he now? He's a pariah and can't ever compete again in a sport he loves.
You could say sport is a metaphor for how we hope and wish things would operate in the real world. If life were really more like sport, then people who are disciplined and driven to excel would be rewarded for their work and commended for it. People would be on top based on merit, rather than through connections. And people would adhere to the rule of law rather than try to find ways around it.
I was asked to speak here to give my opinion on good governance and what I expect from the government. In sport, the goal is to be the best, and to take pride in being the best, and if we could apply this to our work ethic whether we work in the public or private sector, this could take us further on the road to a better Philippines than the "Bahala na" or "OK na 'yan" attitude that admittedly pervades our culture. To use a sports metaphor, I hope for "level playing fields" and clear rules that give everyone a fair shot at achieving their goals. I dream of a government that enables the people it serves to rise and excel in anything they set out to do. I want a government that actually punishes the corrupt and morally bankrupt –- those who take the shortcuts. And I dream of world peace –- just kidding, that's the beauty pageant answer coming out.
Just like in running, I know improvement doesn't happen overnight, especially when certain things have been done certain ways for a very, very long time. But I know that it is possible when you believe you can do it and you're willing to do the work to achieve it. I know that you at the GCG are making efforts for good governance. Change happens incrementally, but it does happen, just like in the months of preparation leading up to a race. And the sense of achievement you get from crossing that "finish line" is worth it because you know you made a difference. Thank you for your time, and God bless you.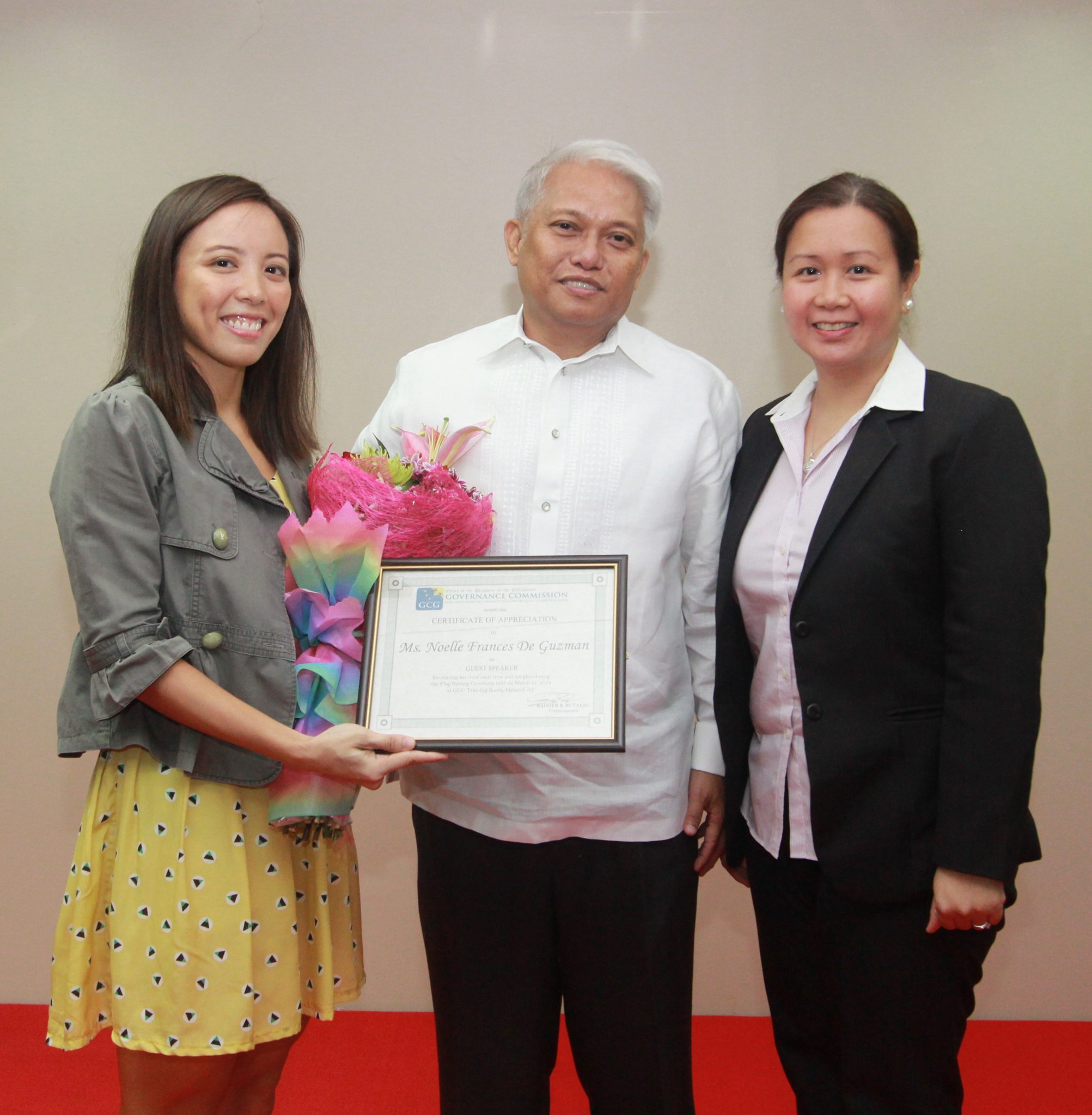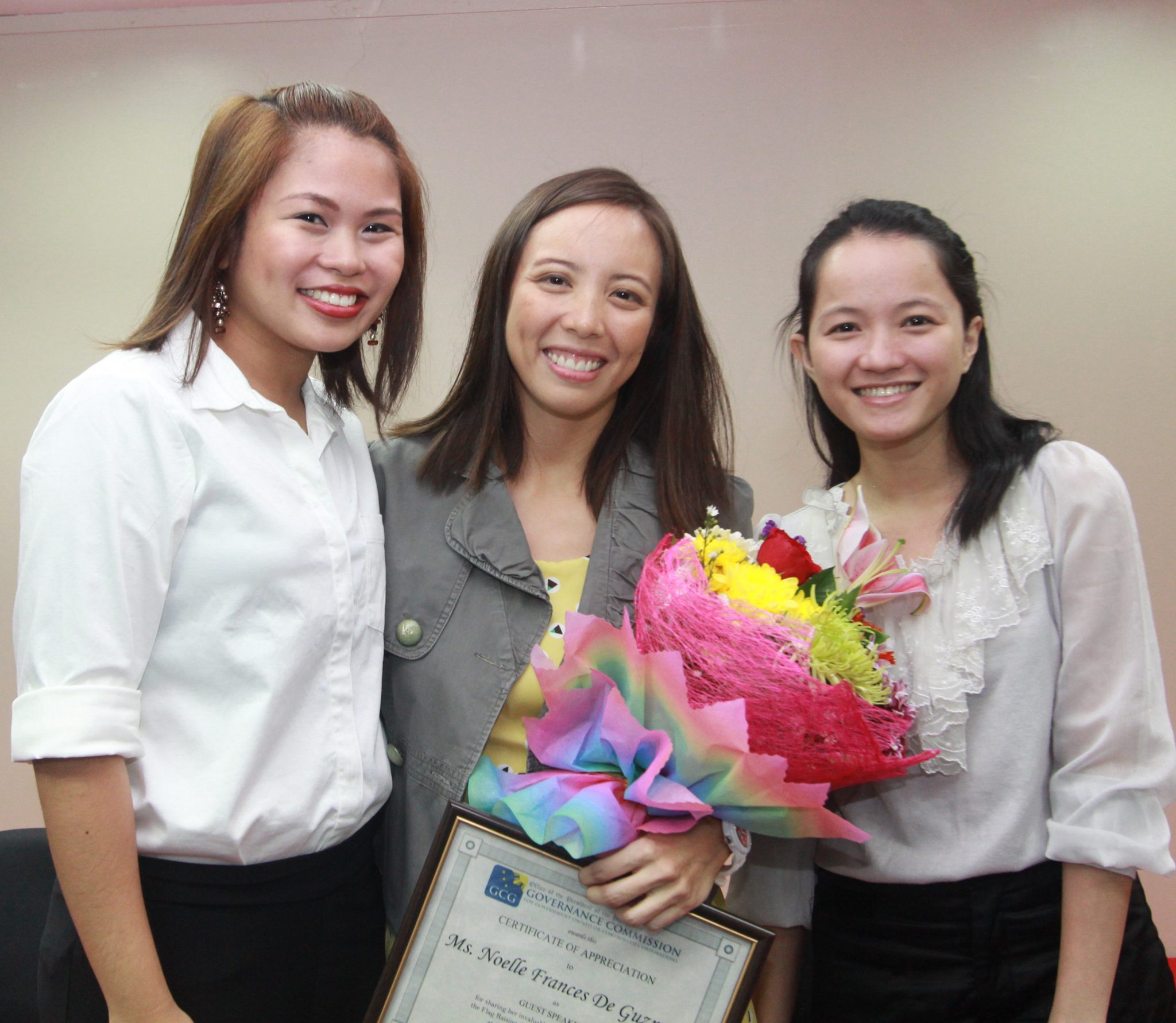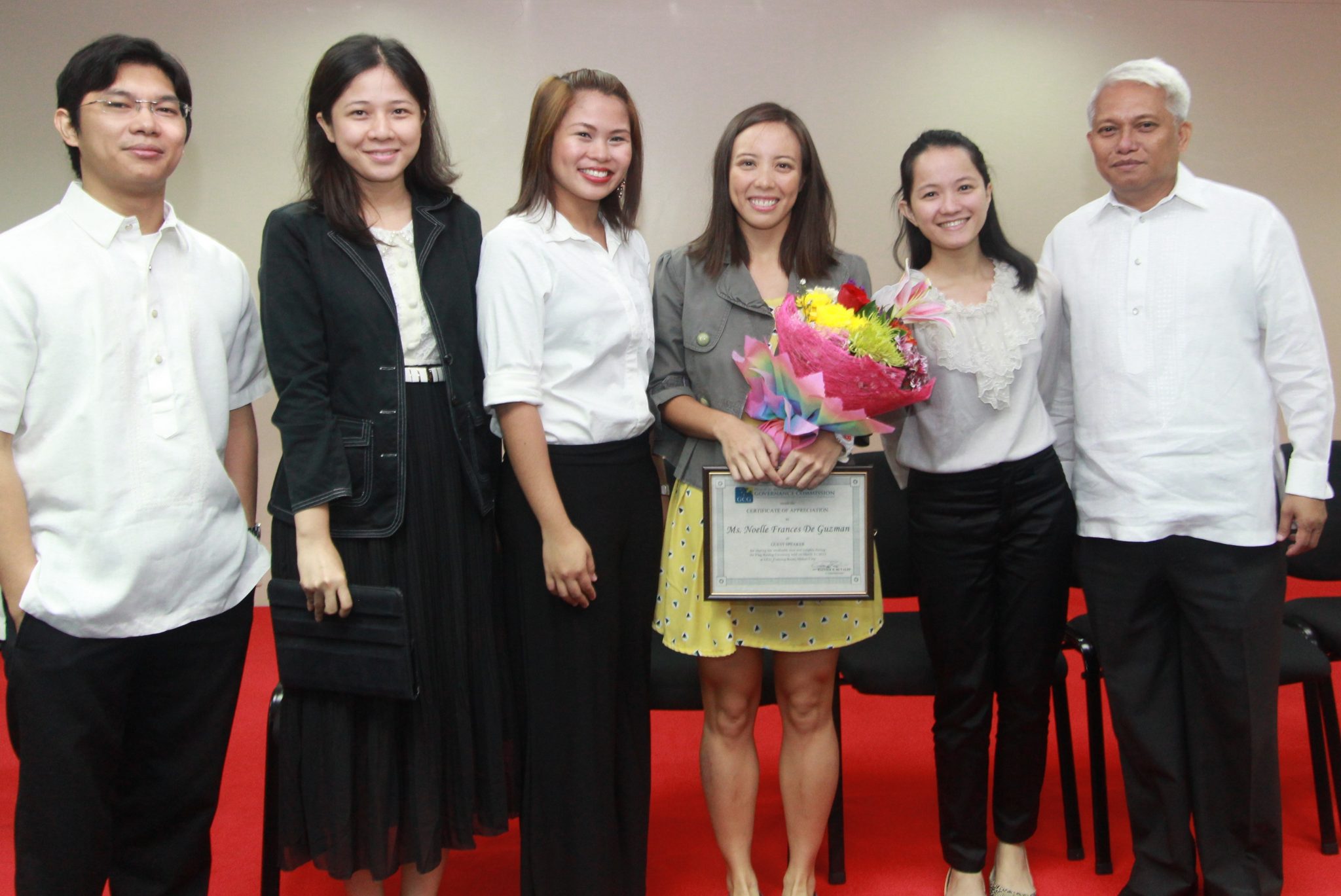 Thank you to to GCG for inviting me!
Liked this post? Share it!