This is part of a series of posts in my special coverage of the inaugural Challenge Philippines. Check out my Road to Challenge Philippines, Part 1 of this Race Diary, and Lessons Learned.
February 22 (Saturday): Race Morning
Woke up at 2:15am and was afraid to go back to sleep. We needed to start heading to Camayan by 4am because it's quite a long drive, about 20 minutes from our hotel, Crownpeak Tiara. Transition opens at 5am and I always want to have a lot of time to prepare my transition area. Time flies faster when you're fiddling with things, like putting shoes on the bike or pumping tires or laying out items in the transition box.
I want to cross that finish line in a few hours' time.

I made a booboo applying the race number tattoo on my arm: I forgot to take out the backing paper before moistening the strip. So the sticker stuck to the backing paper, not my arm! In any case, there was one more tattoo provided, so I applied that one properly, and then just stuck on a "Racing for the Philippines" tattoo on my leg.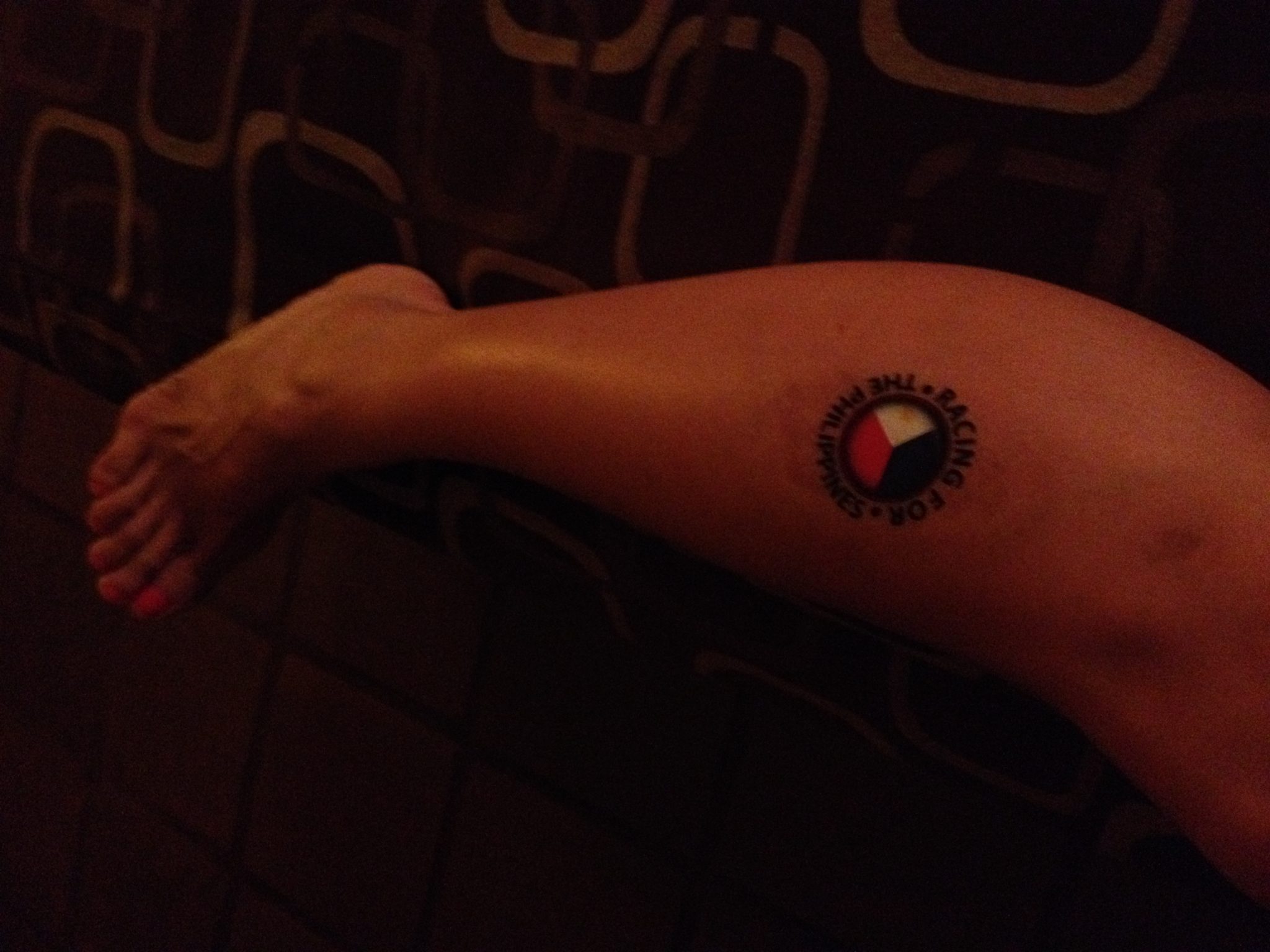 racing for the Philippines
It's great to be racing with my ENDURE teammates. There are three of us competing in the solo category, and another three have formed a relay team. My last two triathlons of 2013 were done in isolation, so having a few more people around dressed in my colors felt reassuring. With the word out that Challenge Philippines is one of the toughest half distance triathlons in the world, I was glad I wasn't alone taking a crack at it. 🙂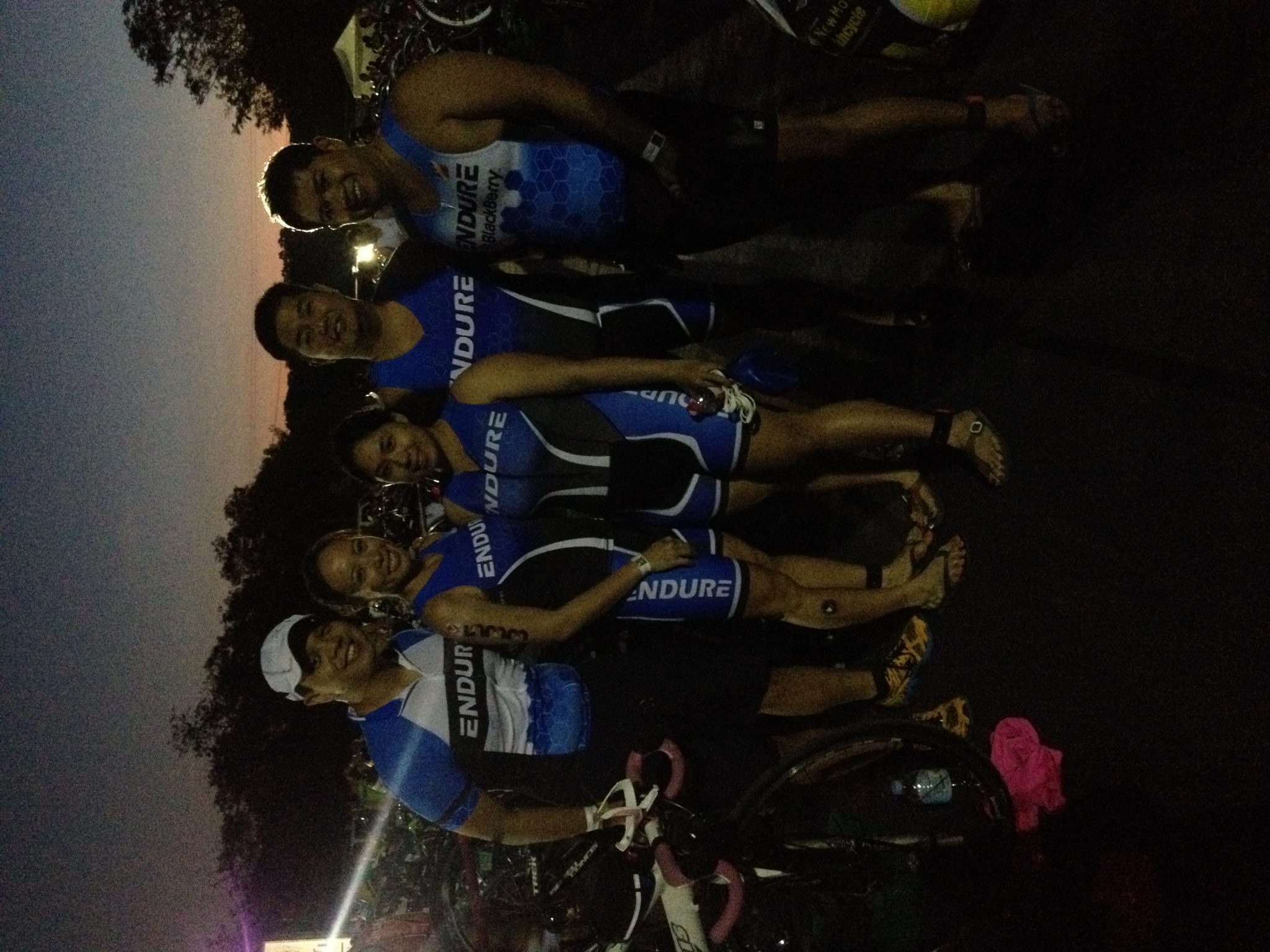 all set!
If you recall, before my first half-ironman in Cebu, Chris had given me a bunch of Biestmilch products, including two Biest Booster chewy tablets. The Booster has colostrum and guarana extract in it that Chris said would help me absorb nutrition better and keep me alert. I'd taken one Booster in Cebu and felt great with it. I had saved the other one. This, my second half-ironman, was the perfect time to use it.
Biest Booster
I then went down to the swim start and tried to keep loose and relaxed. With a total field of about 700 participants, Challenge Philippines felt quite intimate and I found myself among friends as we warmed up.
with Mark Salvador of Team GRC and Jumbo Tayag of Tri Clark *
With the gunstart fast approaching, we got out of the water and I wished Chris good luck as he lined up alongside the other male pros.
For our wave start, U2's song "Vertigo" started playing over the sound system and it really pumped me up.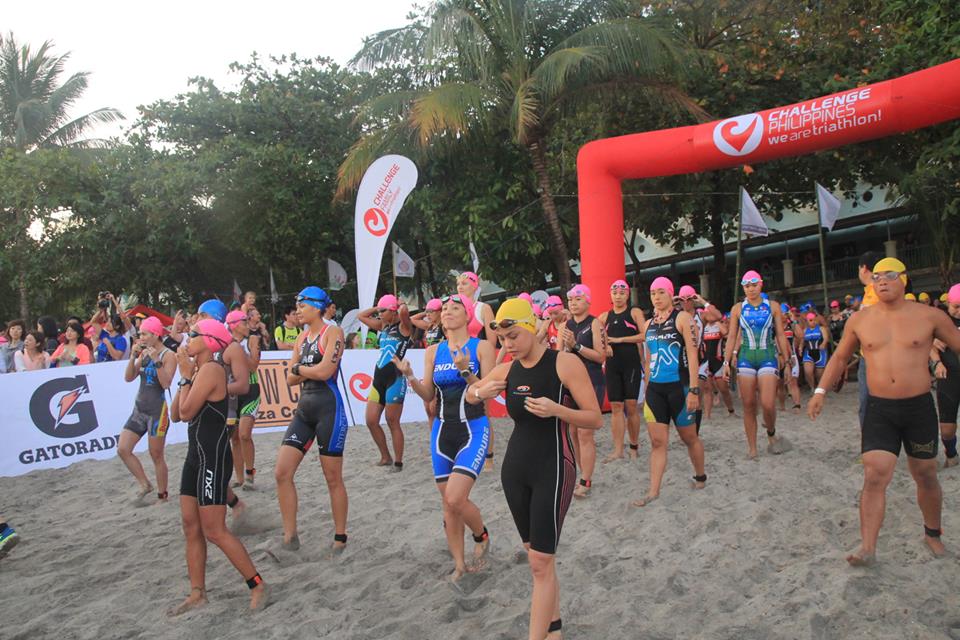 "Uno, dos, tres… catorce!" Time to rock! *
On your mark… *
The swim was tough. Although the water was flat and clear as glass, the sea lice were a mental and physical challenge. Sighting was also complicated because of the direction the sun was shining (straight into right-breather's eyes). I'm thankful I'd bought the TYR mirrored racing goggles, which helped screen out the worst of the glare.
I got caught in no-man's land between the fast swimmers ahead that I couldn't bridge the gap to, and the slower swimmers who were drafting on my hip and feet. I didn't want to push on the swim because I knew the kind of bike leg I was facing, so I deliberately took it easy.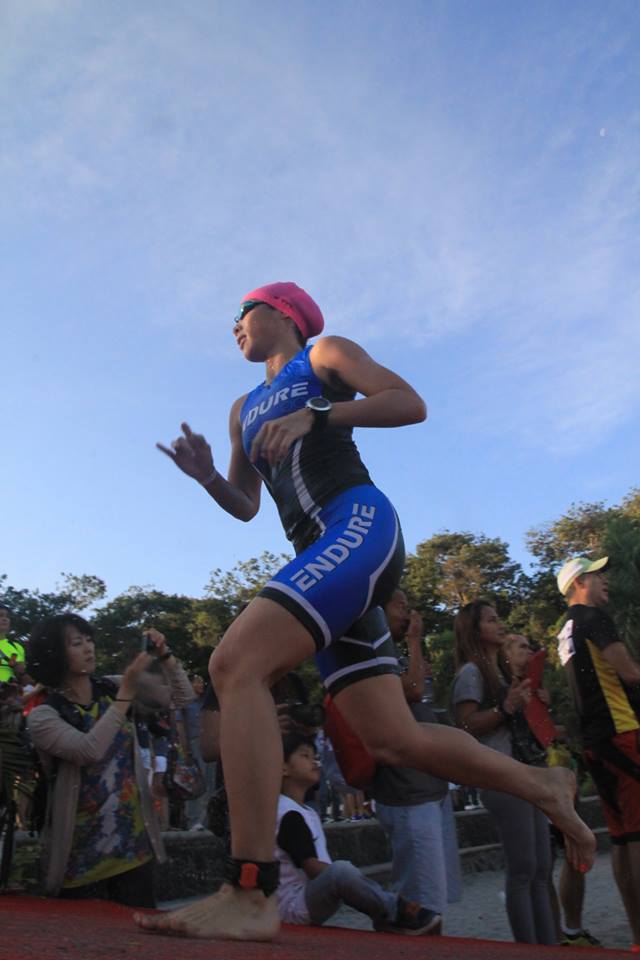 running out to first transition *
I got out of the water in 44 minutes, which is slow for me. I took some time to put gloves on in transition to aid my grip during the descents, and then it was time to get on the bike.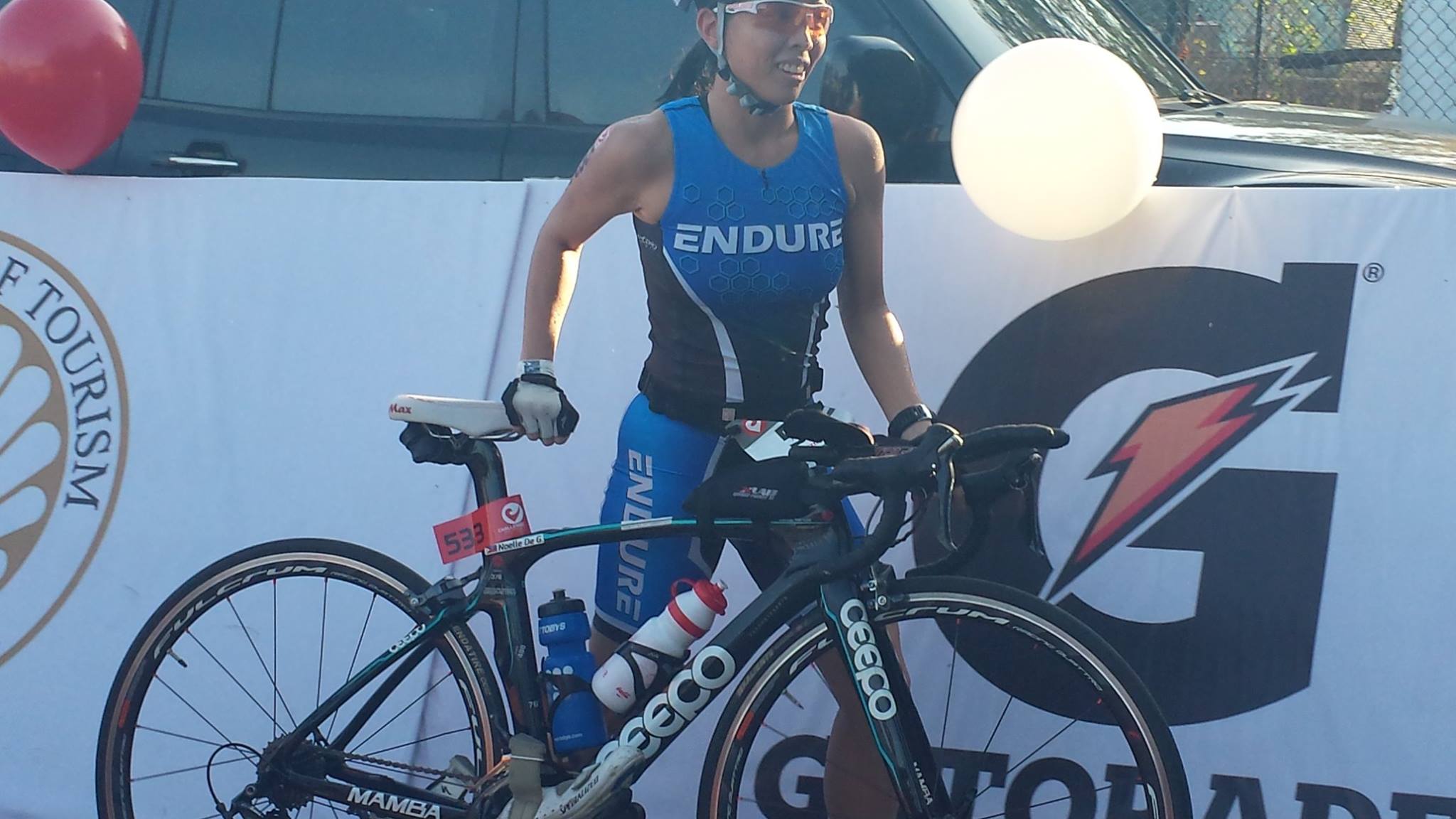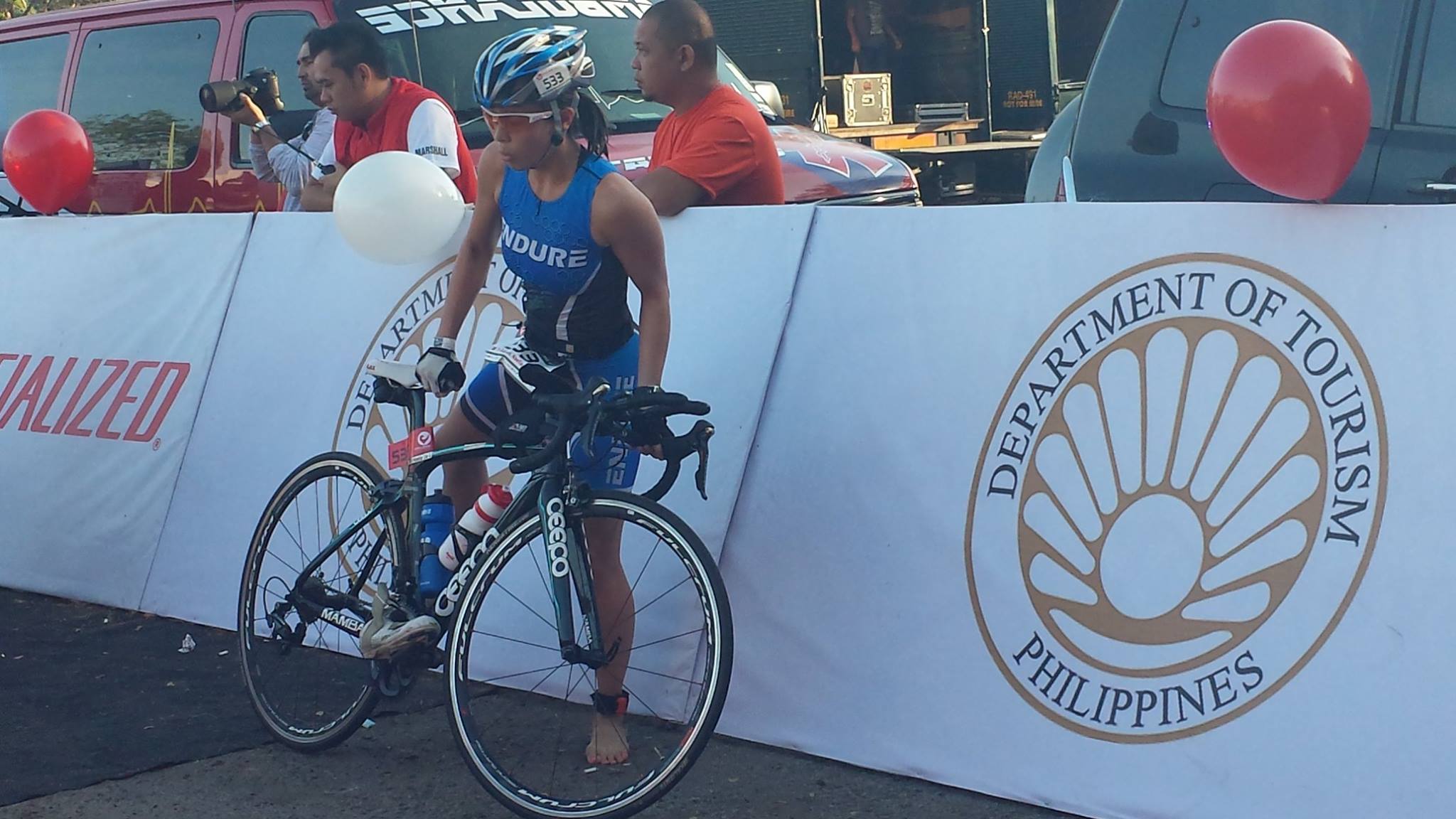 semi-flying mount +
Nothing but hills on the horizon and nothing to do but grind up them and hope I've saved enough for the run. The recurring prayer in my head as I descended the hills was, "Lord, protect me from crashes!" I came away unscathed, but there were a few others whose races ended on those downhills.
truncated data because my watch paused at one point 🙁
One of the women in my age group kept leapfrogging me, egging me on to climb the hills out faster. I felt good, so I did. After the turnaround I realized my ego was getting ahead of me, so I moderated my pace and allowed her to overtake me. But the damage was done. I started feeling twinges in my legs that were the early warning signs of cramps. So I tried to take care of that by drinking some more Gatorade. And then, at kilometer 80 of the bike leg, I needed to pee.
This was right before the last climb on those Seven Hills of Bataan. First I tried willing myself to pee while riding, but it wouldn't come out. So I stopped by a roadside shack and asked if I could use their facilities. I needed to squat low to pee in the toilet. When I got up, that's when the cramps went full-blown on my quads.
Thankfully the cramps happened right before I started on that climb, because if they had hit me while I was climbing, my legs could have locked and I could have crashed. I stopped on the roadside for five minutes or maybe longer, stretching my quads out as other riders passed by. Then Celma Hitalia, one of my longtime triathlon friends (I call her "Mamita"), rode past; seeing her boosted my spirits and spurred me to attempt the climb however slowly it would take me.
The bike leg took me 4 hours and 14 minutes to complete. Mamita and I rode toward transition together, but I was faster out onto the run because of a well-executed flying dismount and fast transition into my Mizuno Wave Sayonara shoes and Challenge Laguna Phuket visor.
I went at a fast clip for the first 500 meters or so, then came upon the steep hill leading into the jungle. I had to walk it, with legs still crampy from the bike leg. My pace swung wildly from sub-5 minutes per kilometer to 6:30 per kilometer as the course undulated with the terrain.
I was in a pretty dark place mentally and physically when Mamita caught up with me. Instead of running past me, she stuck by me and we spent the rest of that 21 kilometers running together, encouraging each other even if during the tough climbs walking in panting silence was all we could do. We overtook a lot of people on the course that day. My watch died at the 12th kilometer, and so we ran on feel the rest of the way.
watch died after the 12th kilometer 🙁
I saw my age-group competitor several times during that run, and under normal circumstances (had I been running alone) my competitive side would have made me give chase, and I would probably have keeled over and not been able to finish. But while running with Mamita, I realized this race was more about overcoming the struggle to quit. She needed me and I needed her, and I was happy to run with her and pace her to a podium finish (in her age group, there were three competitors).
After many false alarms thinking we were almost at the finish line, we finally made it out of the winding forest trails. Just before we entered the finish chute, we tidied ourselves up at the last aid station, then ran in and crossed the finish line hand-in-hand. My total time on the run leg was 2 hours 4 minutes, my slowest half-marathon in a long while. But I was happy to finish!
running to the finish =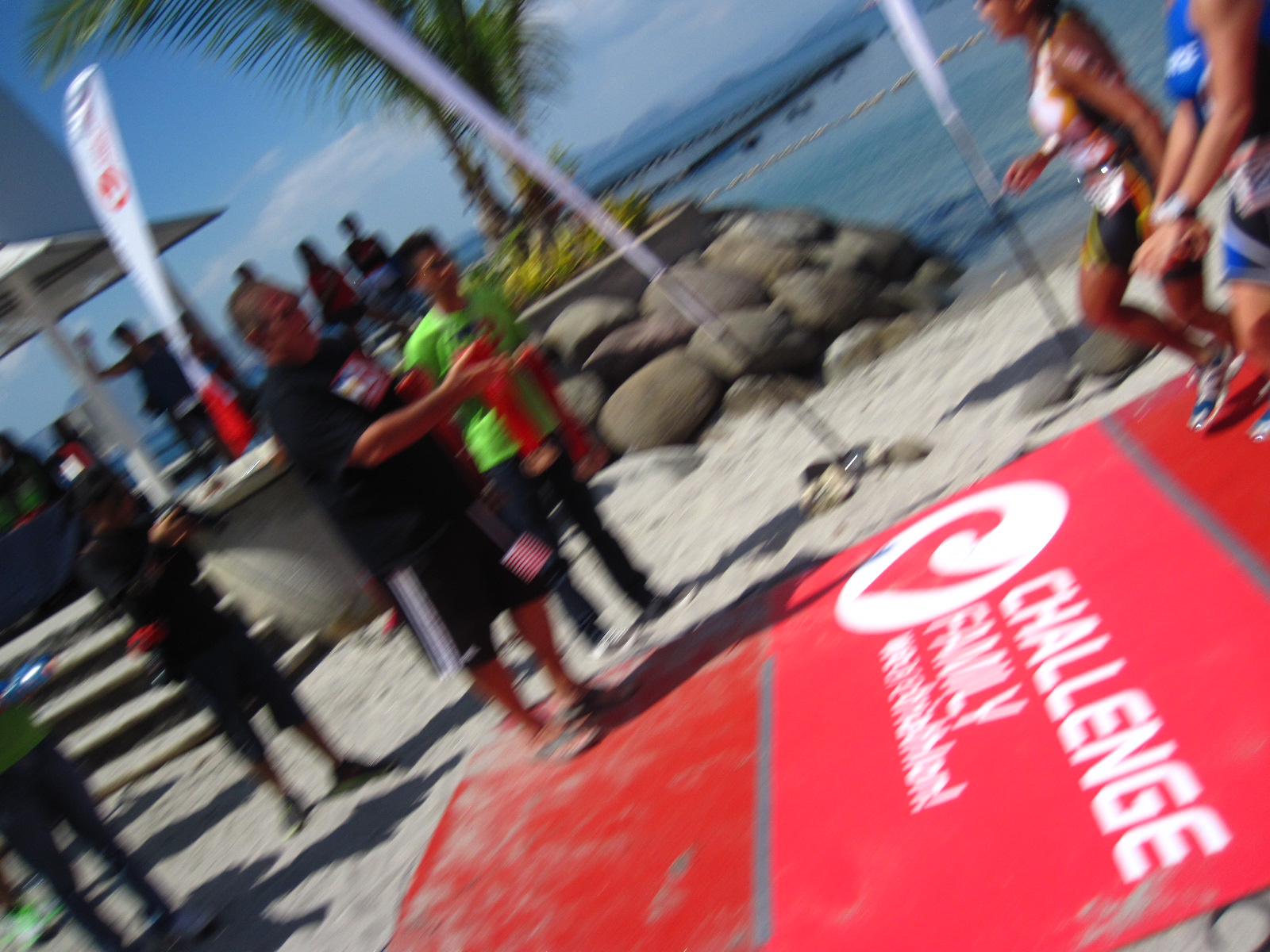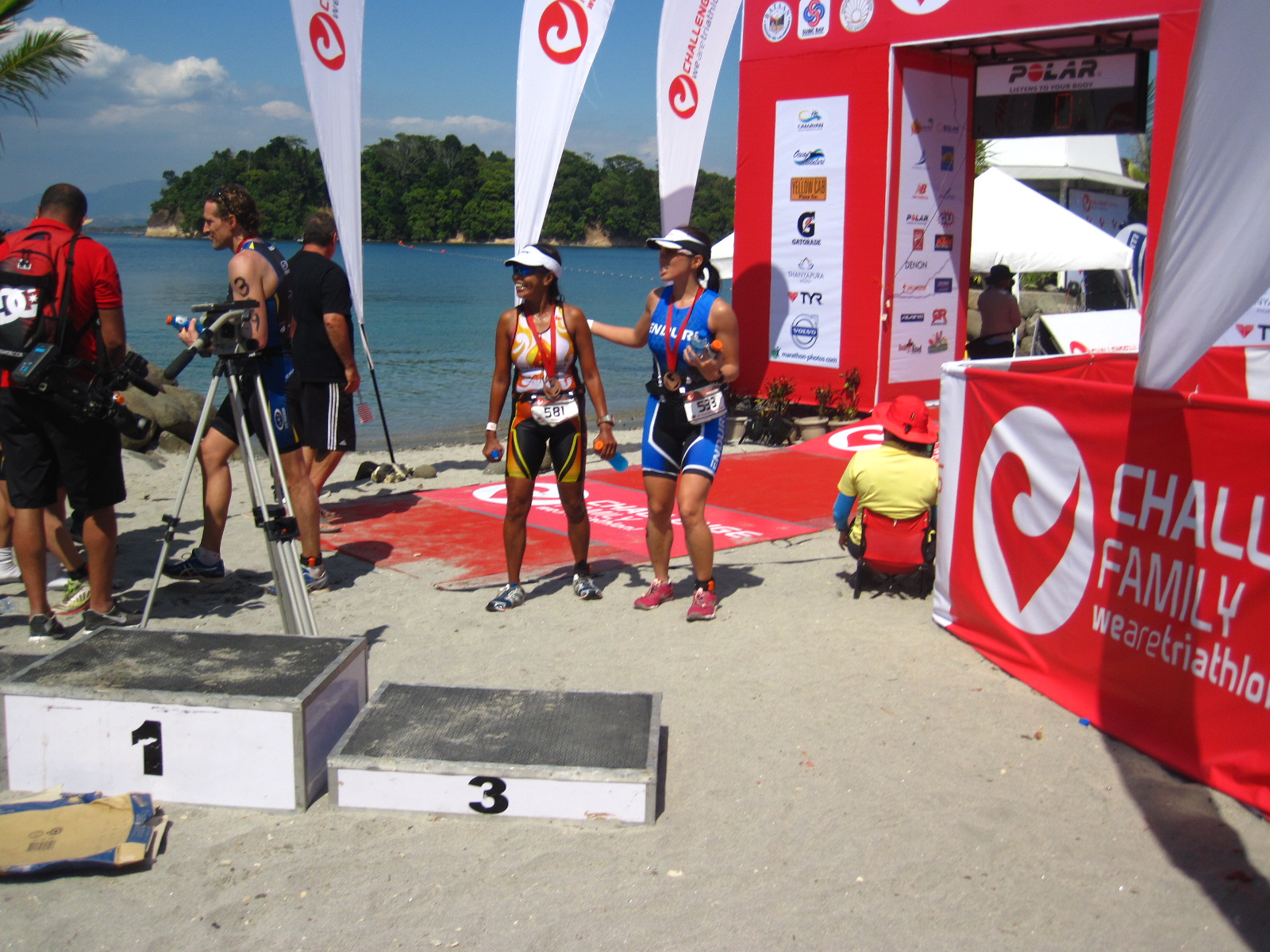 Thank you, Mamita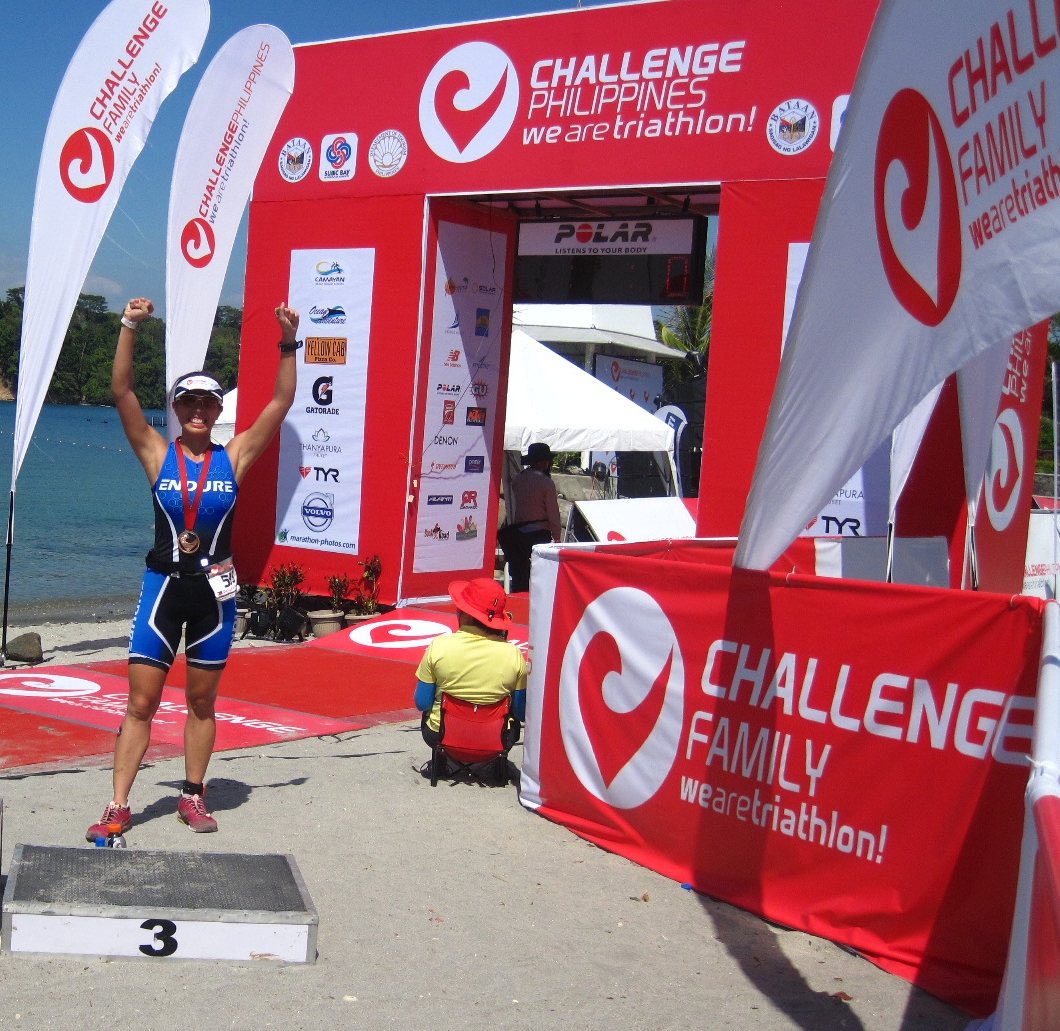 I made it! Thank you, Lord!
My parents had come to Subic to watch the race; I'd asked them to be there at the finish because I wanted to share that moment with them. So instead of me breaking into tears at the finish line, I had a huge smile on my face because I saw them and was able to give them sweaty hugs and kisses.
They then told me that I was third in my age group. So of course, I had to stay for the awarding ceremony that night.
with fellow solo competitors from ENDURE, Rico and Hanna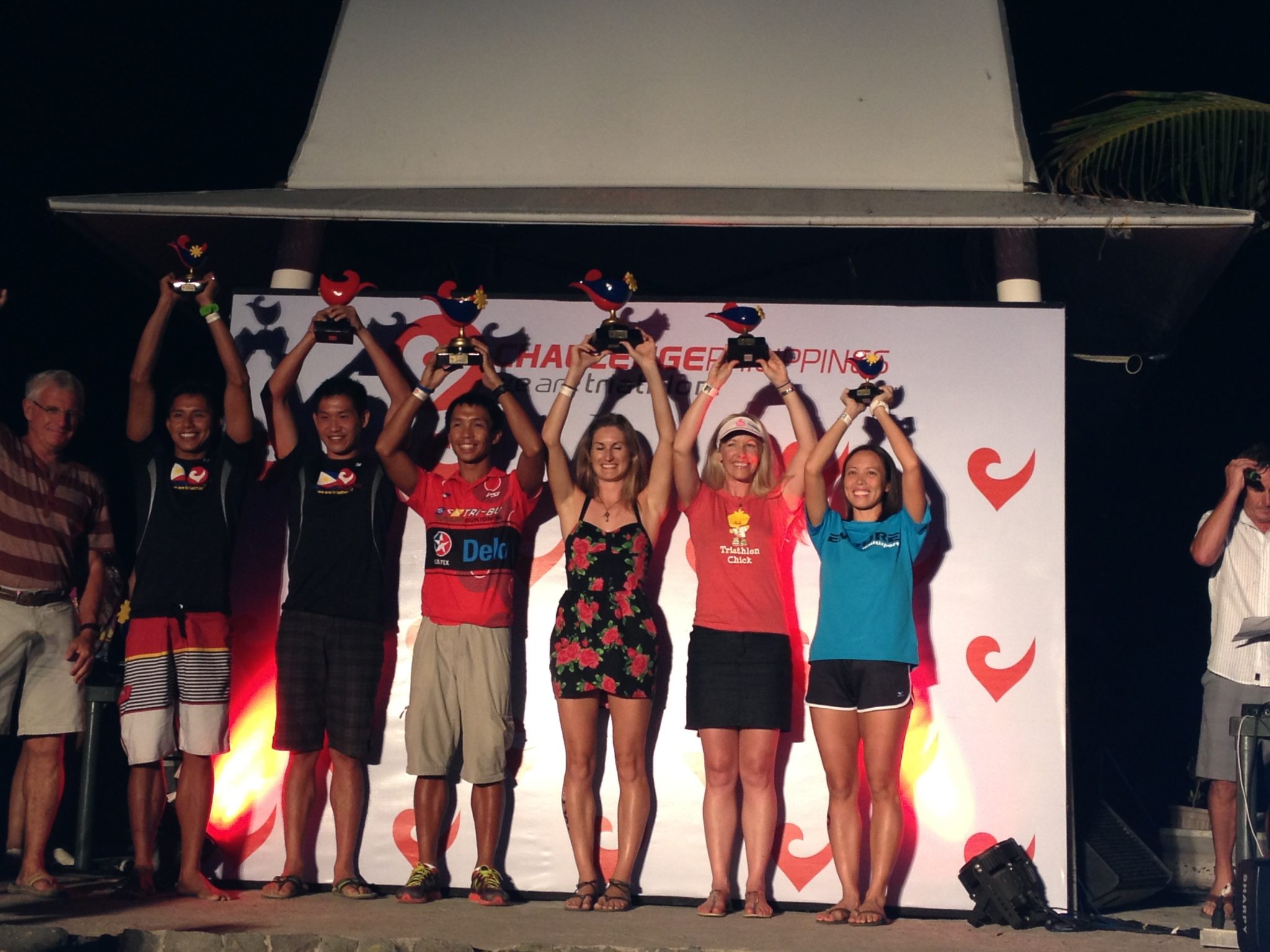 with the winners of the 30-34 age group
proud to represent the Philippines in my age group
for the country!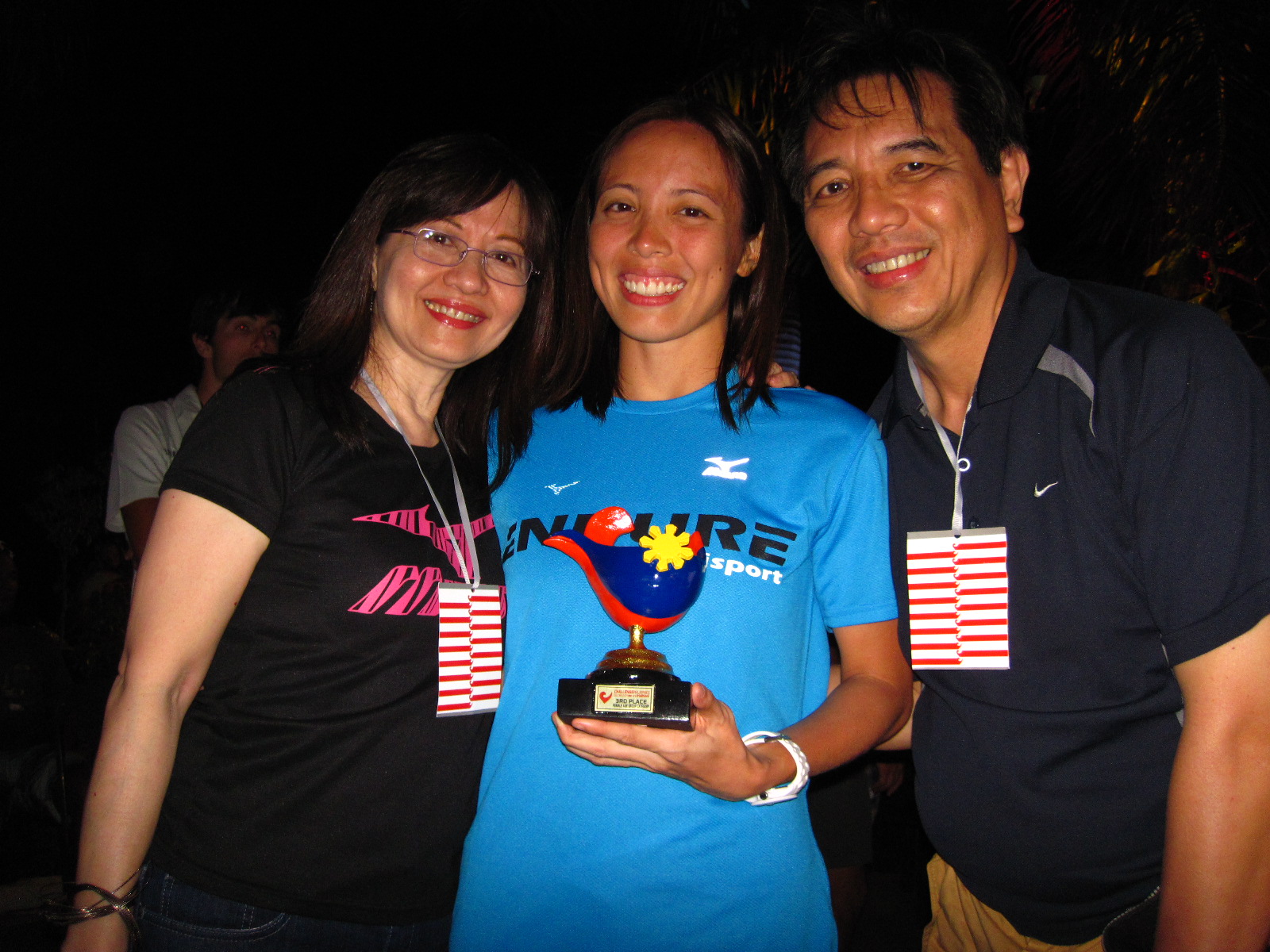 With my biggest "sponsors", my mom and dad. Thank you!
The Australian pros Matt Burton and Melissa Hauschildt bagged the top places in this race. Holly Bennett provides a pretty thorough wrap up of the pro race at Triathlete.com.
August Benedicto and Monica Torres won the Southeast Asia elite category, and Franklin Penalosa and Joyette Jopson were the Filipino elite winners. Aside from the prizes already awarded, there are more in store over the coming days: cash prizes for best age-grouper splits in swim, bike, and run, Specialized bikes for top age groupers, and of course, the raffle for the trip to race Challenge Roth.
With every race experience I learn something new. What were my particular lessons for Challenge Philippines? Check out Challenge Philippines: Lessons Learned.
* photos from Lloyd Iral Galicia
+ photos from Kassy Pajarillo
= photo from Raceday Magazine
Liked this post? Share it!