This is part of a series of posts in my special coverage of the inaugural Challenge Philippines. Check out my Road to Challenge Philippines, Part 2 of this Race Diary, and Lessons Learned.
Words fail me when I try to sum up everything that happened at Challenge Philippines last February 22, 2014. I was there in many capacities: as a competing athlete, as a Challenge Philippines ambassador, as a blogger, and as a friend and teammate. So it was a very busy weekend for me! But I loved every minute of it. And this was the best part of it all: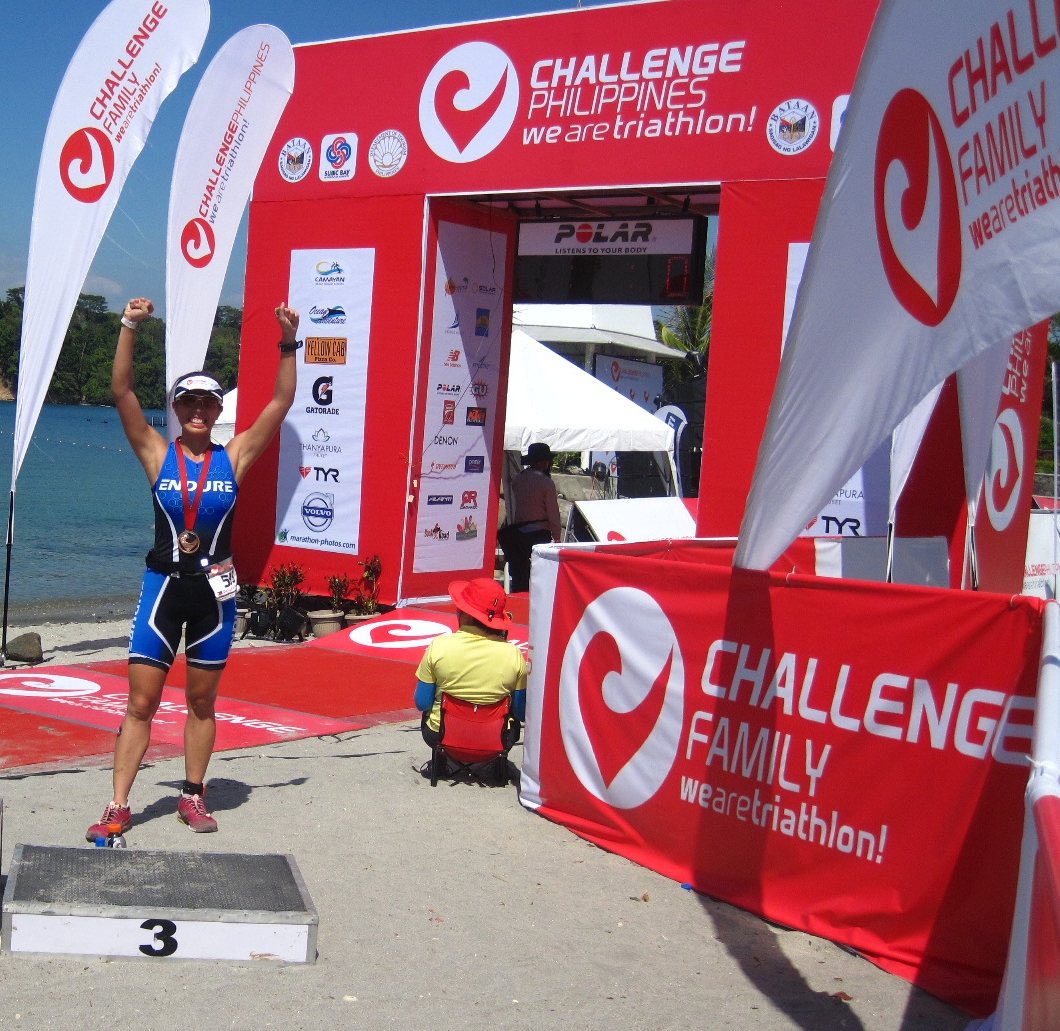 I finished Challenge Philippines!
To finish a race like this, which even the deep pro field couldn't help describing as the toughest course they've ever done, that's an achievement I'm proud to have under my belt. But I'm getting ahead of my story. Let me give you a peek of what those days were like. This is my Challenge Philippines race diary.
February 20 (Thursday)
Long drive yesterday, but a lot of media things are happening in the afternoon so I have to get my athlete stuff out of the way this morning. I did a short run to test my legs out. Aside from helping rev my body up for race day, it's a test run. I've been nursing an IT band issue for the past few weeks and I need to know if I'm going to be running through that pain on race day.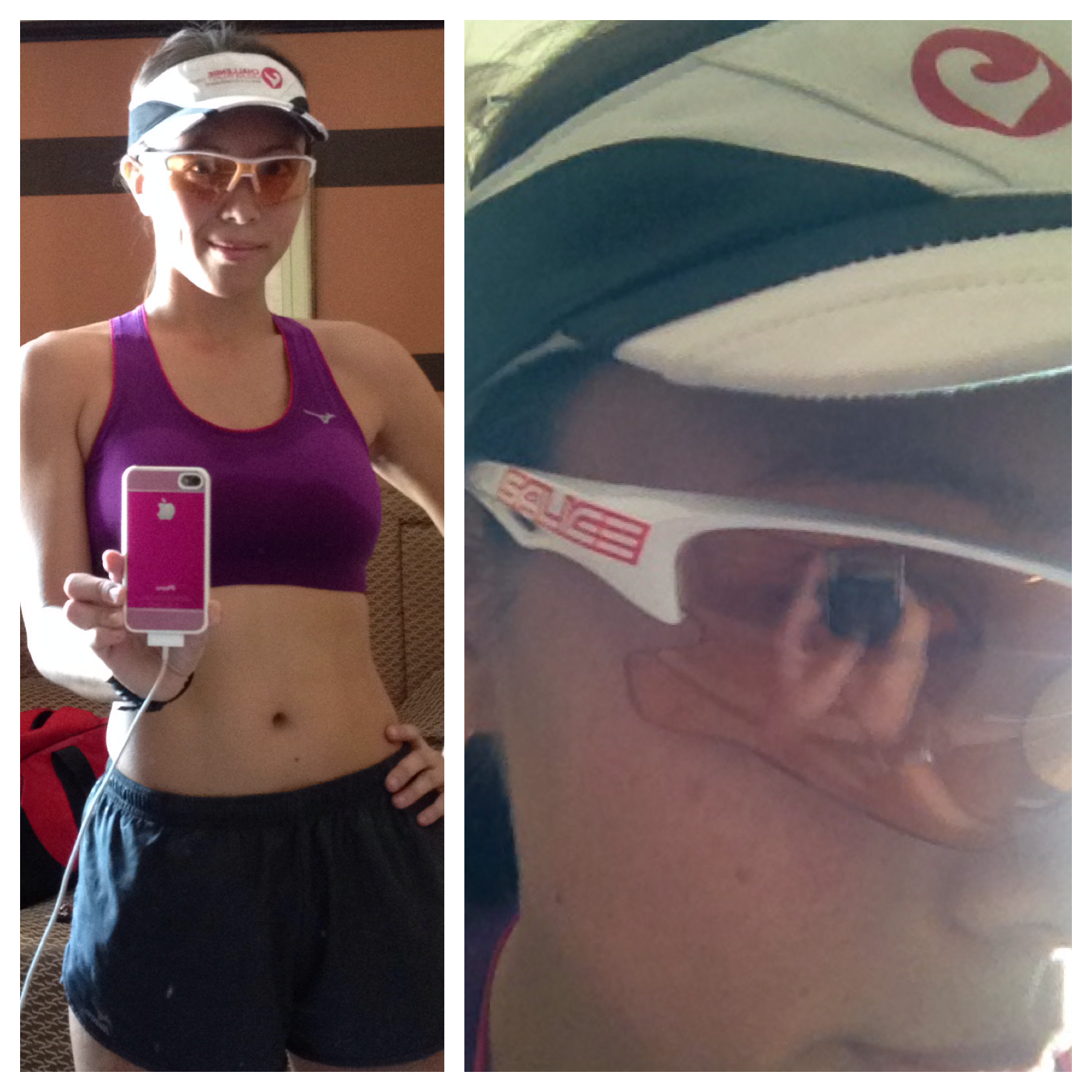 after my short run
5K with some race pace efforts. No pain, thank God! Storing this positive result in my head. I'm always looking for good signs to put me in the right headspace for racing.
A good breakfast is another way to get in the right mood. Breakfast at Xtremely Xpresso in the Subic boardwalk area was a big one:
And yes, I demolished it.
Then I went to get my race packet and other goodies at the booth in Harbor Point Mall. Many athletes are confused about where to go for bike tune-ups and registration, thinking it's all happening at Camayan Beach Resort, where the swim start is. Communication between organizer and athletes can definitely be improved for next year.
athlete registration at Harbor Point Mall
I headed off to Camayan to hang out with my MaccaX buddies Charles Breen and Rodrigo Gonzalez. It's really amazing how my involvement with triathlon has become so international. After about an hour of just chilling by the beach, our Bossman Chris "Macca" McCormack joined us.
just shooting the breeze
I'm glad that Chris put Challenge Philippines on his race calendar. As THE ambassador for Challenge Family he's one of the driving personalities for the Challenge brand in the Asia region. From what I observe, he's not just here to compete, but also to meet with everyone else involved in Challenge in Asia (they're all here — the people from Phuket and Taiwan and even from the US). Guy's got a lot on his plate this year…
grabbed a photo op when I could
First thing on the press agenda for this afternoon was the Sea Lion Kiss, where the pros got their photos taken with Kai the sea lion.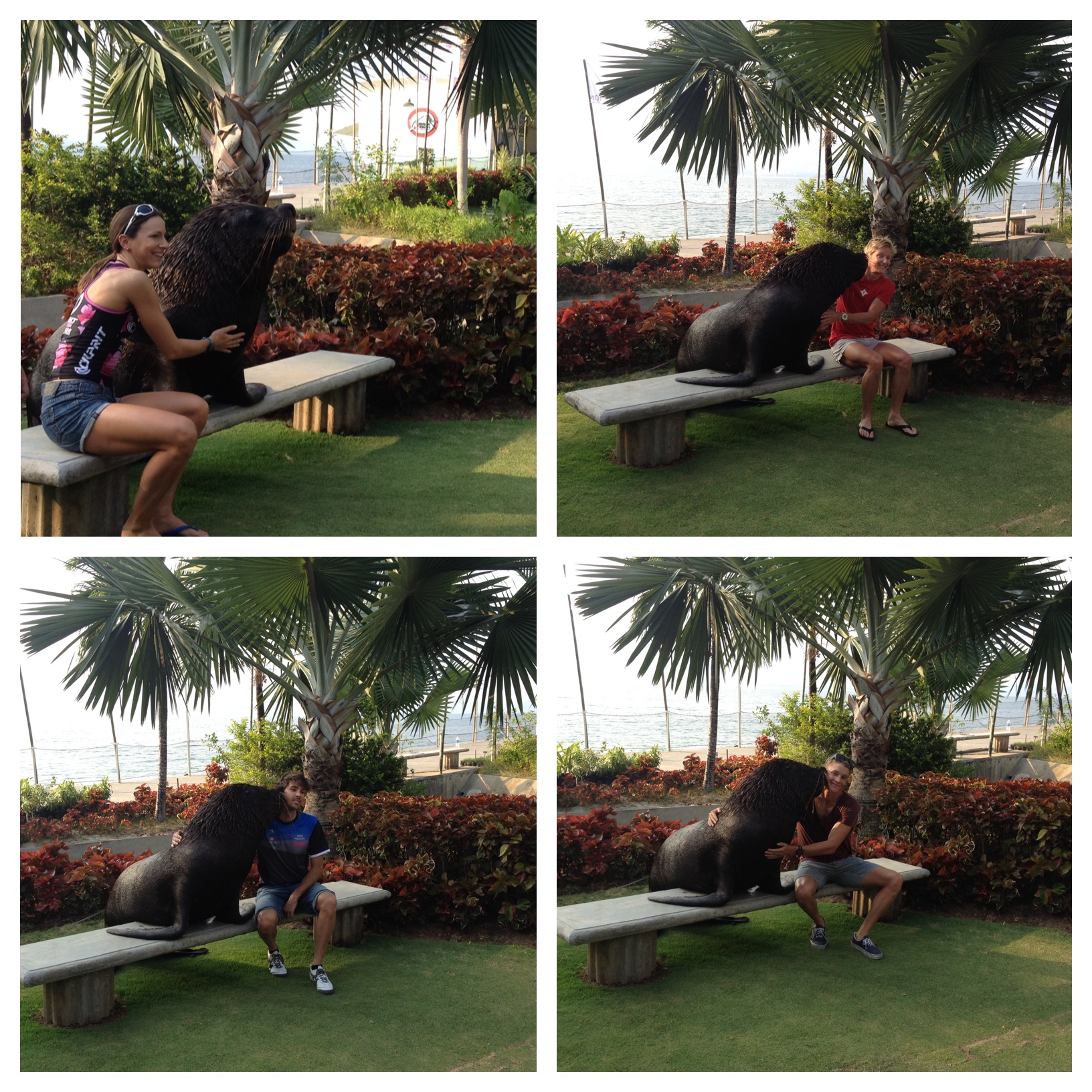 not all the pros wanted a kiss!
Then it was press conference proper and I took on duties as the roving reporter for the Challenge Philippines Twitter account.
press conference
This is the deepest pro field ever assembled in the Asia region, competing for the biggest prize pot. Olympians, world champions, fast-rising stars… It's anybody's race on Saturday.
I was supposed to head directly back down to the boardwalk for the Meet the Pros cocktail party, but event host Whit Raymond (who I met in Phuket) invited me to sit down for a bite to eat. At our table was Holly Bennett, the editor-at-large for Triathlete Magazine. She was wondering about what else there was to do in Subic aside from the race. Camayan is quite far from anything else in Subic, so she hadn't seen what else was on offer. We also chatted a bit about what the Philippine triathlon scene is like.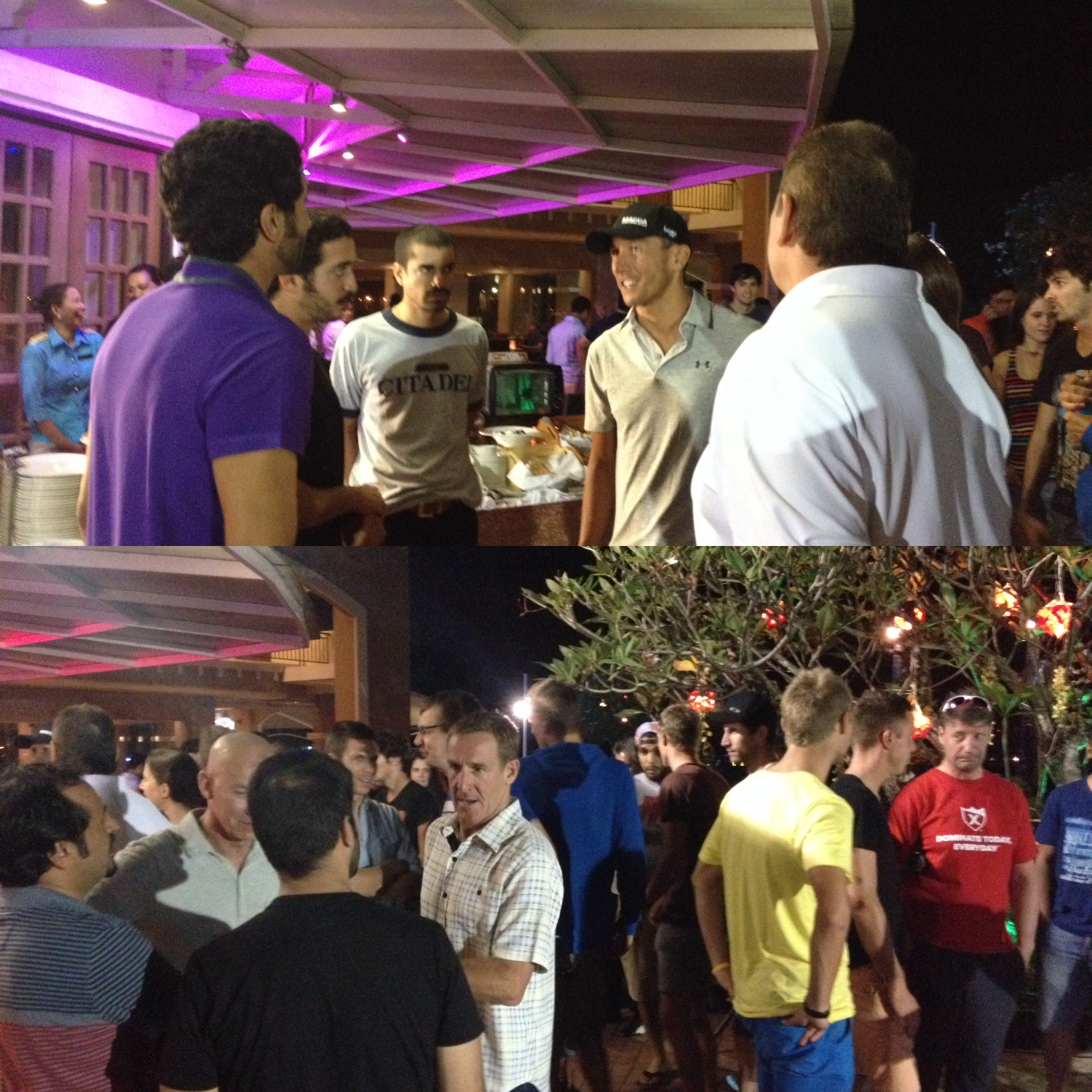 Meet the Pros cocktail
I was stuffed by the time I headed down to the Lighthouse Marina Resort where the Meet the Pros cocktail would be held. A buffet spread surprised us all. Apparently, there were two princes from Bahrain who were participating in the race and had flown in a whole 747 of staff, including a chef and all the food supplies they would need to have buffet meals for the duration of their stay. They generously offered their buffet to the attendees of the cocktail party, and then spent the rest of the evening seated with the pros.
I got to sit with Jurgen Zack, the legendary German pro who set a bike split record in Kona and is now the head coach for the triathlon academy in T***, and Frank Lacson who is the first Filipino ever to participate in triathlon. Jurgen said this was his first time ever to be in the Philippines, despite having a crush on a Filipino nun he met in his childhood in Germany. He also now coaches two of the Philippines' top triathletes, Monica Torres and August Benedicto, who have just come back from training at T*** and are super fit. They're both entered as Southeast Asian elites, which is a separate category with its own prize money.
Tired from running around all day. Lights out.
February 21 (Friday)
Short swim and bike today. The swim calms my nerves about the swim leg, and the bike reassures me that my bike is in good shape.
slightly choppy waters
A strong wind is blowing up some waves, and the sea lice are out biting. But it helps knowing those are the conditions I could face tomorrow instead of being surprised by them. Again, I will store this positive thought in my head.
I ran into Jerry Santos, who distributes Ceepo bikes in the Philippines. He's here observing the race and I'm glad to carry the brand especially because of how supportive he is.
with Jerry Santos of Ceepo
I drove back down to Harbor Point for lunch and to pick up some necessities. Chris asked me to pick up some gels and new goggles; luckily my lunch was with Gilbert Tang of Chris Sports, so he hooked Chris up with a pair of Zoggs Predator Flex goggles. Then I drove back to Camayan for my ride out, and after that, to check my bike in.
Before I rode out, I had my Ceepo serviced and tuned. Primo Cycles had sent their best mechanic, Ricky, to Subic and set up an outpost at the reception area in Camayan. When I delivered the gels and goggles to Chris, he asked if I knew any mechanic who could tune his bike. Well, duh. 🙂
playing Girl Friday for Macca
thanks, Primo Cycles, for the fantastic service!
I rode for about thirty minutes just to check if the gears were all shifting properly, and then as I rode back I noted where I could start slipping off my bike shoes as I rode toward transition. I've steadily gotten better at running mounts and dismounts and have found that this kind of recon is something I need to do to give myself enough time for the dismount.
at bike check-in
My Mamba, Mako, has been set up as a road bike with clip-on aerobars, which suits the hilly course. It's light enough to get up the climbs, and has wonderful handling on the twisting and technical descents.
see you tomorrow, Mako
My ENDURE teammates finally arrived just in time for the race briefing held at Ocean Adventure, which is next door to Camayan. Roman Floesser from Challenge Laguna Phuket has taken over heading the race, so he conducted the race briefing.
with ENDURE teammates Hanna, Timmy, and RJ
Just kidding. I paid attention to the briefing, like a smart athlete would.
We had our fill at the carbo-loading party and the food was good and plentiful. We picked up a whole Yellow Cab pizza, ate about a third, and saved the rest for race-day breakfast. 🙂
Finally, it was back to our hotel to try on our new tri suits. We hadn't had time to break them in, but with plenty of petroleum jelly they would be perfect for race day.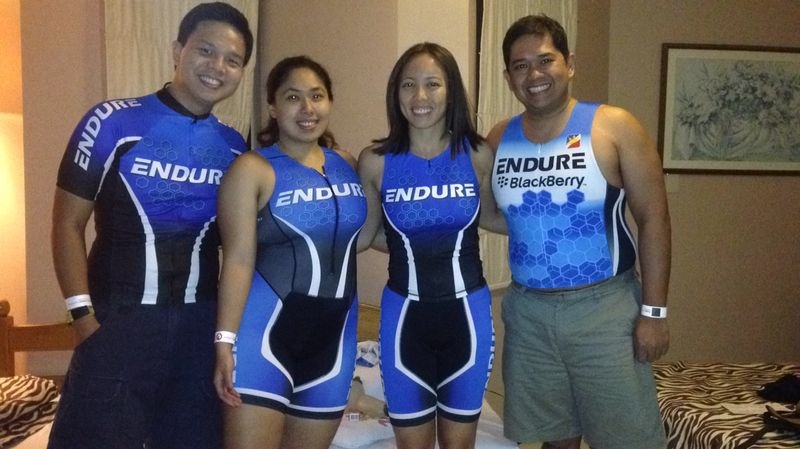 thanks to our team sponsors Mizuno and Spyder for their continued support
Now there's only one thing left to do: race.
Continue to Challenge Philippines: Race Diary Part 2.