Triathlon may be an individual sport, but there's no reason people can't smash themselves in the same place at the same time. 😉 It's why I love going training camps even just for a weekend; these gather together a group of people with the same goals and/or target races and there's wonderful camaraderie around even in the midst of all the suffering.
The Next Step Triathlon Camp Series returns in 2014 with three camps scheduled prior to major races. The Challenger Camp is next week, January 24-26.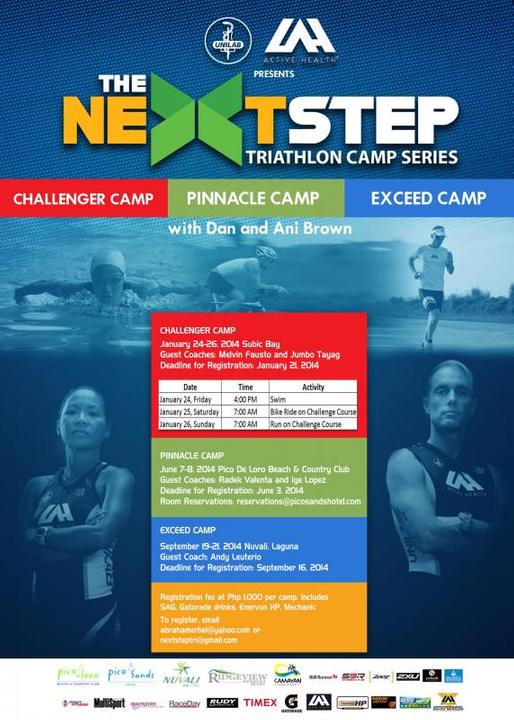 The Next Step Triathlon Camp Series 2014
The Challenger camp is designed to help people training for Challenge Philippines. It kicks off on Friday with an open water swim in Ilanin Bay, where the Challenge swim start is. Saturday is bike training day and will take participants out onto the full hilly Challenge course in Bataan. Sunday, participants will train on the Challenge run course in the Ilanin Forest Reserve.
I will definitely be there!
Camp registration fee is P1,000, which includes the support vehicle, Gatorade and Enervon HP drinks, and a bike mechanic. (If you've seen that Challenge bike course, you will be thankful for the SAG.) This is exclusive of accommodations, by the way. To register, please email abrahamerbel@yahoo.com or nextsteptri@gmail.com.
Pinnacle Camp on June 7-8 will be held at Pico de Loro, and Exceed Camp on September 19-21 will be at Nuvali. For more information about all the Next Step Triathlon camps, please visit The Next Step Triathlon Facebook page.
with camp mates at the last Next Step Tri camp
Liked this post? Share it!