When I got to Bonifacio Global City for Color Manila Run 2014, I didn't know how I was going to run this fun run. Would I just have fun and play at the color stations, get some cute photos taken? Would I go into serious racer mode and just blast through the course?
photo from Sherwin Guzman (Photo-Ops)
And then I realized, why can't I have it both ways? I can have fun and run fast. I actually have a lot more fun going fast than taking my time. So that was settled, and I lined up at the starting line with some old friends and new preparing to get messy at the most colorful run of 2014.
still pristine here! (photo from Merl Magtangob)
The 10K, 5K, and 3K all had a warm-up led by Philippine Volcanoes rugby player Chris Everingham; I was actually supposed to be onstage with him, but I'd gotten delayed due to long lines for parking and checking baggage. He was more than capable though, with a very functional warm-up that got the blood flowing. We were jogging in place as the hosts started the countdown, and then we set off.
Because this was an untimed event and not a race anyway, I felt free to experiment. Normally I would settle into a comfortable rhythm and just wait for those who went out too fast to start dropping back. Today, I decided to put pedal to the metal and see where that would leave me. I hadn't had breakfast like I normally do before running, either, so I would be running on my body's blood sugar and glycogen stores. It was going to be an interesting morning.
But I also definitely wanted to get hit by the color powder, so every time I reached a station, I slowed down and ran directly towards the marshals, who threw huge handfuls of powder at me. I even bent forward and asked them to throw some onto the back of my shirt!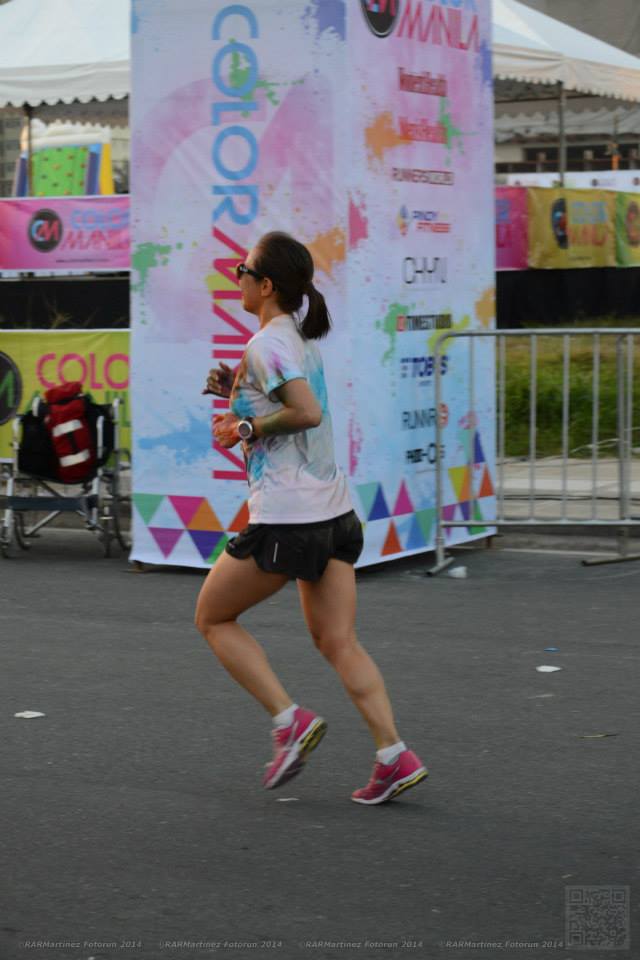 Powder got everywhere. (photo from RAR Martinez)
I felt good and was able to push a lot throughout the run. I didn't really look too much at my Suunto Ambit2 S to determine pace, but instead focused on things happening in my body: getting my legs to turn over at a constant rate, keeping my core firm, swinging my arms backward to propel me forward, etc. On the last two kilometers, I could feel my legs start to burn as the lactate built up in them, but I pushed on. Mind over body. What's two more kilometers?
Tired and messy, but happy! (photo from RAR Martinez)
The whole run had been a huge rush for me, and I'd been laughing and smiling through most of it — which is why there are some photos of me with unflattering green powder in my teeth. Yeesh!
I'd run the 5K course in 23 minutes and 20 seconds by my watch. I was also probably the first female to finish the 5K, but again, this wasn't a race so it didn't really matter. Then I realized that despite all my slowdowns at the color and water stations, it was a new PR for me. Awesome!
I changed quickly out of my soaked and stained clothes and kept drinking water to clean my teeth. Presentable again, I headed to the event grounds to wait for the Color Festival to start.
The Color Manila Run color festival is something that kicks off the post-run festivities. All participants receive a packet of color powder which they simultaneously throw into the air, creating an explosion of color that's a visual feast.

Color Manila Run color festival
There was dancing, games, and other activities, but I was so spent from my run that all I wanted to do was eat (a veggie burrito from Army Navy) and go home and sleep (three hours!).
It was one of the best mornings I'd had so far in 2014.
Race in Review
Route: The 5K was very contained within the Turf BGC and University Parkway area. I can't remember much as it all went by in a blur, but I do remember having to weave through the 10K and 3K runners when I caught up with them. Couldn't get upset at that because aside from me I don't think anyone was aiming to set a new PR. 🙂
Traffic Management: There were no major intersections to cross so we didn't have angry motorists honking their horns. However, on University Parkway a marshal directed us to stay inside the cones, only for us to realize the cones were meant for vehicles so we had to cross to the other side as a jeepney came directly at us.
Hydration: Cold water in abundance, and yes I drank it not only to hydrate, but also to rinse the powder that would get into my mouth! Like I always say, for these short runs you don't need anything other than that.
Package: For P850 you get a tech shirt, sunglasses, a run through color stations, a finisher's medal, a color festival, and lots of fun.
The race venue needs better parking options, though. The single parking lot at the venue was already full, but for the vehicles all still trying to come in, there were no clear directions to other parking areas, which are a bit of a walk away.
Thanks to Proactive for the complimentary kits for myself and two of my blog readers; we were able to experience a fun way to kick off running in 2014. FOUR-AND-A-HALF KIKAY PINKIE FINGERS out of FIVE but only because the blue, green, and violet powders looked horrible on my teeth. 🙂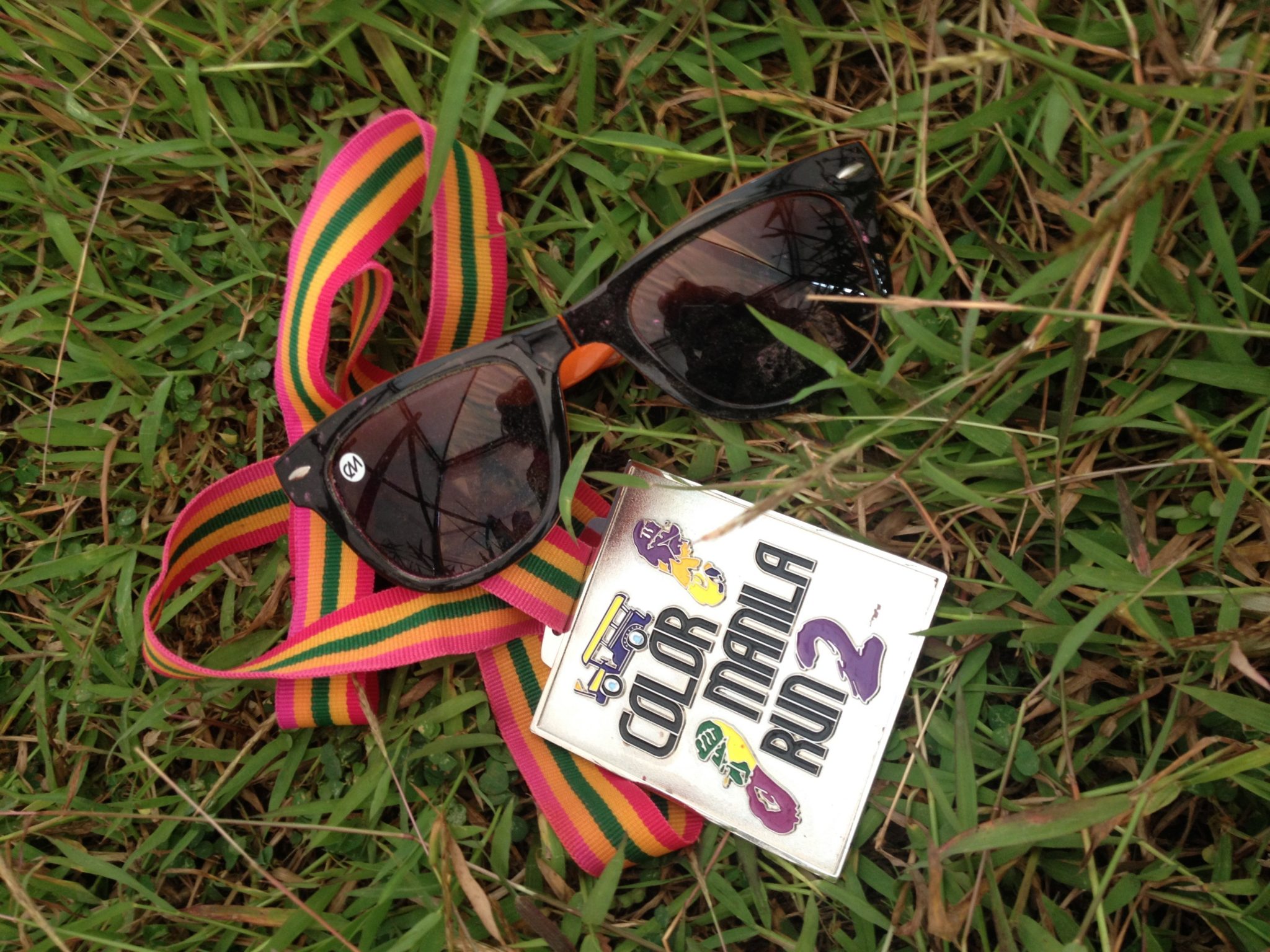 Great way to start the year!