I love racing and I think that's what motivates me to keep training. When a race gives you a great athlete experience it's hard not to be motivated even more. That's exactly what I got from the Aerotropolis Half Marathon last Sunday.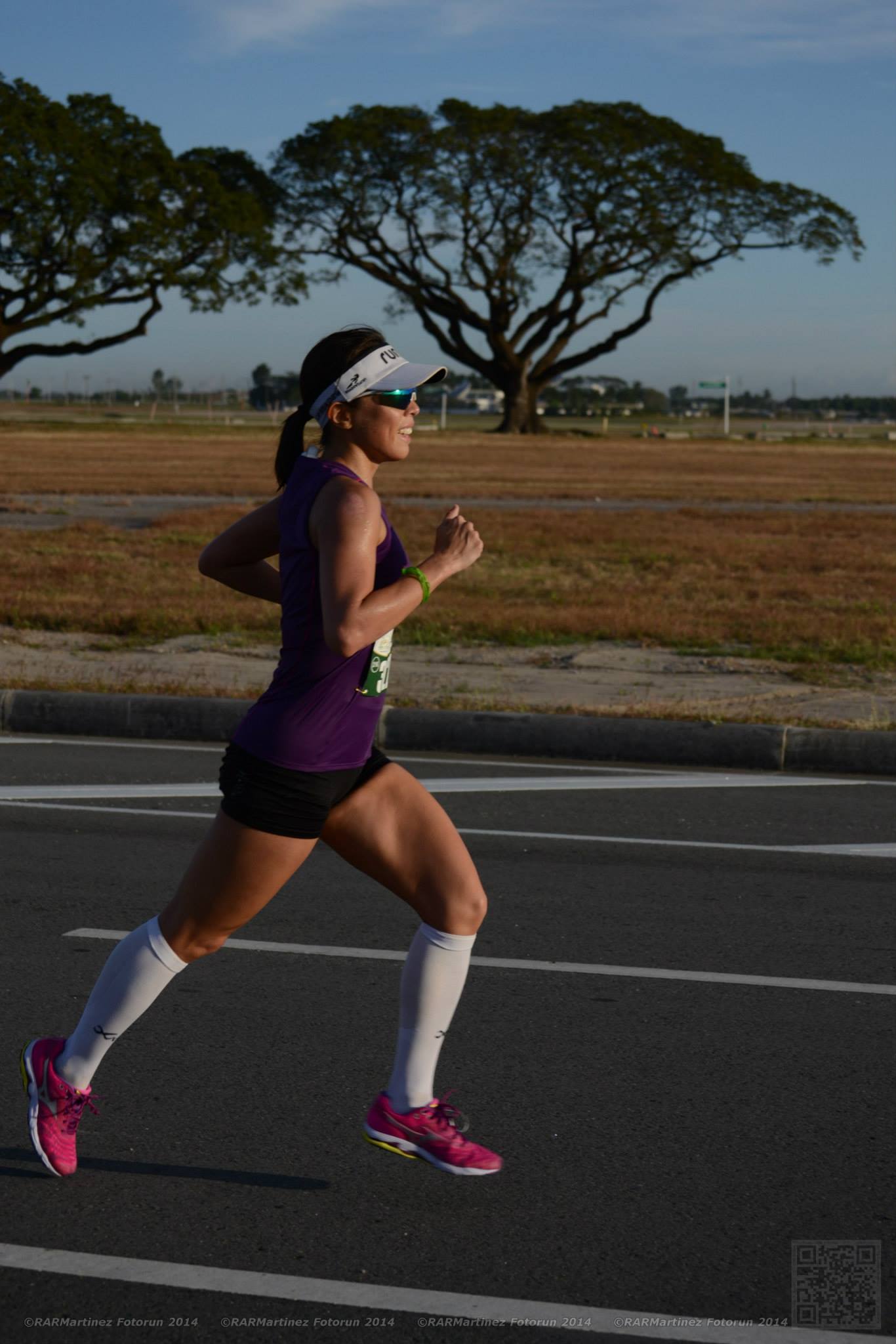 running at Aerotropolis Half Marathon (photo from RARMArtinez Fotorun)
It was a cold, cold morning at below 20 degrees Celsius as I drove up from Manila to Clark, Pampanga where the race was to be held. I could have booked a room at the partner hotel Widus, but it slipped my mind and all of a sudden race weekend was there. I'm thankful that Clark is only about 2 hours' drive away from Manila so all I needed to do was leave home early. I arrived around 4am and was freezing in my shorts, long socks, singlet, and jacket.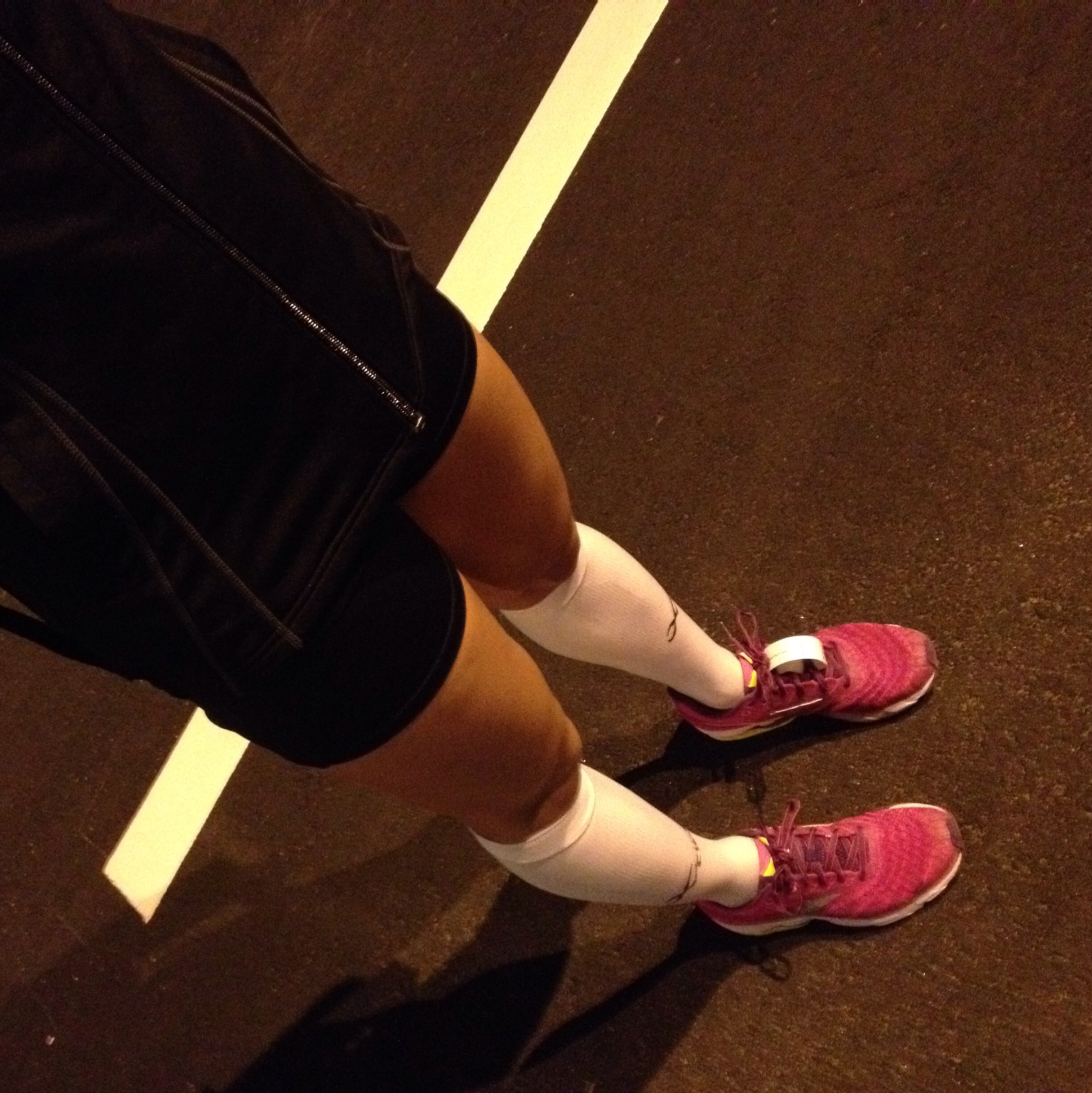 Not seen in the photo: me shivering
I picked up my race packet, pinned the bib number on and slid the timing band onto my shoelaces, then checked in my bag. Parking was a bit of a walk away from the finish line and I knew I would want to have something dry to put on in the morning chill.
Then I started a long warm-up: slow jogging to get my heart rate and body temperature up, a few quick strides, more jogging, and then I joined the warm-up at the start area led by a Gold's Gym instructor. A few minutes later at 5:30am, we were sent off with fireworks lighting up the pre-dawn sky.
Jumbo Tayag of Hubble Multisport had discussed the route before gunstart and gave runners this advice: take it easy heading out on the hills and false flats, and it's all downhill from the turnaround point. Having ridden on the SCTEX (Subic-Clark-Tarlac Expressway) before, I knew to be conservative. But by just how much should I hold back? That was something I would have to figure out while running.

The cool weather would allow many of us to run at a faster than usual pace, but I knew perception of effort would be deceptive and I didn't want to crawl to the finish line. So I set an average pace of 5:15-5:20 min/km for the first half of the race. It would take a while for my body to warm up fully anyway, so I settled into this pace and really enjoyed it. I had to push on the long uphills to maintain the pace, but the effort level was comfortable.
What's great about running on the SCTEX is that it's fairly straightforward; there are no sharp turns and the view stretches on for miles. So I had that visual experience of seeing runners ahead of me and where my position was in the field. So if you were "chasing" someone you could really see how far ahead of you they were, and you could see the gap widening or narrowing.
At a certain point, I slowed down on an uphill, and I heard someone behind me talking to himself. "Yes!" he muttered. "Nakahabol din!" (I finally caught up! in Filipino) He then proceeded to overtake me, expending a lot of energy in the process and tightening up in his shoulders and gait.
The normal competitive instinct here would have been to try to keep up with his pace and not allow him to make the pass. But we still had about 12 kilometers left to run. Instead, I relaxed my shoulders and my breathing, concentrating on maintaining a strong core and good form. From the way he was breathing and running it seemed as if he was at max effort. I still felt like I had two or three gears left. Patience, I told myself. Just maintain your pace.
A few minutes later, his pace dropped off and as I was still running steadily, I passed him. He didn't try to pass back. #chicked
Nearing the U-turn some marshals told me I was the 5th woman overall. As the race leaders started coming back, I took note of how they were running and how far behind them I was. All three women in front were actually local elite runners, and I was thrilled that I was only about five minutes behind the third placer at that point.
The fourth woman looked wobbly and was visibly pushing herself to the limit, so as I rounded the U-turn I committed to the chase. It felt as if I'd suddenly switched on my afterburners as my pace picked up to 4:30-4:40 min/km — and I couldn't put on the brakes even if I'd tried.
I'm pretty sure the weather and the downhill contributed to the pace, but all my training was paying off as well because I could hold the pace steadily. It was my first time ever to get a negative split; I'd done the first 10 kilometers in 54 minutes, and then ran the last 11 kilometers in 51 minutes! I was flying. My legs felt so fresh, it even felt like I had just started one of those 10-kilometer tempo runs I usually do on Thursdays. (Check out my blog post about my training using the MX Plus system.)
In the last 15 minutes of running, I felt completely in the moment. My body, my breathing, my mind were all working as one unit propelling me forward. I was in a state of flow and if you take a look on Strava at those last three kilometers my speed picks up. It was an awesome sensation and state of being.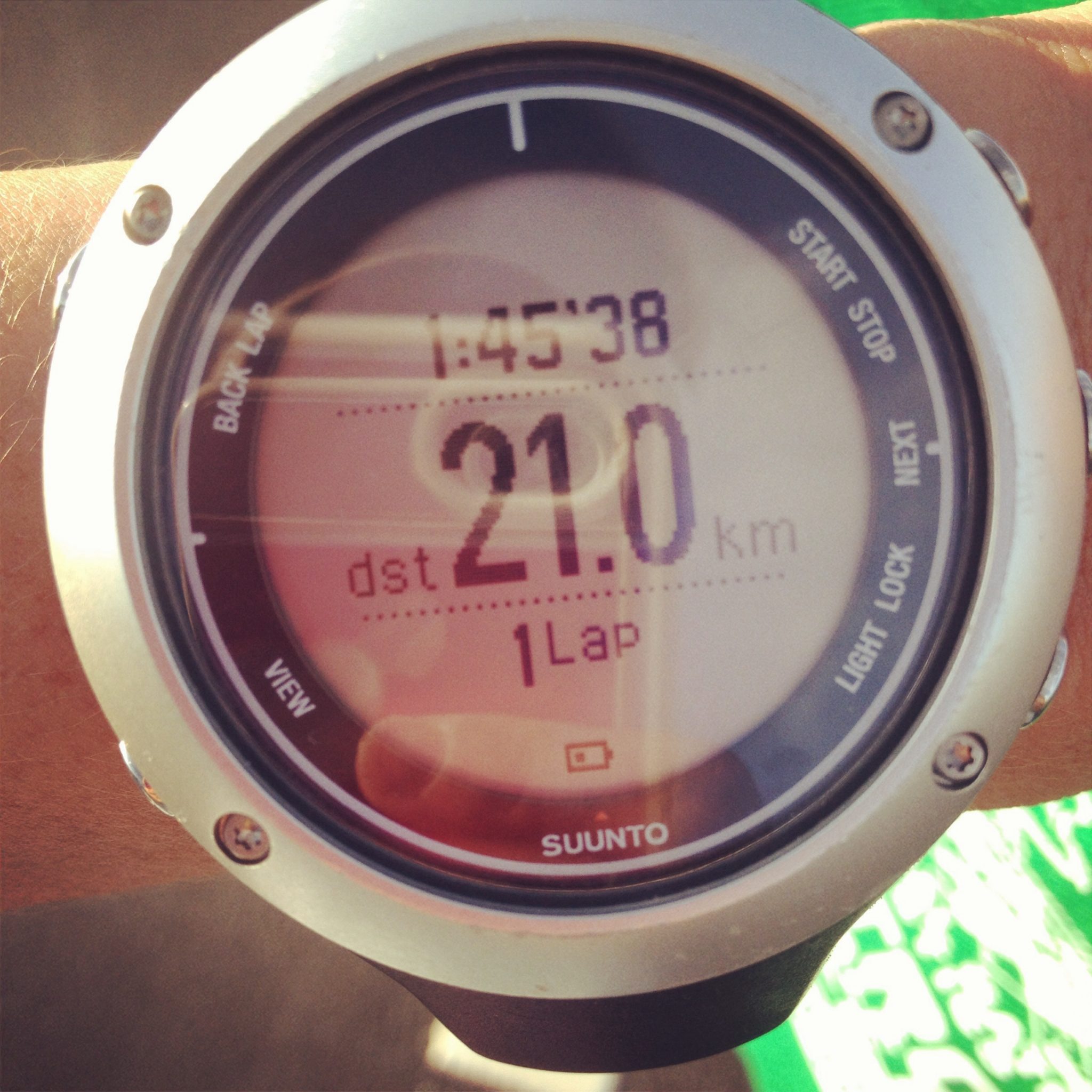 new 21K PR: 1:45:38
I stuck around for a bit because the finish marshal told me I'd come in 3rd place, but at the awarding I found out there had been a mix-up. Still, 4th place behind the elite runners is amazing; I'd closed the gap from 5 minutes to 2 minutes, too. (One wonders what would've happened if the race had been longer than 21K…) The more important thing was I'd beaten my old PR by 7 minutes!
This is a beautiful finisher medal: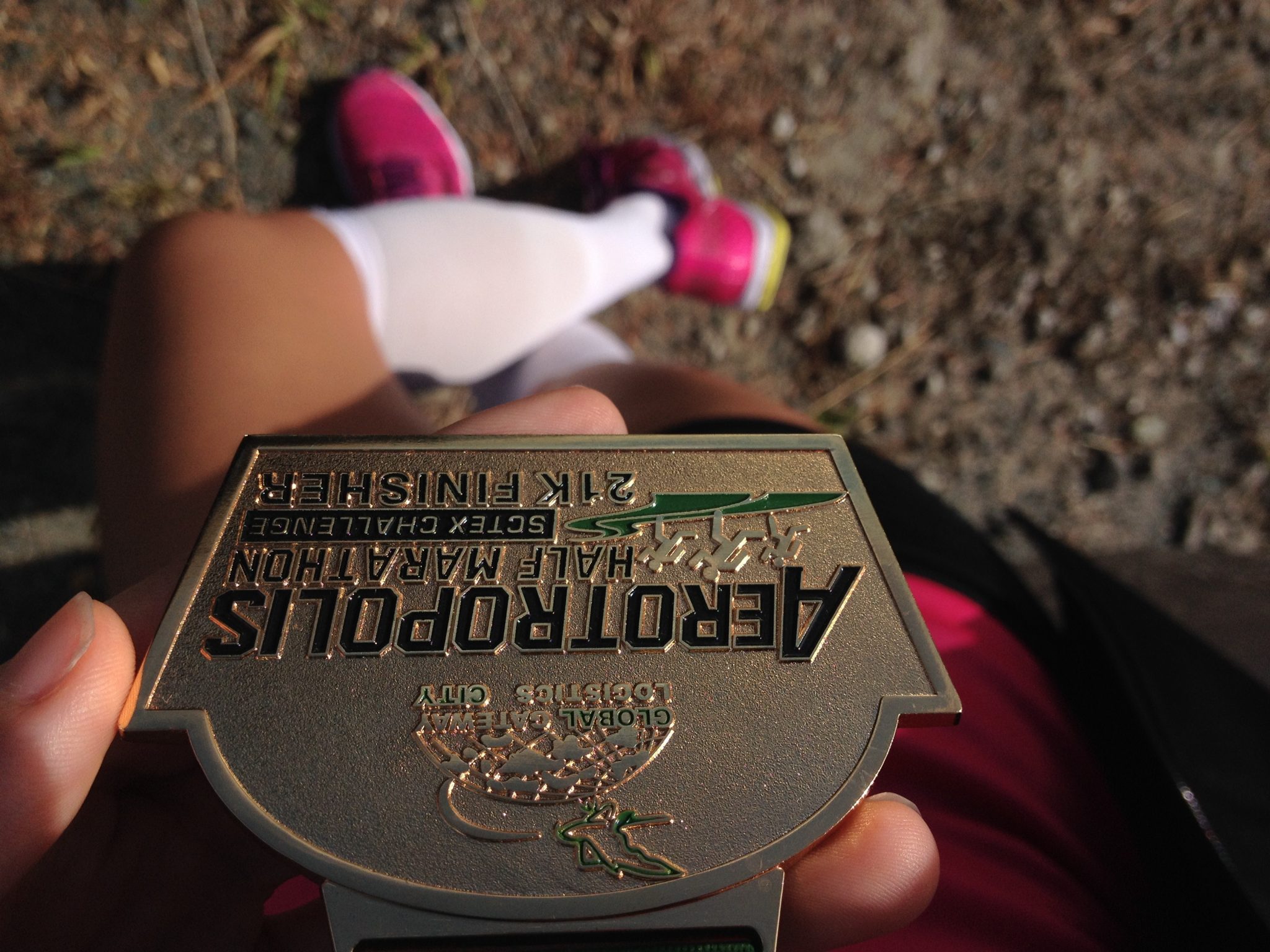 Worth the hard training and racing!
Race in Review
Route: This is the first running event done on the SCTEX so it's quite a unique route that's never been done before. We ran on smooth asphalt road cutting through a beautiful landscape of fields and mountains and I could see for miles in all directions.
Traffic Management: The Subic-bound side of SCTEX was completely closed to vehicles so it was such a pleasure to have the road to ourselves. Because there weren't any intersections or corners, you could really just keep going and find a rhythm.
Hydration: Water and Gatorade were available every 2 kilometers. Though the tables were short, they were always fully stocked.
Package: The 21K was priced at P1,000 for early bird registration, which is a bit pricey especially if you think about the costs for getting to Clark coming from Manila. However, the unique course, timing chip, finisher medal, bag of freebies, and New Balance tech shirt (which is normally priced above P500 anyway) give you value for your money.
Congratulations to the Global Gateway Logistics Center and Hubble Multisport for a very well-organized race. I really enjoyed it! I give this race FIVE KIKAY PINKIE FINGERS out of FIVE.