Two weeks ago I attended the media launch of MultiSport Magazine's latest special issue, Running 101. While MultiSport Magazine is a freezine devoted mostly to triathlon and the people who would rather suck at three sports instead of excelling at one (heeheehee), it has always had a presence at runs and recognizes that the growth of running in the country lends itself to the growth of multisport.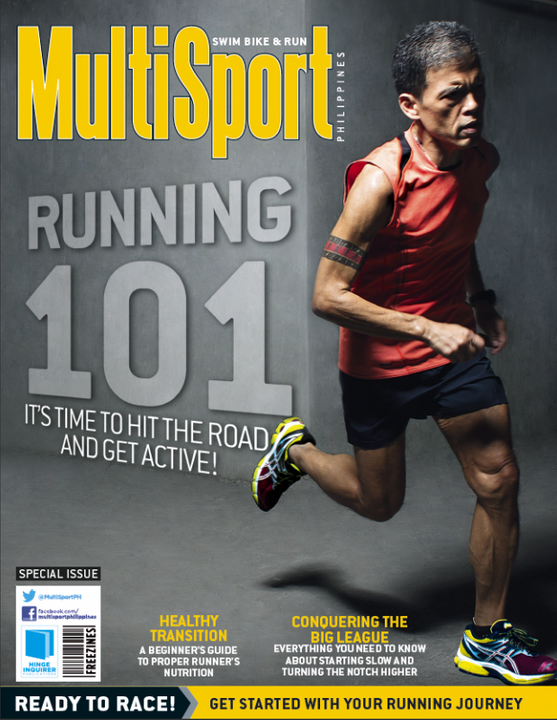 MultiSport Magazine RUNNING 101 Special Issue
The cover is none other than Patrick Concepcion, one of the two brothers instrumental in bringing the Condura Skyway Marathon to life. Pat is also one of the people I look up to in the running community; he writes his own blog Running Shield and is an absolute adik when it comes to running. You can read the story of how he came to start running inside the issue.
Running 101 is also full of great tips for all kinds of runners. Newbies get a word of encouragement from The Bull Runner Jaymie Pizarro. Coach Raoul Floresca gives tips on stepping up to 10K. Would-be half-marathoners get excellent preparation advice from Coach Jay Valencia. Coach Vinny Tongson shares some things you ought to know before running a full marathon. Coach Ige Lopez, an adventure racer and off-road triathlete, writes about trail running. Celebrity barefoot runner Gerard Pizarras gives the down-low on how to transition into barefoot running. A nutrition guide from Harvie de Baron and injury prevention and treatment advice from Dr. Gar Eufemio make Running 101 a well-rounded resource.
You can pick up a copy of Running 101 at select major races. For more information, check out the MultiSport Philippines Facebook page.
Here's a little video of what happened at the media launch. Guess who gets interviewed at the very end? 😉
http://www.youtube.com/watch?v=rrD4tA5cdr4
Liked this post? Share it!