After the Laguna Phuket Triathlon, the Challenge Philippines people graciously extended my stay in Phuket so I could attend the MaccaX triathlon camp the following week. This was one of two year-end camps (the first one was held in Miami) that would allow members of the MaccaX community to train with and learn from Chris "Macca" McCormack. It was also a lead-in to the Challenge Laguna Phuket that coming weekend, so there were a lot of camp participants who were signed up for that race. I was just happy to be there, prepared to do my best in the training sessions, and ready with two arms and a camera to greet finishers at the race.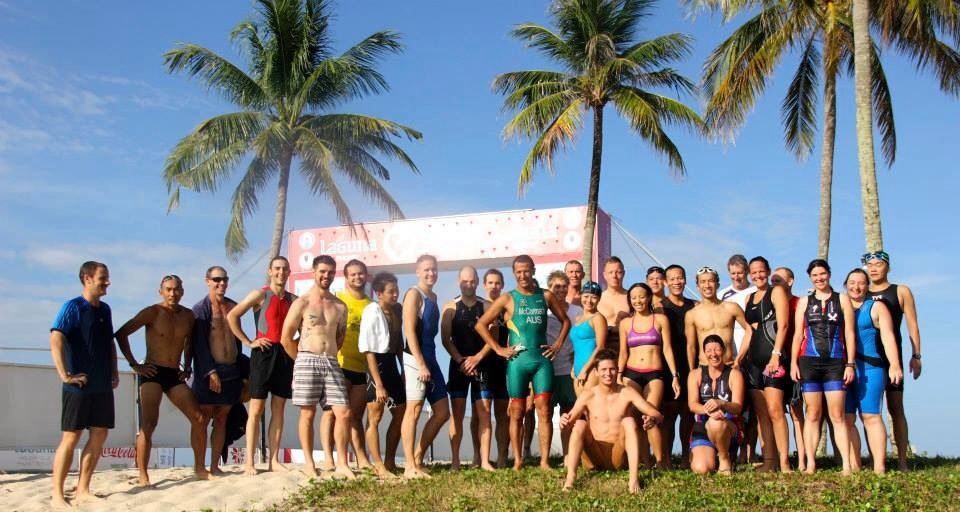 happy MaccaX campers (photo from Aaron Franklin)
in Russian, "MaccaX" means massage!
While the camp would formally start on the Wednesday evening with a meet-and-greet, campers who had arrived early (like myself) got to hang out with Chris and another professional triathlete, Ben Hammond, who was there to help facilitate the sessions. Chris had said it himself that he was seriously unfit after his long eight-week layoff recovering from glandular fever (the reason he hadn't done the Ironman World Championships in Kona), so during an informal bike ride on Tuesday I was able to hang with them and not get dropped. Take note though, I was on my big chain ring, and Chris was on his small chain ring.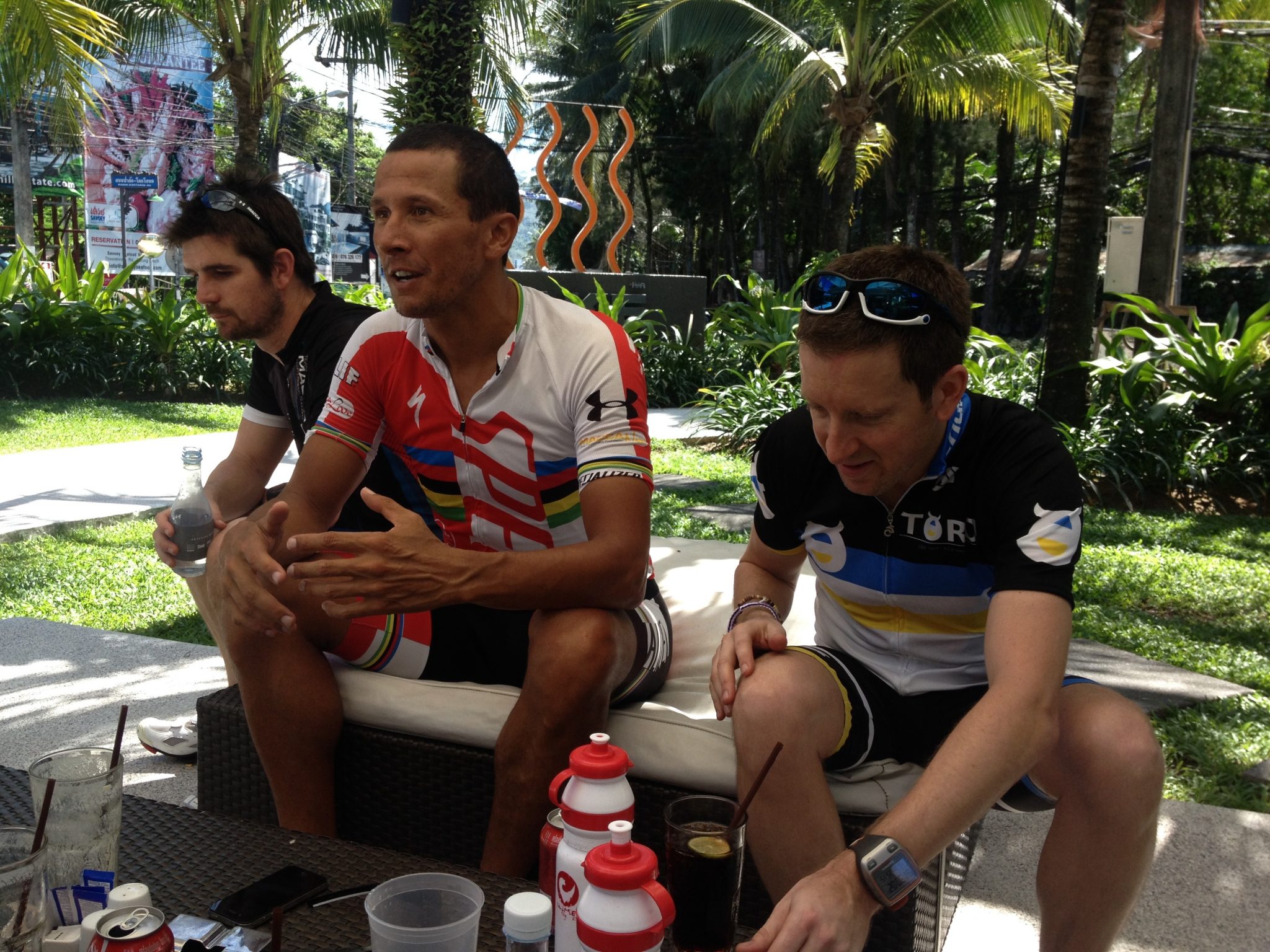 shake stopover at Bake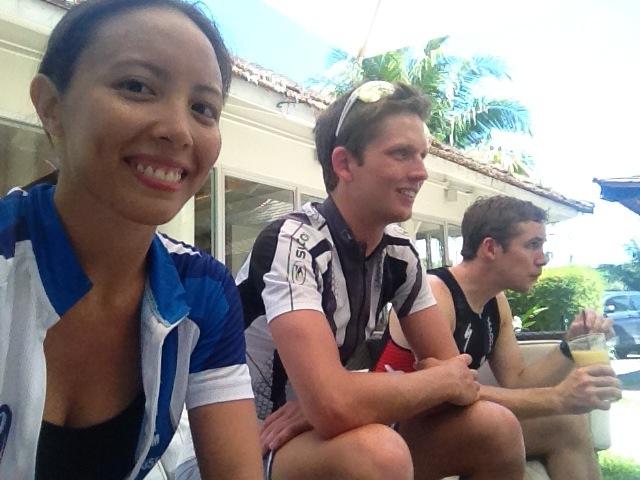 the only rose among the thorns
In my alone time, I explored most of the stretch of beach where all our resorts were located. It took me three hours to walk to the end of the beach and back to my resort! It reminded me a lot of Boracay without the cheap convenience of tricycles to take you from one end of the beach to the other.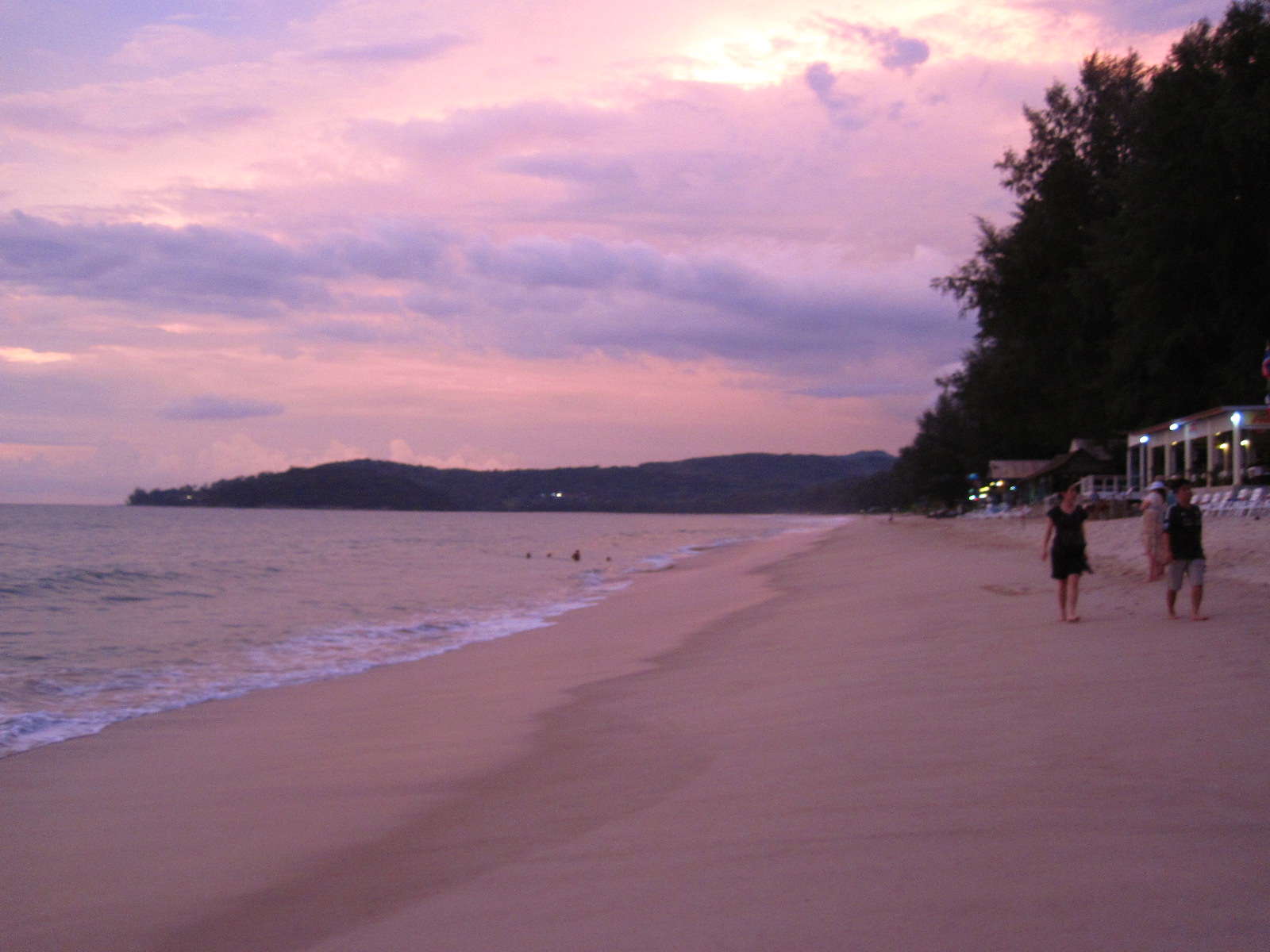 twilight on the beach
So Wednesday rolled around and I took a leisurely stroll to the Reggae Bar on the beach, which had some great Thai food and cheap cocktails. I had chicken pad thai and many campers had the pineapple rice on the recommendation of Belinda and Justin Granger, two pro triathletes who are part of the MaccaX coaching team. For most of the evening it was actually "GrangerX" and not "MaccaX"; Chris had gotten stuck in a random drug test. He joked as he arrived, "Yeah I got drug tested because of my amazing results this year."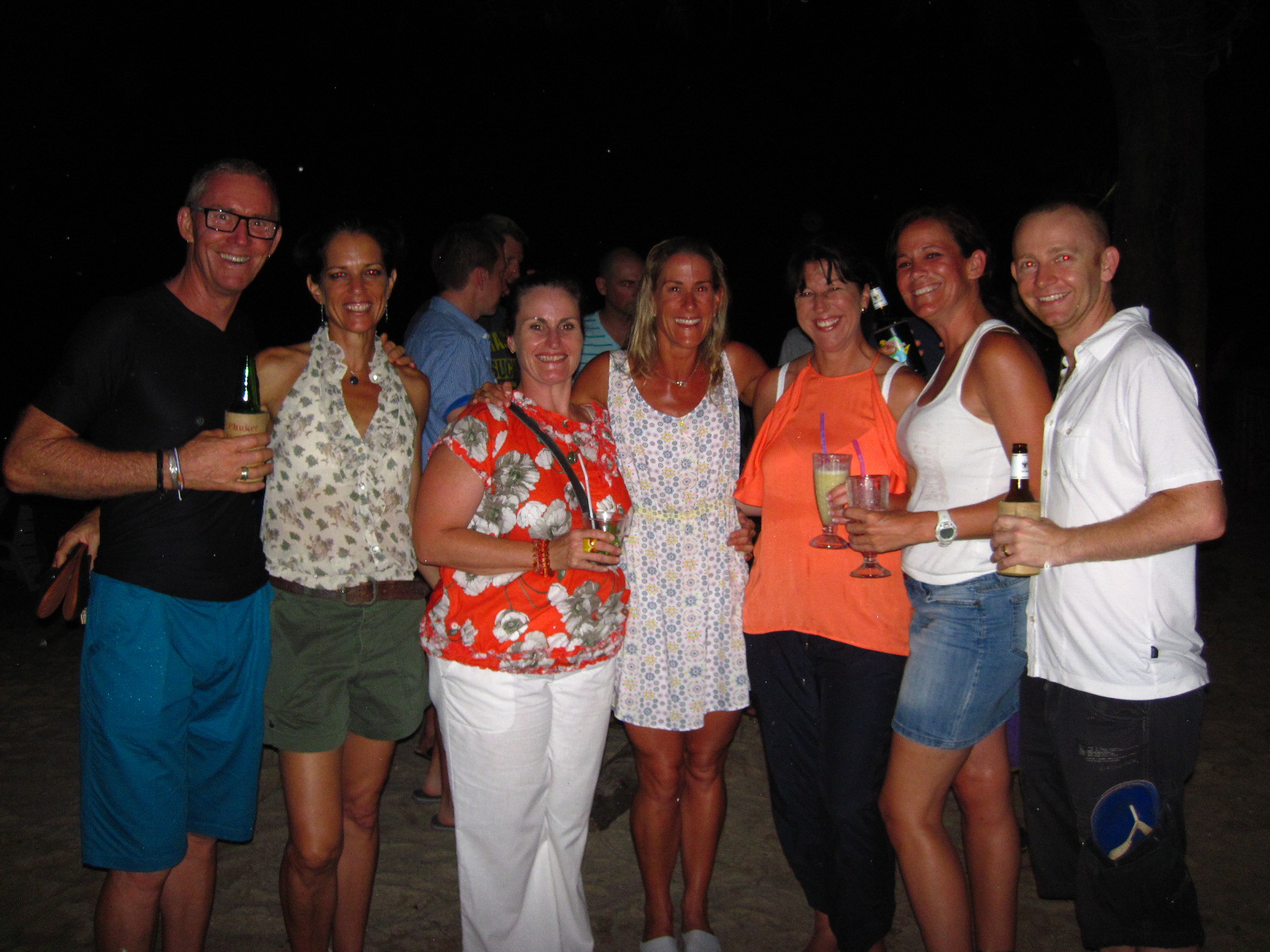 Belinda and the campers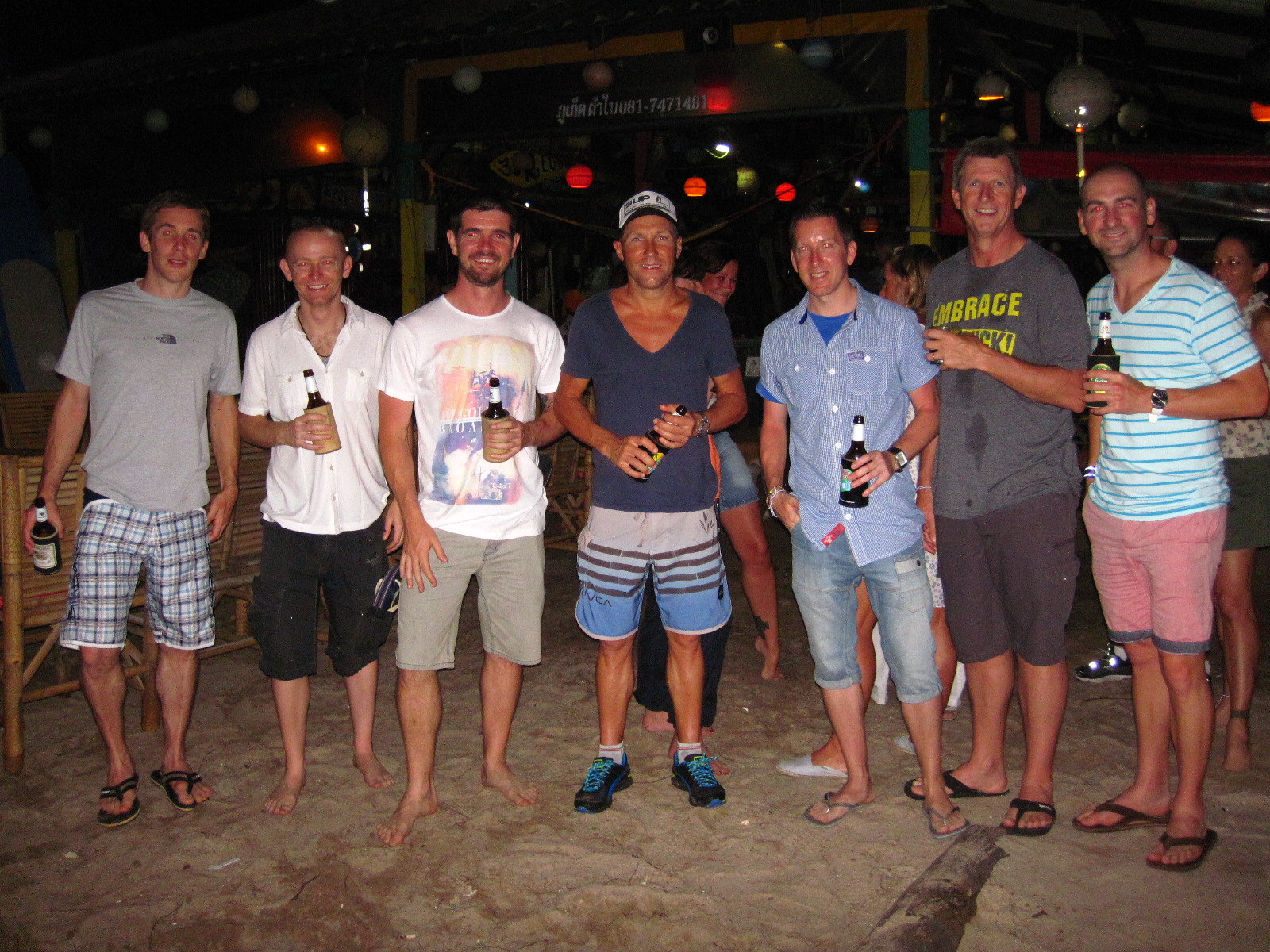 Justin and the campers
Thursday was the start of athletic exertions, with a bike ride on the Challenge Laguna Phuket course. We had two options: stick with Chris on the gentle rollers, or ride with uber-biker and T*** triathlon coach Jurgen Zack on the monster hills. Well of course I stuck with Chris; I'd already done those hills the Sunday previously and they had absolutely whipped me. I didn't want to get dropped and have to find my way back home!

It was nice running into Filipino triathlete Bobby Go at the bike bridge; he was attending a Compressport conference and had been given entry to the CLP.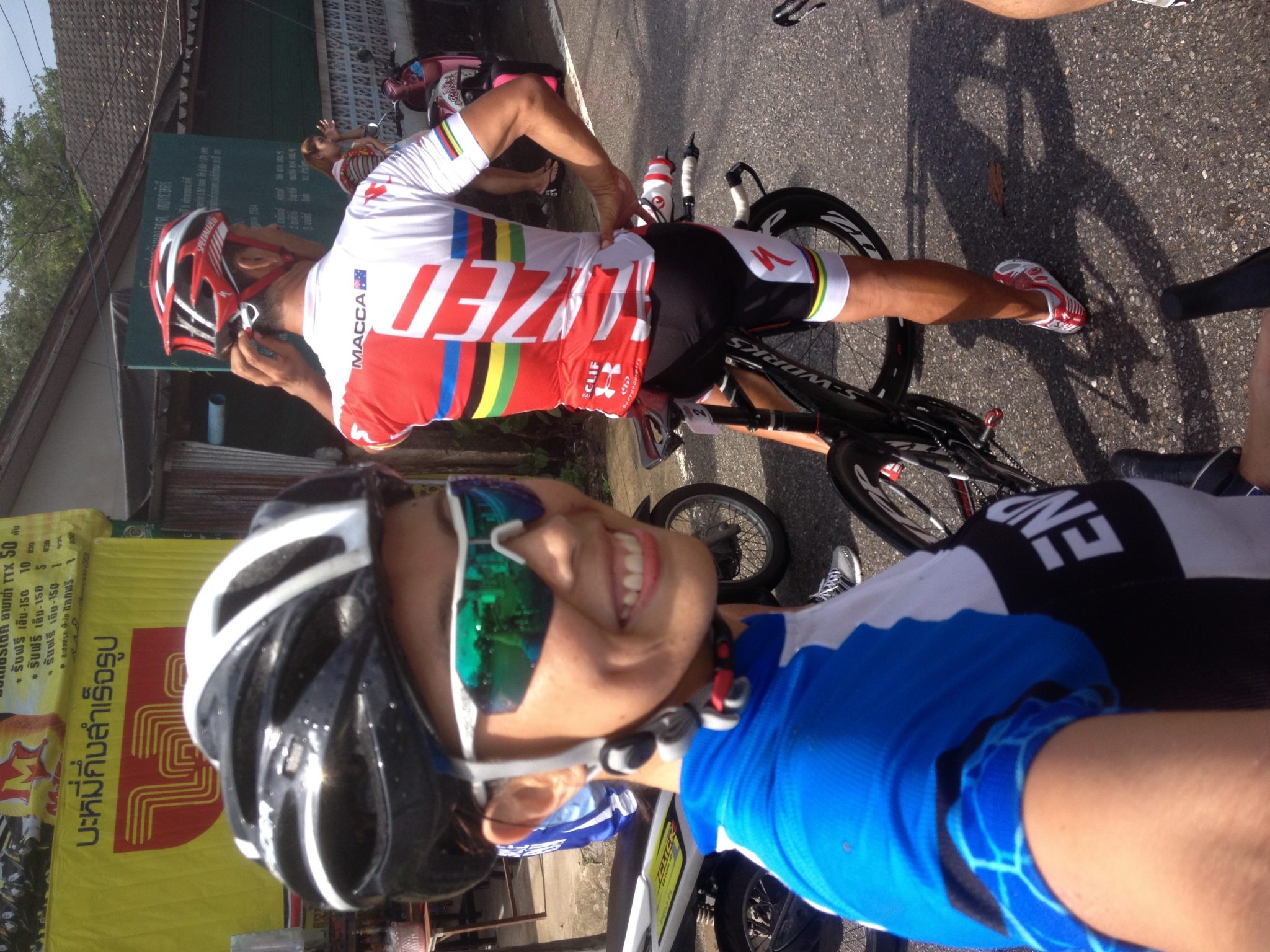 HUGE drafting benefit 😉
After a shower and change of clothes (thanks campmate Marek Fudala), it was into a bus for a trip to T***.
Chris had just been named the Chief Executive Chairman of the sports resort, so he's moving to Phuket. I wasn't so surprised because for the past few months it'd been an open secret that the owner, Klaus, had been chasing him hard. Still, to have it become official during our training camp had some pros and cons.
MaccaX people call him The Boss. Now he's really The Boss.
The pro was that we could basically walk around like he owned it. The con was that he and his strength and conditioning coach and incoming CEO Mick "MG" Gilliam were transitioning into their new roles that a camp session — MG's Sportoga one — was dropped. It was something I'd been looking forward to, especially because I teach yoga and wanted to pick MG's brain about Sportoga.
This sports resort is a vast complex that contains an international school, sports hotel, mind center, and world-class training facilities for tennis, football, swimming, and triathlon. To tell you all about it would be a whole blog post in itself, so I'll just stick to the camp bits.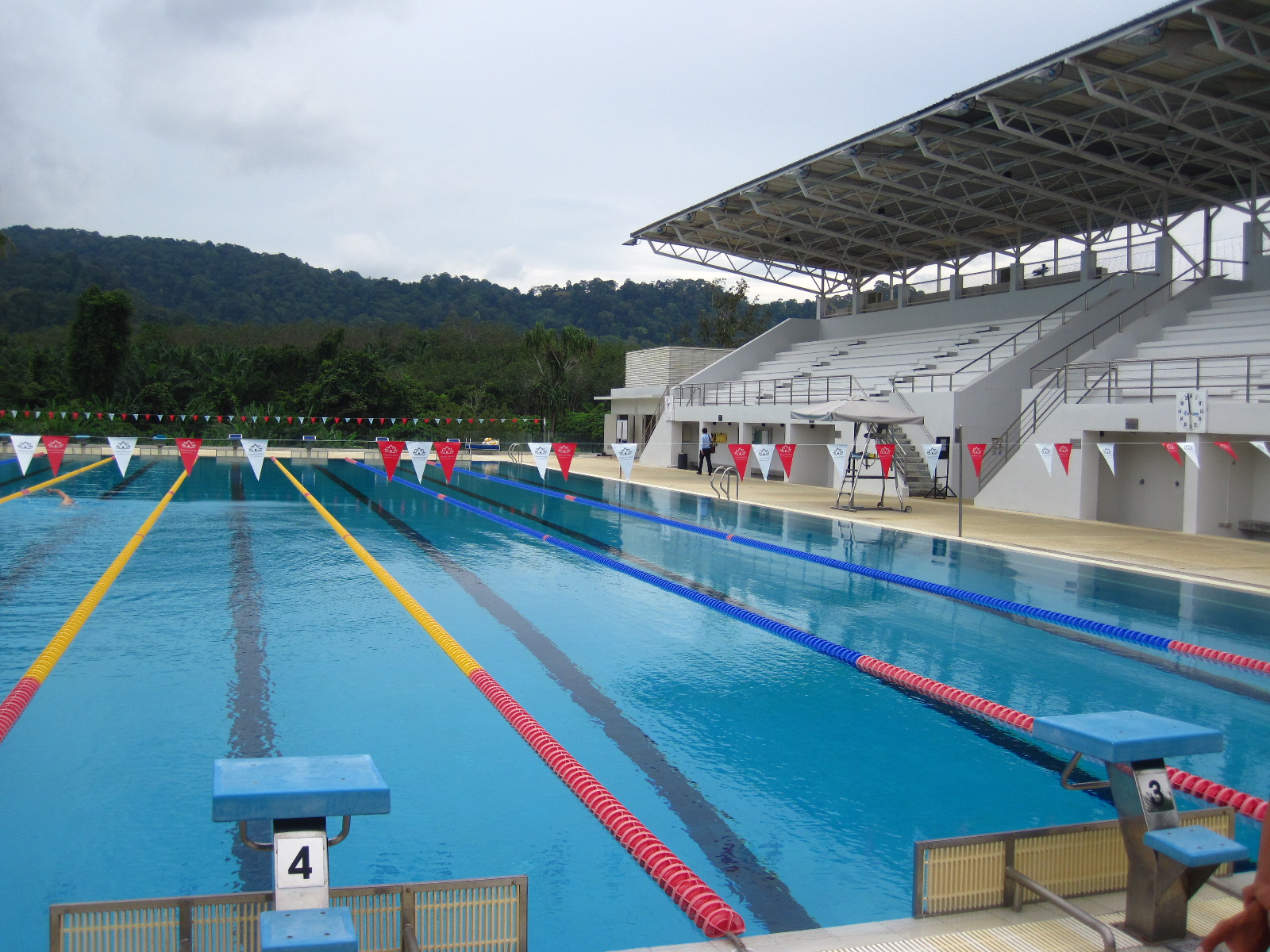 beautiful Olympic-standard pool with the best-tasting water ever!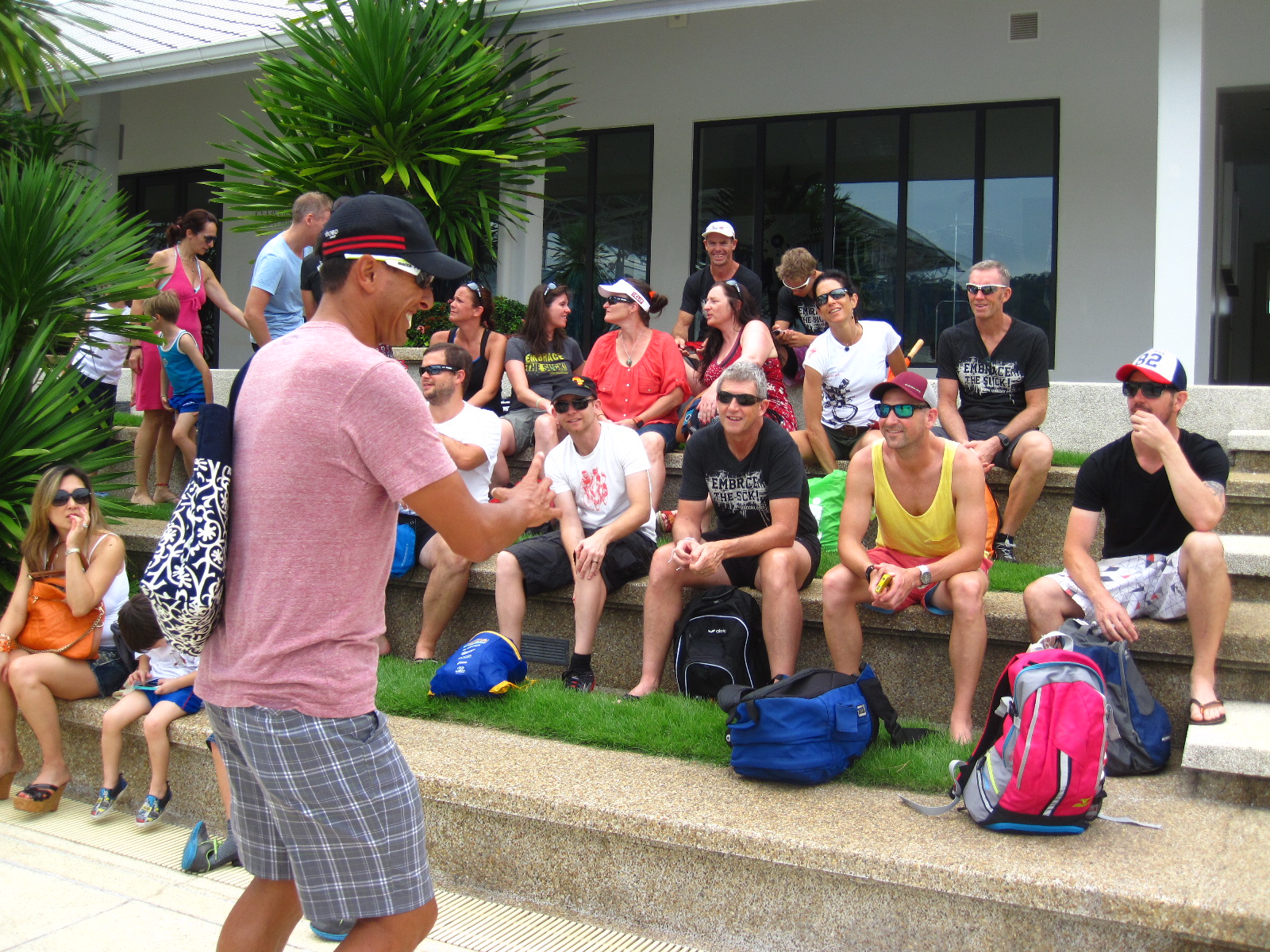 nice shoulder bag, Chris 😉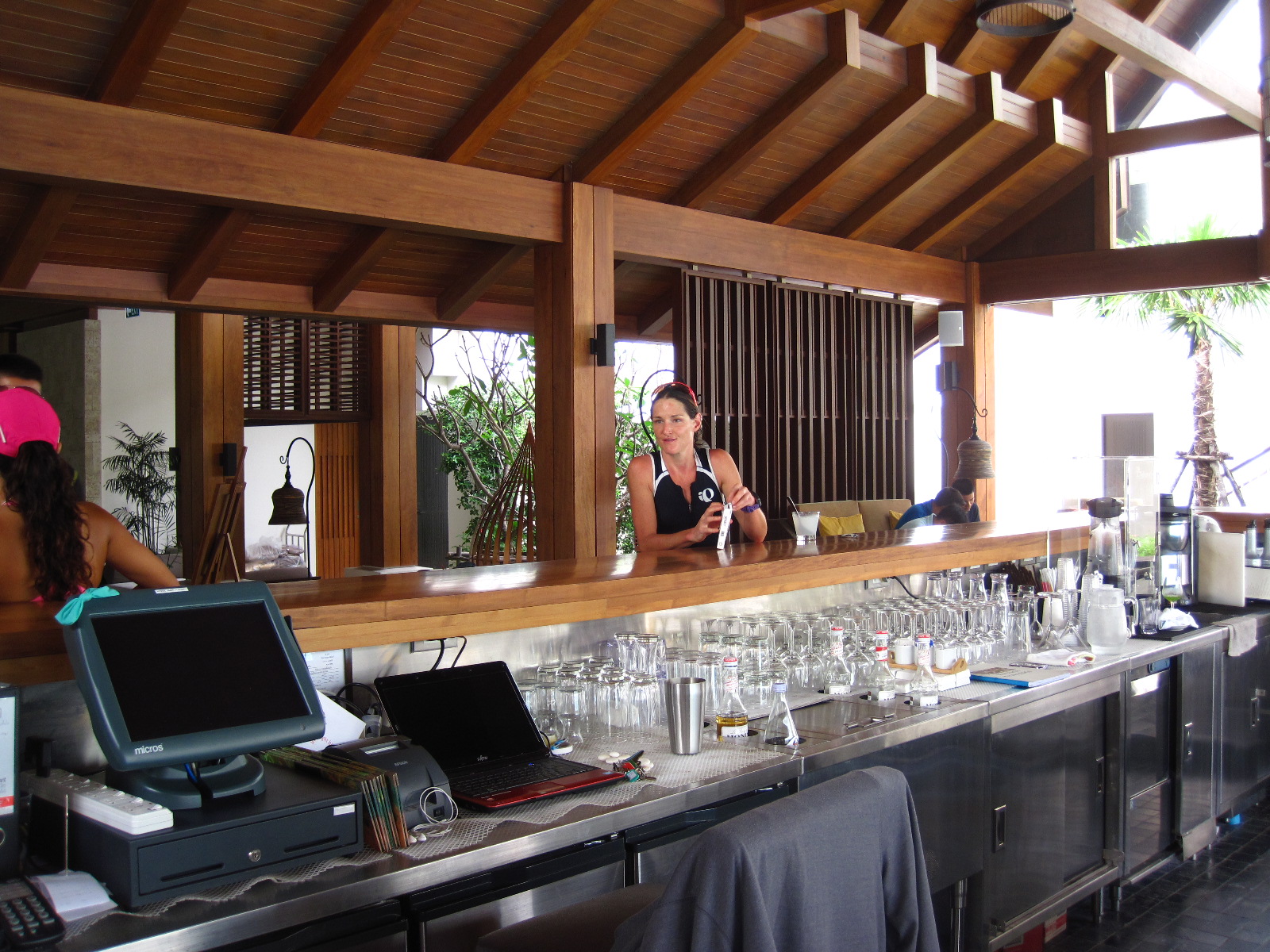 meeting another Team MaccaX expert, Tamsin Lewis
After a buffet lunch and walking tour, we had a swim session with Chris, Ben, and Jurgen. We self-seeded into slow, intermediate, and fast lanes. Of course, I picked the slow lane because I knew my 2:07/100m peak pace would be slow among this group made of mostly Australians (who grow gills as children). After we did a warm-up swim of 300 meters, Chris and Ben demonstrated "boardshorting", or drafting at someone's hip during the swim. Chris said that boardshorting is a more effective way of drafting because you still can have an effective catch and benefit from the lead person breaking water resistance. When you swim at someone's feet, you lose a lot of the catch because your arm is moving through bubbles and disturbed water.

Chris showed us how to do a floating start with hands sculling in front and legs horizontal behind you. Just as the gun is about to go off, you start to kick a little harder and create a splash. This does two things: it lifts your legs so you're in a better position to start the swim, and it forces the people around you to give you space so you don't get caught in the fray. It also gives off the image that you are confident and capable during the swim, even if only a perception. (I'll talk about perception a little later.)

He also taught us how to position ourselves during a race start. As weaker swimmers we're always told to start a little further back so we don't get run over by the fast swimmers, but Chris gave us counterintuitive advice. Start as close to the front as possible; the strong swimmers will just swim away from you, and you don't get caught in the grabbing, scuffling mess of the weaker swimmers behind you.

Not a perfect stroke, but I got the job done? Haha (photo from Mee Lan Han)
Chris then turned us over to Jurgen's attention, so we did a few 100's simulating the conditions of the lagoon swim for the CLP. Visibility would be zero so we had to close our eyes, and our legs would sink so he had us cross our legs so we couldn't kick to lift them. After quipping, "There are so many problems I cannot begin to say, but I had a laugh watching you," he then took us through a feel-for-the-water exercise; he had us scull for the first 25 meters, then do a normal freestyle stroke for 75 meters. We did this 3 times, and then were set up for a mass start and a 50-meter swim. The "start line" was the flags and we had to do a floating start. I was swimming well that day despite the road rash on my right shoulder and leg, and touched the opposite wall pretty quickly. So Jurgen said that the fastest swimmers would start at the wall while everyone else would start at the flags. I don't know if it was the beautiful pool we were swimming in, the fact that we had a legendary triathlete looking over our performance, or just my competitive drive kicking in, but from the wall I swam over people and got to the opposite wall first. I think I could have made my swim coach Nonoy Basa proud. 😉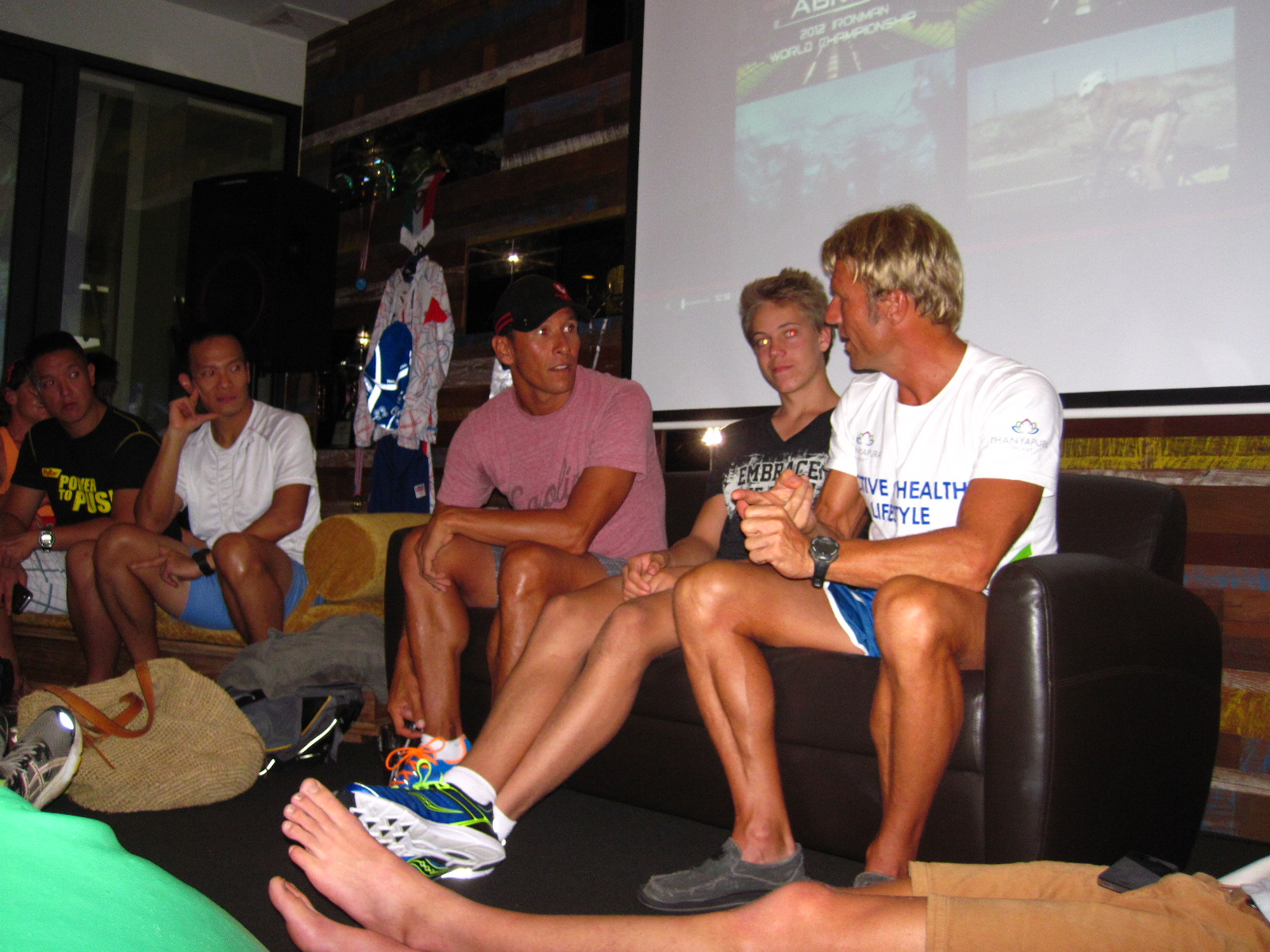 Swim session done, it was time for a Q&A session with Chris and Jurgen, who regaled us with how they'd first competed with each other, where the sport of triathlon is headed, and what their toughest races were.

We had an open-water swim session with Chris and Ben the next morning at the CLP swim start. To tell you the truth, after the whipping I'd gotten from the Andaman Sea the Sunday previously, I was not looking forward to getting back in there. But what can you do? I had to HTFU and jump in the water. For a warm-up we swam to the first buoy, crossed to the last buoy, and swam back to shore. Again for some strange reason I was swimming very well, and was grouped with the "fast swimmers" whom Chris took charge of, while Ben instructed the other group.
listening to instructions (photo from Aaron Franklin)
We would learn how to negotiate turns around a buoy and put into practice the boardshorting and floating start skills we'd learned the previous day.
Chris said that as you come near a buoy, you should start kicking more. Not only will this lift your legs, reduce drag, and make it easier to turn, but it will also freak out your nearby competitors, who'll give you space and pole position to turn. As you come around the buoy, your leading arm stays in front and reaches into the turn, while the other arm does two quick strokes to pull you through the turn. I felt like a fish!
(I'd actually executed this turn during the Subic Invitational Triathlon a few weeks ago so it wasn't something new, but it was nice to hear a "That was perfect, Noelle" from Chris.)
Both groups then reconvened at shore to practice a mass beach start and swim up to the first buoy, then a floating start from the buoy back to shore. I felt very confident in my drafting skills by then and made good time to the buoy. And then during the swim back to shore, I found myself boardshorting Chris (the name on his ass was a clue). Ha, so it does work!
swim back to shore (photo from Aaron Franklin)
A little bit later in the day we all met up again for a run session. It was scheduled at 10am, which was around the time most age groupers would be starting the CLP's 21-kilometer run. Being from a tropical country I was very familiar with heat and humidity; it put me and my Asian friends at an advantage.
We're built for this. (photo from Aaron Franklin)
I knew the importance of hydration and took along my Simple Hydration bottle, tucking it into the nape of my Mizuno sports bra. I got a lot of compliments and questions about it because it is such a handy little bottle; apparently it isn't as ubiquitous as it is in the Philippines, where we can find it in most major sports stores. Internationally, people would have to buy the Simple Hydration bottle online.
Pretty much our run consisted of a short loop toward the transition area, then through the golf course into the hot part of the course which Chris called "the worst 5 kilometers of your life". I'd stayed in the lead pack with Chris; a second group had dropped off and were waiting for us so we could do a planned drills session. But Chris canceled the drills spur-of-the-moment and sent those of us who had stuck with him jogging back. I basically sprinted the end of the run session because I still had so much energy.
I knew that the amount of heat and humidity we had to deal with would eventually end in a rain storm later that day, but didn't count on the rain happening right before our last formal training session to help us shave precious seconds and minutes off our transition time.
Over the past week, I'd been keeping campers abreast of schedules and developments over a WhatsApp group and coordinating with Chris, Ben, and Aaron "Azza" Franklin (Chris' business partner in MaccaX). Just as we were all discussing a 2pm meet-up to go to the transition area where we'd practice, I got several text messages from Chris canceling the transition session because the storm had turned the transition area into a sopping mess.
We spent the afternoon just sitting around hanging out, then crashed the Meet The Pros cocktail party and saw the pros light up traditional floating lanterns as a token of good luck for the race.
I spent Saturday morning watching the Junior Challenge, attended the race briefing in the afternoon (I don't know why! I wasn't even racing), and had a nice relaxing dinner at a little hole in the wall on the beach with my favorite camp mates Taka, Marek, Tim, and Charles. We were supposed to have an informal swim session with Chris, but this fell through when he didn't confirm it; he spent the whole day attending to duties at work. Oh, well.
I woke up early Sunday morning because I intended to wish everyone well as they set up their transition areas. I also had some "Racing for the Philippines" stick-on tattoos for the campers who wanted them.
Maraming salamat po! — Thank you very much!
Ben also racing for the Philippines
Ben had been put into a relay team where he was the cyclist, so I had company at transition. I opted not to watch the swim start because everyone knows transition is where the action is, and where you can see the early leaders of a race.
There was a bit of commotion inside the transition area, and I saw camera lights so I knew the pros had made their way inside. A few minutes later, Chris came out of transition with American pro triathlete Tim Marr, and after chatting with me and Ben for a few minutes, they gave us their post-race clothing bags to check in. (I believe this is what's called "sherpa-ing" at a race.)
Chris slipping into his Orca speedsuit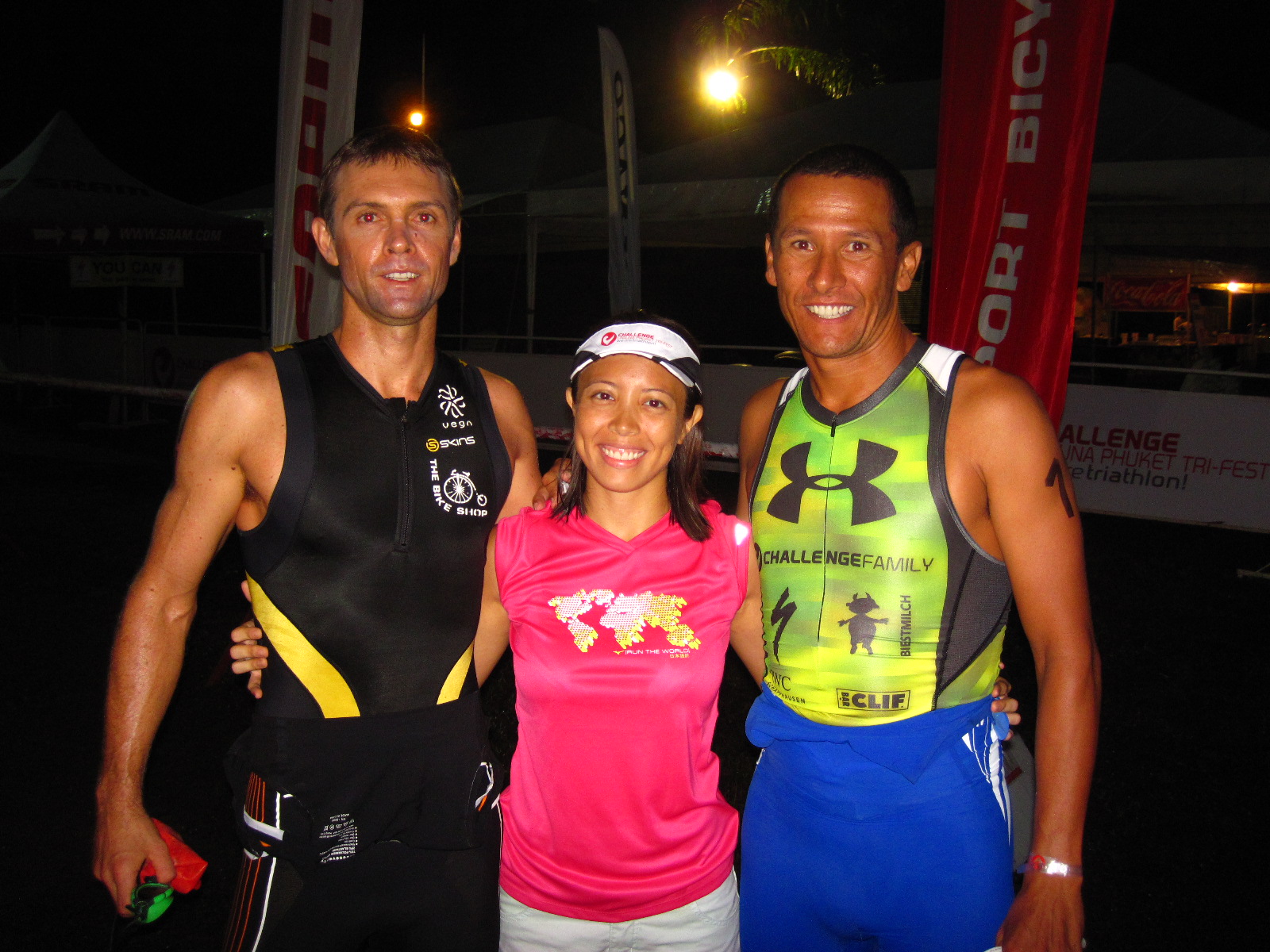 Tim eventually placed 7th in the pro category. Chris? Flatted out.
I had a great day spectating. I saw the pros at the swim exit, stuck around long enough to scream like a fangirl when Bobby exited the swim and get on his bike, then I knew I had about an hour and a half to return to my hotel for breakfast and come back to see the pros get off their bikes.
I also flitted about everywhere in the race area, from the resort tent where I got free muffins (delicious!) to the VIP tent to sit in the airconditioning with Challenge Philippines people, and back to the finish line where Candy the baby elephant was waiting to run alongside the male and female winner of the race.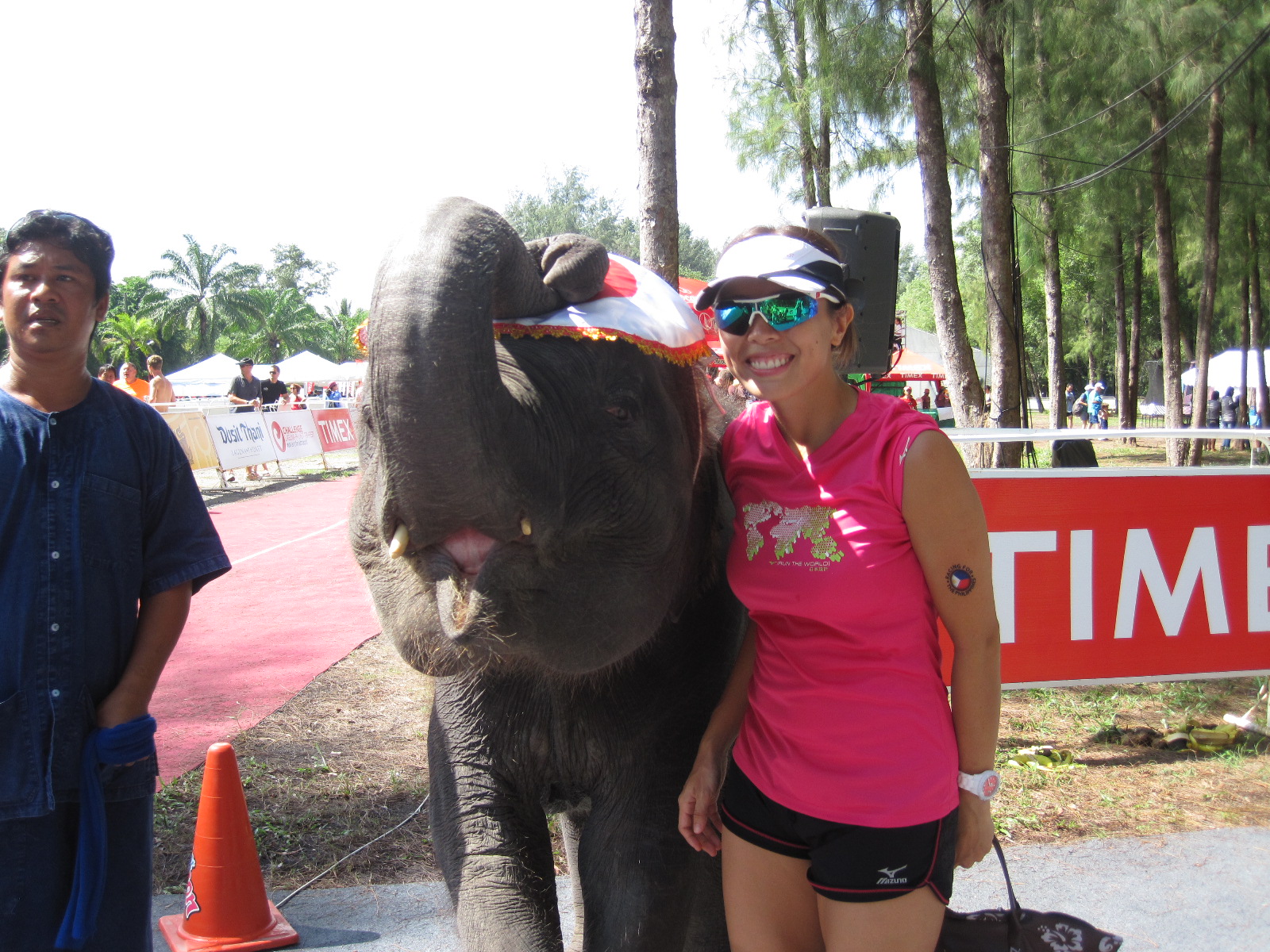 If I had raced, I would never have gotten a photo with Candy!
As soon as the men's and women's top 3 had crossed the line, awarding was held. But as the women's top 3 were standing at the podium, Belinda popped into the finish chute. Obviously gutting out her fourth place finish in the heat, she stumbled across the finish line into the care of the top 3 women, who doused her with cold water and made sure she was OK.
That Belinda is a fighter!
As I greeted her at the finish line with a big hug, she told me, "It happens every year, I start thinking I haven't got it…" And her never-quit attitude always kicks in. Belinda is my hero and my favorite female triathlete just for her passion and love for the sport. I hope that when I'm 40-something I still love this sport like she does!
She has her decals, I have my road tattoo 😉
Meanwhile, Chris had emerged to do a Breakfast with Bob Babbitt interview. After getting a flat, he'd DNF'ed the race and changed into a resort shirt and visor to talk about his new job, racing plans for next year, and call out Lance Armstrong for a good old-fashioned mano a mano match race.
Chris being interviewed by Bob Babbitt, the godfather of triathlon
On our bus ride to the resort the other day, Chris had told us about how he'd set up everything for a match race with Lance in 2012, before the whole doping controversy had blown open. Lance had flaked on those plans, but now he wouldn't be able to say no.

Chris is very smart at leveraging media exposure to get a desired effect. He used this during his battles with Normann Stadler and Faris al Sultan many years ago to get into their heads, and I'm sure him calling out Lance isn't just because he got ticked off at a recent interview Lance gave that said he would have won the Ironman World Championships. It's probably a way to settle old scores (they have clashed in the past many times) and brings the mainstream spotlight onto Chris and the resort. He's filling his self-proclaimed job description of "media whore" very well, actually. 😉
I got some face time with Bob, too!
I gave a ton of bear hugs that day; basically I sat at the tent (which had become unofficially the MaccaX tent) until I heard a familiar name being announced. Then I'd run to the finish chute to give them a hug and usher them to the tent. I was brimming over with enthusiasm and joy for their finish, especially since I had some idea of how tough that course was. (Happy to report that Bobby represented the Philippines well, and finished despite him saying "durog ang legs ko".)
Still all smiles!
I was tired after spectating all day, and lost my voice. But almost all the campers were attending the awards banquet, so I pulled myself together to celebrate what we'd done at camp, at the race, and to give Chris a send-off into his new venture in Phuket.
Congratulations to the energetic hosts Whit Raymond and Kun Ming
I'm the male winner! Don't I make a pretty ladyboy? 😉
After getting chicked, Chris is back on the road to fitness
I've done triathlon for four years now, and I've learned many things from research and trial-and-error. Some of the things we learned in camp were already familiar to me, and I've attended more hardcore training camps under Coach Ani de Leon-Brown. Still, Chris as a 4-time world champion has a voice of authority and you know what he's telling you works, because he's used these tactics countless times to devastating effect. And really, how many people can say they've trained with Macca? I'll say that this camp has given me options and tools to use come race day, and has made me think more about everything that goes on during the swim, bike, and run.
Well, after that busy 12 days, I'm taking some time off to let my road rash heal up. Then I'll gear up for Challenge Philippines on February 22, 2014. I will race the same course with a fitter Chris McCormack, and we'll see if I can't put his tactics to good use. Ü
Find more photos of the Laguna Phuket Triathlon, MaccaX Camp, and Challenge Laguna Phuket on my Facebook page.
Post-script: One thing I saw the whole week I spent with Chris is that perception is everything. For a man who says of himself that he doesn't care what people think, as long as he has their respect when it comes to racing, perception still actually plays a huge role. For racing he taught us to step out with confidence so our competitors wouldn't victimize us ("Don't be a victim"); in his own racing all his competitors perceive him to be a main contender, which he uses to his advantage when it comes down to who's going to break first. He has used media and public relations, all image-building platforms, to get into his competitors' heads and under their skin; now he's flushed Lance out of hiding and it seems like the match race will happen next year. That will draw attention to the sports resort, which he and MG have been tasked to turn around so it can be sustainable and viable as a business. This leveraging of people's perceptions is used in business dealings all over the world every day. Chris just brings it into triathlon because he's a professional and this is where he earns his living. I will respect that.
Liked this post? Share it!