Even though I race hard, I've never been pushed to my breaking point — I've always prepared well enough for my races. Heading off to Phuket to do the 20th Laguna Phuket Triathlon took me right out of my comfort zone.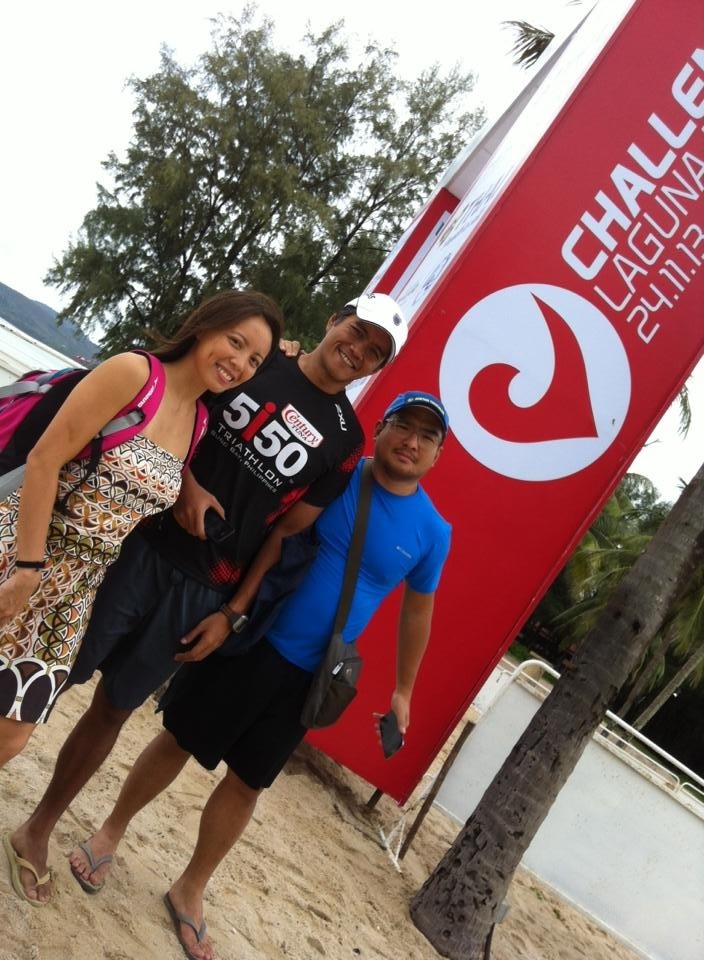 with Challenge Philippines team (photo from Melvin Fausto)
We arrived in the middle of a storm. All the locals said that in the days before our arrival, the weather had been calm, warm, and perfect. It was like Phuket had it in for us.With the storm bringing in some swells on the water, it made for a rough trial swim and I lost my new Zoggs photochromatic goggles to a huge wave that knocked me over. Huhuhu!
the swim start
In the Philippines we're not used to breakers in the swim
I'm thankful I know a bit about negotiating surf, so apart from getting knocked over by a wave I knew I could handle the swim. Still, it was calming to get into the lagoon for the second part of the recon swim. (Yes, I'm a good triathlete. I brought spare goggles.)
the freshwater lagoon
The water was murky and my legs sank without the saltwater buoyancy, but I knew I could balance my body in the water and do okay swimming in a straight line. No problem!
Unfortunately, due to the rain, I chose not to attend the bike course preview. My companions from Challenge Philippines took a taxi to see the legendary hills of Phuket, and when they came back they told me the hills on the Challenge Philippines course would be peanuts compared to this. Ignorance is bliss, as they say. I might not have done the race if I'd seen those hills beforehand.
At the race expo upon picking up my kit, I ran into a group selling temporary tattoos that said "Racing for the Philippines" on them.
Thank you, TTCT, for the fundraising effort!
It turns out, the Thailand Triathlon and Cycling Team is raising funds for the Girls Run for Breakfast Typhoon Yolanda relief initiatives. Patrice on the left is a very good friend of Coach Ani de Leon-Brown. Being so far from home, I was happy to have that tattoo on my arm to remind me I wasn't just racing for myself, but also representing my country among the 50 countries participating at the Laguna Phuket Triathlon.
The LPT is called the Race of Legends because many big names in the triathlon world have raced and won here. In attendance that weekend was 4-time world champion Chris McCormack, 2-time Ironman 70.3 world champion Melissa Hauschildt, defending and repeat champion Radka Vodickova, defending champion Ruedi Wild, and the legendary Belinda Granger whom we know very well from her participation in all the major Philippine races.
Meet the Pros
some of the MaccaX campers doing the LPT
After checking Mako in at transition overnight (of course, I covered her up with my trademark shower curtain), we went back to our hotel for a good dinner and sleep. Well, we got a ladyboy show in. Only in Phuket!
the ladyboys of Phuket
I basically went through all my pre-race routines as best as I could, but got thrown by the lack of instant oatmeal and peanut butter at the convenience store. I had to settle for a savory rice porridge (or what we call arroz caldo). Couldn't really get it down because for the first time since my first standard distance triathlon in 2012, I was nervous. I've never had the thought of a DNF cross my mind before, but that morning I had a feeling that my race could end early.
We got to the swim start and the waves were about six feet high, breaking over my head. My Endure teammate Raff was also doing the race. Joy was supposed to, but had a bike crash the week before so she was there to support and go on vacation. Raff and I went for a warmup run and swim just to shake off the nerves.
The emcee Whit Raymond is a regular host in Philippine races and we'd been introduced during the Meet the Pros press conference. It was just such a nice touch that after he'd called the pros' names and sent them on their way, he started calling age grouper names — including mine! — as we were sent off.
steep beach start
There's quite a big slope from the start arch to the water's edge, so it was all I could do not to tumble down. You might be able to catch a glimpse of me in this video from the Phuket Gazette. Check out those waves!
Because the water's force was so huge, it was hard to make any headway. You might also notice that there are no lane ropes, just buoys, so we had to sight to stay on course. I did my very best to shut up the voice of doubt in my head, and just kicked on. Finally I rounded both yellow buoys and set my sights on the swim arch. Right before I could get to shore, I got knocked over and spun around not by one, but by two waves. Thanks, Andaman Sea. You really love me and don't want to let me go, huh?
There was less drama in the lagoon swim, but I felt like it was taking forever. It didn't help that the ferries that had carried us from transition to the swim start had churned up the pond weed. I tried my hardest not to think about the muck underneath. That was the longest 1.8-kilometer swim ever.
Can you see the look of relief that I'm out of the water?
On to the bike. According to the recons people had done, the big hills came in the first 19 kilometers of the 55-kilometer course. I climbed the first two and thought, "No biggie!"
Then I came to the last one. The road curved round the mountain, and just when my legs were screaming for a rest, I looked up and saw there's an even steeper climb ahead. No mas!
just out for a stroll
There was also a very steep downhill, designated a "yellow flag zone" where you had to apply your brakes and descend at a maximum of 20 kph. It reminded me of the descent at Pico de Loro, except it was twice as long and maybe even steeper.
This course was doing its best to break the participants, but I'd completed the hills. Everything else after that would be easy, right? It would be just 35 more kilometers through a winding and gently rolling course. I really enjoyed riding through rubber plantations, then along the coast, past rice fields and small villages.
I was going along at a steady clip, arms resting in aerobars, when I saw a small rise in the road up ahead. I increased speed so I could climb up without losing momentum. Then, just as I crested the hill, my front wheel landed in an unseen pothole with some mud in it.
I went down hard and skidded on my right side. My "Racing for the Philippines" sticker tattoo as well as my race number peeled off with my skin. I didn't hurt for the first few minutes; I actually picked myself up quite quickly to get out of the way of oncoming cyclists, then poured water from my bottles to clean myself off the best I could. I checked if my bike were in rideable condition (it was), and got back on. A cyclist called out that he'd get the medics to check on me.
Your race is over, said the voice of doubt. You're not going to be in contention at all. Come on. You didn't prepare well enough for this. You can stop now and nobody will think less of you.
I asked these questions as I rode on. Did I break any bones? No. Did I dislocate anything? No. Is anything hurting that will affect my ability to finish the race? No. Then there is no reason to stop. Shut up, and embrace the suck!
Two medics on motorcycles caught up to me and asked if I wanted them to check on my wounds. "No, I'll get these checked at transition," I said. I knew if I stopped again, I would have to battle that voice of doubt again.
At the next water station, I got new full water bottles, and when the aid volunteers realized I'd had an accident, they offered to help douse my wounds and cool me off. They started throwing water on me, shouting, "Songkran!" which is the New Year celebration where Thais traditionally throw water on others. This brought a huge smile to my face and lifted my mood for the remainder of the ride.
It was a long slog into transition, but I finally made it. I briefly considered getting medical attention for my scrapes, but since they looked clean enough from the dousing I got at the aid station, I just went ahead to do the run.
Hang loose!
I got out onto the road at a good clip. I didn't know how much the climbs had taken out of my legs, but I would soon find out.
That all-too-familiar twinge began on the inside of my knees, then quickly pinched up both quadriceps. The muscles were locking up, hobbling me and reducing me to a walk. I had to drop to my haunches just to stretch out because it almost felt like my knees would bend the wrong way from the force of that cramp. So much pain. And we had to do two laps of a 6-kilometer course. I could barely even face finishing one at that point.
I limped to an aid station and dumped cold water on my thighs. That felt good, so I grabbed handfuls of ice and shoved them up the legs of my suit. The cramping stopped immediately, and I was able to run again.
Then my hamstrings started cramping up, and after I got that sorted with more ice, it was my calves' turn. I was yelling at my legs to come on and move, damnit! This was supposed to be my strength. How could my run fail me now so spectacularly?
heel-striking in an attempt to stave off a cramp
I was also holding a bottle of EFS for my nutrition, but the smell of that sweet mocha shot just turned my stomach. I didn't want any gastrointestinal issues on top of my physical issues, so I stashed the bottle and went to Coke and water. I ended the first lap feeling ok, and although the week's rain had turned the grassy parts of the course to mud that almost sucked my shoes off, I dug in and went on the second lap. Aid station to aid station. Cold sponges, ice, Coke, water. Let's just keep going, legs. We've gotten too far to quit now.
I looked over at my scraped right shoulder, where the "Racing for the Philippines" tattoo had been. I was one of only 11 Filipinos at the race, and one of two Filipinas. I wanted to show what I was made of, what a Filipino is made of.
The finish line loomed close. I started flying down the chute.
Almost there!
In those few moments before I crossed the finish line, I saw everything I'd done that morning. The swim that made my heart quail. The hills and the crash on the bike course. The intense pain and cramping on the run. This race had almost broken me, but I had made it.
Whit said, "Noelle Frances De Guzman, Philippines!" My hands went up. What is a Filipino made of? Heart. When everything else fails us, when storms destroy all we have built with our hands, our heart keeps us going and pulls us through. This is for you, my country.
All heart.
At the finish line, Raff and Joy met me, and I just fell apart and broke into tears in Raff's arms. After a long walk to the medical tent and some bandages, I was all good.
I'm not going to gross you out with my wounds.
Even though this was a race that was only slightly longer than Olympic distance, it is such a completely different animal with its technical and difficult bike course. I'm thankful I escaped relatively unscathed; some of the participants hadn't even gotten to race because they'd gotten into bad crashes while training on the course.
paid for with blood, sweat, and tears
My other companions from the Challenge Philippines contingent finished strong too, so I'm proud of our 100% completion rate. I'm not sure if we'll be back for this race next year simply because it kicked all our asses, but if we are, we'll be ready for it.
I got to hang out with Team MaccaX at the awards party, where I finally was formally introduced to Belinda Granger, who bragged to Chris about my crash and race completion. Aw, shucks! I felt like such a winner even if my finish time was below average for this race.
fun bunch
I would become even more acquainted with Team MaccaX and Phuket in the next few days during the MaccaX camp. But that's another story. 😉
Thanks to Mizuno, Ceepo Bikes, Lightwater, Spyder, Salice, Yurbuds, and Suunto for their support. Thank you Raymund Magdaluyo for masterminding this whole trip and opening this opportunity for me. And thank you very much Coach Melvin Fausto for helping me assemble and disassemble my bike in Phuket!