With the size and weight of most smartphones today, I often opt not to bring mine along on runs. My running shorts don't often have pockets that can fit my phone, and running fast with a phone in my pocket often leaves me with bruising on my thigh from the phone smashing against it. That's a real shame because there are so many fitness and workout apps available on smartphones that can really help you in training.
So I pounced on the opportunity to review the Tune Belt, which is distributed locally by Cascos, Inc. (same people behind Yurbuds and Salice in the Philippines).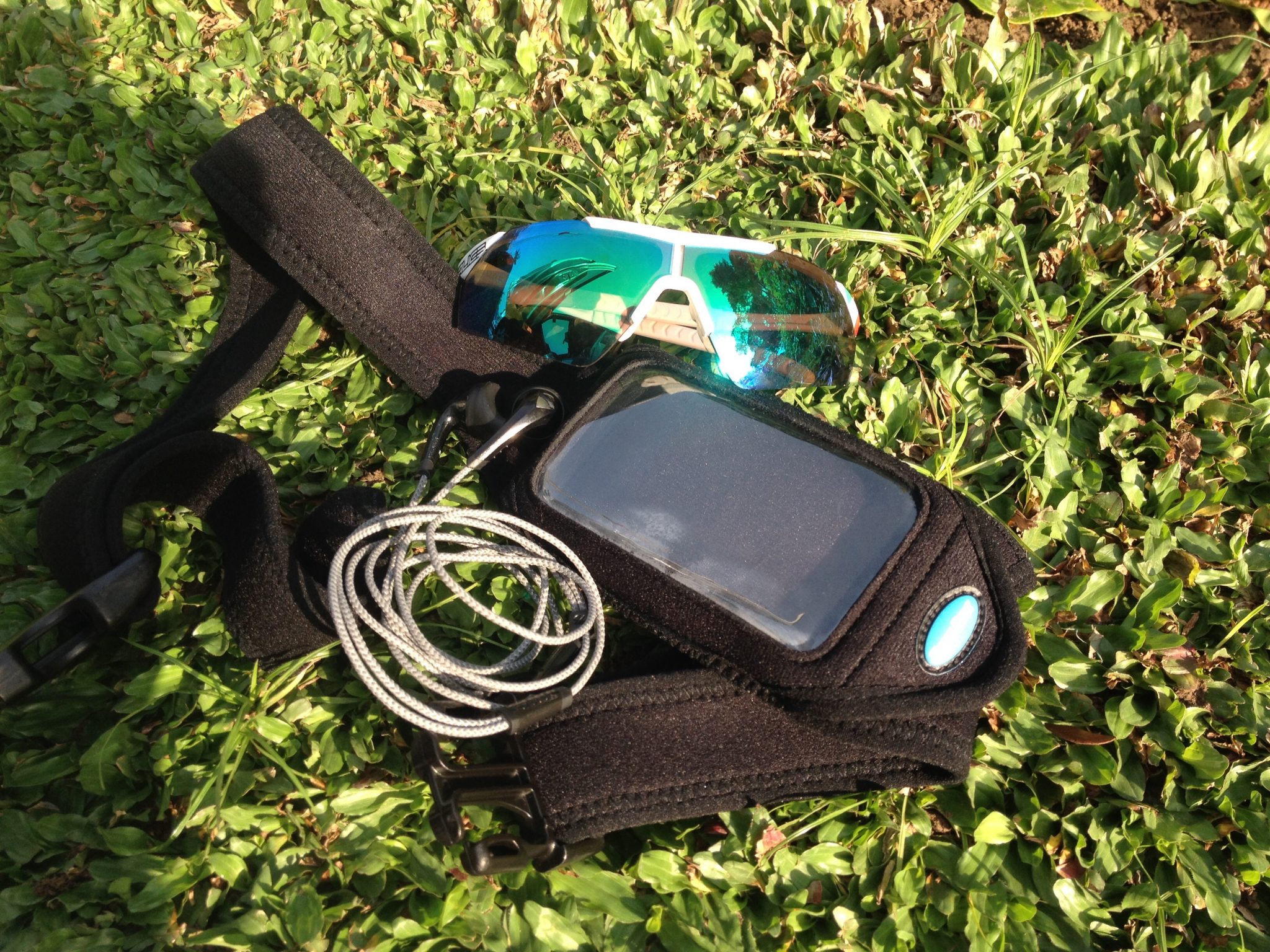 Accessorize! Salice sunglasses, Yurbuds signature series, Tune Belt
this model is made for iPhone 4S and similar-sized smartphones
Tune Belt stores your phone in an easy-to-access position on your waist while you run or workout. There are Tune Belt armbands, but I usually chafe using armbands so the waist belt was a good option. The phone's horizontal position makes it bounce less, and the belt is adjustable and one-size-fits-all. It has a large conductive plastic "window" you can access your touch screen with, and several access ports where you can plug earphone jacks through the belt into your phone.
adjustable belt length
sturdy clasp
large plastic surface for your touch screen
earphone port access
On Thursdays I like doing a run session called the Accordion, which is part of the MX Plus program I'm on. The Accordion is available for free as a real-time audio session coached by Macca on the MaccaX iPhone app, so I decided to do my Thursday session listening to the app, with my phone in the Tune Belt.
The Accordion has four intervals, with half the interval spent running at a hard pace, and the other half running at an easy pace. This really put the Tune Belt through its paces, so to speak. I find that as my speed increases during runs, any belt I wear around my hips and waist starts to ride up (a problem I had with some hydration belts).
The Tune Belt did not ride up, but I think its adjustable straps need some sort of lock to hold them in place. Because my hips and waist are small (#humblebrag), ahem, I was constantly fiddling with the excess strap length to get them out of the way.
Otherwise, I found the Tune Belt convenient since I could listen to music, use fitness apps on my phone to record my activity, and answer phone calls on the go (if anyone ever attempted to call at 7 in the morning, that is). It was also easy to access the phone's touch screen through the conductive plastic, so I could fiddle with the app and with music selections without having to take the phone out of the belt.
Watch out for other Tune Belt models sized for popular Android phones and for smartphones with protective casing.
Liked this post? Share it!