With Typhoon Yolanda / Haiyan sweeping through the country last Friday, I was concerned that the Rebuild Bohol benefit ride scheduled for the next day wouldn't push through. Not that I needed the long ride (I had a backup indoor trainer session planned), but the purpose of the ride was to raise funds to help Boholanos rebuild after the 7.2 magnitude earthquake that hit Bohol on October 15. Bohol has been the venue for the country's ironman distance race 226 Bohol Triathlon for the past few years, and the quake occurred the day after another triathlon, Defy 123, was held. The quake rendered massive damage not only to roads and vital infrastructure, but also to homes and historical sites.
Bike King, the organizer of 226 (which has been canceled for the year), planned the ride as a tie-up with the Rebuild Bohol Foundation and collected pledges up to P184,050, most of which would be collected onsite. After waiting on the edge of our saddles until 4pm on Friday, it was announced the ride would proceed as planned.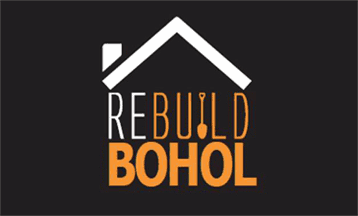 Rebuild Bohol
The meetup point was at Westgate in Alabang and take-off time was 6:30am. There were three planned distances: Alabang-Naic (100km), Alabang-Puerto Azul (120km), and Alabang-Caylabne (150+km). I was signed up for the ride up to Puerto Azul, but decided to listen to my gut on the day as to how far I would go.
Of the 143 that had signed up, about 40 showed. It didn't help that there were light showers in the wee hours, which had led some others to think the ride had been canceled. Still, I earnestly hope those who didn't make it to the ride will still follow through on their pledge to donate.
The weather cooperated during those early morning hours: the sky was overcast, which made for a pleasant ride. I could see the clouds overhead swirling, though; even though Yolanda was moving out of the Philippine area of responsibility, it had caused some disturbance in local weather. I wondered how long the weather would hold out.
We made it to the first turnaround point in Naic, Cavite around 8am. After waiting for everyone to regroup, most of us decided to head back instead of going on to Puerto Azul. Puerto Azul would have some steep climbs, and even more were on the route to Caylabne. We'd save those rides for better conditions, as we'd already experienced some heavy wind on the rolling course to Naic.
http://instagram.com/p/gfgAY9yneB/
photo from Lara Parpan
About 10 riders went on to Puerto Azul, but I followed my gut and turned back. "Don't be a hero," my gut was telling me. I was here to support the Bohol relief efforts and to get a nice long ride in was just a bonus.
It was a wise decision, as a headwind made things hard going on the way back. Since this wasn't a race, we rode in draft packs. Unfortunately on one of the bigger hills, I got dropped from the pack and had to tough out a section by myself in that crosswind. I finally managed to ride up behind Carlos of SBR.ph, who had also gotten dropped and was riding alone. Along with us was a guy named Poch, and riding in a group however small made the going a little easier.
We stopped at a gas station for some refreshments, which allowed other people to regroup with us to make the final push back toward Alabang. On the last few kilometers, it was just Poch and me. Carlos had dropped back to clear some mud off his cleats because we'd had to walk our bikes over a bridge under construction, and it was muddy. I was thankful for Poch's lead because I didn't have the stomach or skill to weave through stalled traffic by myself. (It's yet another angel story, because I'd never met Poch before the ride, and I wasn't able to catch him to thank him afterward.)

fun times at the Rebuild Bohol benefit ride
We are very blessed to be able to swim, bike, run, and break a sweat for fun. If there is any way we can do these things for a good cause, then I'm all for it.
Liked this post? Share it!