Another weekend, another triathlon at Subic. As someone told me, I should probably have a second home over there!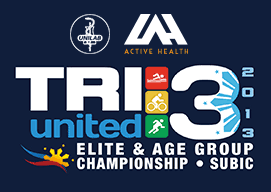 Tri United 3 Elite-Age Group Championship
I signed up for Tri United 3 because I've been hearing great things about how Unilab Active Health runs its triathlons. Also, this was supposed to be a flat and fast course, great for setting a new PR. I wanted to go under 3 hours in an Olympic distance triathlon, so when registration opened in August, I was one of the first to sign up.
I got chills down my spine in anticipation as I arrived at the race mini-expo at the Subic Bay Exhibition and Convention Center the day before the race.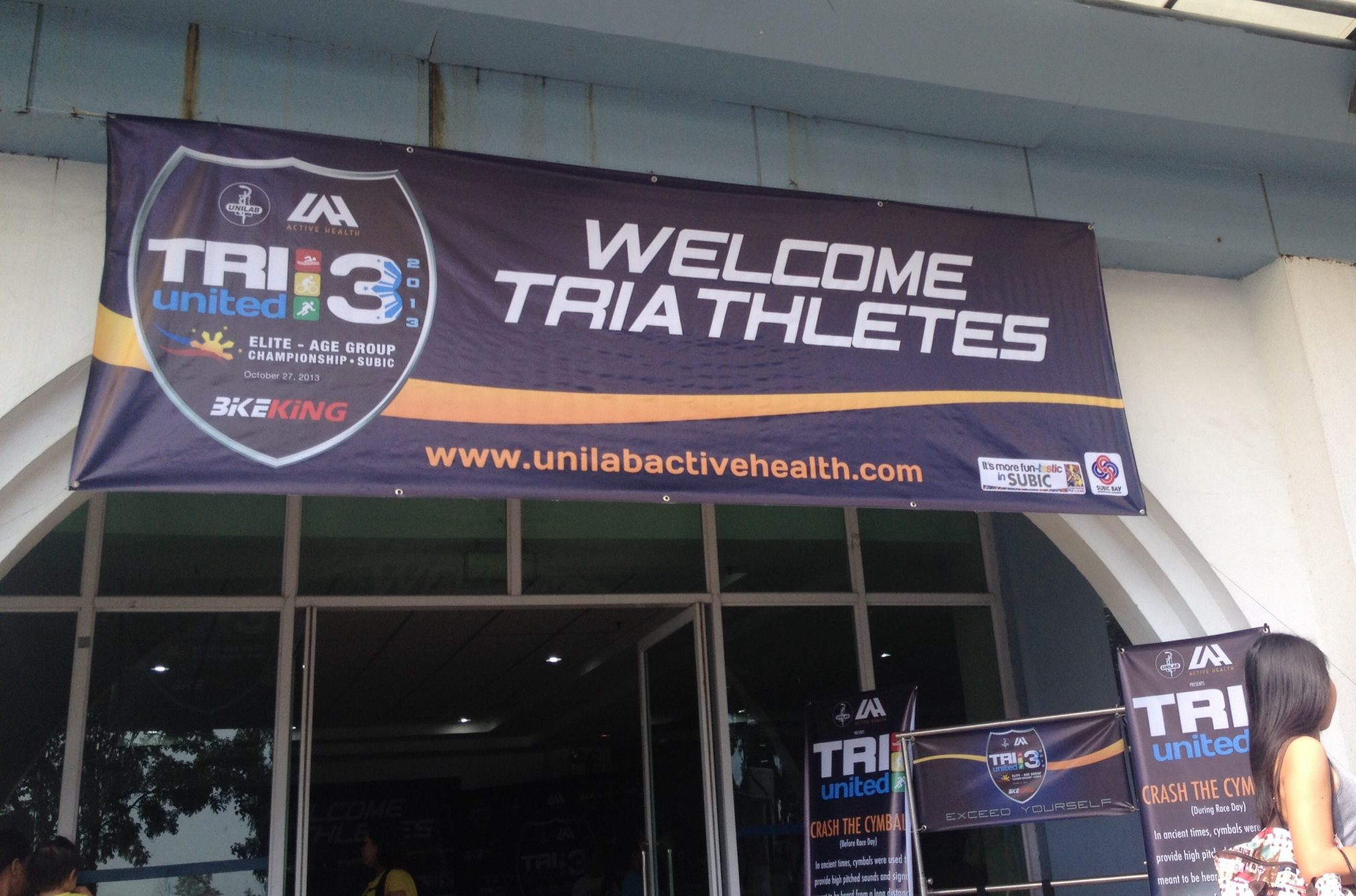 "Welcome, triathletes"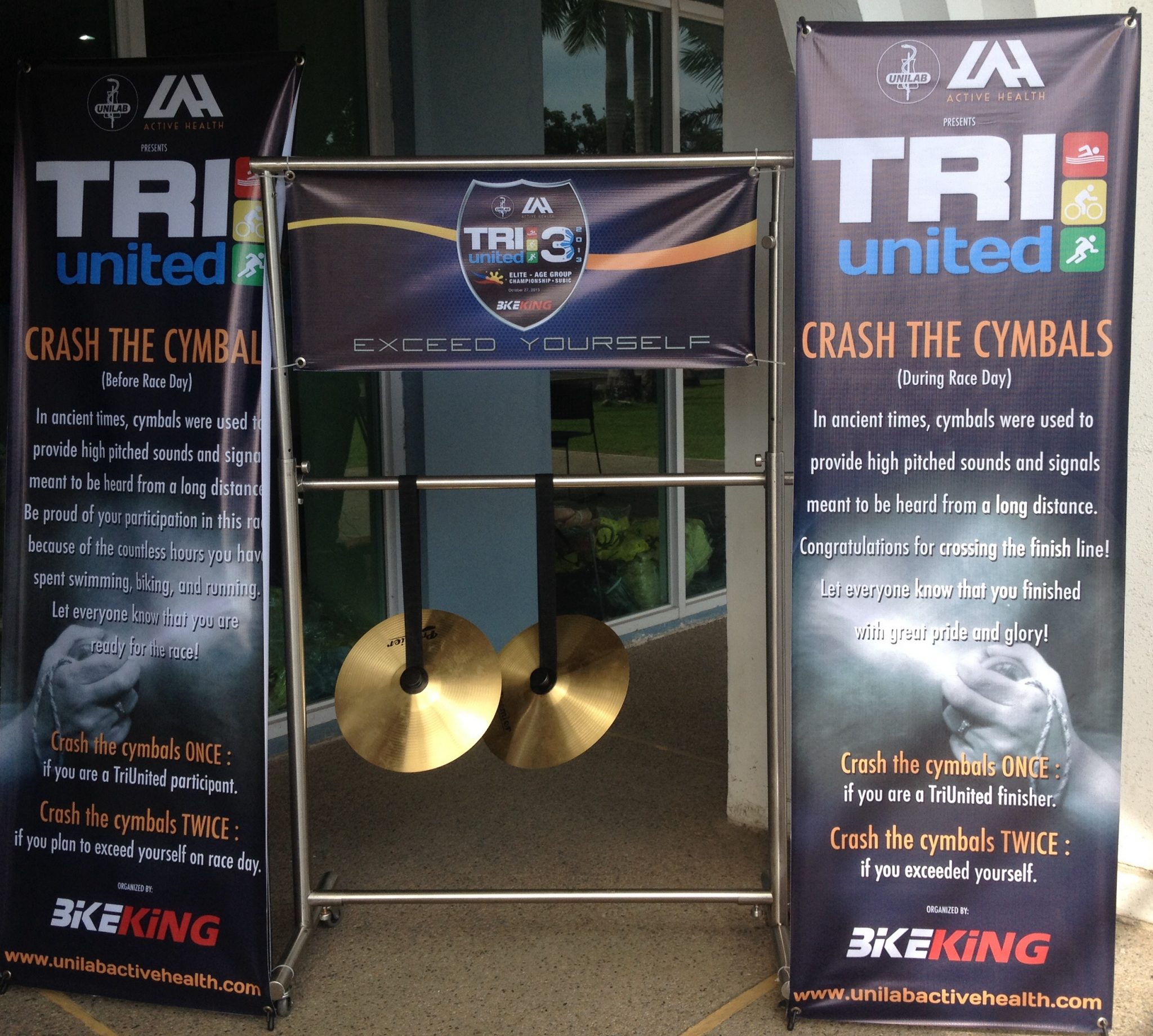 Crash the cymbals if you plan to exceed yourself.
At this race, I would be testing not only the fitness I'd built up since Ironman 70.3 Philippines, but also new equipment: Mako my Ceepo bike. This would be her first race and I really wanted to ride hard. Mako also came with a nice aero helmet, which even if it didn't make me faster would make me look faster. As they say, "If you can't perform, japorm!"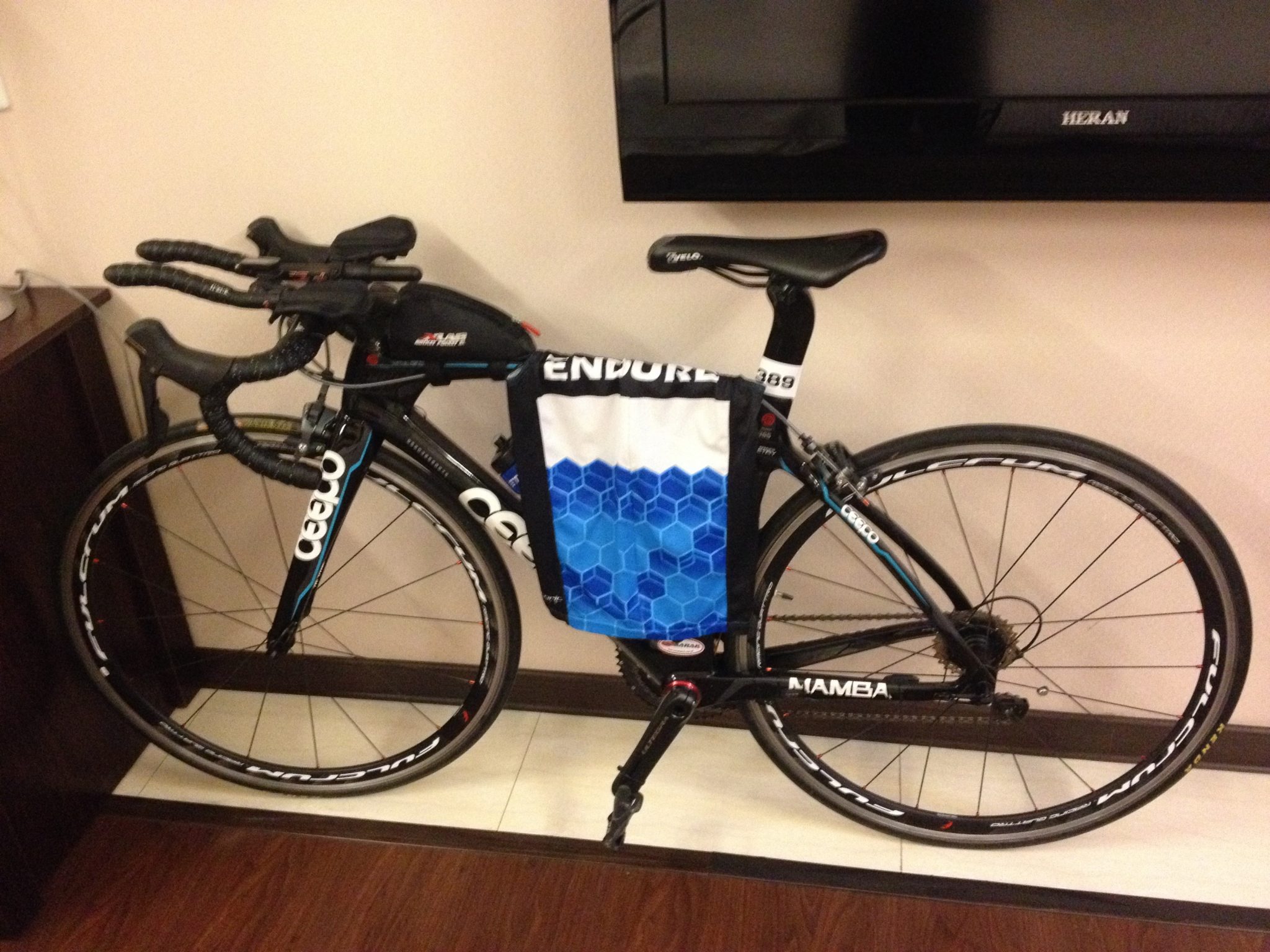 She's not meant to be a clothing rack.
I had a good dinner with Team Endure, and it was great just to kick back with them and de-stress. I'd already had my customary pre-race nightmare (this time around it involved forgetting to start my watch for the bike leg) so I knew my mind had processed what I needed to do.
We just needed to get a good night's sleep and a good breakfast, and we'd be off to a good start.
I think I should mention I tried two new things on race day, which you should never do… but they weren't exactly new new things. I've been having oatmeal for breakfast before training runs and rides, and I've used my bike shoes without socks at times. So, instead of my customary tosilog (tocino, rice, and egg), I had oatmeal, and I planned to put on my socks at T2 just for the run.
I was up at 3am (gun start was at 6am but we needed to be at transition before 5am), got showered and dressed and made myself two mugs of instant oatmeal with a spoonful of peanut butter mixed in to help keep me feeling full. By 4am, my teammates were still waiting for their breakfast orders from McDonald's to arrive, while I was ready to go. New Thing #1 was a success!
So I was unhurried when I arrived at Dungaree Beach. The customized name plate was a welcome surprise, and the transition mat that came with our other race paraphernalia was a big help in getting my transition area organized.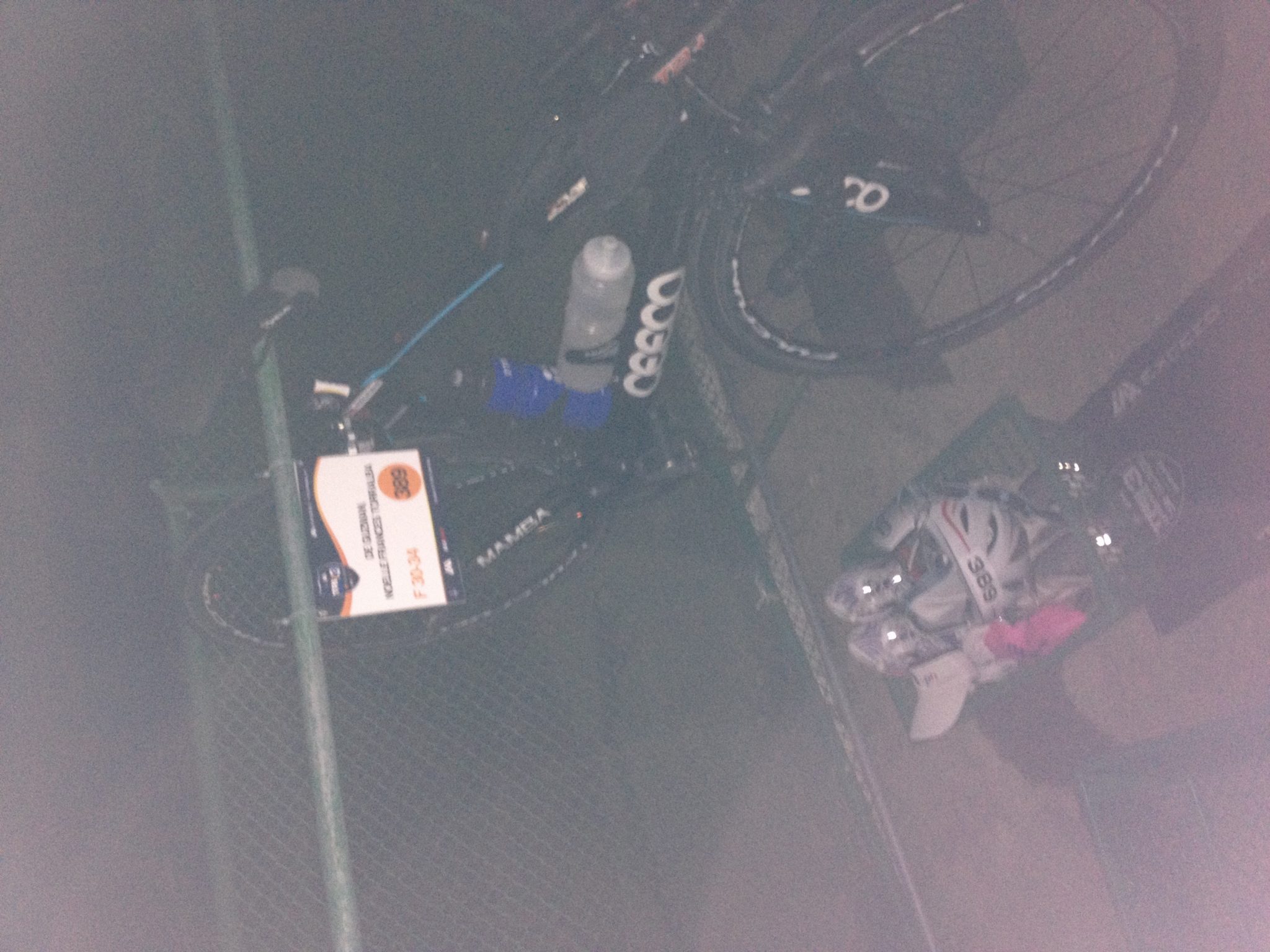 My transition box looks like organized chaos. Also, it's so early!
I got in the water for warm-up later than most people because I knew we had a later start than the men and I didn't want to stand in a wet trisuit too long. I could already feel that Christmas chill in the air. But the water was nice and warm, and my new Zoggs were crystal clear.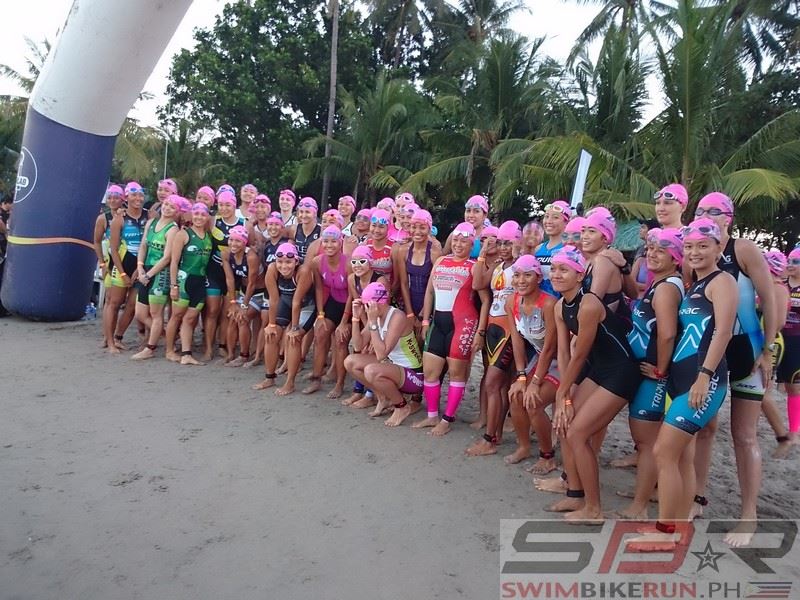 Love our pink swim caps
The last time I had a beach start to a triathlon, I was caught unaware and out of position at gunstart. This time around, I was coolly prepared standing off to the left side with goggles already over my eyes. When the gun fired, I dove into the water and started swimming steadily and strongly, avoiding most of the fray that had gathered near the buoy lines. I managed to wriggle past the stray breaststrokers and find some clear water. I tried to find hips and feet to draft off, but since this was a two-loop swim I decided just to find my rhythm on the first loop.
There was no panic in my head as I made my way toward the first turn buoy. I was fascinated by how aware I was about what was going on around me. I yelled at some guys who were pulling themselves along on the buoy line (what we call "praying the rosary"), which is against the rules. I pulled off a freestroke turn on the buoys instead of breaststroking around them like I used to do, passing people as I did so. I put in surges to get past the slower male swimmers, and sighted enough to ensure I swam straight.
On the second loop I was swimming mostly by myself, but as I turned for home, I spotted a well-known female triathlete (not in my age group) surging ahead of me. I decided to sit at her left hip and see if I could draft the last 300 meters so I could have a little break going into the bike leg. We both rose from the water at the same time, but I had my legs under me faster and got to transition quicker. I had no longer merely survived the swim leg; I was actually being tactical!
The bike shoes slipped on without socks and I clomped along until the mount line. Someday I'll learn a flying mount, I said to myself as I thought of the damage I was causing the new cleats I'd just had installed at Sabak. I got on the bike and zipped down the road.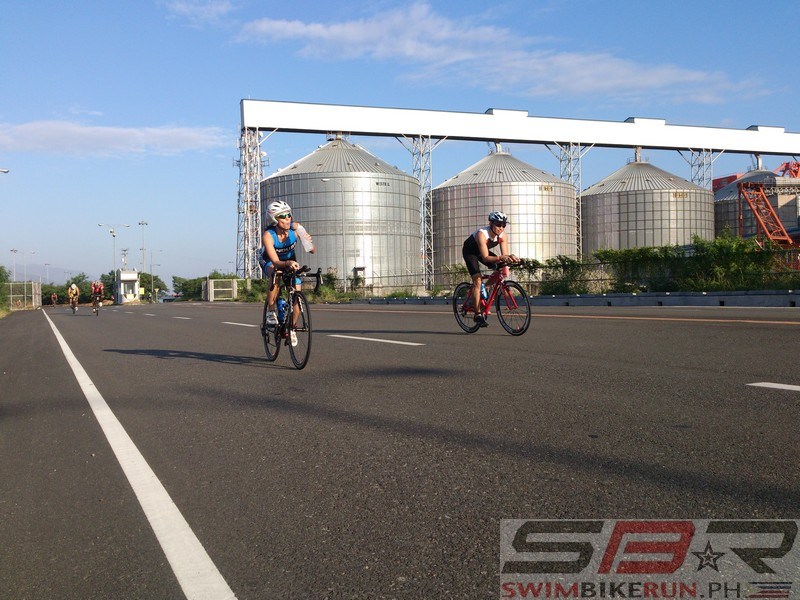 Taking a swig of water on the aerobars
The course was two relatively flat loops, but there were some false flats and headwinds to deal with. My bike trainer sessions had been focused on learning how to ride hard and then clear the lactate from my legs, so I managed not to be overtaken by too many women (there were one or two I had to let go by). As for the men, I encountered a bunch of them that formed into a draft pack — but it was a slow draft pack! I knew I had to overtake; otherwise I would be stuck at their pace. As I overtook them, I had the lung capacity to shout at them, "No drafting! Single file! Seven meters between riders!" A few of them kept leapfrogging me after that, but I kept a steady pace and only surged forward when I needed to — or when there was a video camera pointed at me. Hahaha :)I felt awesome, strong, and fast on the bike, even if at some times it was uncomfortable with my legs burning. They usually recovered when I switched to lighter gears for recovery. I just hoped I would still had fresh legs for the run.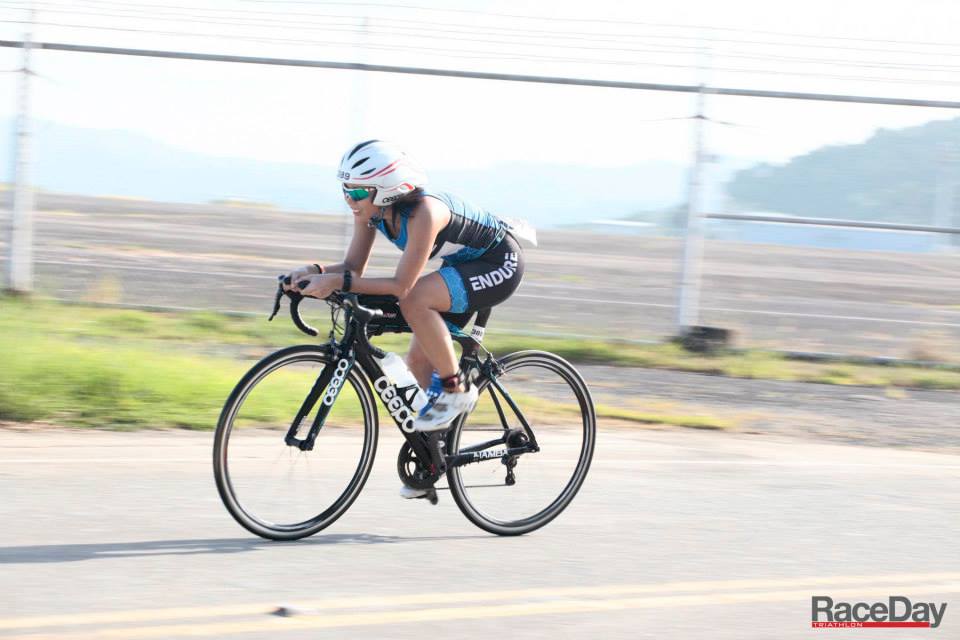 I'm flying!
Right before I dismounted, I noticed that people had to run their bikes all the way around to the back part of transition before they could enter and access their boxes. So I pulled my bike shoes off and ran barefoot with my bike. Boy I was glad I hadn't put on socks, which would have picked up a lot of dirt and debris that would have gotten into my running shoes. New Thing #2 was also a success!
(I spent way too much time pulling on compression socks for the run, though. I'm not sure I really need them anyway, so I'm not using them at my next triathlon.)
It was time to run! I'd been looking forward to this all day. My legs felt light and free as I got onto the two-loop run course. This was the moment of truth: had my training given me the legs (literally) to finish fast and strong and hopefully on the podium?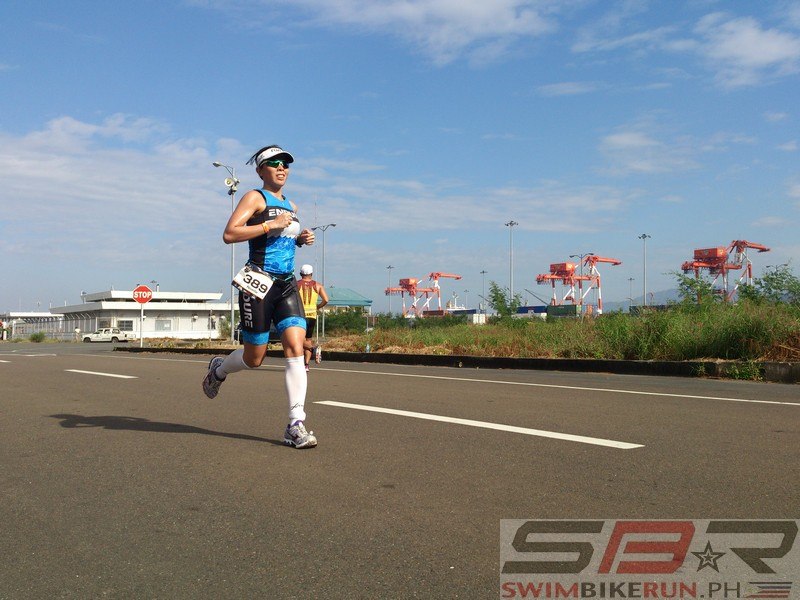 I love my legs for what they can do
The women's wave had started only 10 minutes behind the men, so I still saw a lot of familiar faces on the run. I started chicking some men, seeking out the women in my age group to run down one by one. This meant I was constantly trying to overtake all the women ahead of me. But that was a secondary goal to trying to finish under 3 hours.
And then I overtook this one girl in a younger age group. I could still hear her breathing very close behind me. People on the opposite lane from us would cheer her on. I thought, why am I putting so much effort in trying to stay ahead of her? I'll let her catch me. Let's see if she can commit to the pass.
She managed to run all the way up to my shoulder somewhere on kilometer 6, but she stayed there instead of passing me. Someone told her to pull ahead of me, and she replied, "Just maintaining pace!" Aha. She was running at her limit! But it was nice to have someone around to remind me to run hard.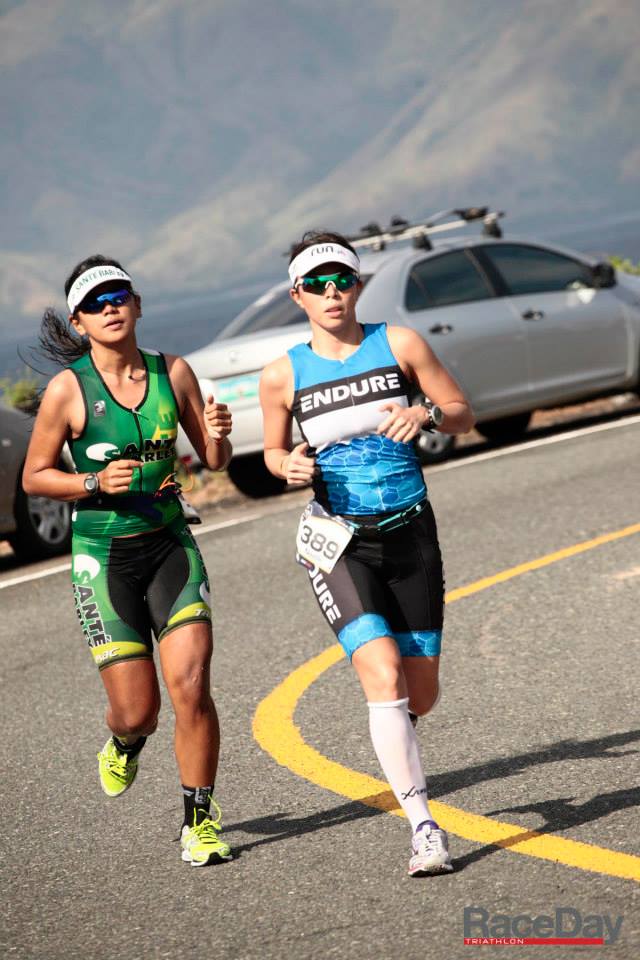 Always great to have someone with you to push and pull the pace.
I had one more gear left in me, which I had trained for with fartleks and intervals. At the final turnaround point, I switched into it and quickly created a gap between us. She didn't come with me.
This was it! Someone asked me about a kilometer away from the finish line if I was in the running for a podium finish. I replied, "I don't know!" and sped on. I didn't care about the win at that point; it was all about putting my figurative pedal to the metal. I saw the finish line ahead.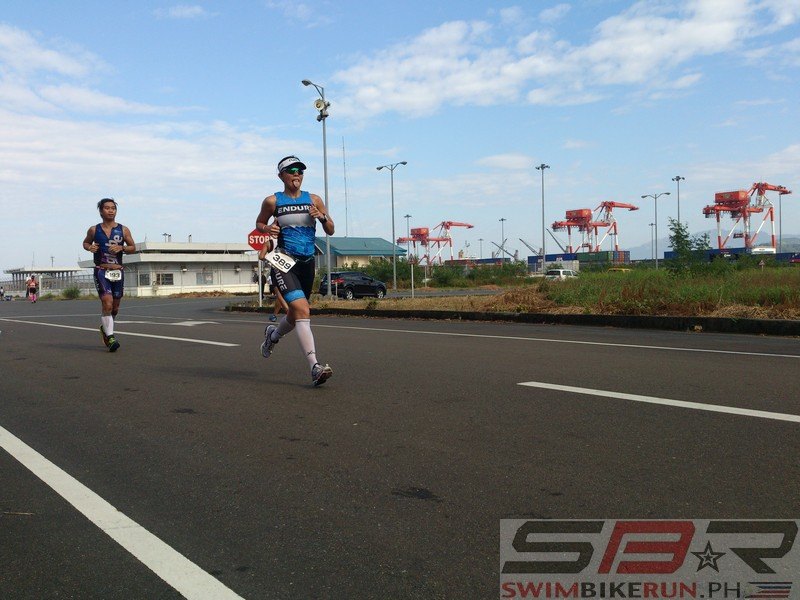 I only need to hang on a little bit longer…
I ran up the ramp, grabbed the finish sash with both hands and lifted it over my head. I thought I'd barely broken 3 hours because the clock said 2:56, but it turns out I hadn't been looking at my total time on the watch. Adjusting for the later start for the women, I'd actually pulled off a 2:47. NEW PR BY 15 MINUTES, BABY!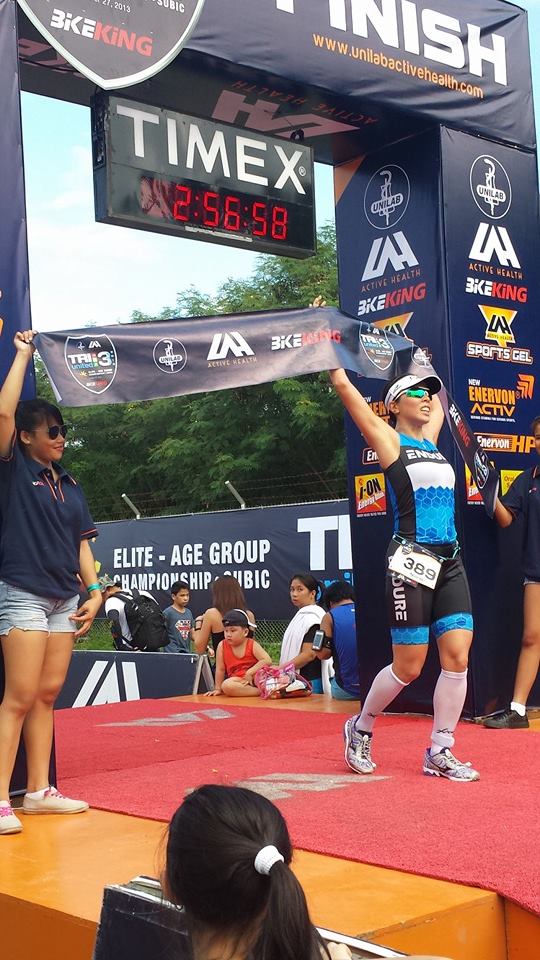 Jubilant at the finish
I never checked my ranking; instead, I took advantage of the post-race meal by Ineng's and halo-halo by Razon's, changed into some dry clothing, and cheered for the rest of my teammates coming in. I did stay for the awarding, though; even if I didn't place, I wanted to hear the finish times of those who made the podium. I just dreaded coming in 4th, which I've done so often this year.

Happy to be here!
So, apparently, to get on the podium in my age group for this race, you needed to get to the finish in 3 hours or less. 2:47 was good enough for second in my age group, next to a monster swimming coach whose swim split was good enough for second female overall out of the water. I just couldn't bridge that kind of gap, although I did see her ahead of me on the run.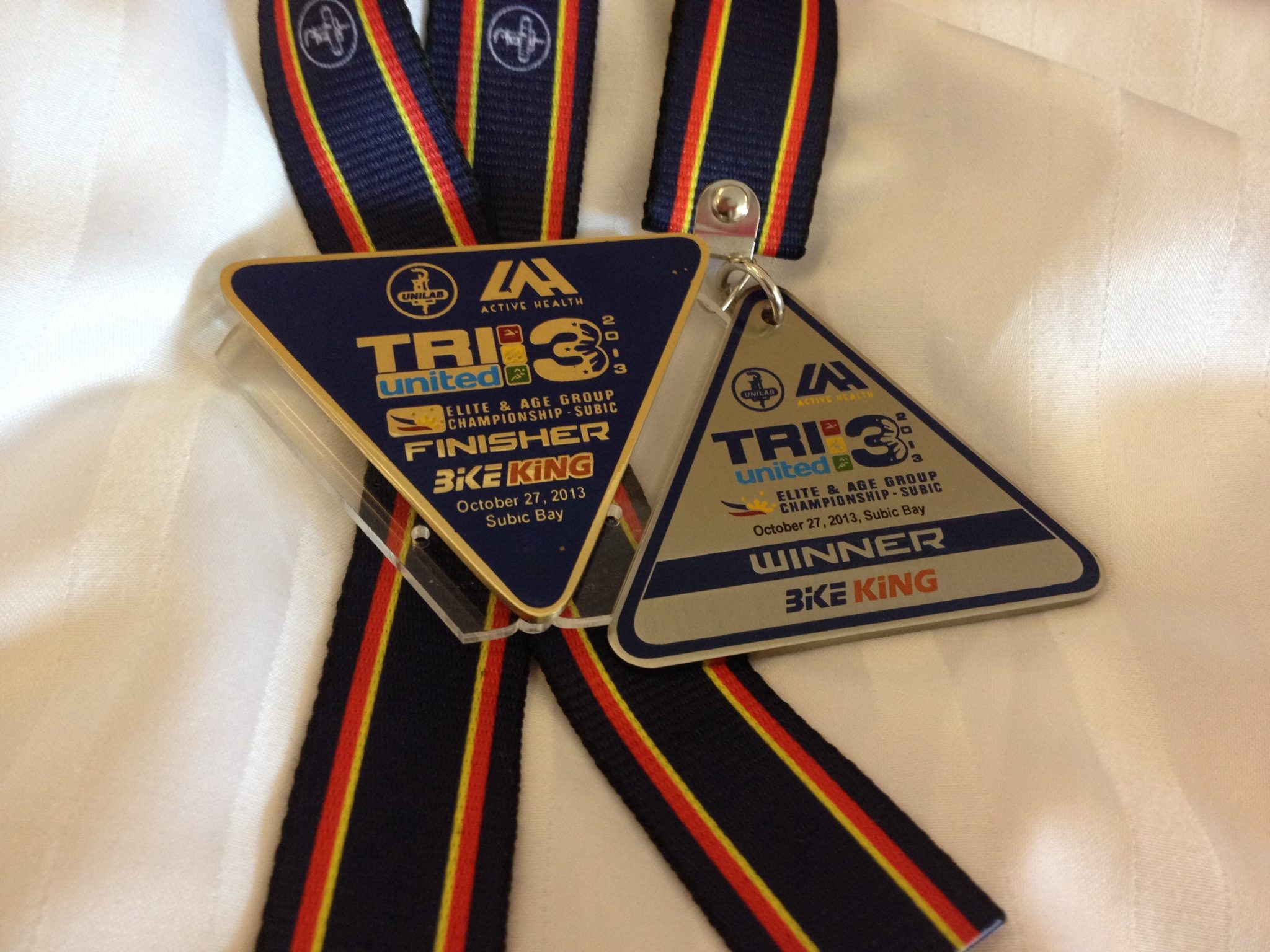 Beautiful medals
I had hit the stratosphere so happy about getting my sub-3 hour time; this just sent me over the moon.
Tri United 3 was a great race to see how far I've come this year. Kudos to Unilab Active Health and Bike King for putting on a stellar event.
Thank you Lord for our safety, health, great weather, and the gift of being able to tri. Thank you Mizuno, Ceepo, Lightwater, and team sponsors Spyder and Vibram Five Fingers. Thank you Team Endure for the support and camaraderie every time we race and train. Thank you Team MaccaX and Chris McCormack for the constant inspiration — Embrace The Suck!
There's also one more I need to be thankful for, and which I think was my secret weapon this weekend:

carbo-loaded with pizza from Xtremely Xpresso!
How was your Tri United 3 experience?