I dropped by Primo Cycles yesterday to get Loki lubed and looked at; I'd been having problems with my cadence sensor ever since Cebu, and since I bought that from Primo I decided to take it there.
What I like about going to Primo is how much the shop personnel make me feel at home when I'm there, and how even if they're in the business of selling bikes and bike equipment, they don't make me feel my Loki (a GTS) is less important than the Cervelos and Pinarellos also being serviced.
Glenn Colendrino, Primo's GM and the Retul master, happened to be at the shop and told me about the Pinarello Grand Fondo, an organized long group ride happening this weekend. It's Primo Cycles's anniversary ride, and everyone's invited!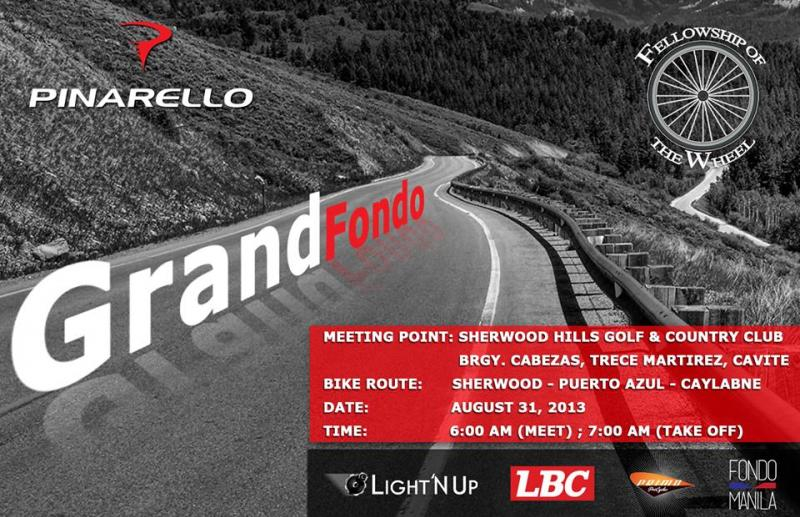 Pinarello Grand Fondo on August 31
A "gran fondo" is an event (most widely done in Italy) in which thousands of cyclists participate in a group ride that has support vehicles, feed zones, and closed roads. The term itself means "long distance" or "great endurance" and the experience is akin to riding a stage in one of the legendary bike races in Europe, like the Giro d'Italia.
Usually a gran fondo is 160 or more kilometers long, but the Grand Fondo happening on Saturday is about 90 kilometers from Sherwood Golf & Country Club to Caylabne. (Primo and Pinarello are planning a much longer and grander ride for next year.) All brands of bikes are allowed, and you don't have to complete the whole distance, as the support vehicles can seat tired riders and their bikes. There will be pace groups of different fitness levels, too, so you can take the course as fast or as leisurely as you want. Just make sure you get back to Sherwood in time for some Jamba Juice and refreshments. Ü
The Pinarello-sponsored Team LBC Cycling will be in attendance. They did the country proud in the past few weeks at the Tour of Borneo. Ronald Oranza topped the intermediate sprint of stage 1. Ronald Lomotos took second place at stage 2. Junrey Navarra ruled the second King of the Mountain lap in stage 1 and started stage 2 wearing the red KOM jersey; he eventually finished the Tour in 14th place. I talked shop with LBC Cycling coach Chris Allison a few times, and it's really interesting how he's developing these guys long-term. We've got some great grassroots talent in cycling, so it would be great if the country could eventually produce a team that could qualify for Le Tour.
Hope to see you this Saturday at the Pinarello Grand Fondo. Loki and I will definitely be there!
Liked this post? Share it!