Yesterday, a great article on Kuya Kim Atienza came out in the Philippine Daily Inquirer: "From Stroke Survivor to Triathlete". I've featured Kuya Kim in this year's anniversary article; amazingly even with his busy schedule, he's able to live a very healthy and active lifestyle.

Running with Kim
As a stroke survivor, Kim takes extra care of his health by eating right, exercising, and monitoring his blood pressure. He endorses Omron blood pressure monitors, which he uses daily to take his blood pressure at home.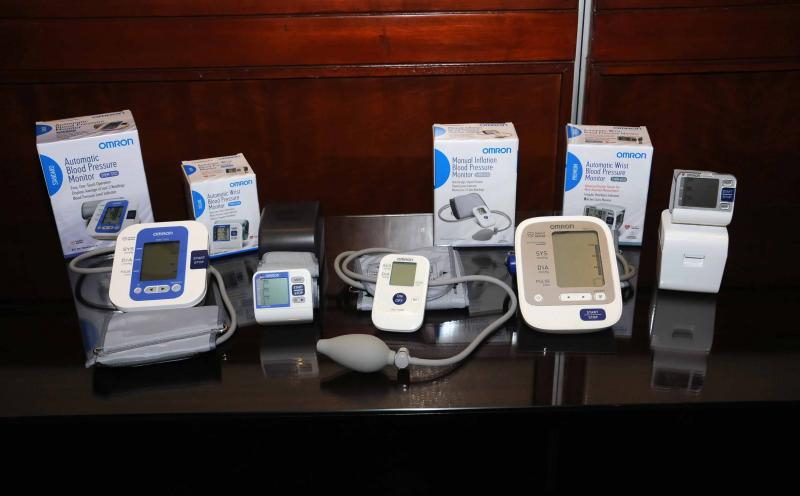 the range of Omron Blood Pressure Monitors
Omron recently sent me their automatic blood pressure monitor (the leftmost gadget in the photo above) to try out. Now, while I know I'm in the pink of health, my dad suffers from hypertension and has to take medication to control it. My mom's blood pressure occasionally spikes when she's under stress.
Both my parents are doctors and they taught me how to take blood pressure readings using a sphygmomanometer (fancy word for blood pressure meter). But sometimes, they're home alone and there's no one around to take their blood pressure reading for them. I can tell you it's very difficult to take your own blood pressure reading because one arm must be at rest and wrapped with the cuff; the other hand is actively pumping air into the cuff or releasing air out slowly while you listen to your heart beat using a stethoscope so you can get your systolic and diastolic numbers. (Is your nose bleeding yet?)
With the Omron automatic BP monitor, you put your upper arm in the cuff and press a button. The machine does the rest: it inflates and deflates the cuff and gives you a digital readout after a few seconds. There's even a guide to how to put the cuff on for an accurate reading, which makes this BP monitor perfect for home use.
I've taken to tracking my own blood pressure and heart rate readings on the Omron BP monitor, too. While my readings fall within normal range, I know that if my blood pressure and heart rate are slightly elevated, I might need more time to recover before another hard workout so I don't put my own ticker under too much stress. The Omron BP monitor is a very useful tool for my household and our active lifestyle.
Liked this post? Share it!