Before the Race
The lead-in to Cobra Ironman 70.3 Philippines race week was super busy, with so many things that needed to be done. I needed to get my planned nutrition sorted and my bike packed, so it was great to get all those done at The Brick. By Thursday evening I only needed to fret about getting enough sleep before my flight early Friday morning. 🙂
I was flying by myself; although I knew I'd bump into a lot of athletes I knew, this was a chance for some time alone to feel what I needed to feel — excited, nervous (but not so much!), happy! I put my yurbuds in and switched on some tunes while waiting for my flight to take off. "Titanium" by David Guetta featuring Sia was playing in my ears as I took off. Shoot me down but I won't fall, I am titanium… "What a perfect song to start off this weekend," I thought to myself.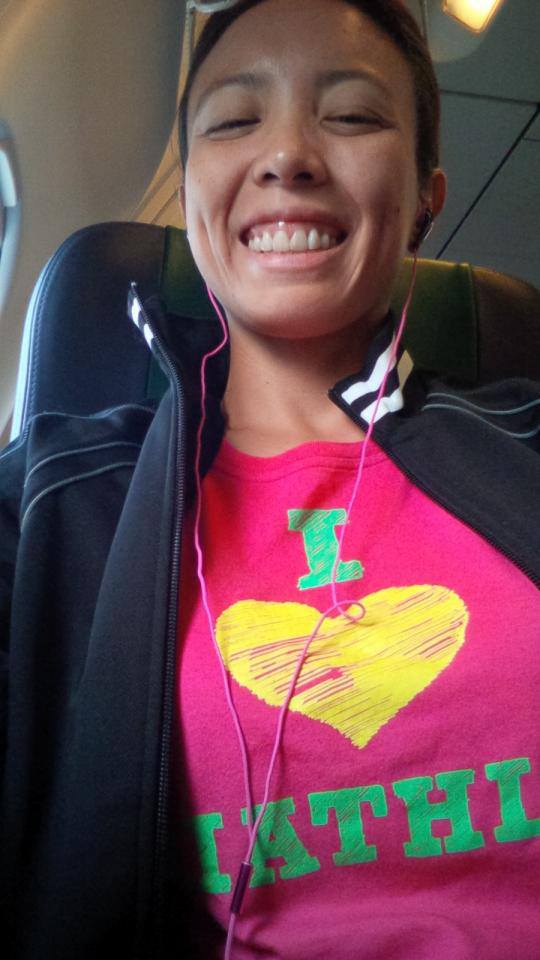 wearing my Island Souvenirs "I <3 Triathlon" shirt from last year
I dropped off my bike for reassembly at Movenpick, where The Brick had an outpost, then went to Shangri-La for athlete registration and media registration. There was a 2pm organized bike out, which I and my Endure teammates joined. It was pretty much just a recon of the Marcelo Fernan Bridge so we'd know what to expect. The urban traffic from multicabs, buses, and other vehicles was a challenge to navigate, so I stayed on the tail of more experienced cyclists.
I got back in time for an hour's rest before the Meet the Pros press conference. This was a stacked pro field; we had defending champion Pete Jacobs who is also reigning Ironman World Champion as well as two-time Ironman World Champion Chris "Macca" McCormack, but ITU athlete and Olympian Courtney Atkinson was also present, using this race as a jump-off into a long-distance triathlon career. On the women's side, defending champion and Ironman World Championships runner-up Caroline Steffen was back, but so were her other podium-mates from last year Bree Wee and Belinda Granger. Also, our own Monica Torres was in the pro field!
To welcome us all to the press con, we had an unexpected treat: a performance by Jemma Rix, who plays Elphaba in the Australian production of the musical "Wicked". Her husband Josh Rix was part of the pro field. Guess what song she sang?

Of course, no press conference with Macca in attendance would be complete without some interesting quotes. While he had previously denied doing this race to go head-to-head with Pete, at the press con he laughingly said, "My A race this year is this one. I'm taking you out, buddy!"

It wasn't just the competing pros that spectators could look forward to. Apl de Ap of the Black Eyed Peas (and lately of The Voice Philippines) was participating as the cyclist in a relay team aiming to raise awareness and funds for his foundation, which supports access to education and peace efforts in Mindanao. Before the presscon ended, he performed three songs. Awesome!
I dropped by the yurbuds booth at the race expo to check out the new Pete Jacobs limited edition earphones and bumped into Maiqui Dayrit of Cascos, Inc. (exclusive Philippine distributors of yurbuds and Salice). He told me that they will soon launch an online store selling music with a 180 beat-per-minute tempo, designed to help athletes train at the ideal cadence whether cycling or running. After he showed me what the Pete Jacobs earphones could do, he awarded me my very own pair! I love them <3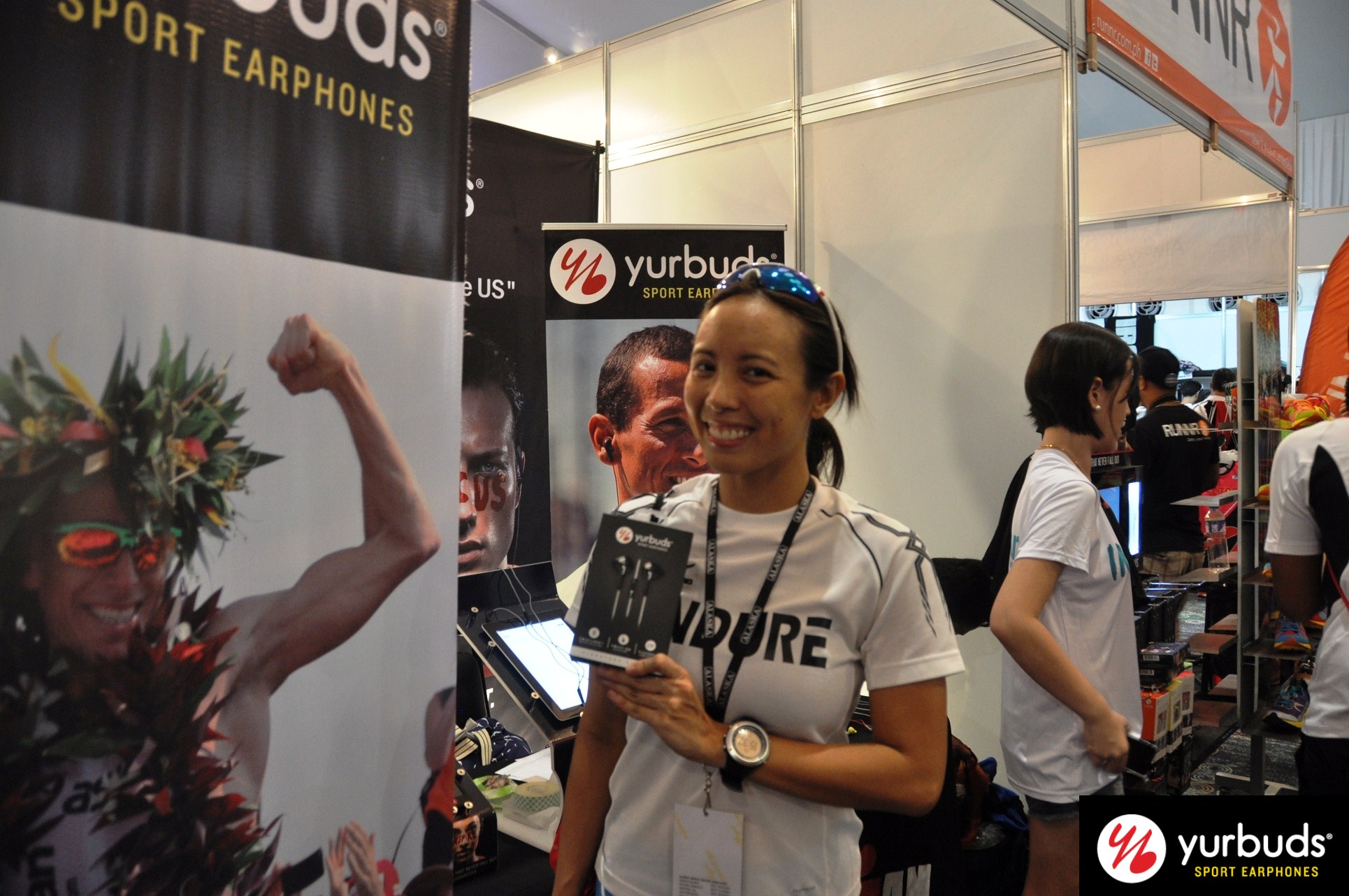 Pete and Macca are yurbuds athletes too!
The carbo-loading dinner for athletes was held on Shangri-La's golf course. Buffet tables were laid out with lots of food, which we then had to consume picnic-style on the grass.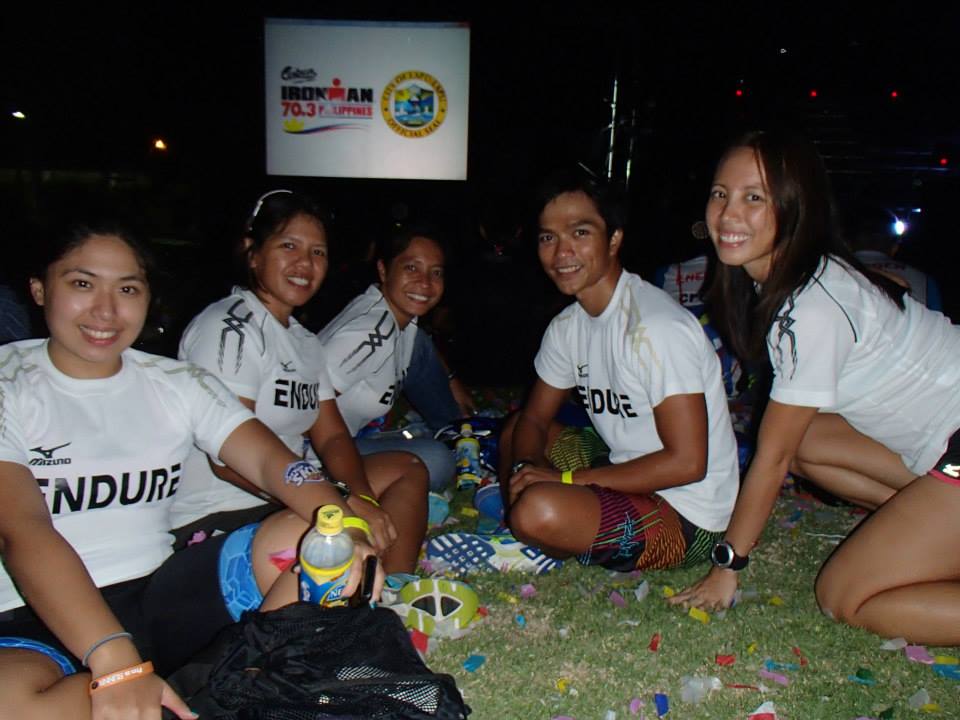 Hanna, Carina, Joy, Raff, and me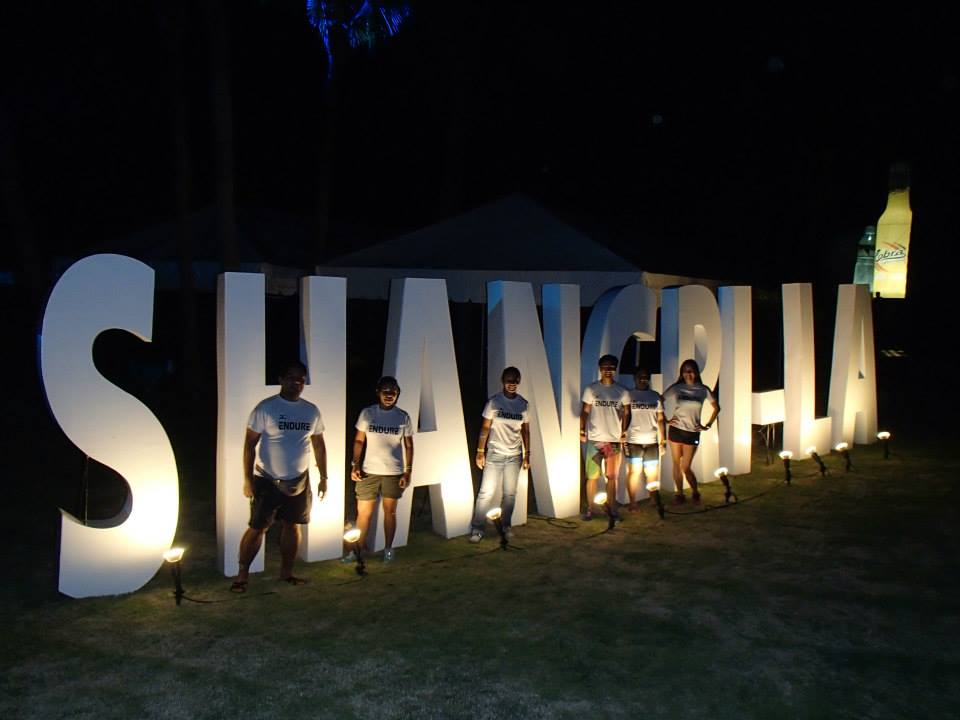 obviously, we are in Shangri-La
We were treated to a glitzy dance number and fireworks courtesy of the host city Lapu-Lapu. It was then that the realization hit me that I really was here and that I would be racing by myself in two days' time. And I wasn't nervous at all; I had this otherworldly peace that no matter what, I was going to pull through to the finish.
I had promised to volunteer for Ironkids, so before 6am on Saturday I rode my bike to Shang. I planned to do a swim recon after the kids' race, then check my bike into transition early so I wouldn't have to worry about a long line at check-in later that afternoon (which is what had happened last year).
http://instagr.am/p/ctZoXSF-Ns/
photo by Jared Byrne (Running Suplado)
Coach Ani de Leon-Brown, the race director of Ironkids, stationed me at the swim exit. Before I headed out there, I saw Macca and family on the beach. His two girls Tahlia and Sienna were participating, so I said hello and wished them well. A few minutes later when I was at my post, Macca came up and asked if I had a spare helmet Sienna could borrow because she'd broken the strap on hers. "Give me five minutes," I said, and dashed off to where I'd parked my bike and grabbed my Spyder helmet. I came back and put it on Sienna's head. Can I just say that helmet was so easy to adjust? Just a few pulls on the straps, and it fit her perfectly. As I snapped the clasp under her chin, I quipped, "Who knew I had such a small head!"
It was just too bad they weren't able to race. The older kids' race was started and finished, but just before the younger age groups were allowed to enter the water, a squall rolled in! The rain and wind were strong, and it lasted so long and made the roads unsafe; in the end Coach Ani had no choice but to call off the rest of the race.

photo of the squall, and Kuya Kim Atienza giving the weather report at race briefing
The weather cleared up enough by 10:30am so I met up with my teammates and did a swim recon. The water wasn't flat, but after having swum in Pico de Loro's waves I knew to stay calm and find the rhythm. I really, really enjoyed that swim, especially since the water was so clear I could see the coral and fish!
Joel had arrived by then to take on photographer duties. I told him to wait for me while I checked my bike in, and then we'd head off to lunch with the team.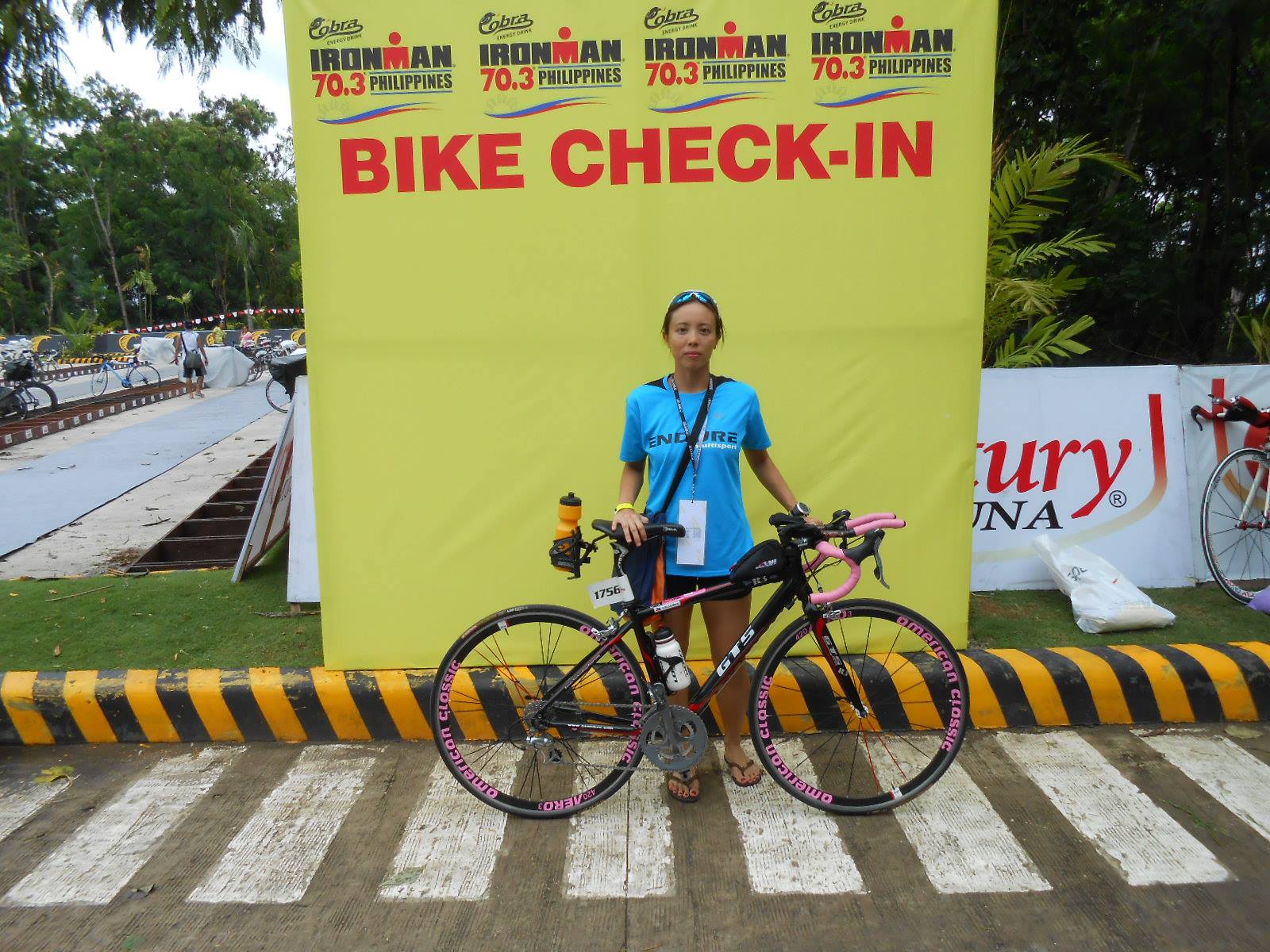 bye Loki! I'll see you tomorrow!

Check out the personalized transition area with my name on it!
When I came out of transition, Joel was nowhere to be found!
Just then, Macca texted to meet up so they could return my helmet. When I finally got in touch with Joel, he was at lunch with the team. Apparently, they found him waiting outside transition and he'd forgotten (forgotten!) that he was waiting for me. I told him pointedly over the phone, "Bro, sayang, I'm meeting up with Macca and you could have been here with me!" Joel is the biggest Macca fan I know; his copy of I'm Here to Win is dog-eared and well-worn. So it was really frustrating to have him miss this opportunity (and besides, I was hungry, huhu).
So I dropped by the presidential suite where Macca and his family were staying; they invited me in and I ended up getting my ear talked off by Tahlia and Sienna.
They asked their dad, "Who's going to win tomorrow? Will it be uncle Pete?" And he replied without hesitation, "I think Courtney's going to steal this out from under Pete."
Then Tahlia turned to me and said, "I think you're going to come in first among the girls." I love how unjaded kids are, and how anything seems to be possible for them! It was a nice dose of positivity.
Another thing I got a dose of was Biestmilch, one of the nutritional products Macca swears by. Sienna offered me a chewable tablet, which contains the immune-boosting colostrum powder, and Macca dropped a few other packets into my lap as well. The Biest Booster he said to take 50 minutes before race start to get my stomach settled so it could handle gels better.
http://instagr.am/p/cjFB5yveBV/
Biestmilch. Someone should import this, please!
I finally was able to grab some lunch with friends from Team Boring at around 2pm, then attended the afternoon's race briefing. The weather turned dark and rainy at that point, and it was only then the thought crossed my mind. I had prepared hard for this race… but would conditions allow us to race at all?
Liked this post? Share it!