Hi runners! Thank you so much for taking the time to read my blog. I'm so excited to announce that once again, Kikay Runner is a Best Sports Blog finalist at the Tatt Awards!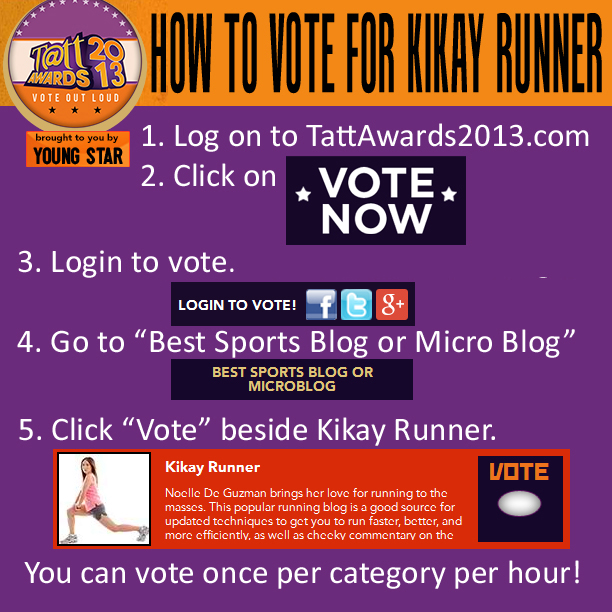 How to Vote for Kikay Runner for Best Sports Blog at Tatt Awards 2013
Also in the running are last year's fellow nominee Chappy Callanta, last year's winner Takbo.ph, Pinoy Fitness, and Fire Quinito.
Here are some photos from last night's presentation of finalists!

Kikay Runner at the Tatt Awards 2013 photo wall

with fellow nominees Jinoe, Jeff, and Chappy. I'm the only girl!
Also, check out the finalists from the other categories, including my Nuffnang friends The Googly Gooeys for Instagram Phenom of the Year, Camille Co and Laureen Uy for Best Style Blog, and Jenni Epperson for Blogger Phenom of the Year.
You can vote once every hour per category. Public votes comprise 10% of the total score used to determine the winner. If you feel that Kikay Runner has helped you in your active lifestyle, please do take the time to vote for me at the Tatt Awards. Voting is until June 20 extended to June 30. VOTE NOW! Thanks!