I'm back from Subic with a deep tan and stories to tell!
The difference between triathlon and running is in the training. With running, you can just roll out of bed early in the morning, lace up your shoes, and step out of your house for a long run. Because triathlon has three disciplines (four, if you include the discipline of putting it all together on race day), managing training for all of them is just that more complicated.
In the last three years that I've been doing triathlon, I've always found weekend triathlon training camps super helpful whether it's a professionally organized camp like The Next Step Triathlon camp series I attended last year, or Team ENDURE's pre-race camps I've been attending since my first SuBIT sprint distance. I had to miss out on the ENDURE camp due to work, so I was super thankful when my Thursday morning run buddies (which I've taken to calling "The Breakfast Club") let me join their training camp this past weekend. It was meant to prepare us for the upcoming 5150 Triathlon, and was a stepping stone in fitness for Ironman 70.3 Cebu.

a cheeky selfie while at a pitstop
Coach Miguel "Ige" Lopez set the training agenda for our two days in Subic. He's known to push his athletes, so I knew I was in for quite a laspagan trip. Thankfully it wasn't an all-boys trip; I got to hang with two other women — Belle, who's attempting her first standard distance at 5150, and Raeanna, who's a multiple Ironman finisher.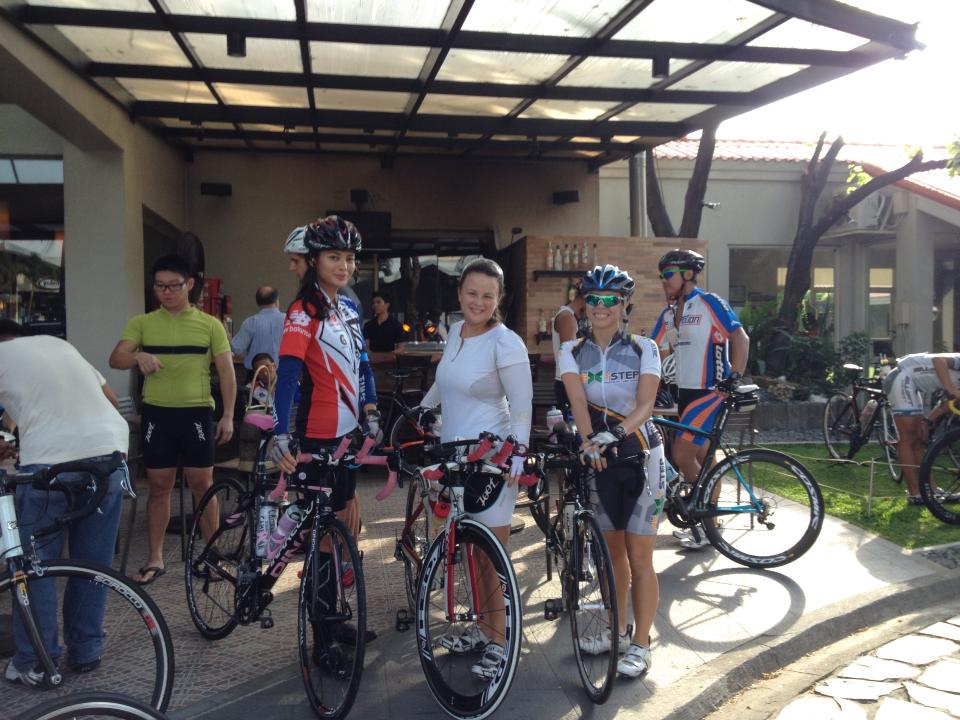 Girls ride! (photo from Raeanna Cranbourne)
For the first day we were meant to ride out for at least 100 kilometers, beginning with a pack ride to trace the 5150 bike route. What I didn't realize is that there is no such thing as "neutral zone" for the boys. I managed to stick with them for the better part of 20 kilometers, and then it was just me and the hills of Subic's infamous Corregidor Road. It wasn't as bad as the last time, at SuBIT; I think I can credit that both to the great Retul bike fit I got from Glenn of Primo Cycles, and my improved bike fitness. (And also, I've lost some weight, which is super beneficial for cycling!)
During the ride I tested 1st Endurance's Electrolyte Fuel System (EFS). I've been a loyal Gu user for years, but plenty of triathletes I know have recommended EFS, and now I think I know why they love it. There's no real "rush" or "lift" when I took swigs every hour (one bottle has four servings), but my energy didn't flag, either.

Thanks to Atty. Joey Torres who generously gave me a bottle to try out!
Before the ride, I contemplated not bringing my hand pump and spare inner tube, but ultimately decided to bring them just in case. Good thing too, because as I came down off the hills I caught up with one of the guys, Sid, who had a flat tire. After pumping some air back into the tire with my hand pump, we made it to our group's rendezvous point where I changed his tire's inner tube with mine. Thank you, Lord, for the foresight. Oh, and that was the first time I applied the tire-changing skills I learned from Dave at Bikezilla two years ago. Ü
It was then that another cycling group came speeding along and reported that one of our group, Kevin, had been hit by a truck. Whoa! Off went some of the guys along with our support vehicle to tend to him. I finished changing Sid's tire, waited for everyone else to come back down the hills to the rendezvous point, and regrouped where the accident happened. By then, an ambulance had already come along and taken Kevin to the hospital. It turns out that the truck driver didn't even have a license! Thankfully, Kevin didn't break any bones, although his participation at 5150 in two weeks' time now hangs in the balance. Grrr!
A few of the guys tended to Kevin's needs and chose not to complete the long ride, while the rest of us returned to the road. I did 87 kilometers' worth including the ascent up Tarlac Road, one of the unique highlights of the 5150 bike course. Whatever happens on race day, I will definitely not walk my bike up that road!
We had a good lunch, after which everyone took a nap. Well, except for me because I went to the launch of Transit Gym at Harbor Point Mall. Because so many triathlon and cycling events happen in Subic, the mall management decided to partner up with Chris Sports, FTX Gym, and Team Bike Stop to create a space where cyclists could safely park their bikes, maybe do a little cross-training, and enjoy the mall.
http://instagr.am/p/aShQ-aPeOQ/
Transit Gym is located on the ground floor promenade at Harbor Point

using the Rip:60 suspension training cords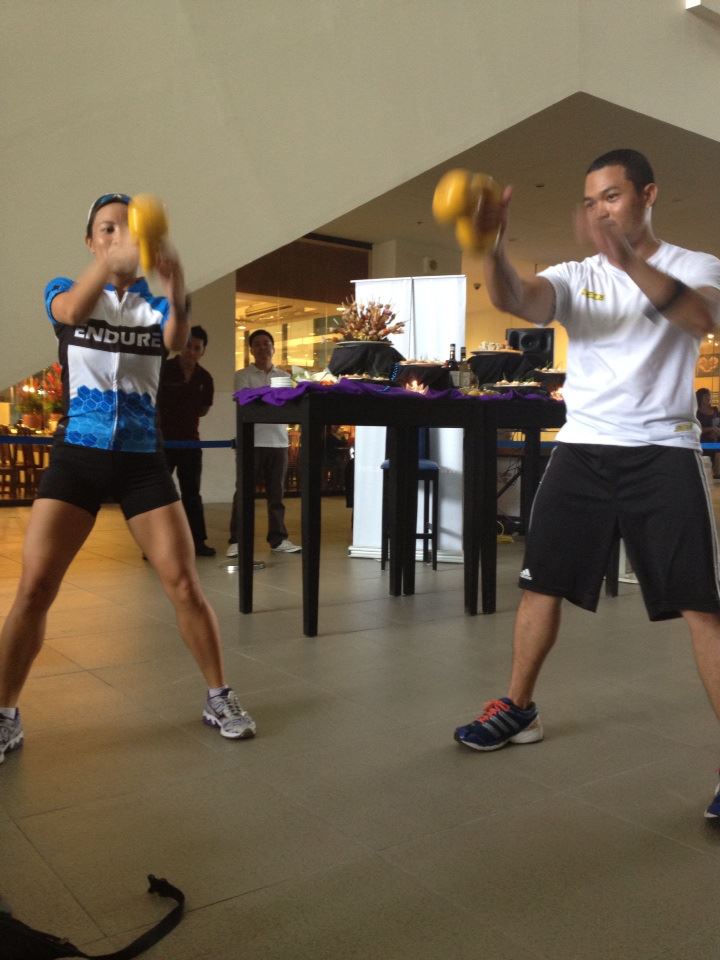 doing some kettlebell swings (photo from Kassy Pajarillo)
I would have worked out more, but I still had an afternoon track session at Remy Field with the gang. The plan was 15 x 800 meters, with 200 meters easy between intervals. If you add it all up, that means we'd be doing 15 kilometers round and round on the track!
The girls and I settled on doing just 10 intervals, which would be plenty enough. I put in my Yurbuds and turned up the music to drown out my brain screaming at me to stop.

Tired!
After dinner, it was an early lights out for everyone. I don't think I could have kept my eyes open even if I wanted to.
I was up bright-eyed and bushy-tailed the next morning, eager for the planned workout. We'd scrapped plans for an ocean swim after hearing about how the kid of a common triathlete friend had been stung by a box jellyfish. Instead, we'd ride from the hotel up to All-Hands Beach, do the 5150 course, ride back down to the hotel and transition into a 10-kilometer run. This time, I was determined to complete the assigned workout.
After debating with myself on whether to wear my tri top or my cycling jersey, I went with the jersey for the additional storage its pockets would give me. Good thing too, because my rear bottle cage broke halfway through the bike ride so I needed to store my drinks in the jersey pockets.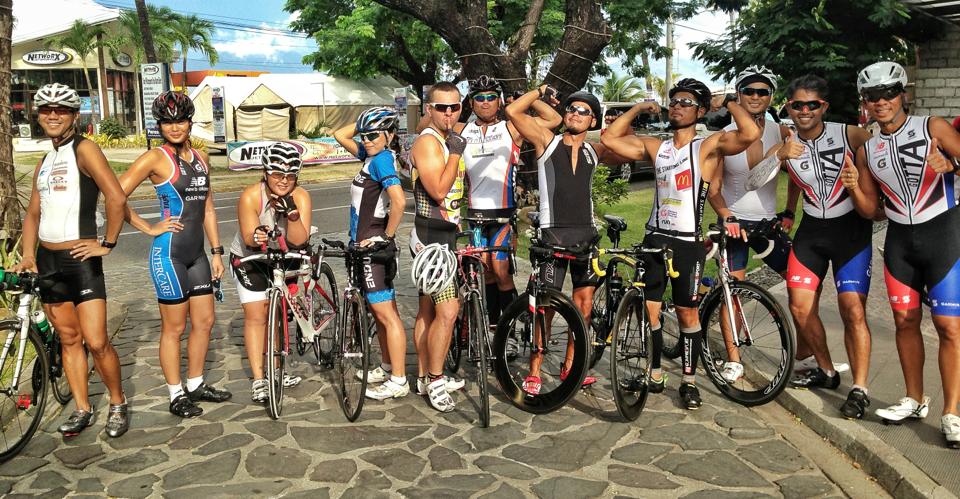 fun bunch before a "fun" session (photo from Sid Maderazo)
Again, kind of got left by the boys, but I managed to stay with Gilbert who's only just restarted his training. I was thankful for the company, and we paced each other: I led on the climbs, and he led on the descents.
By the time we got back to the hotel, the other guys had a ten-minute head start on their run. I parked my bike, changed into my running shoes, and zipped off my cycling jersey. By then, it was already almost 10:00 and the heat directly from the sun and bouncing off the asphalt was scorching.
I wanted to give up halfway through the 10K (four loops around the boardwalk area), so I gave myself some cooling-off time after every loop to grab water and ice from the hotel cafe and drink and douse myself with it. Workout (finally) completed.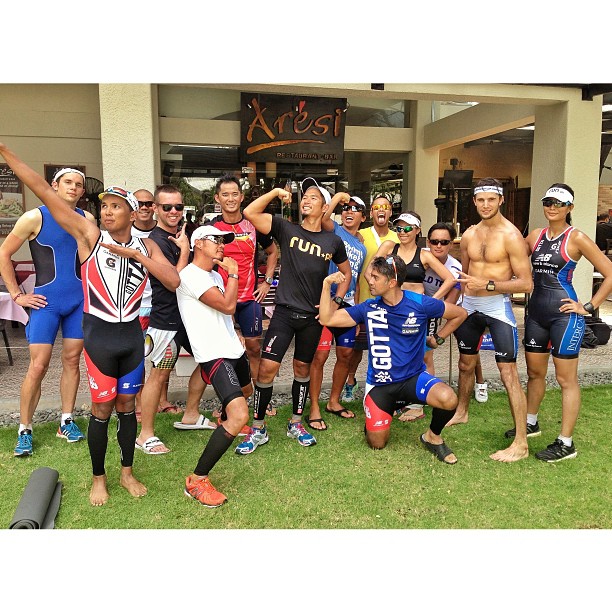 cheers to a successful training weekend (photo from Sid Maderazo)
Triathlon training weekends like this one aren't meant just to increase physical fitness. They're also meant to improve mental fitness, to give you confidence that you can make it through your target race. And it looks like everyone's ready for 5150!
For Cebu? Ask me in another six weeks' time.
Liked this post? Share it!