When I first signed up for the SWIMBIKERUN.ph Tri Series (an aquathlon, a duathlon, and a triathlon) I didn't have any race experience under my belt for the season yet. The Aquaman aquathlon helped me realize what I needed to fix (i.e. my swim) before my first major triathlon at SuBIT. I missed the Duaman duathlon, but was determined to finish the Triman triathlon strong and build confidence for my next triathlon, the Century Tuna 5150. It was also supposed to be a "dress rehearsal" in building a pre-race routine leading up to Ironman 70.3 Philippines in August.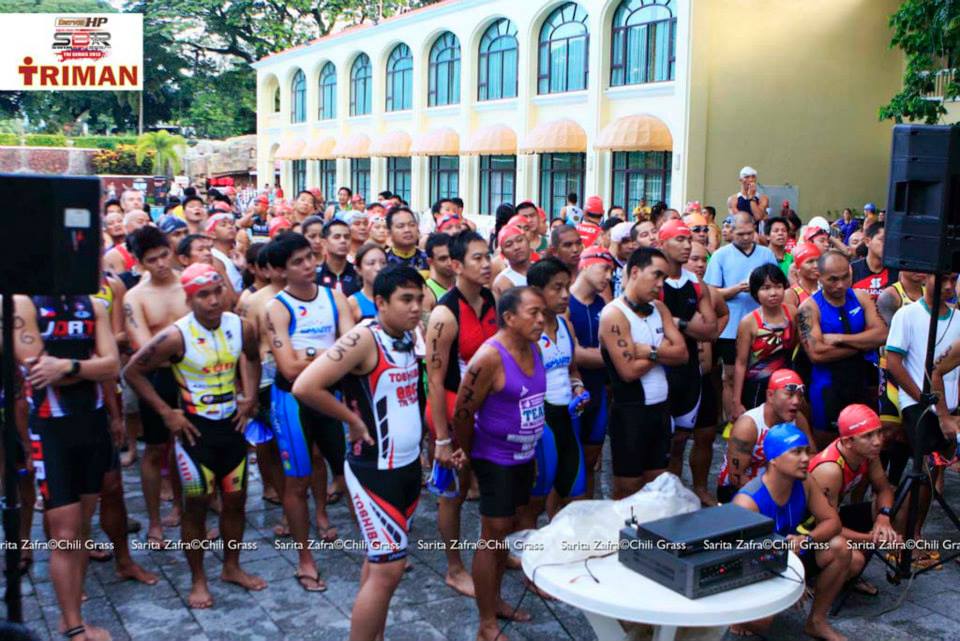 Triman race briefing. Can you spot the Kikay Runner?
Triman involved a 1-kilometer swim in the 50-meter pool at Fontana, Clark, an announced 25-kilometer bike route, and a 5-kilometer run. I arrived at the race venue after a leisurely 2-hour drive from Manila and started setting up my bike and run transition. The day before, I had already made a checklist of things to bring, so I was sure I had everything I needed.

Check! Check! Check!
I felt calm and steady, not overly excited like I normally am at a race. I had pre-race jitters a few days previously, but on the day itself I was on an even keel. It probably helped that on the drive over I'd been listening to some of my favorite tunes (Avicii's "Levels" was on repeat) and was in a positive state of mind.
After the race briefing, I settled back to watch the men race. There was going to be a two-hour wait (ugh!) before the women's gunstart, so I spent my time munching on some Starbucks cookies my parents had given me, chatting with other participants, and laughing at the hijinks happening in the pool like the Sardine Soldiers of Wave 1 who walked most of their first and second laps.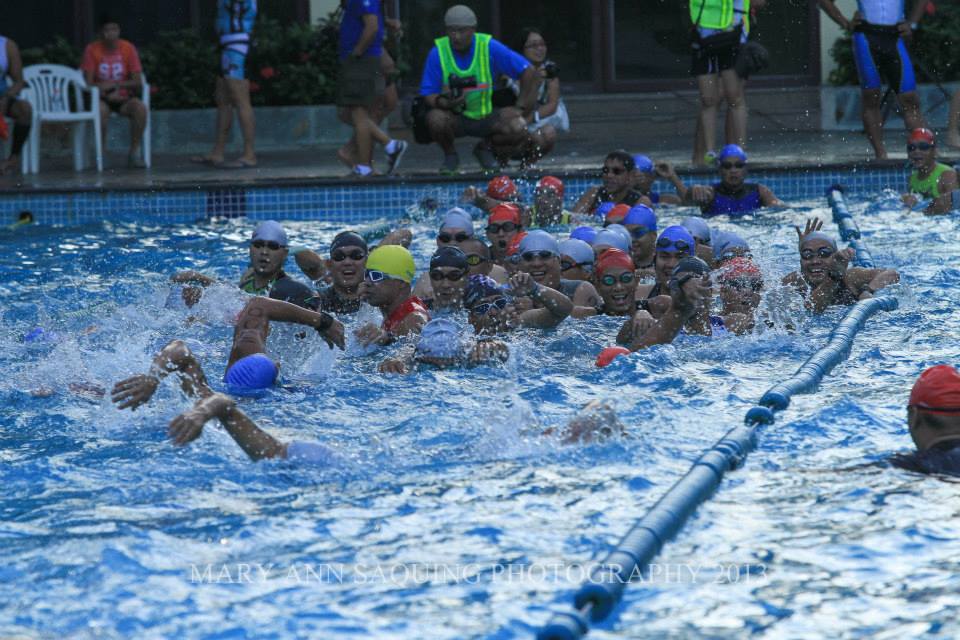 "Pwedeng lumangoy, guys." — race director Carlos de Guzman of SBR.ph
Around thirty minutes before my gunstart, I slipped away quietly and did a short warm-up by myself in one of the other pools at the resort. I found my balance in the water and reminded myself to breathe out underwater to avoid panicking. I then took my first Gu gel of the race and walked back to the swim start. In doing this, I was getting some alone time to focus on what I needed to do.
I positioned myself away from the buoy line with a clear path ahead of me so I wouldn't get stuck behind other people. If there were faster swimmers behind me, I would have been more than happy to be swum over. And then we were let loose.
That first 50 meters was a rush! I was swimming easily, but got carried forward by the wake of the other swimmers that in no time I nearly bumped my head against the wall tiles. The second 50 meters was the same thing, and I knew I had to back off so I wouldn't get gassed out. We were supposed to do three rounds of 300 meters, plus a last lap of 100 meters to complete the swim course.
I found a nice smooth pace I knew I could sustain until the end, and though I wasn't actively drafting off anybody this time around (unlike in Aquaman), I felt really good in the water. I put on a burst of speed in my last 25 meters to make sure I got out of the water earlier than the people around me I'd been swimming with. Then it was off to ride my bike hard!
The bike course was three loops of a "relatively flat" course. I've already biked around Clark once, and I knew there was no true flat here. Instead, half the course was on a slight downhill which you could pedal down and gain lots of speed. The other half of the course was a "false flat" which meant it was a slight uphill which would take a toll on your legs.
But you know what? I really enjoyed myself out there. Maybe part of the reason was, I'd put my front wheel on wrong so my bike computer's sensor wasn't registering speed or distance. I had to rely on how I felt (my heart and my legs) instead of looking at my speed or the distance I had gone. The one thing that kept me on pace was that I would always try to overtake any woman I saw ahead of me.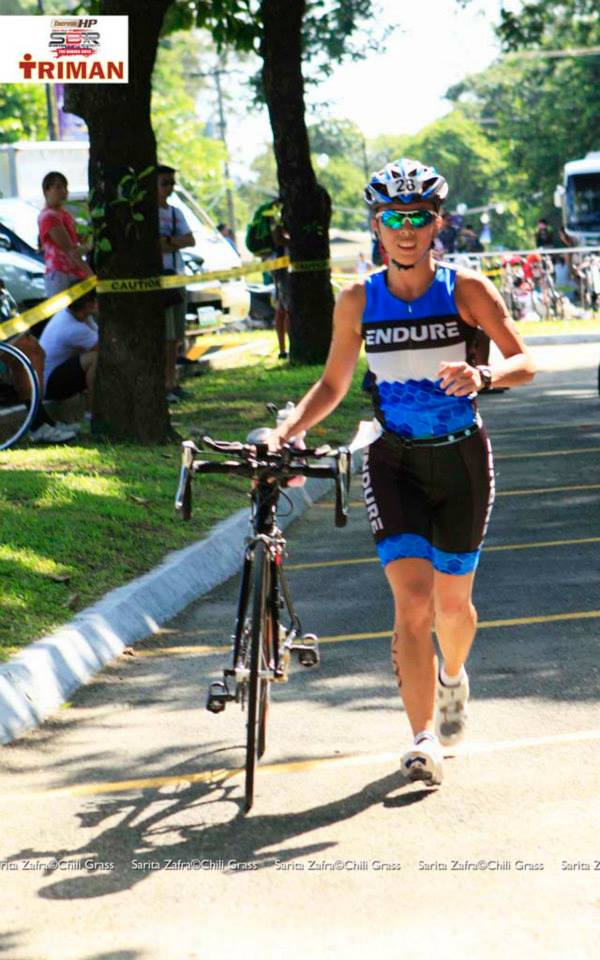 Yay! Time to run!
I had a gel halfway through the bike, but didn't realize that the course had been long (instead of 25, it was supposedly more than 30 kilometers long). But when I got onto the run leg, I felt really energized. Of course, this was when the heat of our late start began to take its toll.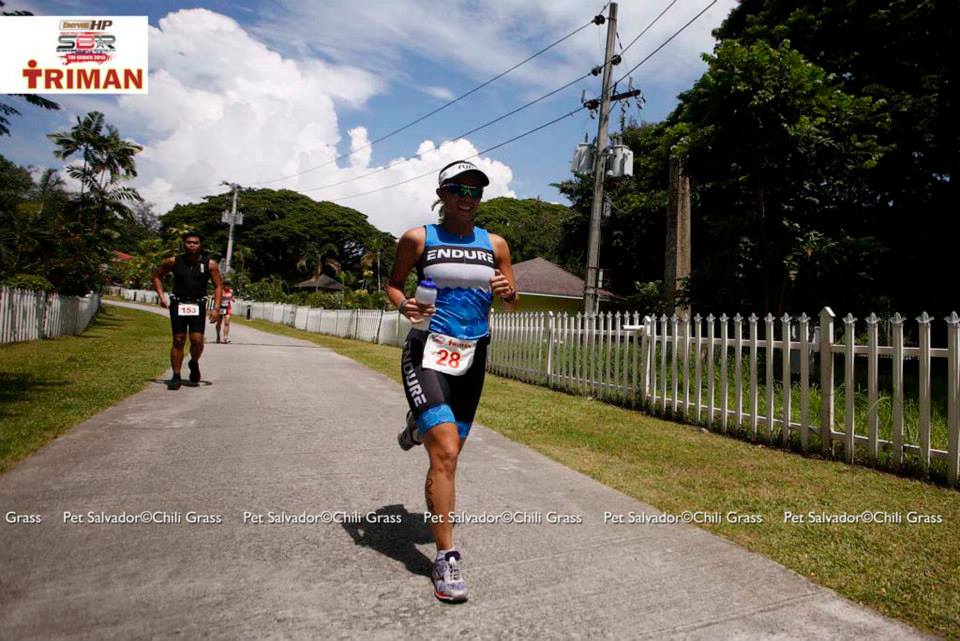 running fast to get it over with
I dug down and got to business. Three loops and I'd be done. I felt like I was flying!
As I crossed the finish line, Carlos was waiting there to hang the finisher medals. He made a sound imitating an airplane powering down, then told me I'd come in third woman overall. Oh. My. God.

That's a big plaque.
This is my best finish so far at a sprint distance triathlon. The official results aren't in yet so I can't break down my swim, bike, and run splits to see what exactly I did right, but I know something clicked. That really boosts confidence for my upcoming triathlons.
Congratulations to all finishers of the Triman triathlon, and a big round of applause for the SWIMBIKERUN.ph team for a great tri series. They had a 100% finisher rate!
Thank you, Lord, for the opportunity to do all this. 🙂 Thank you as well to Team Endure for all the encouragement, Coach Nonoy Basa for fixing my swim (well, getting there), and the Breakfast Club for being my bike and run buddies. As always, thanks to Mizuno and Lightwater!
UPDATE: Triman results are in! I had really good splits: SWIM 0:22:29, BIKE 1:10:25, RUN 0:24:39 for a total time of 1:57:33. I also have the distinction of being the oldest top female overall finisher. Haha Ü

not bad for a tandercats!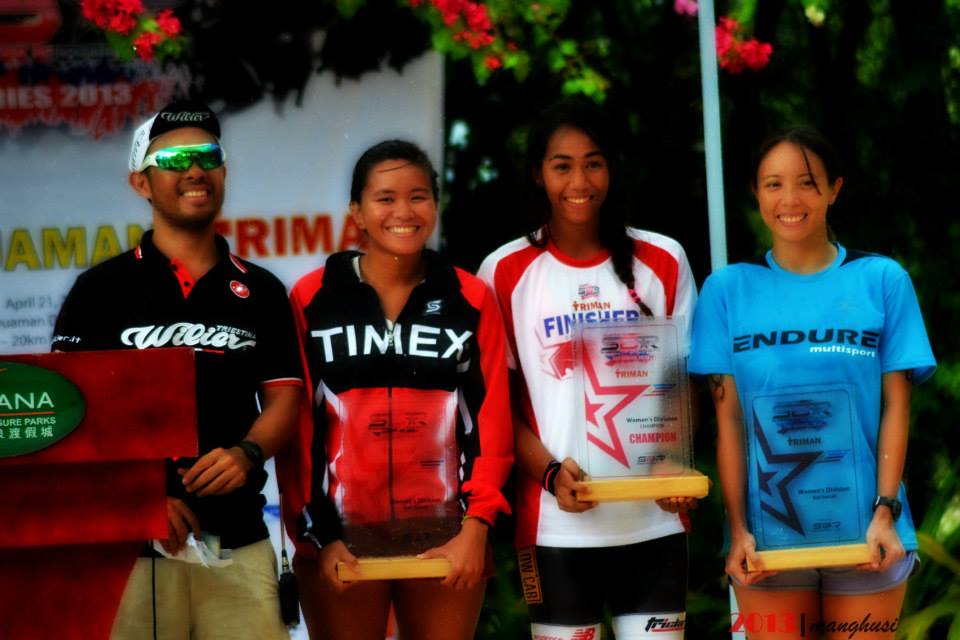 "Oh, sometimes I get a good feeling…"