My favorite race distance is the 10K, but I've never run a race that offered only that distance — until yesterday morning's Rip The Road 3. I came away with the impression that if you want to take your 10K to the next level, there's no better race to train for than Rip The Road.
Rip The Road (photo from Manghusi Photoshop)
Many thanks to Raymond Racaza of Run.PH for my complimentary race kit. Rip The Road 3 was the first time Run.PH's proprietary online registration system was used, and the race served as a sort of launch for the website, too.
Let me tell you why the 10K is my favorite distance. It's not too short, so it's a challenge for endurance. But it's not too long either, so for people like me who like going fast we can do so without worrying about whether we'll run out of gas before the finish line. A reasonably trained runner can accomplish a 10K in about an hour. I'm back home in time for my family breakfast, and I'm not completely useless and tired for the rest of the day.
I arrived around 4:30am at the venue (Glorietta 3 Park in Makati) just in time to see everyone start congregating. Because only one distance was involved, it felt quite intimate, especially when I started seeing familiar faces from running groups like the Ayala Triads and the Powerpuff Boys, and most of the notable elite Pinoy and Kenyan runners. *gulp* Also present were plenty of triathletes including coaches Ige Lopez and Nonoy Basa. I also bumped into Patrick Concepcion (RunningShield) who gave me a great tip about finding a comfortable restroom in the area. Hahaha!
You know how in other races people jostle to get to the front of the queue at the starting line? At Rip The Road, everyone hung back a little, sizing up each other. This race was gonna be fast and intense, I could already tell.
With very little fanfare, we got sent off on our merry way. The course was simple, too, all straight lines and main streets. My race plan was simply to run faster than I had at my last 10K (at Rebisco Run). Now, the thing is I hadn't brought my Garmin, so I had no idea whether I was getting passed because I was slow, or they were fast. With no markers to tick off the kilometers, I could only guess if we'd gotten past the halfway point already.
Turns out, my body's quite used to running 10K at 5 minutes per kilometer on average. After latching onto someone whose pace was similar to my own, I began making my way back to the finish line with one eye on my watch.
The flyover and the false flats had made my legs achy, and maybe it hadn't been a good idea to stay up so late the previous night (I couldn't sleep! Flashes of the zombies from Outbreak Manila kept playing in my mind's eye 🙁 ). So I pumped my arms faster, picked up my feet just a little more, and leaned forward for some free speed, hoping I could at least finish in under 50 minutes.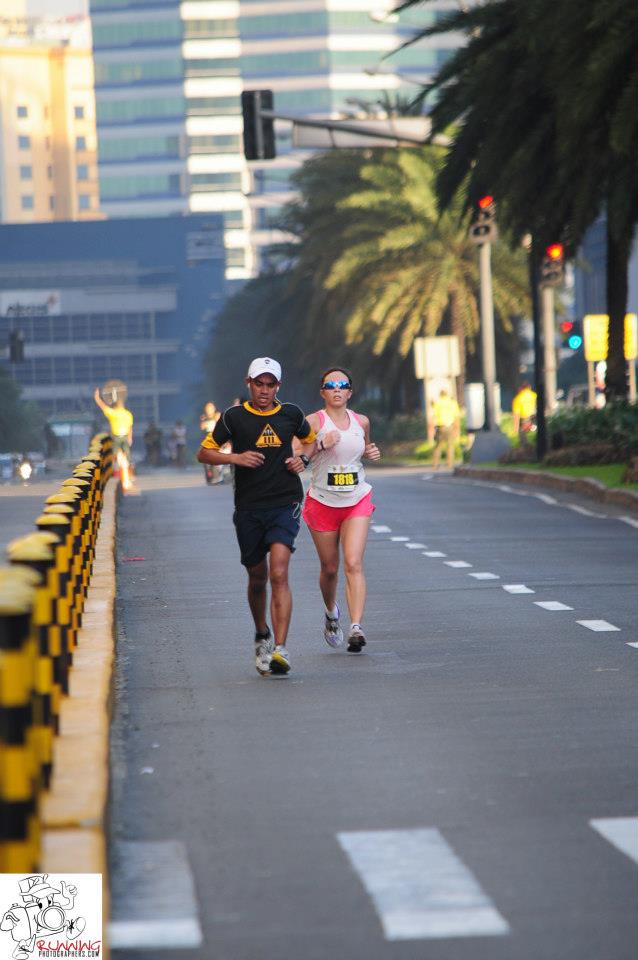 Will I make it? (photo from Running Photographers)
There was a right turn from Ayala Avenue, after which it would only be 100 meters to the finish line. To my surprise, the guy I'd been running with peeled off. He didn't have a race bib, he said, then told me I could still get a sub-50.
I saw the clock ticking down. I broke into a panicked sprint, crossed the timing mats, and nearly bowled myself over. The clock read 49:49. "YES!" I thought. And then, "I can do so much better than that." And finally, "I'm hungry. Where's breakfast?"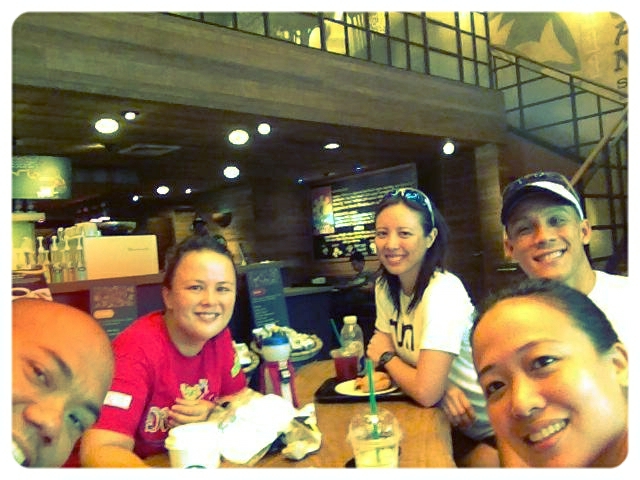 post-race breakfast with running buddies Ige and Maui Lopez, Raeanna Cranbourne, and Nonoy Basa
Race in Review
Route: I haven't raced in Makati since the 2011 Condura Skyway Marathon, so the route was a welcome change. What's great about this is it's the same route for all legs of Rip The Road, so you can see how much you improve over time.
Traffic Management: Although there were plenty of major intersections to cross (this is Makati, of course), both the race marshals and assigned police and traffic enforcers made sure runners had the right of way. At least we could focus on running our fastest without worry about getting hit by a car. :O
Hydration: Only cold water was available at the stations, but that was quite enough for me (after all, this was a 10K, not a half-marathon!). At every station, I drank some and poured some over my head to keep cool due to the morning's high ambient temperature and humidity.
Package: The first 100 online registrants received a Run.PH shirt each, but all finishers received a finisher shirt. Runners were timed electronically with a reusable chip.
There's another leg coming up, and then the championship. Only the 1000 fastest (with at least two RTR legs under their belt) will qualify for free entry. This probably explains why all the elite runners were at this race — they were completing the required number of races.
Because of the excellent logistics and the general friendly-yet-competitive atmosphere of the event, I think I want to qualify for the championship too! I give Rip The Road FIVE KIKAY PINKIE FINGERS out of FIVE.