The country's biggest zombie run is back again this year with Outbreak BGC 2 on April 13, 2013.
I hate zombies. I mean, I'm scared stiff of them (pun intended). I once had this nightmare I was driving a car, and as I passed a bystander at a stoplight, they smashed their head against the windshield and all of a sudden, zombies were all over the car. AAAAAAH!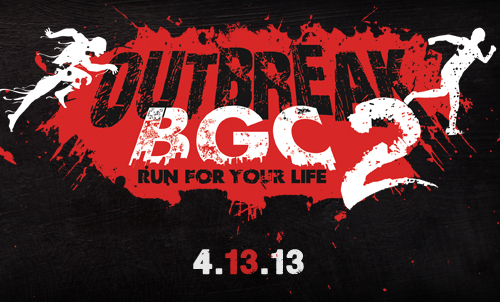 Kikay Runner is a proud media partner of Outbreak BGC.
Given that I have no fighting skills whatsoever, my best defense is to run from them. And like I said in 8 Reasons Why Running is Badass, if the zombie apocalypse ever comes upon us, the slowest person gets eaten first. (Better get some speedwork in.)
Anyway, this is how Outbreak BGC works:
You will have a belt with 3 "health flags".
Your mission is to keep the zombies scattered across the course from getting at your flags. A zombie can take only one flag from you.
NO PHYSICAL CONTACT (punching, kicking, scratching, tackling, spitting, etc.) and NO THROWING OF OBJECTS (rocks, branches, dirt, etc.)
Please do not shoot or stab the zombies.
You will also face several man-made obstacles. Some of these obstacles will present you with options of going the Easy way (less zombies, but longer route), or the Horde way (more zombies, but shorter route).
You must have at least one health flag upon crossing the finish line to be considered "Alive" and to receive a survivor's medal.
If you lose all your health flags, you are still allowed to finish the race and collect your loot bag. You shall be considered "Dead" and will not be eligible for prizes. You will, however, not be considered a zombie and are not allowed to start moaning "brainssss" and pull at other runners' flags.
Your registration fee of P800 entitles you to an Outbreak Manila souvenir shirt, a waterproof race bib, a flag belt, and loot bag. Runners will be released in waves, with Best in Costume prizes for every wave. The top 3 overall men and women finishers will also be awarded.
Registration is ongoing until April 12 or until slots last at the following store locations: Toby's Sports (Shangri-La, Glorietta, SM Mall of Asia, Robinsons Ermita); RUNNR (Bonifacio Global City, Alabang Town Center); Brooks (SM North EDSA). You can download and fill out the registration form for a faster transaction, or if you want your friends to register for you. If you're running with a group, make sure you all select the same wave so you can start at the same time!
Check out the wave starts below:
(If you're interested in being a zombie, check back here on Kikay Runner within the week to find out how you can join the zombie horde!)
So, are you ready to run for your life?
Race: Outbreak BGC 2
Date: April 13, 2013
Venue: Bonifacio Global City
Reg Fee: P800
Registration Sites: Toby's Sports (Shangri-La, Glorietta, SM Mall of Asia, Robinsons Ermita); RUNNR (Bonifacio Global City, Alabang Town Center); Brooks (SM North EDSA); registration form
More Info: Outbreak Manila website
Liked this post? Share it!