As far as triathlon in the Philippines is concerned, the annual ITU Subic Bay International Triathlon (SuBIT) is one of the most-awaited events on the calendar. It's the longest-running triathlon event in the country, celebrating its 20th year. And this year, it's double-billed as the ASTC Asian Triathlon Championships, the location of which rotates yearly among the member countries of the Asian Triathlon Confederation. It will also host the first para triathlon in Asia. This triathlon is one of my must-do races this year.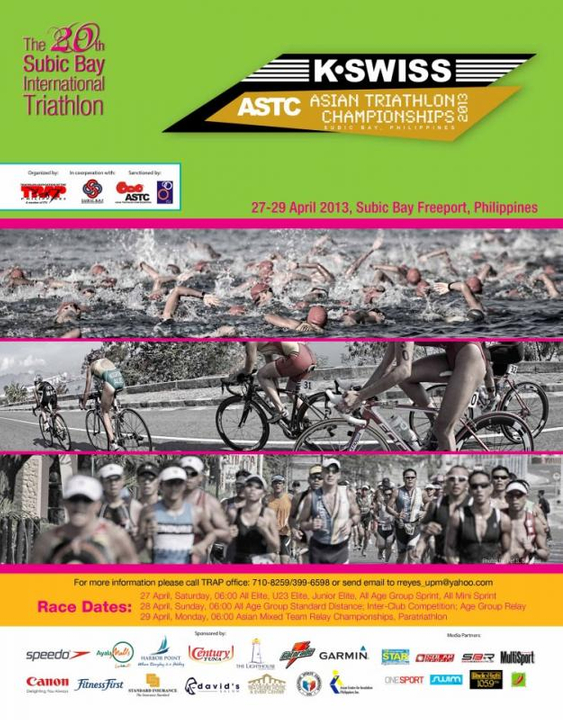 Kikay Runner is a proud media partner of the K-Swiss Subic Bay ASTC Asian Triathlon Championships 2013.
This triathlon event spans three days:
April 27 (Saturday): All Elite, U23 Elite, Junior Elite, All Mini Sprint
April 28 (Sunday): All Age Group Standard Distance; Inter-Club Competition; Age Group Sprint; Age Group Relay
April 29 (Monday): Asian Mixed Team Relay Championships, Paratriathlon
Regular registration fees now apply: P6,000 for standard distance, P5,000 for sprint, and P15,000 for 3-person relay. Registration is ongoing at Speedo Concept Stores, Bike King (Bonifacio High Street), TRAP Office (Philippine Sports Commission Complex, Pasig), or via bank deposit. For more information, you can download the registration form.
See you there!
The K-Swiss Subic Bay ASTC Asian Triathlon Championships is presented by K-Swiss and sponsored by Speedo, Harbor Point, Ayala Malls, Century Tuna, Lighthouse Marina Resort, Gatorade, Garmin, Canon, Fitness First, Standard Insurance, David's Salon, Travelers Hotel, Philippine Sports Commission and Philippine Center for Insulation.
Standard Distance (SD) 1.5k swim, 40k bike, 10k run
Sprint 750m swim, 20k bike, 5.4k run
Mini Sprint 350m swim, 9.8k bike, 3k run
Race: K-Swiss Subic Bay ASTC Asian Triathlon Championships
Date: April 27-29, 2013
Venue: Subic Bay
Reg Fee: standard distance (1.5K swim, 40K bike, 10K run) – P6,000; sprint distance (750m swim, 20K bike, 5.4K run) – P5,000; mini-sprint distance (350m swim, 9.8K bike, 3K run) – P5,000
Registration Sites: Speedo Concept Stores; Bike King Bonifacio High Street; TRAP Office (PSC Complex); registration form
More Info: Triathlon Association of the Philippines info sheet
Liked this post? Share it!