Today is the 21st of January 2013. It's KikayRunner.com's third anniversary! At this time of year, I always feature a runner who has influenced me and many others. May I turn your attention to this guy: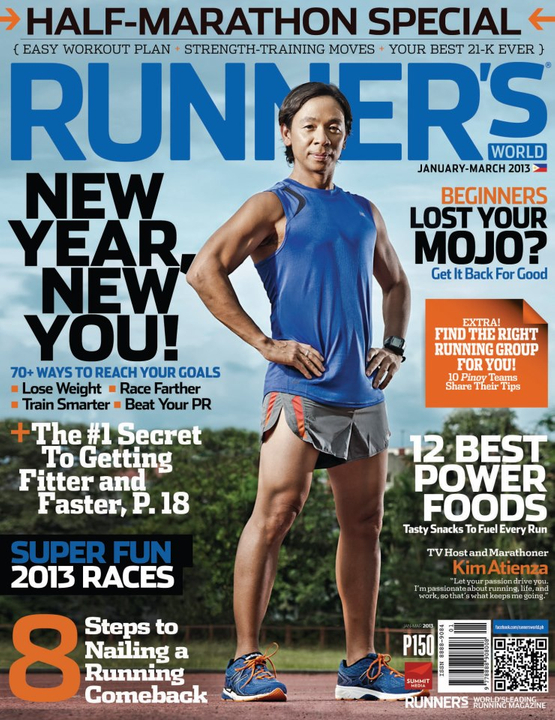 We all call him Kuya Kim.
Kuya Kim Atienza is someone everyone recognizes. From his nightly gig as weatherman for TV Patrol to his noontime appearances as co-host for It's Showtime and weekly episodes of Matanglawin, he's one of Philippine TV's most well-loved personalities.
But for all his reknown, he's very approachable. I first met him when I joined a regular run with his group; he was about to tackle his first tri, the 2012 Subic Bay International Triathlon, which was also my first Olympic distance triathlon.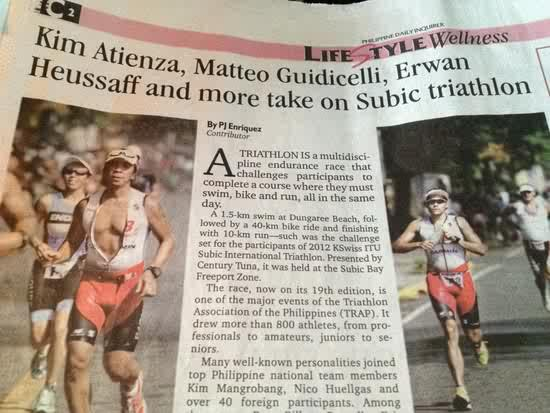 SuBIT
He's full of boundless energy and infectiously positive. In this month's Runners' World magazine, he talks about how he bounced back from a debilitating stroke to become the adik runner and triathlete he is now.
I'm so glad he could take some time from his busy schedule to answer a few questions. Read on to find out why he runs with girls (like me), how he got so fast, and who's got the abs in the family.
(He actually recorded his answers inside his car en route to a Showtime broadcast.)
Noelle: We have something in common! You used to teach aerobics on Muscles in Motion, while I teach dance aerobics.
Kim: This was in the 80's. This was Muscles in Motion everyday 5:30-6:30 on channel 9. I was the co-host of Anna Unson and we did this for maybe a couple of years. In 1989 I joined a fitness contest called Superbody of the Philippines. And I didn't win it, I was one of the finalists, I did not win.
N: Is there a difference between the kind of fitness you derive from aerobics classes vs. training for a sport (i.e. running, triathlon)?
K: There's a huge difference. Endurance-wise, it's the same. Kasi you do aerobics for 1, 2 hours straight eh. But then kasi in the 80's, aerobics had no concept of low-impact or high-impact pa. Concept of low-impact aerobics came in the early 90's. In the 80's, banat lang nang banat hanggang malaspag ang tuhod. I think this is one of the reasons why nagkaroon ako ng runner's knee sa left knee eh, all the aerobics I was doing when I was young.
What else pa ba? The concept of speed. In running kasi you wanna be faster and faster and faster, in aerobics naman you just wanted to look good. You're just doing it so you have less fat, you're doing it so you look good.
N: You run with a fun crew. How did you all get together? Ikaw yata malakas mag-aya eh.
K: Well, if you notice every morning I tweet my fitness workout. It was an agreement between me and some teammates to tweet every workout mainly so people can see and walang atrasan. If you broadcast it kasi, if you tell everyone kasi, hindi ka aatras.
Wait ha Noelle, may aatras, nakaharang yata ang kotse. [Noelle's note: speaking of "atrasan"… LOL]
I remember when Gilbert Remulla and I signed up for Cebu 70.3, our first 70.3, we didn't know how to swim. What we did was we signed up for 70.3, we put it on Facebook and Twitter, wala na talagang atrasan. The next day Gilbert got a coach, I got a coach and I learned how to swim. I was committed to learn how to swim because the whole world knew about it.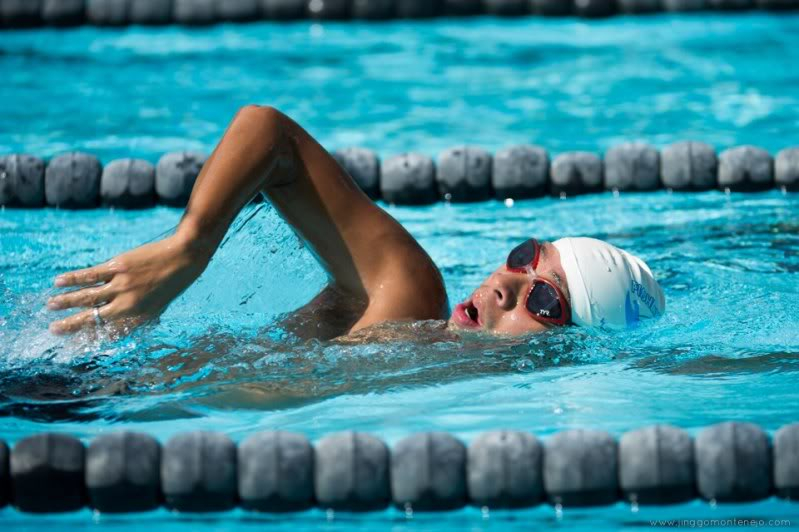 Kuya Kim learned through Total Immersion with coach Nonoy Basa
It is a fun crew kasi lakas ng kwentuhan, lakas ng kantyawan.
N: Explain the concept of "tsiks energy."
K: Actually, you're one of our tsiks energy. Hindi "chicks" ha, tsiks energy. When you run with all males kasi, the testosterone level is so high eh. With a girl in the group, it kinda mellows the energy and becomes a fun mix, nag-iiba.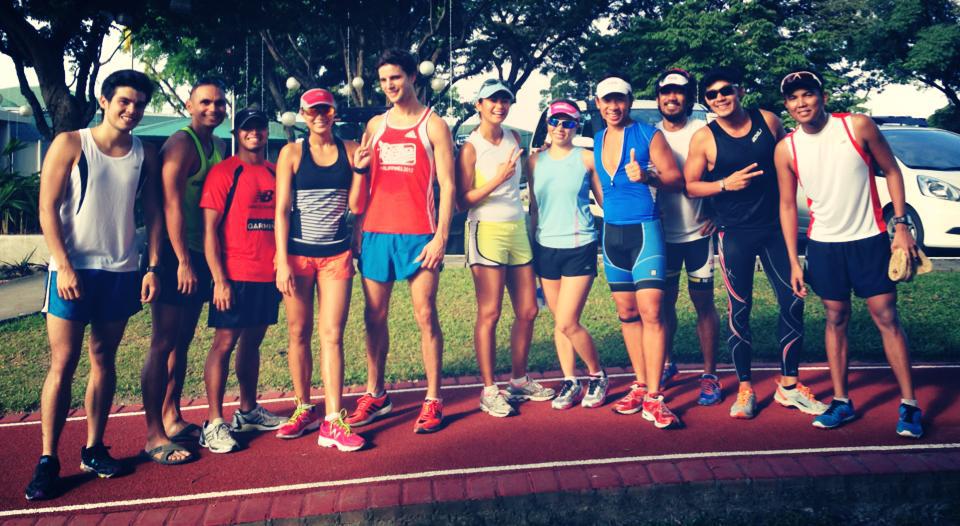 Kuya Kim's running crew
It's not that we're coming onto the opposite sex because we're all happily married men, but having a female in the group softens the energy. And then the single people in the group also, there's a single female running with the group, gumaganda yung porma. Kinakantyawan namin, "O, kaya ka napapabilis kasi nandyan si Noelle or dahil nandyan si Isabelle [Daza]." Alam mo yun? Nakakabilis talaga kung merong babae, Ayaw mong mapahiya kasi. Yun ang tsiks energy, nakakabilis, nakakaganda ng porma kasi wala kang choice, nakakahiya.
Tsiks energy is actually the kapatid of ego power, ego energy.
N: What is your favorite race distance?
K: The 21K is my favorite race distance, like a lot of people, mainly because it's very easy to train for it, you don't even have to train for it. Make me run a 21K tomorrow, I can excel in it, and then you're not laspag. You do it in the morning, and then you have the whole day to yourself. Normally hindi ka laspag, hindi masakit ang tuhod mo, alam mo yun? Unlike if you do a full marathon, it's very fulfilling but the day is eaten up and then the next two days you're recuperating from it. The 21K is a very manageable distance eh, tamang-tama lang talaga.
As far as triathlons are concerned, baliktad naman. I want it long. I'm training for my first Ironman this coming December for Western Australia 'cause I really wanna be called, I wanna hold onto the Ironman title, the M-dot title.
N: This is a reader-submitted question. What is your diet regimen? Any food advice you can give for runners?
K: I eat 'til I'm full, hanggang busog ako I eat, and I eat a lot. Every night I eat like two kilos of leaves. But, I choose my food. I stick to low-glycemic index carbohydrates mainly because I come from a family of diabetics. If I weren't working out, I'd probably be diabetic by now. Even if I'm working out, I stick to a low-glycemic index diet. Brown rice, whole-wheat bread, very little sweets because I don't wanna be diabetic.
Because of that desire of mine, nakakabilis pala because I became so light. When I started running I was 172 [pounds]. My weight now is 152, so I lost 20 pounds running and doing triathlon. And I think by Cebu, my running weight will be about 150, and by Ironman 145. Bahala na kung saan tayo umabot dyan.
N: Does your wife Feli have any interest in joining you on the road soon?
K: Feli's a very good runner. Since we met 12 years ago, she was into running na. But she doesn't like the sun, takot sya sa UV rays. She runs every other day at least an hour on the treadmill. We have a treadmill in the house, she has a treadmill in the gym, she has a trainer. My wife is very physically fit, she has six-pack abs, but she does not compete unlike me.
Tinatawag na ako. O sige, I'll tape na.
N: Thank you so much, Kuya Kim! And Happy Birthday (on the 24th).
Liked this post? Share it!