[youtube url=http://www.youtube.com/watch?v=-NIq_H17oRc]
Color Manila Nite Run Promo Video
Have you seen the Color Manila Nite Run promo video yet? Every time I watch it, I get so excited for February 23. Have you registered yet?
If you're feeling lucky, I'm raffling off three (3) race kit gift certificates for Color Manila Nite Run! What do you need to do? Here are the raffle mechanics (valid only for Metro Manila residents):
Tweet the link to the Color Manila Nite Run video in this format (click here to Tweet automatically):

#colormanilaniterun video via @kikayrunner http://www.youtube.com/watch?v=-NIq_H17oRc

Then, tweet the link to this raffle in this format (click here to Tweet automatically):

Win a #colormanilaniterun race kit from @kikayrunner http://kikayrunner.com/?p=3040

These two tweets count as one entry. One entry per Twitter account only.
Raffle draw will be held on Saturday morning. The list of Twitter accounts with submitted entries will be tallied and numbered. I will select winners based on random numbers generated by Randomizer.org
Winners will be contacted through their Twitter accounts (so make sure you check your Mentions on Saturday!).
UPDATE 02/02/2013: I went through all your entries to verify them, and from 69 submissions, there were 66 valid and complete entries. (Three entries were disqualified for either failing to follow me or Proactive Sports on Twitter or only tweeting one of the two required tweets.)
tweetnicm_pol
key_pi_eyh
roooojervoso
my_precioussss
hoypamela
dot_estefani
kakacabuyao
kidlatbiker
freeyouman
maryjesus461
reginadejesus11
ghiex7
pjongdelapaz
rusz_08
floritadej
titaniumpc
vickeree
gloriawyco
ellen29honey
marcie612
joeyan4
yajnelle
rowee13
teresitaenc
jesswyco
petite_runner
heidoh_3
humblejowdie
lizzzyesquivel
lisadeguzmann
e_ngels
ken_rhel
joevyz
cdcv1111
chardloresca
jaydejesus1
pissedoffjoyce
jarredpogi
bunsomanlupig
wickednej
katsy9
yamnalliv
godsforce4life
rmeowrf
bfrjustingomez
jhunie_oro
heiselle
ricotoy11
edguevarra3
esterguevarra
junereal0210
thedionamacaboo
justlaicah
rommelvergara3
hail_karen21
andresd96156931
ken_rhoel
licupmanlapaz
marpamintuan
markmata3
givensanchez
annegar80258900
lettongol
vergararodel
joellaquindanum
maximomaricel
Here are the numbers Randomizer.org generated. Please take note all 66 numbers had an equally random chance of being picked in each set.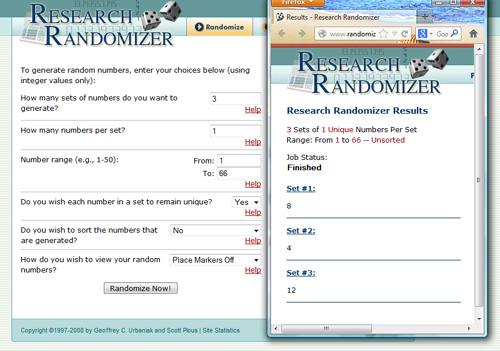 Congratulations to kidlatbiker, myprecioussss, and ghiex7! I hope you check your Twitter accounts for further instructions on claiming your Color Manila Nite Run race kit GC's.
Liked this post? Share it!