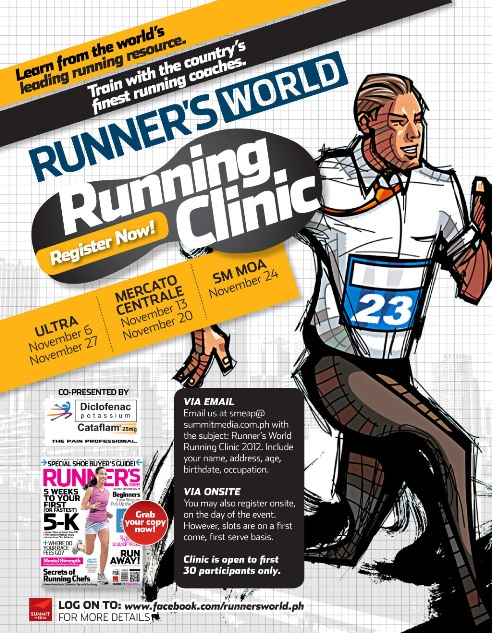 Running clinics are a great way for experienced runners to sharpen up technique, shake up their training, and meet other runners. They're also excellent for beginner runners to learn proper form (and hopefully, etiquette). So check this out: Runner's World has a series of running clinics all this month of November. At ULTRA, the clinics will be held on November 6 (that's tonight) and November 27. At Mercato Centrale in BGC, you can attend clinics on November 13 and 20. And in MOA, the clinic is scheduled for November 24.
Registration is easy and free.
Email smeap@summitmedia.com.ph with the subject line "Runner's World Running Clinic 2012".
Include your name, address, age, birthdate, and occupation in the body of the email.
You may also register onsite on the day of the event; however, slots are on a first-come, first-served basis. The clinic is open to the first 30 participants to sign up, so send your registration now!
You can also log on to the Runner's World Philippines Facebook page for more details.