I had a fun time running in the White Plains/EDSA area at the Midnight Run 2012 last Wednesday. After procrastinating on buying a costume, it was slim pickings at the department stores by the time I finally made my purchase on October 31. (Yes, I know, super late!)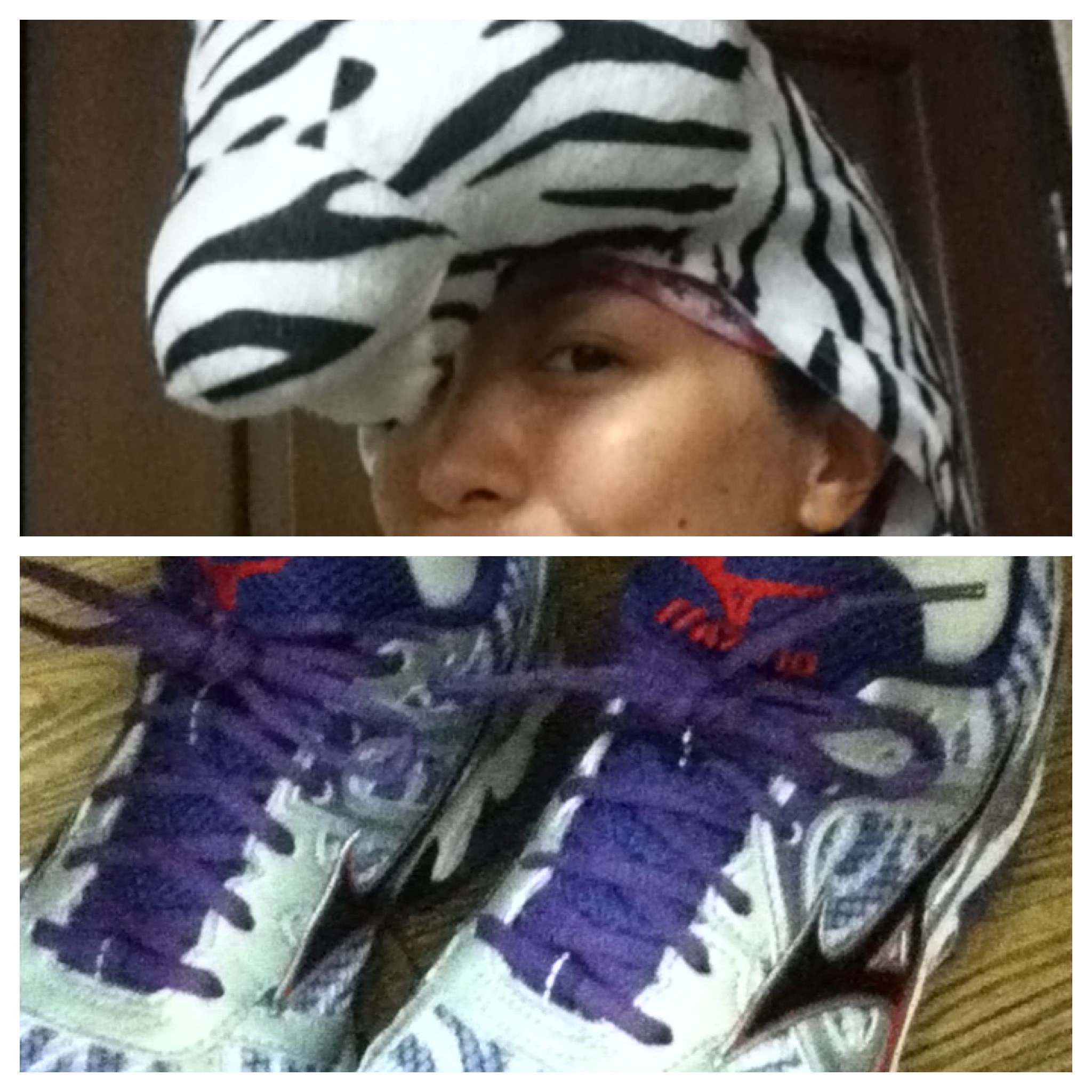 I bought the costume based on my new Mizuno Elixir 7 shoes
The zebra head was pretty itchy inside, so I layered on a Headware buff inside. I would end up flipping off the zebra head during most of the race, putting it back on only for pictures.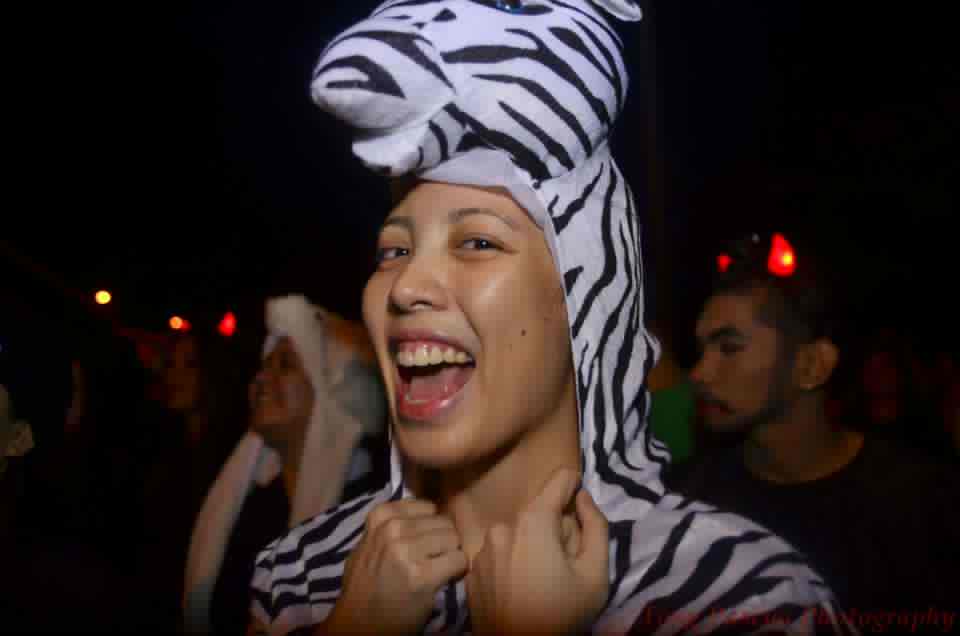 just one of the wildlife (photo by Tong Pascua)
The gunstart ended up being delayed while the MMDA secured the portion of the route that would be run on EDSA. This was a first for Philippine races, so I understood how the logistics would be difficult; aside from us runners, there were huge number of vehicles already on EDSA heading off to the provinces. I amused myself by staring at all the costumes people showed up in. I understood that Adobo Run had been held some weeks earlier, but it looked like these runners at the Midnight Run were gunning for the costume category prizes. Some of the costumes were so intricate that they couldn't be run in, which was fine because the race wasn't timed, anyway.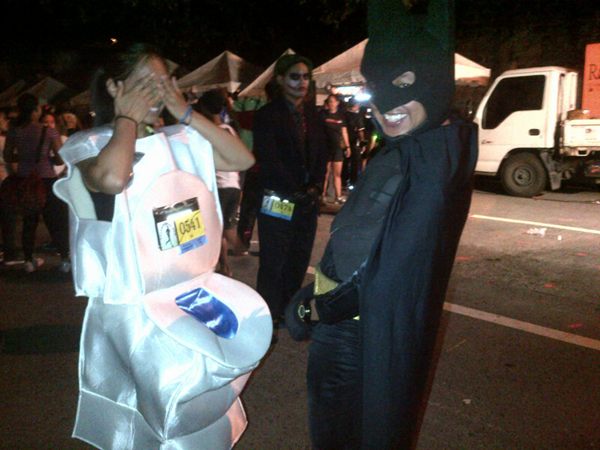 a little toilet humor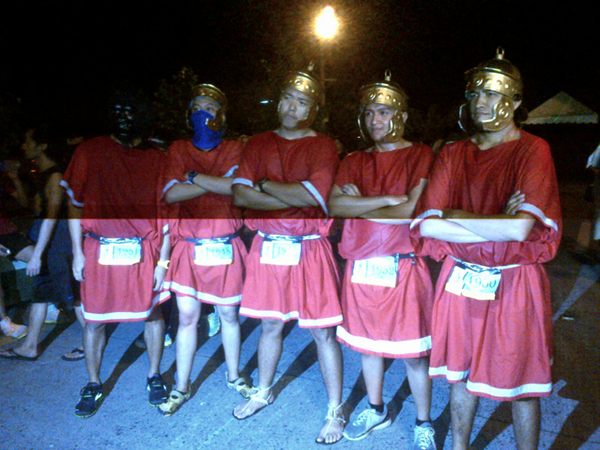 Sing with me: whoa hoooo, caught in a Bad Romans
The race was a bit more rough-and-tumble than I expected, with one gunstart for both 5K and 10K and hardly any lighting in some sections. After a tough time weaving through walkers, I finally found my rhythm and started running in earnest. I didn't turn on my stopwatch because I was honestly not racing this, but just trying to have fun.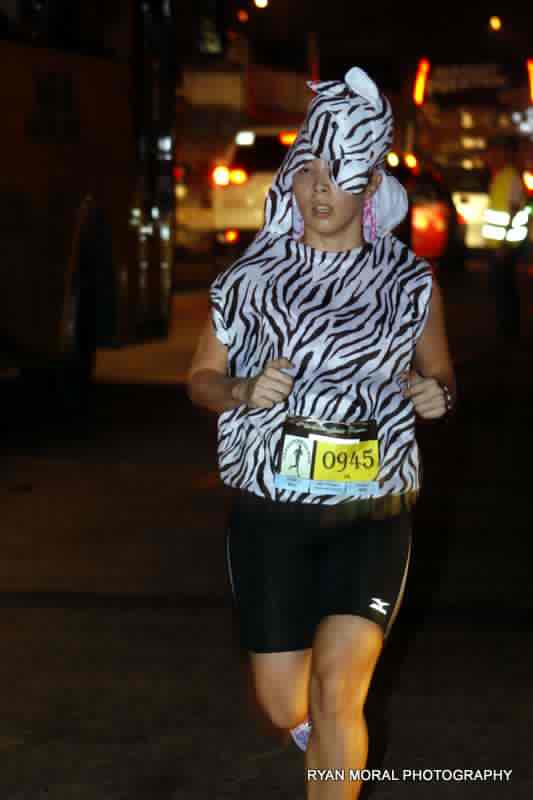 hingal-kabayo (photo by Ryan Moral)
We traversed Bonny Serrano, passing right in front of Camp Aguinaldo's gates. I was busy musing on the weirdness of the race and repeatedly overtake a male runner who kept overtaking me when I realized: Bakit puro lalake na ang kasama ko dito?
As I ran toward the finish line, I had to go through a "cemetery" avoiding ghouls before ducking into a long tent that served as a haunted house. I knew there would be some scares and surprises in there, but right before I entered, the runner who'd been leapfrogging me burst ahead of me. So, he ended up getting the brunt of the haunted house occupants jumping out at him, while I walked merrily along saying, "Hello!" before they'd had a chance to hide themselves again. LOL
So the reason I was running only among men in the last few kilometers of my 5K was that I was actually the first woman to cross the finish line for that distance, and probably the first runner to do so in costume. Hee hee!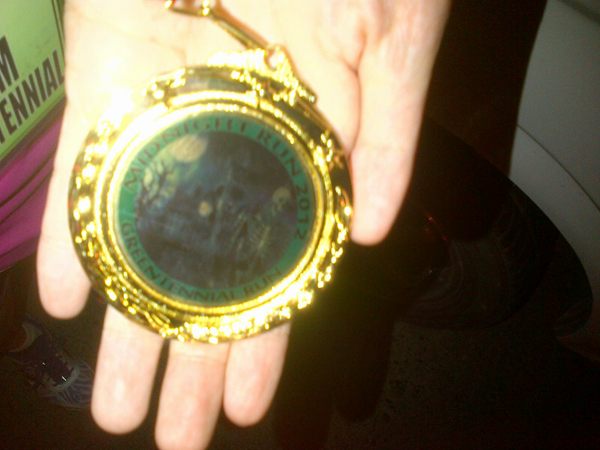 I'm going to hide this in a box. So creepy!
Race in Review
Route: Kudos to the organizer Greentennial Run for locking down this route. It was definitely a highlight to be able to run on EDSA. In fact that was the reason I wanted to participate in this race. Route markers were visible but you didn't quite need them because the roads were long and straight. I wish there had been more lighting on the route; I kept my pace slow on purpose because I wasn't sure if I was going to fall into a pothole at any moment.
Traffic Management: I'm not sure the unified gunstart was a great idea, but given the limited amount of time the organizers had for the EDSA one-lane closure, I guess this was a compromise.
Hydration: The water stations were placed quite well. Whenever I wanted a drink, there was a station coming up. Only water was available, but given the short distances, this was sufficient.
Package: Finishers could claim finisher jackets, which was a first for organized races in the country. The material is great for the rain or cold that this time of year brings.
It was nice to see a great turnout for this race. Although some aspects of the race could have been handled better (post-race program and awarding took waaaay too long), I think overall people got what they came for. THREE-AND-A-HALF KIKAY PINKIE FINGERS out of FIVE.