Throughout my years as a running blogger I've been given many blessings — even more than I can really use or enjoy for myself. I've taken to giving some away to friends and family. This year, in keeping with the Christmas season of giving, I want to share these blessings with you, my readers.
So, what items are up for grabs?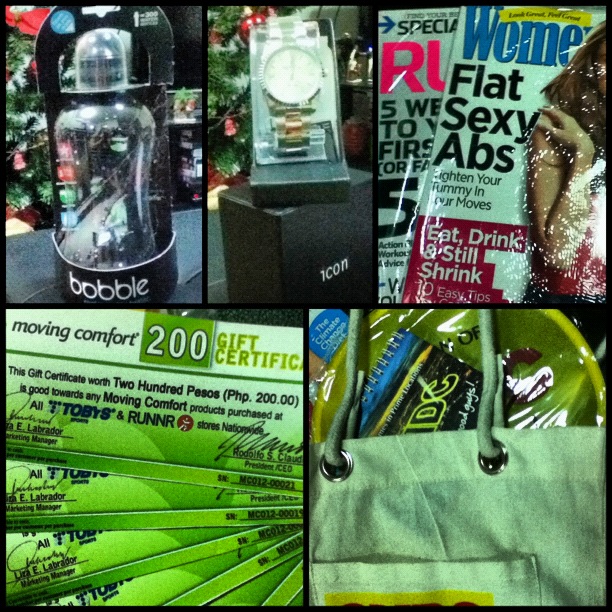 The grand prize items are (clockwise from top left):
bobble Bottle: I won this during the launch of the bobble Bottle last week in an environmental trivia contest (which is now my new favorite kind of game, can't you tell?). What makes this more than an ordinary reusable drinking bottle is its replaceable and recyclable carbon filter that purifies potable water even further by eliminating chlorine and organic contaminants as you drink. Since its introduction in 2010, the bobble has won numerous awards for its design and eco-friendliness. For more information, check out the bobble Facebook page.
Icon Nokia wristwatch: I received this watch during the Nokia Maps Challenge which tasked us with finding and checking in at various locations in Ayala Makati using the Maps application in Nokia phones. It's all stainless steel and water-resistant up to 30 meters.
Women's Health November 2012 and Runners' World October-December 2012: I'm tossing these in for the prize winner because I've always found these two magazines really helpful for my lifestyle.
The grand prize will be bundled with a foldable fan, small notebook, and pen inside an SMDC ecobag which I received at the QCIM press launch. Much as I hate to part with the ecobag because it's got handy pockets inside and a magnetic clasp closure, the winner's got to have something to carry all their prizes with, right?
As for the Moving Comfort GC's on the bottom left, I received them from a male friend who won them in a raffle (so obviously he has no use for them). I have ten (10) gift certificates each offering a P200 discount on Moving Comfort items. I'm giving these out as consolation prizes to the first 10 women to submit entries to this contest.
Contest Mechanics
Fill out the form below completely. One entry per person only.
Answer all the trivia questions correctly to be eligible for the grand prize.
Take your time answering the essay question. I will select the grand prize winner based on whose answer I like best.
Contest period runs from November 29 to December 9, 2012. Winners will be announced on December 10, 2012.
Prizes may be claimed by winners or their authorized representatives through meet-up until December 21, 2012.
Ready. Set. Go!